These no-bake chocolate chip cookie dough balls are safe to eat. No eggs. And no raw flour. You'll love this easy-to-make easy snack or dessert. Add holiday or birthday sprinkles!
This post may contain affiliate links. As an affiliate, I earn a commission.
Jump down to Recipe
Edible chocolate chip cookie dough balls with sprinkles?! Yes, please!
★ Why You'll Love this Recipe ★
Everyone loves chocolate chip cookies!
I think we all agree that pretty much everyone loves cookies. And for those who also love to bake them, it can be so tempting to spoon that batter right into your mouth before it even has a chance to hit the oven! Cookie dough is rich and delicious!
Cookie Dough that's Safe to Eat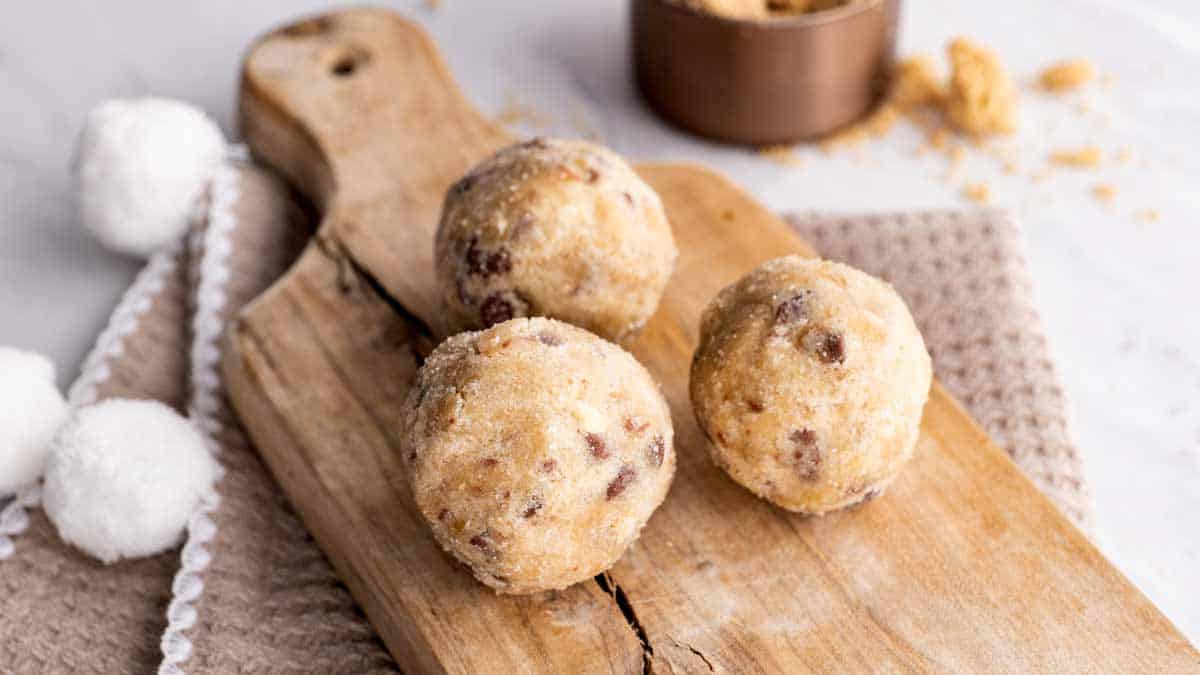 But eating the dough is a little more controversial. Mainly because cooking dough contains raw eggs. But what a lot of people don't know is flour, consumer raw, is also a potential risk. See below for more on that if you have questions but the good news is...
This cookie dough recipe contains NO EGGS and all you need to do is heat the flour before using to kill any possible bacteria. This is as simple as microwaving a bowl of plain flour before using it.
This recipe is super easy and is actually easier to make than regular cookie dough. So why risk it? Try this recipe to make your own cookie dough balls!
Add sprinkles to make these more festive.
Add sprinkles to make these more festive! Add themed or rainbow sprinkle to celebrate birthdays and holidays. This is an easy treat to feed a large number of people and is simple enough for most kids to make!
★ Ingredients You'll Need ★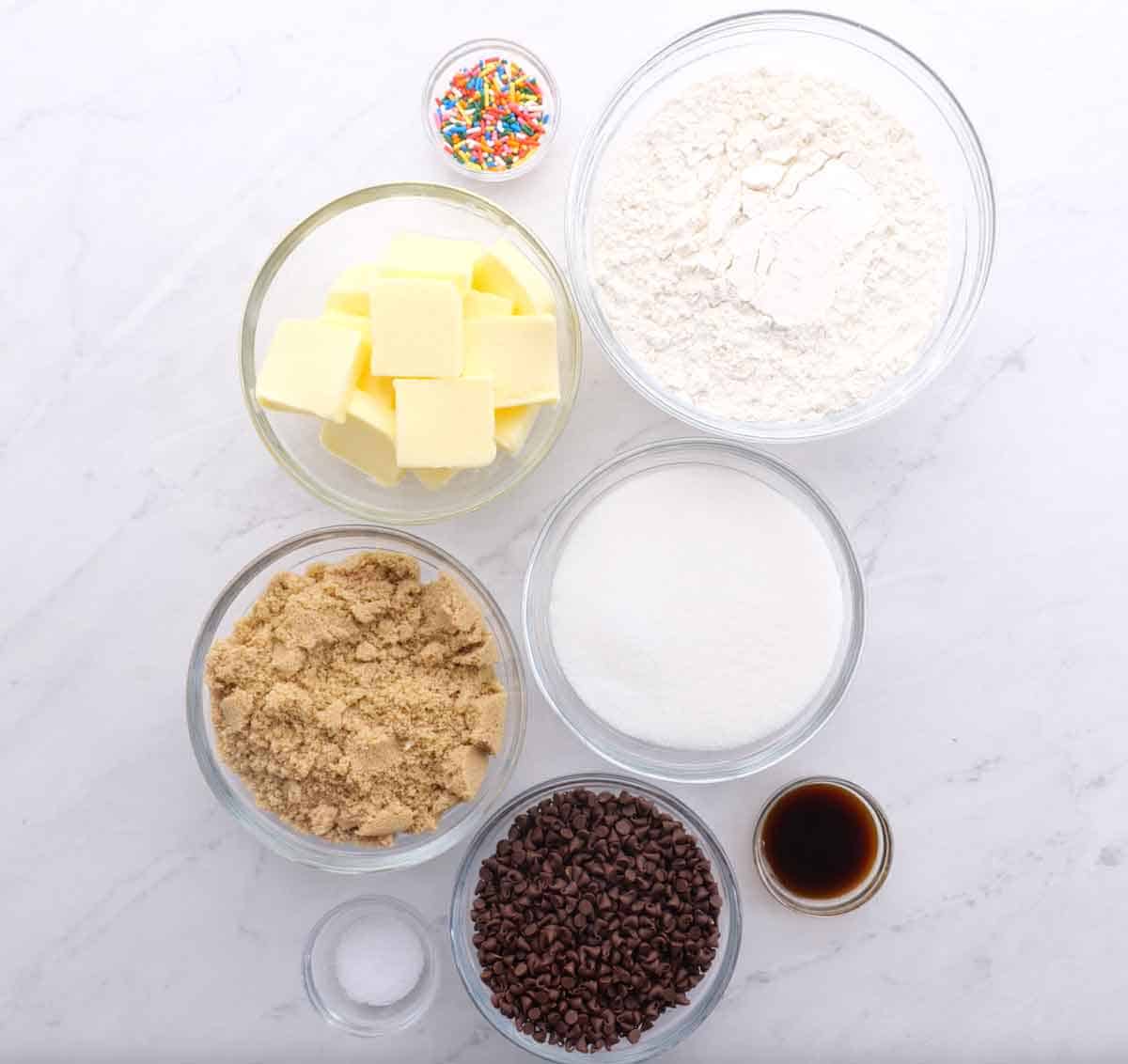 Here's everything you'll need to make this safe, no-bake cookie dough:
Flour. As mentioned, this needed to be heat-treated. Details in the recipe below.
Butter. Salted butter and you'll want to make sure it's softened so the dough comes together smoothly.
Mini chocolate chips. The mini size allows the cookie dough balls to hold together better than the larger chips. Your choice to go with milk chocolate or semi-sweet.
Vanilla. Real vanilla extract is best.
Salt. I like to use sea salt. It add extra flavor. It can be a bit more powerful than table salt though. So you may want to reduce the amount if using sea salt.
Sugar. White table sugar.
Brown sugar. You can use light or dark brown. The difference is dark brown sugar contains more molasses. This can add a nice flavor if you enjoy molasses.
Sprinkles. These are optional but highly encouraged. They add some texture and also a festive element.
★ Tips & FAQs ★
If you have asked...
Is cookie dough safe to eat?
The answer is: this particular cookie dough recipe is safe to eat. Normal cookie dough is not.
This recipe for cookie dough is meant to be eaten and not baked. So it's just a little bit different than regular cookie dough but tastes just like the real deal. So...
What's the difference between edible cookie dough and regular cookie dough?
Here's what's different about edible cookie dough vs. regular cookie dough:
This edible cookie dough recipe is egg-free.
You have probably been told that raw eggs are not safe to consume so neither is raw cookie dough. It's sad but true. Raw eggs can pass along salmonella, making you really ill.
Normally you add a few eggs to cookie dough so that when the cookies bake and expand, they hold together and don't crumble. However, since you're not baking these, you don't need the egg! The butter is sticky enough to hold these ball together.
Awesome, so since this recipe uses no eggs, are we good to go here? Not quite.
Raw flour is not safe to eat.
There is a lesser known issue with eating raw cookie dough and that is the fact that you would be consuming raw flour. Raw flour can contain E. Coli which can also make you sick.
Luckily, there's an easy fix to this. As long as you heat up flour to 160˚you can eliminate any potential contamination. I do this by microwaving raw flour in a bowl for about 1 minute and 15 seconds, in 15 second intervals to stir in between, ensuring the heat is evenly distributed.
So, as long as you heat-treat your flour to 160˚, it is considered safe to eat.
What does edible cookie dough taste like?
If you're a smart rule-follower, maybe you've never tried cookie dough in its raw state and you're wondering what it tastes like!
Well, edible cookie dough has all the flavors you know and love about baked chocolate chip cookies but the texture is different. These dough balls are dense yet are soft and buttery. They crumble as you bite them and melt in your mouth! I personally love the tiny bit of crunchy you get from the sugar grains. In a nutshell: delicious!!
What kind of chocolate chips taste best with this edible cookie dough recipe?
Just like with baked cookies, you can use milk chocolate chips, semi-sweet chocolate chips or a combination of both.
Milk chocolate chips are sweeter and creamier tasting. Semi-sweet chocolate chips have a stronger, less sweet flavor, more similar to dark chocolate. Since this recipe has added sugar though, you won't experience much bitterness even if you use semi-sweet chips.
What's my personal favorite as an adult with no a huge sweet tooth and who prefers dark chocolate? Semi-sweet. My kids like both.
What's best — regular or mini chocolate chips?
Size does matter here. I personally prefer mini chocolate chips because these cookies dough balls are small, but regular sized chocolate chips work fine too and we use those more often than not because we typically have those on hand.
So while size does make a different in the texture, it's not worth stressing over! Use what you have!
Add rainbow sprinkles for a festive look!
A Fun Birthday Treat!
You can easily get a funfetti-style look to these cookie dough balls by adding in sprinkles. Perfect for birthdays!
If you're celebrating a specific holiday, add in any kind of sprinkles that fit your theme.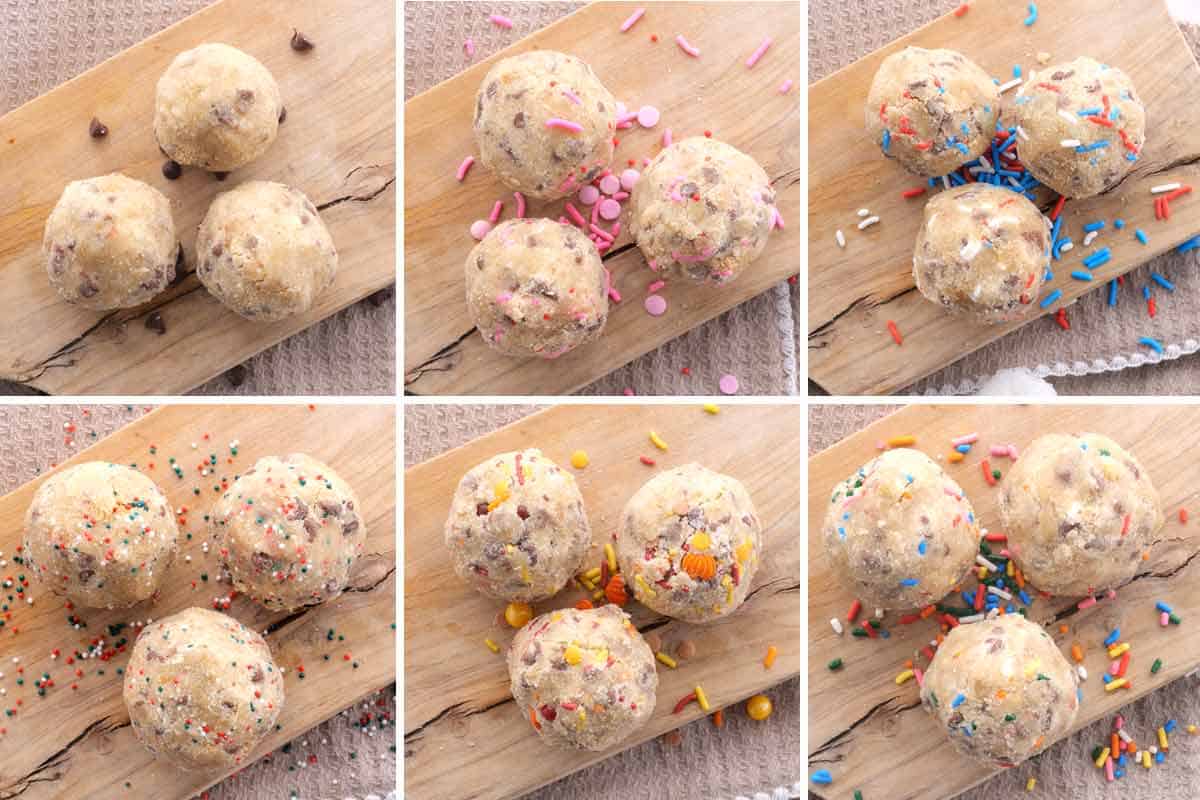 Make these for any holiday!
Try making these cookie balls with Christmas, Halloween, or Valentine's Day themed sprinkles rolled in!
★ More Recipes You'll Love ★
Love easy-to-make desserts?
Browse all my dessert recipes!
This recipe for edible cookie dough balls was featured on South Your Mouth!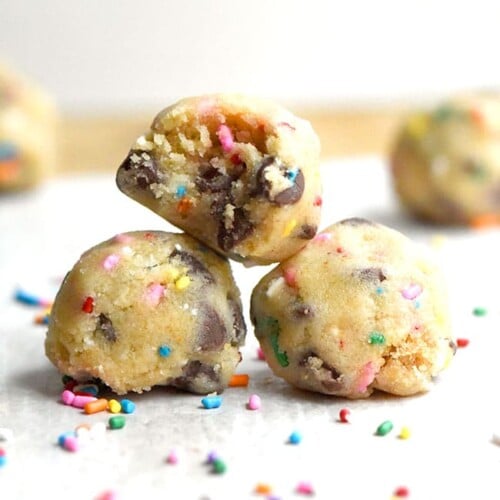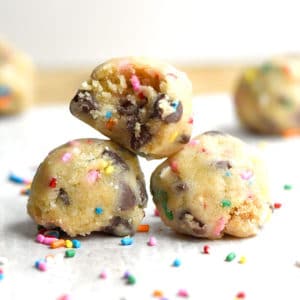 Edible Cookie Dough Balls
These no-bake chocolate chip cookie dough balls are safe to eat. No eggs. And no raw flour. You'll love this easy-to-make easy snack or dessert. Add holiday or birthday sprinkles!
Read Comments
Print
Pin
Rate
Ingredients
1

cup

all-purpose flour

heat treated* (See how-to note in Notes below)

¼

teaspoon

salt

½

cup

sugar

½

cup

brown sugar

½

cup

mini chocolate chips

2

teaspoon

vanilla extract

½

cup

butter, softened

1 stick

2

tablespoon

rainbow sprinkles

optional
Instructions
Heat treat flour in a large glass bowl in the microwave for 1 minute 15 seconds, stirring every 15 seconds. Then stir in salt.

Stir in sugars, chocolate chips then finally vanilla extract and softened butter. Fold in sprinkles if you want a festive look!

With clean hands, grab chunks of dough and roll into a dozen 1 ½" balls. Tip: Use a cookie scoop to measure dough.

That's it! No cooking. They're ready to eat!
Notes
To heat-treat flour, it must be warmed to 160˚to eliminate potential contamination.
To do this, microwave the raw flour in a bowl for about 1 minute and 15 seconds, in 15 second intervals. Stir in between intervals to ensure heat is evenly distributed.
Nutrition Facts
Calories:
219
kcal
|
Carbohydrates:
32
g
|
Protein:
2
g
|
Fat:
10
g
|
Saturated Fat:
6
g
|
Polyunsaturated Fat:
1
g
|
Monounsaturated Fat:
2
g
|
Trans Fat:
1
g
|
Cholesterol:
21
mg
|
Sodium:
124
mg
|
Potassium:
27
mg
|
Fiber:
1
g
|
Sugar:
24
g
|
Vitamin A:
253
IU
|
Vitamin C:
1
mg
|
Calcium:
20
mg
|
Iron:
1
mg
Follow Mighty Mrs. for more easy recipes!
Find @MightyMrs on Pinterest