Yes! It is possible to make crispy baked mozzarella sticks that are not just crispy, but extra crispy! It's easy too. Find out how.
This post may contain affiliate links. As an affiliate, I earn a commission.
Jump down to Recipe
Yes! It is possible to make and bake homemade mozzarella sticks that are not just crispy, but extra crispy!
The Secret to Crispy Baked Mozzarella Sticks
Here's the thing: everyone says you can bake mozzarella sticks if you want, but they're better fried.
And I'm not against fried food though, I admit, I prefer baking things because 1.) It's healthier and 2.) I don't enjoy the process of frying. It's a bit messy when it splatters, the hot oil makes me nervous and then you have to clean up the fryer, all surrounding surfaces and figure out how to store or toss all the leftover oil. And that's a LOT of oil!
So, I was bound and determined to find a way to bake mozzarella sticks that are just as crispy as fried mozzarella sticks without a bazillion steps.
And good news: It can be done.
The secret? What you're going to do is fry just your breadcrumbs. Then layer them onto your mozzarella sticks and bake them just long enough to melt the cheese on the inside and bind the bread crumbs to the cheese using egg and flour.
You don't need to freeze the cheese sticks first.
You may have seen other recipes that call for this step. And it makes sense, you don't want the cheese to cook faster than the breadcrumbs and be left with a big oozy mess.
But the beauty of frying just the breadcrumbs first, is that you only need to heat the mozzarella sticks just enough to fuse the breadcrumbs onto the cheese and also melt the cheese. It doesn't take long.
So, NO FREEZING of cheese sticks required for this recipe. Super easy. Super quick. Not super messy. Absolutely delicious.
What type of cheese works best?
String cheese. Remember those commercials that went something like, "I'll have a pizza but hold the toppings, the sauce and the crust!"? Ha! I loved those. But anyway, that's the kind of cheese you want. String cheese. Doesn't matter the brand, but just make sure it's mozzarella string cheese for best results.
To prevent oozing cheese, it is best to keep the cheese sticks refrigerated until you're ready to coat them in bread crumbs.
What goes well with these crispy baked mozzarella sticks as a dipping sauce?
I love marina sauce but you could also use spaghetti sauce, pizza sauce, ketchup or even ranch dressing! I sometimes serve these crispy cheese sticks with a side of marinara and another side of ranch and I alternate between the two. Both are so good!
What kind of oil is best?
Olive oil will give you a delicious and more authentically Italian flavor. We use grape seed oil as a substitute since hubby is intolerant of olive oil. But you can also use any kind of cooking oil for frying the bread crumbs.
Make your own bread crumbs!
You can make your own bread crumbs pretty easily using toast. I like to collect the ends of bread or any leftovers and make bread crumbs out of those pieces no one seems to want. Just season them with Italian herbs and you have Italian bread crumbs. Check out my How to Make Bread Crumbs from Toast tutorial.
Helpful Tools for Making This Recipe
• Three pans or bowls (I use bread pans):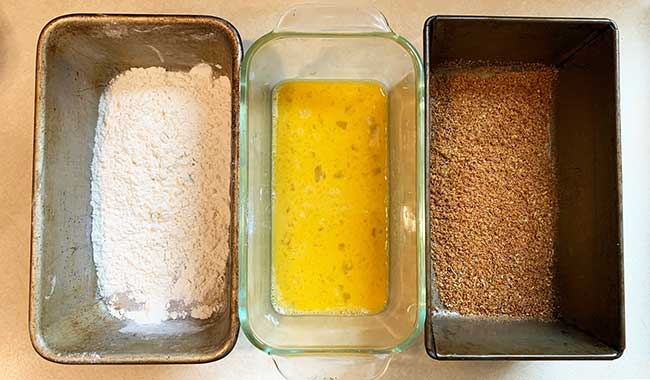 • Baking sheet liner
• Ramekins (to serve the sauces)
• Serving platter
A Helpful Tip for Evenly Breading the Mozzarella Sticks:
Use a fork! Puncture the cheese stick with a fork and dip it into each station — flour, then egg, then finally bread crumbs — without touching it or rubbing off any of the layers. It works like a charm!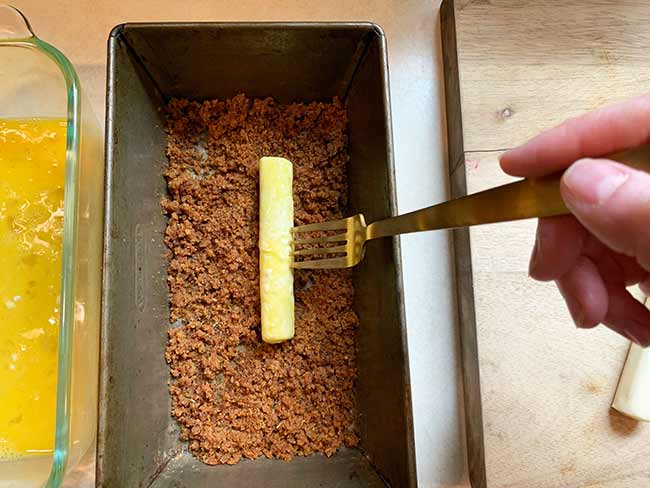 Want more delicious appetizer ideas?
Browse all my appetizer recipes
This recipe for crispy baked mozzarella sticks was featured on The Country Cook!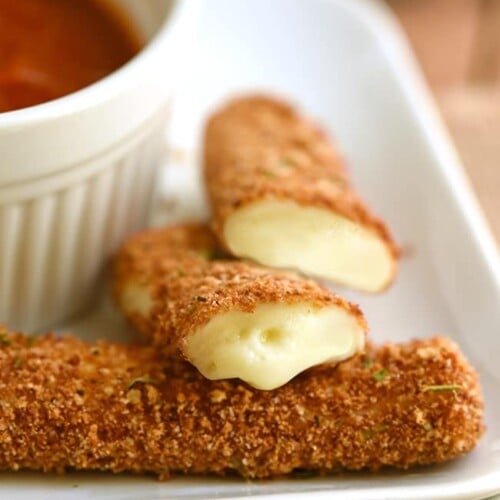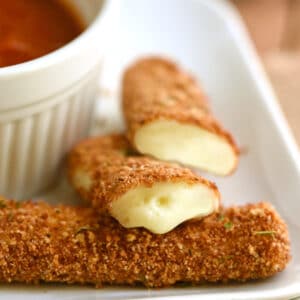 Extra Crispy Baked Mozzarella Sticks
Yes! It is possible to make crispy baked mozzarella sticks that are not just crispy, but extra crispy! It's easy too. Find out how.
Read Comments
Print
Pin
Rate
Ingredients
½

cup

Italian breadcrumbs

1

tablespoon

olive or grape seed oil

¼

teaspoon

salt

⅓

cup

flour

2

eggs

12

mozzarella string cheese sticks

⅓

cup

marinara sauce for dipping

Optional: Ranch dressing for dipping
Instructions
Prepare 3 bowls (or I use bread pans), one with flour, one with eggs (beaten together), and one for the bread crumbs which we'll first fry in the next step.

Heat oil in a skillet over medium heat. Oil is hot enough when a drop of water is added to the pan and immediately sizzles. Add bread crumbs and stir continuously for 3-4 minutes or until a dark golden brown. Transfer bread crumbs to the bread pan.

Unwrap each mozzarella string cheese stick. Using a fork, thoroughly coat the first cheese stick in flour. Tap off any excess flour and then move the cheese stick into the beaten eggs. Swish cheese stick from side to side until completely covered in egg. Tilt to drain excess egg and then put the cheese stick into the fried bread crumbs. Move cheese stick around to completely coat in bread crumbs. You can gently press the breadcrumbs onto the cheese stick to help them stick. Tap off and extra bread crumbs before transferring to a lined baking sheet.

Repeat steps to coat each cheese stick, placing them slightly apart on the baking sheet. (Line with parchment paper or a silicon liner).

Bake in a preheated oven at 400˚for 9-11 minutes or right as you notice cheese starting to bubble. Remove and let cool for just a minute or two then serve warm with a side of marinara sauce and ranch for dipping! (Caution: cheese may be hot at first)
Nutrition Facts
Calories:
269
kcal
|
Carbohydrates:
15
g
|
Protein:
16
g
|
Fat:
16
g
|
Saturated Fat:
8
g
|
Polyunsaturated Fat:
1
g
|
Monounsaturated Fat:
2
g
|
Trans Fat:
1
g
|
Cholesterol:
85
mg
|
Sodium:
763
mg
|
Potassium:
96
mg
|
Fiber:
1
g
|
Sugar:
1
g
|
Vitamin A:
165
IU
|
Vitamin C:
1
mg
|
Calcium:
69
mg
|
Iron:
1
mg
Follow Mighty Mrs. for more easy recipes!
Find @MightyMrs on Pinterest