Born out of necessary, comes this Printable Summer Schedule!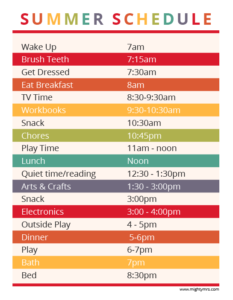 What this is: This schedule is meant to give kids who will be home for the summer, a framework for how to spend their time. It helps make conversations about turning off the TV easier and prepares them mentally for what's next. Of course, not every day will go exactly like this and you may decide to venture out to the library, playground or pool at any time. The great thing is, you can get everyone (including yourself!) back on track when you return home.
Download and print: Printable Summer Schedule [PDF]
Download, edit and print: Editable Summer Schedule [Word]
If you do not have Word, you can use the free software Open Office to open and edit this document. Get Open Office here.
What this isn't: This is not an activity list which is what I kept finding when scouring Pinterest for ways to keep the kids on track this summer. Activity lists are GREAT and go hand-in-hand with this schedule. You'll notice lots of playtime built into the schedule. This is where the kiddos are free to choose how they want to spend their time. But they will still need some ideas. So we've got a clipboard of printed activity lists hanging along side the schedule. Here are a few of the activity lists we've printed:
This is my first summer working from home with the kids so I'm trying to create good habits now. I'm hoping they'll be able to stay constructively entertained so that I'm able to get some work down. If all else fails, my plan is to buy this Inflatable Slide Bouncer, and set up next to it on my laptop, lol. Seriously, though, I might. Check back with me in a few weeks.
If you have any other resources or tips for working from home with kids, please share via the comment section below! Have a great summer, enjoy those little ones while they are still little and may we all keep our sanity! 😉
Update: This will be my third summer working from home and this schedule has been a sanity saver! I hope you enjoy it too. Feel free to share this with other work at home moms and dads, grandparents, nannies, or stay at home parents.