This is one of my favorite fall/winter meals to prepare because it's one of those meals I don't need to think about ahead of time and it only takes 30 minutes to cook. I also love making a roux. I don't know why but I think maybe it's because it makes me feel like a legit cook. It's actually super easy to make a roux and it's kind of fun in a weird, nerdy chef way, to watch the ingredients *magically" thicken up and form into a soup base. If you've never made a roux before, just follow the steps below and you'll be surprised how easy it is.
A roux is so useful. I now use it as a base for all sorts of things. I always have the ingredients on hand to whip it up since it's just 3 ingredients — butter, flour and milk. And, I don't even have to buy Cream of _____ (fill in the blank) ever again. A roux sauce makes a great white gravy for chicken and biscuits, is the base for chicken pot pies and also homemade macaroni and cheese. So, it's a cooking skill worth picking up in my opinion, even if you're not normally a from-scratch kind of cook. Now, all that said, if you want to use a soup starter or a cream of whatever, that's absolutely fine! Don't stress about it. I'm all about easy, stress-free dinners. As a full-time working mom, trust me, I get that shortcuts are the secret to making it all work.
So, the peas. Those are the health factor here. I'm not going to try to hide the fact that this is full of carbs and light on the veggies. We like hearty, flavorful meals around here and we do a lot of running around so it all averages out (mostly). My tip is to fill up on some carrots and hummus or an otherwise healthy appetizer right before eating this soup so all you'll need is a little bowl to fill you up the rest of the way. This also makes a great lunch so then you have the rest of the day to burn off those carbs. breakfast stuffing. I gotta say, it's pretty awesome!
One last tidbit then I'll leave you to your recipe… does anyone else LOVE eating soup out of a big mug?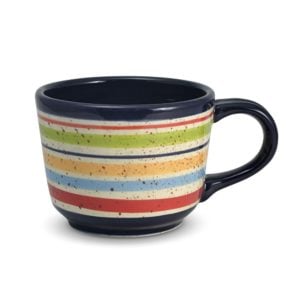 I just love sliding my hand around a warm mug of soup on a cold day. Add in a fuzzy blanket and some Netflix and now we're talking about my favorite way to spend a lazy fall or winter day. I scored the mug in the photo above from The Christmas Tree Store but I found this cute one on Amazon in case you want to share in my love for big striped soup mugs. 🙂