You may have noticed, from this + my last two posts, that I made a ginormous batch of chili and I'm really making the most of it. I'm one of those people that loves leftovers. I've actually met people that THROW LEFTOVERS AWAY. I'm not judging but… WHY?! Leftovers are the best thing ever! You get homemade food without the prep. Sometimes leftovers are even better the next day. But probably my favorite part about leftovers is reinventing them.
My last post, I turned leftover chili into chili burritos and today I'm posting about taking the last two helpings of chili and serving them over a potato waffle! As you may have guessed, created from leftover mashed potatoes.
So this recipe is really about how to make these super quick and delicious potato waffles. These savory waffles can be topped with so many different things so feel free to get creative (or clean out your fridge!) and top these with whatever your heart desires. Some ideas I had were: shepherd's pie deconstructed, leftover chicken & gravy, meatloaf… you get the idea?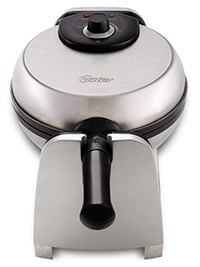 You're going to need a waffle maker: I personally love my Belgian waffle maker because my kids and I love big fluffy Belgian waffles but when I bought my waffle maker I always had this idea of different things I wanted to "waffle" <– can that be a verb? Well, I just made it one! So if you don't already own a waffle maker, just keep in mind the kind of actual breakfast waffles you like and what other things you might want to waffle and choose the style that best suites your taste buds!