A simple yet delicious cold sesame noodle salad recipe with carrots. Easy to make and perfect for lunches or as a summer side dish.
This post may contain affiliate links. As an affiliate, I earn a commission.
Jump down to Recipe
These simple sesame noodles with carrots are a great little side dish or as I like to call them, lunch.
You can use fresh shredded or spiraled carrots and Asian noodles or spaghetti noodles. This pasta salad is simple yet delicious and is great for potlucks or for munching on throughout the week. Stores well in the fridge for up to about 4-5 days.
Lunch on demand!
Imagine this—it's a hot summer's weekend day and you're hungry for a late lunch because it's been a busy morning. You don't feel like cooking anything or even making a sandwich.
So you open the fridge and find a ready-made, chilled, Sesame Noodle and Carrot Salad. You pull out the big container, fill up a bowl and then pat yourself on the back for planning ahead. You're also glad you made plenty because this noodle salad is good enough to eat for days.
A little planning goes a long way.
This could be your real life! Ha. All it takes is a little planning ahead and not much time at all to make this noodles salad. If you struggle with meal planning or just getting your grocery situation organized, check out my one-page meal planner. I promise it'll change your life!
Lighten up!
So let's talk flavor. This cold sesame noodle salad is light, flavorful and refreshingly filling. Also, easy to make. It's been a favorite of mine since way back. In fact, I first discovered this chilled noodle salad at the Giant Foods grocery store deli when I lived in Maryland. I've been working to match their recipe for a long while and I finally cracked the code. This is pretty spot on!
I did lighten the amount of oil in the sauce just a smidge to make it healthier but other than that, all the same flavors I grew up on are there. It makes me so happy! Does anyone else get nostalgic about foods that bring them back to a certain time in their life? I just love the feelings that come with food.
Spiralized Carrots vs. Shredded Carrots
So, a note about the carrots. You can use matchstick carrots or spiralized carrots which are more like noodles. Since spiralizing veggies into noodles has become pretty popular, you can now buy frozen spiralized carrots.
If you prefer fresh carrots though, you can spiralize your own. You'll need a spiralizer of course (If you don't have one, you can shop them on Amazon). If you've never spiralized before, you may want to check out a video on how to do it. Especially with a carrot since they're pretty skinny. Here's a short YouTube video I found that shows you how it's done: How to Spiralize a Carrots.
Another option would be to peel and shred fresh carrots instead of spiralizing them
For best results, use freshly cut carrots. They'll have the most flavor and won't be as dry.
Watch how easy it is to make these sesame noodles:
What kind of noodles are best for this cold sesame noodle salad?
As far as noodles, you can really use any kind of noodle you like. I like to use spaghetti noodles or any type of Asian noodle.
Rice noodles are a great choice if you're gluten-free.
Totally versatile and up to your own preference. I've made this with rice noodles, Lo Mein egg noodles and with spaghetti noodles.
Opt for ginger and garlic paste for best results.
You can use powdered ginger and powdered garlic but you get a bit more flavor and texture out of a paste if you're able to get your hands on some. You can also use fresh ginger and fresh garlic. You may want to roast your garlic first however, so it doesn't have too much bite.
My favorite choice to use is the ready-made pastes available in the fresh food section of the store, usually near the fresh herbs. They're easy and tasty!
Want more easy lunch ideas?
This recipe for cold sesame noodles with carrots was featured on Pretty Pintastic and Julie's Simple Southern!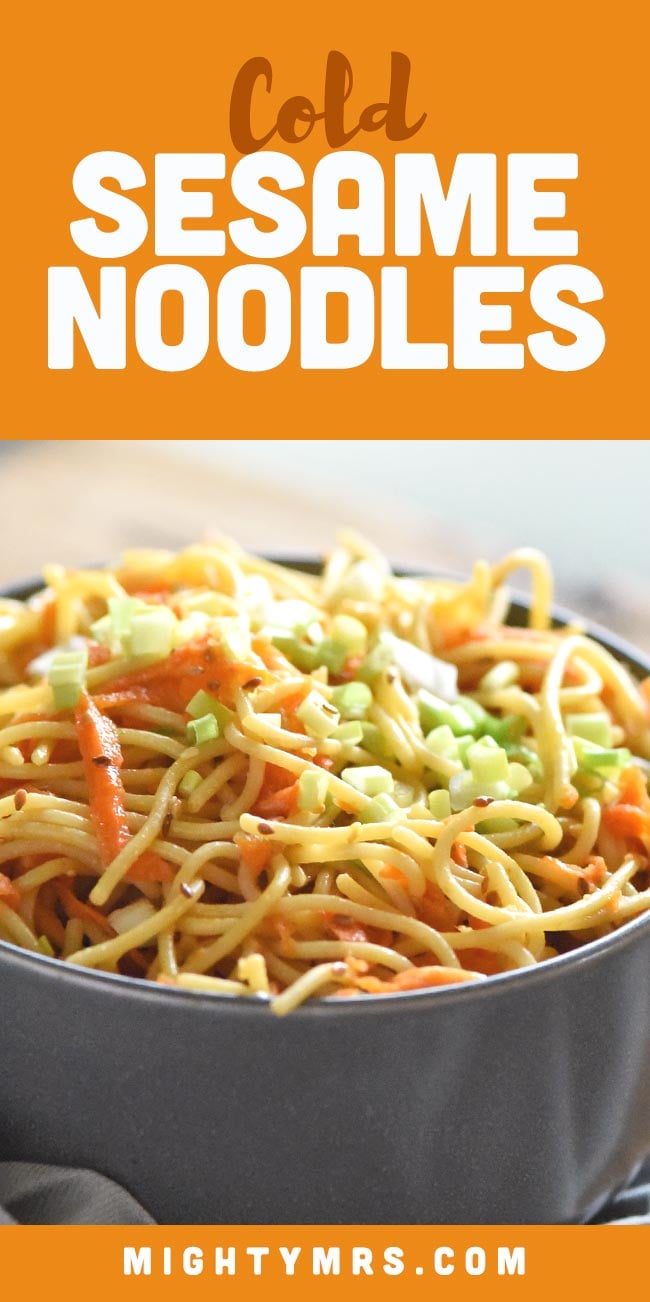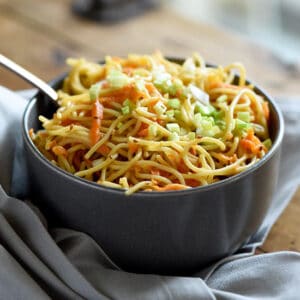 Sesame Noodles with Carrots
A simple yet delicious cold sesame noodle salad recipe with carrots. Easy to make and perfect for lunches or as a summer side dish.
Read Comments
Print
Pin
Rate
Ingredients
7

oz

Asian noodles or spaghetti

about half a package

1

cup

shredded or spiralized carrots

about 1 large carrot

4

tsp

ginger paste

2

tsp

garlic paste

3

tbsp

soy sauce

2-3

tbsp

sesame oil

to taste

¼

cup

vegetable oil

¼

cup

rice vinegar

¼

tsp

vegetable bullion powder/paste

2

tbsp

lightly toasted sesame seeds

Black pepper to taste

2

green onions

chopped
Instructions
Cook noodles according to package then drain.

Spiralize carrots or you can peel and shred a fresh carrot.

Add noodles and carrots to a large bowl or pot. Add ginger paste, garlic paste, soy sauce, sesame oil, rice viniegar, vegetable bullion, toasted sesame seeds and black pepper. Toss.

Top with green onions and serve this sesame noodle salad cold.
Nutrition Facts
Sesame Noodles with Carrots
Amount per Serving
% Daily Value*
* Percent Daily Values are based on a 2000 calorie diet.