This post may contain affiliate links. As an affiliate, I earn a commission.
Jump down to Recipe
If you have a refrigerator, then you're half way to making these awesomely easy refrigerator dill pickles. Oh, and they're PINK!
You're going to love these refrigerator dill pickles!
With just 5 minutes of prep and a day in the fridge, these are ready to eat!
The possibilities are really endless as far as what kind of spice combinations you can use to make you own pickles but this is a simple, traditional recipe that's a great starting point if these are the first pickles you've ever made.
I happened to have some fresh dill leftover from the egg salad I made for our recent trip to Hershey and not being one to waste leftovers, I decided to finally try making my very own refrigerator pickles.
Quick pickling makes these refrigerator dill pickles really easy to make.
I was really surprised how easy they were to make and how pretty they looked with the fresh dill and red onions. I made two jars and I'm planning to gift one to whoever stops by my house next!
Thankfully we have an extra fridge in the basement now so I can store things like refrigerator pickles. 🙂 But even if you are a one-fridge household, these don't take up any more room than a normal pickle jar.
Supplies you'll need to make your own dill pickles
You will need two quart-sized, wide-mouth Mason jars and this is optional but I prefer the plastic caps since the metal ones get rusty after awhile.
Also optional is pickling salt. After a little research, I bought some because it was cheap, dissolves easier and prevents the liquid from getting cloudy. You can however use table salt.
Want some more snack ideas?
You may also enjoy my Amish pickled eggs and beets and my yellow pickled eggs!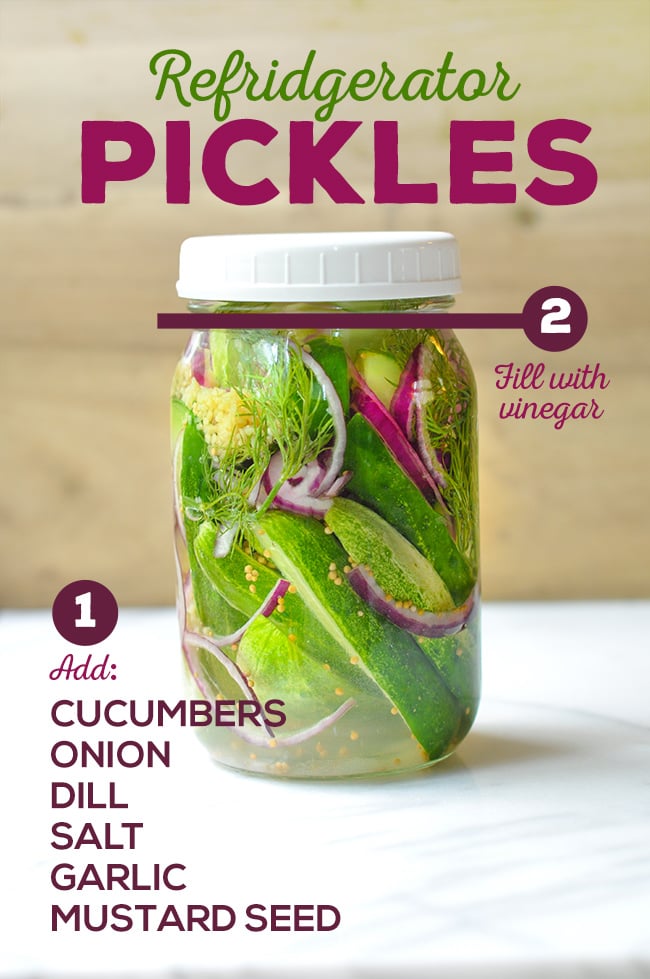 Ingredients
4-5

pickling cucumbers

1/4

red onion

thinly sliced (this is what makes them turn a pretty pink!)

4

sprigs of fresh dill

2

tsp

salt

2

heaping tsp minced garlic

2

tsp

mustard seeds

2

cups

filtered water

1 1/2

cups

white vinegar
Instructions
Slice cucumbers into spears, discs or leave whole depending on your favorite pickle style. 🙂

Add cucumbers, onions, dill, salt, garlic and mustard seeds to mason jar.

Fill mason jar half way with filtered water, then the rest of the way with vinegar. Add more or less vinegar to taste.

Seal the jar with a lid and put in the fridge. Pickles will be ready to eat in as little as 24 hours. Ideally 48 hours is best for a more saturated flavor.