Are you a mushroom lover? Well, you might just die of happiness when you try this Chicken Marsala Wild Rice soup! ?
Chicken Marsala meets Wild Rice Soup
It's basically the best of two different delicious dishes. Imagine if Chicken Marsala and Wild Rice soup had a baby. Are you thinking what I'm thinking? Yeah. That baby would be delicious.
Hello, fell mushroom lover.
So if you're scoping out this recipe, I'm assuming you're a fungus lover. It's okay. I am too. I love all mushrooms. I love the Earthy flavor of the edible ones and love to seek and find the cute and colorful yet poisonous ones.
Mushrooms are just cool.
Doesn't this picture make you feel all Alice and Wonderland? Ahhh… mushrooms. They just make me happy!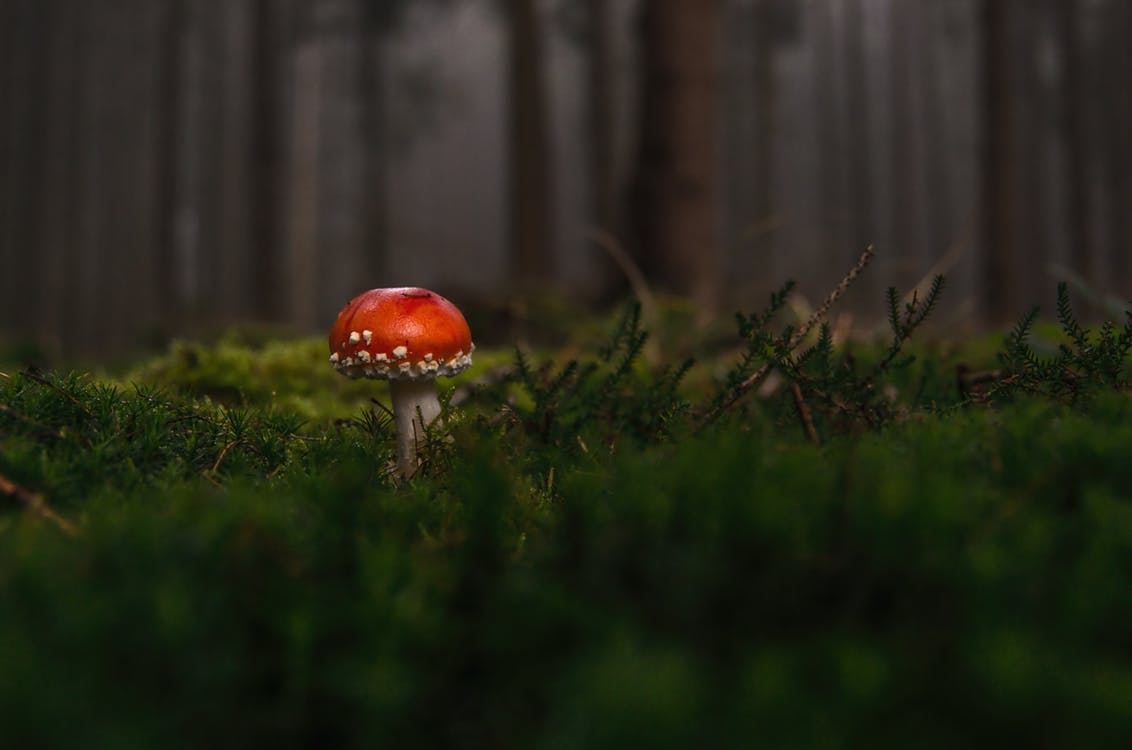 But anyway. Back to the edible ones. And specially, putting them into a soup.
Wild rice soup
Ever tried wild rice soup? If you haven't and want to get acquainted with wild rice soup in its most basic homemade form, check out this recipe on Pinch of Yum.
If you've already tried wild rice soup or maybe you haven't but you're just ready to take it up a notch anyway, then you're going to like what's about to go on here.
What you need to know to make homemade creamy chicken soup
Let me take a moment to explain what's happening here with this soup. First of all this soup's flavor is based on a mirepoix. Don't worry if you've never heard of a mirepoix before. It just means a blend of sauteed celery, carrots, and onions sometimes with herbs and ham or bacon. You can learn how to pronounce mirepoix here: Click the sound icon and listen.
Start with a roux
The second thing you need to know about this soup is that it involves a roux. Yes, another French word. A roux is a mixture of flour and fat (usually butter but sometimes bacon fat) used to thicken up a sauce, stew or int his case a soup.
I'm not telling you all these fancy French words to scare you off. This soup is really basic and easy to make despite all its fancy terminology. A roux is something I learned to make back when I first started to learn homemade cooking.
It's so helpful in a number of recipes, especially soups and sauces. So I just wanted to point out that there's an actual name for it, if you didn't already know, and that it's a trick you'll want to get down pat early on if you're going to be cooking a lot. If you've never made a roux, or you're not that familiar with how they work, you might find it helpful to check out this How to Make a Roux video.
A dutch oven is a soup maker's best friend
I typically make my soups in a dutch oven so that I can saute everything first and then add the remaining ingredients and cook everything using just one pot. If you're using a crockpot, then you can either saute in a separate pan first, or skip sauteing and slow cook everything.
Or you can look into getting a crockpot with a saute feature. If using an Instapot, it does have a saute feature so you can saute in the same pot. I guess that's what people like them. I haven't ever used one (yet).
Well, those are all the tips I can think to share with you. If you have any questions or feedback, please let me a comment! I think you're going too love this soup and it will fast become one of your new favorites.
I bet you'll also love…
My French onion soup with Marsala wine
All my soup recipes! Browse them all now. 🙂
This Chicken Marsala Wild Rice Soup was featured on Inspiration Monday! and a Big Green House!