This post may contain affiliate links. As an affiliate, I earn a commission.
Jump down to Recipe
I think you're are going to l-o-v-e these Mexican loaded sweet potato fries!
Fresh baked fries topped with fresh flavorful vegetarian goodness!
They are awesomely healthy and more importantly, delicious. The warm mild sweet and saltiness of the sweet potatoes combined with cool fresh, flavorful Mexican-inspired toppings is like a party in your mouth.
Seriously though, this simple combination of cilantro, a little salt and lime goes such a long way for flavor (Chipotle fans, where you at?) that you don't need any additional toppings or dressings. Calories saved!
Make these loaded fries as an appetizer for your next party.
Speaking of parties, this dish would make a super yummy appetizer. The cool thing is though, it makes a great lunch or dinner too. This might be a stretch but throw a couple sunny side up eggs on top and you could call this breakfast.
Very versatile. Very yummy. Did I mention freaking delicious?
How to get crispy bottoms on your baked fries.
To evenly bake your sweet potato fries starting with a whole sweet potato, you'll want to put them on a wire baking rack, placed on top of a cookie sheet.
This will help the bottom of your sweet potato fries get air so it will prevent them from sticking to the bottom and will ensure the heat gets to all sides for a perfectly crispy outer layer.
Try cooking frozen sweet potato fries in a cast iron skillet.
To save time, you can opt to start with frozen sweet potato fries instead of peeling, cutting and cooking whole sweet potatoes and making your fries from scratch.
If using frozen sweet potato fries, try cooking them with a small amount of oil on the stove top, with a cast iron skillet over medium-high heat, stirring frequently. You'll get a nice crispy on the outside and because the frozen fries are pre-cooked, you don't need to cook them as long. Heat them until the are warmed all the way through.
Want more easy appetizer ideas?
Browse all my appetizer recipes
These Mexican Style Baked Sweet Potato Fries were featured on Menu Plan Monday!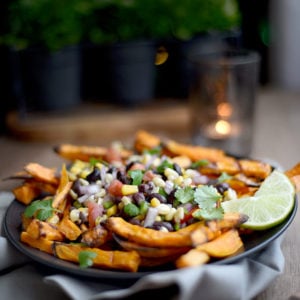 Ingredients
4

sweet potatoes

2

tbsp

olive oil

1

tsp

sea salt

½

cup

black beans

drained and rinsed

½

cup

cooked sweet corn

1

serrano pepper

diced

½

cup

fresh diced tomatoes

½

cup

diced red onion

Juice from 1/2 lime

Fresh cilantro
Instructions
Slice the sweet potatoes into french fry shape. Cut off the tips if you want, otherwise they will become charred when baked.

Toss the sweet potato fries in oil and arrange on a wire cooling rack, positioned on top of a baking sheet This will prevent sticking and will allow the fries to cook more evenly. Sprinkle with sea salt and bake at 425˚ for 18-22 minutes or until desired tenderness.

While the fries are baking, toss together black beans, corn, serrano pepper, tomatoes, red onion, and lime juice.

When fries are done baking, arrange them on a platter, top with black bean and corn mixture, garnish with fresh cilantro and the dig in!