This frothy pink punch made with sherbet is one of my favorite easy party drinks.
This post may contain affiliate links. As an affiliate, I earn a commission.
Jump down to Recipe
This frothy pink punch made with sherbet is one of my favorite easy party drinks.
Celebrating a special occasion?
It's the perfect punch for a baby shower! It's also a fun and easy punch to make for Valentine's Day, a princess birthday party, or for a bridal shower.
I'm guessing you're here because you're…
Wondering what drinks to serve at your party?
Am I right? 🙂 I'm glad you're considering this pretty pink punch, because this can be made in large batches, ideal for serving a crowd.
Or maybe you've already decided on punch and you're going with pink decor for your baby shower or party.
This pink sherbet punch is going to be perfect!
This punch is really easy to make.
It's is only TWO ingredients—Sherbet and ginger ale.
How to you make the froth?
The frothy top magically appears when you combine these two ingredients. The bubbles in the ginger ale combine with the sherbet and it add a top later of yummy and pretty forth to the top without even doing anything special Pretty cool!
Want a more sophisticated flavor?
You can also add fruit juice or even fresh raspberries if you want but it's not required. Fruit juice adds a more complex flavor but does reduce the froth bit.
Here's a batch I made for my daughter's birthday party. I added a little bit of pineapple juice to this. It was delicious!
Watch how easy it is to make this pink punch:
This pretty sherbet punch complements any party decor that incorporates pink.
I made this punch for my daughter's first birthday party. I used the colors pink and green to decorate, so the pink punch added to the theme, serving as a fun and pretty treat. Are you planning an event with pink as the main color? This punch would fit right in then. 🙂
How does this pink sherbet punch taste?
Both kids and adults typically love the taste. People seem to especially admire how nice the color of the pink sherbet looks. I personally love the frothy top and smooth chunks of sherbet.
Could you make this punch blue for a boy baby shower?
Yes! This is a little harder to do because blue sherbet and blue drinks are somewhat difficult to find. However, not impossible! What I'd recommend is going for a white sherbet — either pineapple or lemon would work and then use a blue drink like blue raspberry Hawaiian punch. To get some bubbles, you can use a clear beverage like Sprite or ginger ale.
Could this punch really be made any color?
Pretty much. Don't feel like this has to be pink. You can use any color sherbet and pair it up with a bubbly beverage that would complement the flavor and/or color of the sherbet. Experiment and see what you like! I could see a fun green version for St. Patrick's day for example!
You can spike this punch for a little extra "punch." 😉
Be sure to keep out of reach of children of course if you choose to spike this or you can add some spirit after your pour the punch into your cup. I highly recommend whipped cream vodka. The creamy tastes goes amazing well with the tangy raspberry flavor.
This sherbet punch recipe is an oldie but goodie!
This recipe is inspired by my grandma. She always made a similar punch using rainbow sherbet for our holiday parties. I could always be found by the punch bowl, refilling my cup with the creamy, bubbly punch. 🙂 Why not keep a good thing going, right?
What do you need to make this pink punch for a baby shower or party?
A punch bowl is pretty key. The punch bowl you see in the photo is actually a trifle bowl. It works great as a punch bowl and will save you from having to buy another large item to store. 😛
Here are some other supplies you may need:
Want other recipe ideas for a party?
While you're here, check out my most popular recipes.
Stay inspired! Sign up for my email newsletter.
I typically send out an email once a month with seasonal recipe ideas. The sign up box is at the bottom of this page. When you sign up, I'll also send you a copy of the printable meal planner and grocery list I use.
This pink punch recipe was featured on Hearth and Soul, Encouraging Hearts, Inspire me Monday, Wow Me Wednesday, Wine'd Down Wednesday, and South Your Mouth!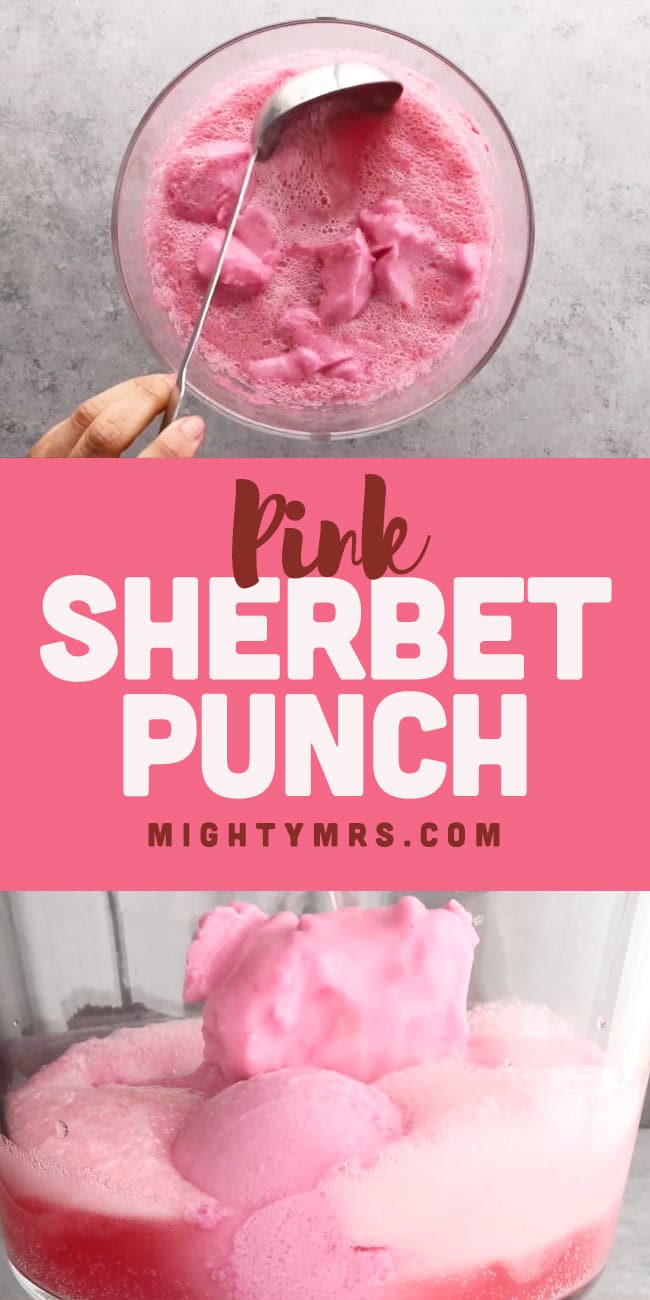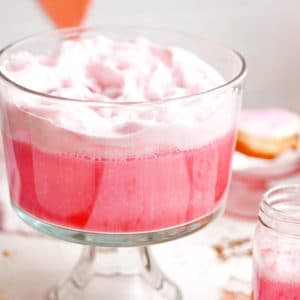 Pink Sherbet Punch
This frothy pink punch made with sherbet is one of my favorite easy party drinks.
Read Comments
Print
Pin
Rate
Ingredients
2

liters

raspberry ginger ale

24

oz

pink raspberry sherbet
OPTIONAL ADD-INS
A heavy splash cranberry or other fruit juice

Fresh raspberries
Instructions
Add raspberry sherbet to punch bowl then slowly pour ginger ale over top about 5-10 minutes before serving.

You can make this punch a little more nutritious and more flavorful by adding in juice. Not necessary but you can! Just substitute a portion of ginger ale with juice.
Nutrition Facts
Pink Sherbet Punch
Amount per Serving
% Daily Value*
* Percent Daily Values are based on a 2000 calorie diet.