Easy Loaded Cheeseburger Fries made with delicious quick-cook frozen fries and cheeseburger toppings—lettuce, pickles, tomato, and onion. Avocado and bacon optional.
This post may contain affiliate links. As an affiliate, I earn a commission.
Jump down to Recipe
This shop has been compensated by Inmar Intelligence and its advertiser. All opinions are mine alone. #mccainquickcookpotatoes
What tastes like a burgers-and-fries lunch, eats like a restaurant meal, yet is shareable like an appetizer? These Quick and Easy Loaded Cheeseburger Fries!
You are going to L-O-V-E this recipe.
Start with delicious oven-baked fries.
When it comes to loaded fries, some might say it's all about the toppings. But if you're not starting with awesome fries, then you're missing a key part of the equation.
So, we're kicking things off with some awesome and crispy baked fries that not only have great texture and flavor, they are also quick and easy to prepare.
Faster to Prepare. Easier to Share.
This recipe features three different varieties of fries (choose your favorite!):
• McCain® Quick Cook Crinkle Cut Fries
• McCain® Quick Cook Waffle Cut Fries
• McCain® Quick Cook Straight Cut Fries
It takes just minutes to make these 100% real, 100% delicious French fries for a hot-from-the-oven side the whole family will eat just as fast!
Each of these types of fries cook in half the time*​ compared to McCain's traditional fries.​ No flipping required! Yet you get a perfectly even golden brown color. It's kind of like magic.
The waffle fries take a smidge less to cook than the straight or crinkle cut, but we're still talking closer to 10 minutes vs. 20+. So when you're trying to feed a hungry crowd quickly, that's a big win.
The toppings hardly take any time at all either. You'll brown and cook the ground beef in a pan, everything else just needs to be chopped, sliced, or diced and it's ready to go.
This dish is ready to serve in less than 20 minutes!
Natural Potato Goodness
Made with Real Potatoes! McCain fries are made with no artificial flavors. That means natural potato goodness you'll be proud to serve.
Enjoy these loaded fries as an appetizer, snack or dinner.
Since we've got a complete trifecta of meat, veggies, and a starch — these loaded fries are a meal in itself, not just a side dish. So you can absolutely serve this recipe as dinner or as a hearty appetizer. It's a perfect dish for family game nights, sports watching, and movie nights or as an after-school snack.
Serve plated, in a cast-iron skillet or platter.
You can have everyone reach in and grab bites of these fries, restaurant-appetizer style, or have everyone scoop portions onto their own plate to enjoy as a meal. Choose what works best for you and your family. Fewer dishes or less of a mess might be the deciding factor.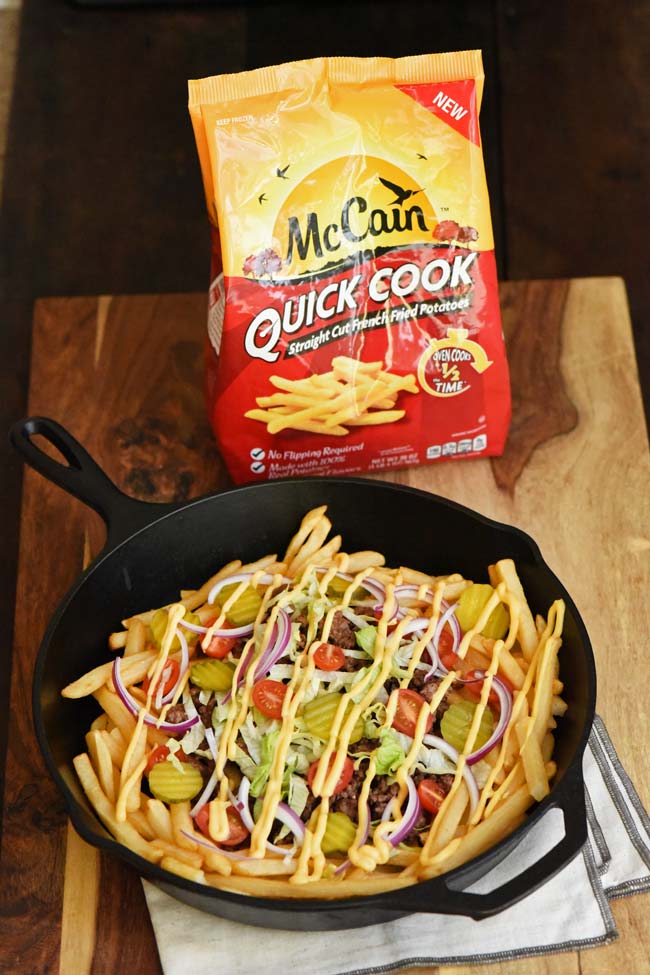 Tip: The waffle fries are actually great for scooping. So, while I personally love the traditional taste of the straight cut fries, you may want to try the waffle fries if you're serving this more appetizer style. You can't go wrong either way. You can always grab a fork if you need to. No rules here!
Best of both worlds.
The crinkle cut variety of fries has ridges and some of the fun texture you get from the waffle fries plus a quicker cook time and more crispy sides. So if crispy is your goal, this might be the variety for you.
Where to find McCain Quick Cook Fries
Check the frozen food section of your local grocery store to see what varieties are available near you or use the "find a location" tool to search before you head to the store.
-or-
Click HERE to add McCain Quick Cook Fries to your grocery cart! I found mine at my local Walmart.
What ingredients are needed to make these Loaded Cheeseburger Fries?
You know about the quick cook fries, so let's talk toppings. As you might expect, everything you'd find on a hamburger is what you can put on these loaded fries.
Here's what you'll need to make this recipe: McCain fries, ground beef, steak seasoning, nacho cheese, lettuce, tomato, onion (red or white), and dill pickles. You can even add ketchup and mustard too if you'd like.
Just like with a burger, you may decide to take it up a notch and get creative with your toppings. So, some optional topping ideas include avocado slices, bacon bits, and sauteed mushrooms.
*Compared to McCain® 32 OZ Crinkle Fries, 32 OZ Classic Fries, and 26 OZ Seasoned Waffle Fries (respectively) in conventional ovens.
Want more easy recipe ideas?
Browse all my recipes and Pin your favorites!
This quick and easy recipe for loaded cheeseburger fries was featured on South Your Mouth!
Quick and Easy Loaded Cheeseburger Fries
Easy Loaded Cheeseburger Fries made with delicious quick-cook frozen fries and cheeseburger toppings—lettuce, pickles, tomato, and onion. Avocado and bacon optional.
Read Comments
Print
Pin
Rate
Ingredients
1

lb

McCain Quick Cook Crinkle, Waffle or Straight Cut French Fried Potatoes

1

lb

ground beef

½

tsp

Chicago steak seasoning

or salt and pepper

½

cup

nacho cheese

more or less to taste

½

cup

grape tomatoes

halved

¼

cup

dill pickle slices

½

cup

shredded lettuce

¼

cup

sliced red onion

Optional condiments: Ketchup and/or mustard

Optional toppings: sliced avocado, bacon bits, mushrooms
Instructions
Preheat oven to 425° F. Spread frozen fries in a single layer on a dark, non-stick baking sheet or shallow baking pan. Bake according to the instructions on the packaging (no flipping required!). Waffle Fries: 8-10 mins. Straight and Crinkle Fries: 10-13 mins

While fries are baking, cook ground beef in a skillet over medium-high heat, adding steak seasoning or just salt and pepper as desired. Cook until all meat is brown then drain and set aside.

When fries are done, arrange them on a platter or serving skillet leaving open space in the center. Add cooked ground beef to the center.

Drizzle fries and beef with nacho cheese sauce then layer on shredded lettuce, halved grape tomatoes, red onion slices, and pickles. Add ketchup and mustard if desired plus bacon and avocado slices if you'd like to include those optional toppings.

Serve hot! Offer individual plates and a spatula for transferring to the plates or serve as finger food.
Nutrition Facts
Quick and Easy Loaded Cheeseburger Fries
Amount per Serving
% Daily Value*
* Percent Daily Values are based on a 2000 calorie diet.