This pineapple salsa makes a great dip with chips as well as a sauce for seafood. Try this fresh-flavored topping over coconut shrimp, on shrimp or fish tacos, or over grilled fish and rice.
This post may contain affiliate links. As an affiliate, I earn a commission.
Jump down to Recipe
Hawaiian vibes coming your way! This pineapple salsa brings tropical island feels with every bite.
This pineapple salsa makes a great dip with chips as well as a sauce for seafood.
Try this fresh-flavored topping over coconut shrimp, on shrimp or fish tacos, or over grilled fish and rice.
Maybe you've tried pineapple salsa at a restaurant or seen it somewhere before? Good news, friends. This is super easy to make at home!
Serve out of a pineapple!
You can get a little fancy and serve this salsa out of a pineapple. Perfect if you're enjoying it with others so everyone can dip. You can even heat up the pineapple and salsa. Instructions for how to hollow out a pineapple and heat it (optional) are included in the recipe below.
So is this a dip or a topping?
Both! As I mentioned, this salsa is really versatile. So the questions for you is, how do you want to enjoy it? Check out the ideas below and then decide. I personally love this with just chips or with coconut shrimp.
What to serve with pineapple salsa?
I've got a few ideas for you!
1. Coconut Shrimp with Pineapple Salsa (Appetizer)
You can make your own or buy cooked coconut shrimp frozen, ready to be baked. The toasted coconut flavor pairs really nicely with the sweet and tangy flavors of the pineapple salsa.
Serve as a dip.
There are a few ways to serve this. If you're offering this as an appetizer that will be shared, you'll probably want the pineapple salsa to be dippable. So I'd recommend puréeing the salsa rather than leaving it chunky.
Serve tapas style.
You can serve this more tapas style with 4 shrimp on a plate, or in a bowl, and spoon the pineapple salsa over top of the shrimp. Or each shrimp with a spoonful of chunk salsa on top. Serving the shrimp individually would be ideal for a cocktail party since they're easier to eat one at a time. You can shop appetizer spoons on Amazon.
2. Pineapple Salsa Dip with Chips (Appetizer)
This one is easy! Just prep the pineapple salsa and serve in a bowl, or a hollowed out pineapple. Any tortilla chips would be good but my favorite are the blue corn chips.
You can serve this dip cold or hot. So if you have the grill going, go ahead and pop the whole pineapple on the grill for a few minutes to heat it up and give it a bit of extra flavor. Scroll down for more details about how to do this.
If you want a smooth, less chunky version, you can purée the salsa. Just put all the ingredients into a food processor: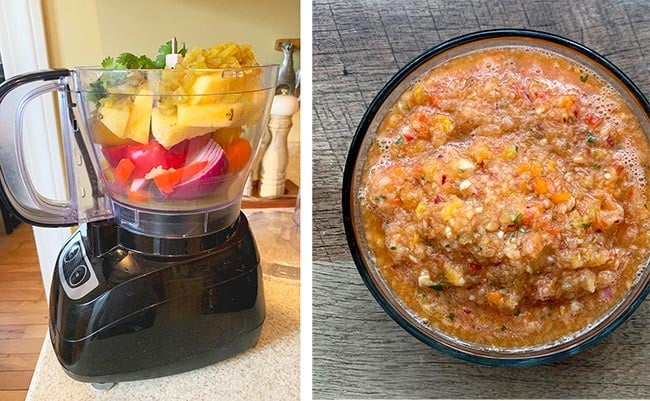 3. Pineapple Salsa over Fish (Dinner)
This pineapple salsa is so good on any type of white fish. White fish can really vary in price so feel free to choose one according to your budget but here are the ones you're likely to find readily available at most stores:
Tilapia
Cod
Mahi Mahi
Pacific Whiting
Halibut
If you enjoy it a little extra crunchy, you can opt for breaded or battered fish fillets.
4. Fish Tacos with Pineapple Salsa (Dinner)
Wrap fish (or shrimp) in a tortilla to make a taco.
If you're simply wanting to make this dish for dinner at home, then you can wrap these in a tortilla and make them into tacos! I'd recommend drizzling on a little yum yum sauce and maybe including some shredded cabbage.
Or try them as a coconut shrimp taco bowl.
If you're trying to cut carbs, you could serve this as a shrimp taco bowl either over slaw, or rice and slaw. Again, I'd recommend a sweet and spicy sauce to go with this.
Like it extra spicy? ?
Try adding in an extra jalapeno (or two ?) until you feel the burn!
Try it warm! ?
You can actually grill this salsa, right in the pineapple! What! Yep. Grilling this warms it up and adds a little bit of that smokey grilled flavor.
Few tips if you're going to try grilling this salsa:
Before you grill, take your hollowed out pineapple "bowl" and rinse it with cold water. This will prevent it from burning when you grill it.
If you want some cool looking grill marks on your pineapple bowl, after you dip it in water, lightly brush the flesh part of the pineapple with oil. You just need to oil the part that will touch the grill, not the whole inside. Then put the empty pineapple face down on the hot grill for about 2 minutes. Carefully lift it up and check for grill marks. Remove from grill, fill up with salsa and return to grill for about 5-10 minutes until salsa is warm.
Want more easy and yummy appetizer and dinner ideas?
Browse all my appetizer recipes
This coconut shrimp with pineapple salsa was featured on Menu Plan Monday and South Your Mouth!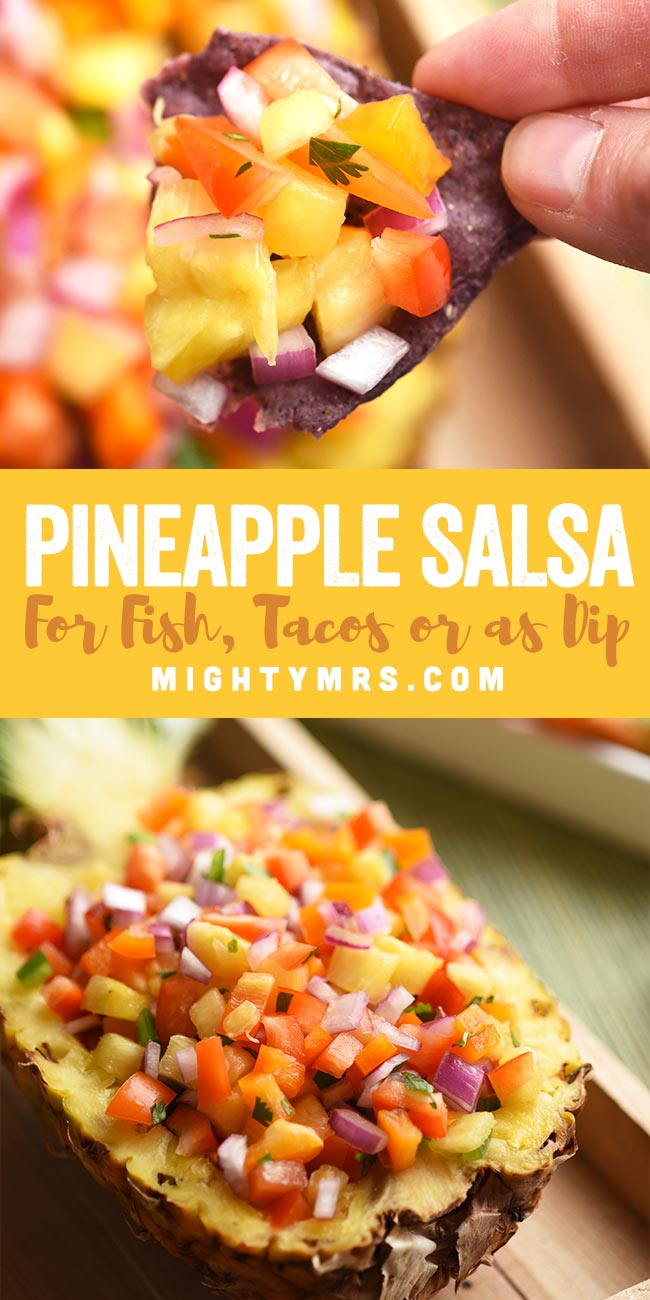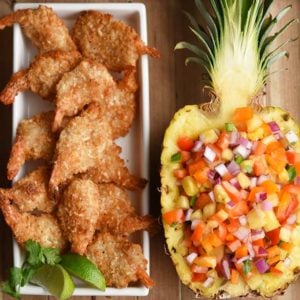 Pineapple Salsa for Shrimp, Tacos or as Dip
This pineapple salsa makes a great dip with chips as well as a sauce for seafood. Try this fresh-flavored topping over coconut shrimp, on shrimp or fish tacos, or over grilled fish and rice.
Read Comments
Print
Pin
Rate
Ingredients
1

fresh pineapple

1

red onion

diced

1

red pepper

diced

1

orange pepper

diced

1

lime

juiced

2

tablespoon

chopped cilantro

Sea salt to taste

1

lb

frozen coconut shrimp

Or serve salsa with tortilla chips
Instructions
Prepare the coconut shrimp according to the package (about 11 minutes baked in the oven)

While shrimp is cooking, lay pineapple on its side then cut in half horizontally so that you are slicing the top of the pineapple greens in half.

Using a small knife, cut around the inside of the pineapple at an angle. Using a spoon, gently loosen the middle part of the pineapple away from the bottom until it's completely free. Finely dice the part of the pineapple you remove, being careful to cut away the core which is typically too tough. Set the hollowed out pineapple body aside to use as your salsa bowl.

In a large bowl, combine diced peppers and onion with lime juice and cilantro. Toss then spoon into the pineapple for serving.

Serve pineapple salsa over top of cooked coconut shrimp and/or with tortilla chips.
Nutrition Facts
Calories:
456
kcal
|
Carbohydrates:
77
g
|
Protein:
35
g
|
Fat:
3
g
|
Saturated Fat:
1
g
|
Polyunsaturated Fat:
1
g
|
Monounsaturated Fat:
1
g
|
Trans Fat:
1
g
|
Cholesterol:
286
mg
|
Sodium:
1296
mg
|
Potassium:
1117
mg
|
Fiber:
11
g
|
Sugar:
52
g
|
Vitamin A:
4441
IU
|
Vitamin C:
382
mg
|
Calcium:
214
mg
|
Iron:
3
mg
Follow Mighty Mrs. for more easy recipes!
Find @MightyMrs on Pinterest