This festive holiday Swiss roll cake is easy to make starting with chocolate cake mix. Filled with marshmallow frosting and topped with buttercream icing made to look like back. Decorate as a yule log with sugared cranberries and fresh rosemary for a stunning dessert.
This post may contain affiliate links. As an affiliate, I earn a commission.
Jump down to Recipe
There's something so cozy, festive and inviting about a holiday yule log! Especially one made of cake.
★ Why You'll Love this Recipe ★
It's super easy!
My recipe uses boxed cake mix and a special marshmallow flavored frosting for the filling that you can buy ready-made, saving you a bunch of time.
I'll give you directions and have a quick 1-minute video to show you the process including rolling the cake as well as decorating it to look just like a beautiful log so you can nail this on the first try. Even if baking isn't your thing.
★ Ingredients You'll Need ★
What ingredients are in this yule log cake?
This particular recipe is super easy because you start with cake mix! Then all you need is a handful of other ingredients to make this come to life.
Here's everything you need: Devil's Food chocolate cake mix, water, oil, eggs, powdered sugar to help the cake not stick to itself when you roll it, Marshmallow frosting for the inside filling of the roll cake and then chocolate frosting for the outside of the cake which we'll texture to look like bark!
You can decorate this yule log cake however you'd like. An easy way to add a really beautiful touch is by garnishing with a few sprigs of fresh rosemary and a few fresh cranberries. You can sugar these garnishes but simply dipping the rosemary and cranberries in water. Shaking off any excess water, and then roll each in table sugar for a crystalized "snow covered" look.
★ How to Make this Yule Log Cake ★
Watch this quick how-to video before you start.
You'll see how to make this yule log cake, step by step. This recipe is easy enough for novice bakers but it's helpful to see how to prep and roll the cake before you try it.
★ Tips & FAQs ★
What is a yule log cake, exactly?
If you've never seen or enjoyed a yule log cake, I'd say it's similar to a giant Ho Ho or chocolate Swiss roll cake. Except instead of a chocolate coating, it's covered with chocolate frosting.
The frosting is often made to look like the bark of a log. With this recipe, I'm going to show you how to do this to your yule log! (Don't worry, it's really easy, no professional bakery skills required.)
Actually in general, a yule log cake is incredibly easy to make if you start with a cake mix.
What's the history and origin of the yule log?
You might be curious about origin of the yule log dessert. Or you might not be. So I'll keep it short and sweet and you can do your own Googling if you need more info.
The yule log is a Nordic tradition that began with an actual log which was part of an entire tree burned a little bit each day during the 12 days of Christmas. (Read the full story here). Somewhere along the way, the idea of the yule log was transformed into a dessert. Brilliant.
Why is this the best yule log cake recipe?
Well, I think it's this one. Why? Because it's easy and delicious. I'm a big fan of boxed cake mixes because they're cheap, easy and now you can buy them organic.
However, I really recommend making your own chocolate frosting if you have time.
Homemade chocolate buttercream frosting (click for my recipe) is pretty easy to whip up and it's so amazingly good.
Can you make your own Marshmallow frosting?
Yes, you can! If you forgot to pick up marshmallow fluff or frosting at the store, don't worry. You can make your own. Here are two recipes for homemade marshmallow filling:
Homemade Marshmallow Fluff (this tends to be a bit stickier)
Homemade Marshmallow Frosting (This is more like frosting but with marshmallow flavor)
You can also try this store-bought marshmallow flavored frosting to save time: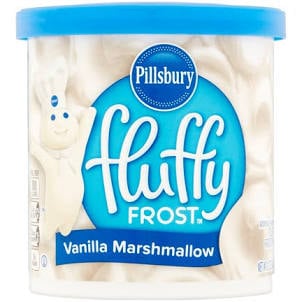 This fluffy frost is not the same as marshmallow fluff. The texture is a bit different, more light and fluffy and is easier to spread and less sticky. It's more like frosting but still has that marshmallow flavor.
If you're having trouble finding this frosting in stores, you can buy it on Amazon.
Or, just simply use vanilla frosting. All of these options are delicious so choose your favorite or just use whatever is handy. Remember, this is an easy and low stress cake! 😉
Homemade Chocolate Buttercream Frosting
I do recommend making making your own chocolate buttercream frosting. It's very simple, easier to make than the marshmallow filling, and homemade frosting is just so much better than the store bought stuff, it's worth the extra 5 minutes it takes to whip up. Trust.
Here's my go-to recipe for chocolate buttercream frosting. It's also linked within the recipe below for when you're ready to make this.
Tips for Success on the First Try
Bake time may vary depending on how thick you spread the batter out and also your type of oven. Just be sure not to overcook the cake or you may have trouble rolling it. Recommended baking sheet size is 12" x 18" for best results.
Keep an eye on the batter. As soon as all the shiny parts disappear, check the center with a toothpick. You don't want to over cook or it will be harder to roll.
When rolling the cake, be sure to use plenty of powdered sugar to prevent it from sticking to the towel.
Don't let the cake cool for more than 5 minutes or it will be difficult to roll and may crack.
If the cake cracks, just smooth over the cracks with frosting
Roll the cake tightly and while it's still warm. You'll need to compress the cake a bit to get a good roll.
You may choose to slice off the ends of the cake and leave it unfrosted. Some of the tradition recipes for yule logs I've seen do this. I've seen the slices stacked together and attached to the side of the log with frosting to look like a branch. Up to you if you want to try this! There's no right or wrong way to do this in my opinion. This is a fun dessert recipe that can be decorated and served according to your own style. So have fun with it!
To save time or simply for a different look, try using woodland-themed cake toppers to decorate vs. cranberries and rosemary.
★ Helpful Tools ★
What do you need to make a yule log using cake mix?
Here are a few tools that will make things easier, less stressful and also just more fun!
★ More Recipes You'll Love ★
Feeling the holiday spirit?
Try making some Christmas cookies too!
Typically this is a Christmas dessert so if you're reading this and Christmas is still pretty far away, pin this recipe for later!
This easy yule log cake recipe was featured on Back to my Southern Roots and South Your Mouth!

Easy Yule Log Recipe Using Cake Mix
This festive holiday Swiss roll cake is easy to make starting with chocolate cake mix. Filled with marshmallow frosting and topped with buttercream icing made to look like back. Decorate as a yule log with sugared cranberries and fresh rosemary for a stunning dessert.
Read Comments
Print
Pin
Rate
Ingredients
6

eggs

1

box

chocolate cake mix

⅓

cup

water

¼

cup

vegetable oil

1

tablespoon

powdered sugar

12

oz

fluffy marshmallow frosting

12

oz

whipped chocolate frosting

canned or homemade

Fresh cranberries and rosemary for garnish
Instructions
In a large bowl, beat eggs with an electric mixer for 5 minutes until frothy and pale yellow in color.

Add cake mix, water and oil and beat on low for 2 minutes.

Line a baking pan then coat liner with baking spray. Make sure to grease sides of the baking sheet as well.

Pour batter onto prepared 12x18 baking sheet and spread evenly.

Bake at 350˚ for 12-15 minutes or until a toothpick inserted into the center comes out clean.

When done, remove from oven and let cool for 5-10 minutes.

While the cake is still warm, grab a linen dish towel. Sprinkle both sides of the towel with powdered sugar to prevent cake from sticking to it then lay it on top of the cake. Holding the towel and pan together, gently flip upside down so the cake drops onto the towel. Lay on a clean surface.

Peel off liner. Then tightly but gently roll the cake, keeping the towel in place to separate the layers. Place the rolled cake on a cooling rack and let cool for at least 15 minutes.

When cooled, gently unroll the cake and spread with marshmallow frosting. Gently but tightly roll cake to form a log. Place onto a serving dish, seam side down. Frost outside and ends with chocolate frosting.

Using a fork, create a bark-like pattern in the frosting. Garnish with fresh cranberries and rosemary or decorate your log in a wintery scene using whatever decorative items you can find! I think for next year, I'm going to order this cute woodland decorative kit!
Notes
Recommended baking sheet size is 12″ x 18″ for best results.
Because this cake is very thin, it is very easy to over bake. Ovens, pans, and altitudes vary. So for best results, and to avoid a dry cake, pull your cake out of the oven as soon as a toothpick inserted into the center comes out clean. Another way to tell if the cake is done is as soon as it no longer looks wet on top.
Nutrition Facts
Calories:
550
kcal
|
Carbohydrates:
77
g
|
Protein:
6
g
|
Fat:
26
g
|
Saturated Fat:
10
g
|
Polyunsaturated Fat:
6
g
|
Monounsaturated Fat:
9
g
|
Trans Fat:
1
g
|
Cholesterol:
98
mg
|
Sodium:
519
mg
|
Potassium:
257
mg
|
Fiber:
1
g
|
Sugar:
59
g
|
Vitamin A:
144
IU
|
Calcium:
84
mg
|
Iron:
3
mg
Follow Mighty Mrs. for more easy recipes!
Find @MightyMrs on Pinterest