This delicious and easy homemade chocolate buttercream frosting harnesses a secret ingredient for awesome flavor. Sea salt, cocoa powder, powdered sugar, butter and milk are whipped together for a light and fluffy topping for cupcakes and cake
This post may contain affiliate links. As an affiliate, I earn a commission.
Jump down to Recipe
Homemade chocolate buttercream frosting is simple to make yet will upgrade your cake and cupcake game immensely! This frosting is seriously good enough to eat right out of the bowl and the recipe is so easy. It takes 5 minutes to make.
Sea Salt for Added Flavor
What makes this recipe extra special is sea salt. We are starting with unsalted butter and then adding sea salt for a bit of extra flavor along with the salt. The organic taste of the sea salt adds a subtle depth of flavor that will take your frosting to the next level!
Homemade fluffy buttercream frosting is your new best friend.
This frosting comes out fluffy, creamy and just the right amount of sweet with a hint of salt to really make the chocolate flavor pop. Do you like butter? How about chocolate? Like your food with a hint of salt? Good. You're going to L-O-V-E this recipe!
Is homemade frosting really better than store bought?
Yup. It's true. If you've never made homemade frosting before this, you'll be converted once you taste the different and realize how easy it is to make homemade! If you have made your own frosting and it involved cooking or milk or pudding or flour or other totally necessary ingredients (in my opinion), then you might enjoy how easy this is compared to your past experiences.
Luckily, it's easier than you think.
The 3-Ingredient Version
You can really break this down to just three ingredients, or if you want to get fancy, four. The difference would be using unsalted butter or not. When you use salted butter here, you do not need to add any additional salt.
The 4-Ingredient Version
I really like how sea salt tastes paired with chocolate so, if I have it available, I'll make this chocolate frosting with unsalted butter then I'll add my own sea salt.
Both versions taste great!
Adding Milk
You don't need to add milk, but if you like a softer, lighter frosting then you can add just a very small amount of milk or cream to change the texture. Just don't go too crazy with the milk or you might end up with a melty frosting. Two tablespoons max.
Want to take your sea salt chocolate buttercream frosting to the next level?
Start with homemade butter. Since butter is the main ingredient to this frosting, you can get a unique and fresh flavor by making your own butter. It's actually really easy to do! Get my recipe for 5-minute homemade butter here.
Sea salt optional
As I mentioned, if you're after that next level taste, without a lot of effort, sea salt really does the job. Since there are so few ingredients to this frosting recipe, going with unsalted butter and adding in sea salt really enhances the flavor in a simple way that it's worth the extra step.
However, if you're short on time or don't have unsalted butter on hand—no worries salted butter works just fine, just leave out the additional sea salt.
How to Avoid a Grainy Frosting Texture
Frosting can become grainy two ways. First, make sure you're using powdered sugar not table sugar. Since frosting is not cooked, the sugar will not melt into the chocolate. So you want that super fine texture that comes with using powdered sugar.
Next, when you are adding salt, especially sea salt which can tend to be more coarse than table salt, you will want to make sure it's finely ground. You can purchase fine sea salt or you can grind down regular sea salt using a mortar and pestle. It just take a few seconds to do and the result will be worth it. Not only will your frosting texture be smooth, the salt crystals will be more spread out giving you a more even flavor.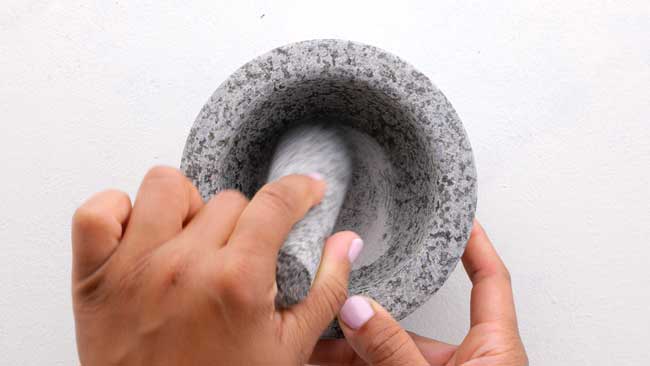 Helpful tools for making and frosting cupcakes:
Are you making cupcakes? There are a few special tools I'd recommend the will get you professional-looking cupcakes:
Use a cookie scoop to get the perfect amount of batter in each cup.
Fill your cupcake liners ¾ full to get that perfectly rounded, not-overflowing height. It's so tempting to fill the cups with batter but don't do it! ¾ is just right. Use a cookie scoop to help you measure each cup. The scooping mechanism helps prevent a lot of dripping.
Love sweets?
This chocolate sea salt buttercream frosting was featured on Fiesta Friday!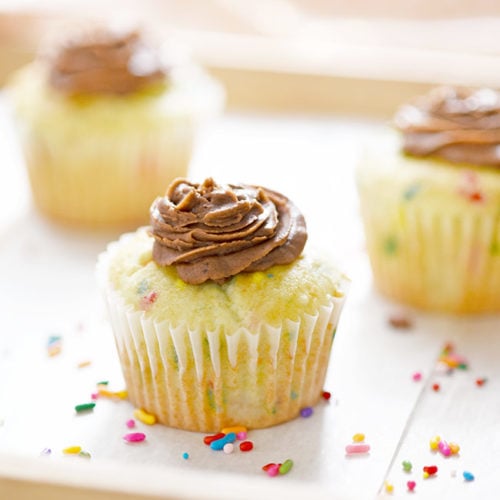 Easy Homemade Chocolate Sea Salt Buttercream Frosting
This delicious and easy homemade chocolate buttercream frosting harnesses a secret ingredient for awesome flavor. Sea salt, cocoa powder, powdered sugar, butter and milk are whipped together for a light and fluffy topping for cupcakes and cake
Read Comments
Print
Pin
Rate
Yield:
Approx 6oz (Frosting for 6 cupcakes)
Ingredients
½

cup

unsalted butter

3

tablespoon

cocoa powder

1

cup

powdered sugar

⅛

teaspoon

sea salt

1-2

tablespoon

milk

optional
Instructions
Using a mortar and pestle, grind the sea salt to a fine powder.

Add unsalted butter, cocoa powder, powdered sugar and sea salt powder to a large bowl. If you prefer your frosting to be light and fluffier, add 1-2 tablespoon milk.

Beat using a hand mixer, starting at a low speed then gradually increase to a higher speed and ingredients begin to blend.

Once ingredients are well blended, beat on high for about 1 minute to whip the frosting to a fluffy consistency.

To make filling your piping bag easier, place the bag inside of a tall cup and fold the sides over the rim of the cup.
Nutrition Facts
Calories:
221
kcal
|
Carbohydrates:
22
g
|
Protein:
1
g
|
Fat:
16
g
|
Saturated Fat:
10
g
|
Polyunsaturated Fat:
1
g
|
Monounsaturated Fat:
4
g
|
Trans Fat:
1
g
|
Cholesterol:
41
mg
|
Sodium:
53
mg
|
Potassium:
46
mg
|
Fiber:
1
g
|
Sugar:
20
g
|
Vitamin A:
477
IU
|
Calcium:
11
mg
|
Iron:
1
mg
Follow Mighty Mrs. for more easy recipes!
Find @MightyMrs on Pinterest