This post may contain affiliate links. As an affiliate, I earn a commission.
Jump down to Recipe
★ Why You'll Love this Recipe ★
Love Twinkies? You'll love this Twinkie Bundt Cake!
Inspired by the beloved Hostess snack cakes, this giant "Twinkie" cake will satisfy a craving and is a fun way to celebrate special occasions.
This recipe for homemade giant Twinkie Bundt Cake was born out of necessity. Necessity I tell you.
★ How to Make this Twinkie Bundt Cake ★
Fix, mix together cake mix, eggs, water and oil.
Coat your bundt pan with baking spray.
Add batter to bundt pan then bake.
After cake cools, poke holes into cake and fill with frosting.
Release from bundt pan onto a cake plate.
Sprinkle with powdered sugar then serve!
Easy!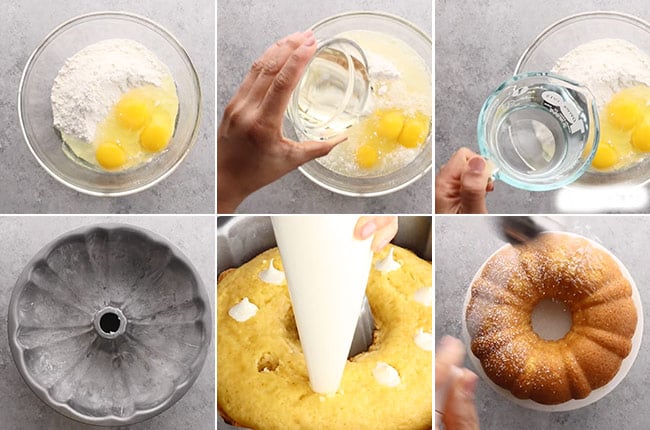 ★ Ingredients You'll Need ★
All you need are 6 ingredients to make this fun cake! 7 if you want to finish things off with powdered sugar.
Here's everything you need:
Yellow cake mix. You can use white cake mix too but yellow gives that signature "Twinki" color.
Eggs. Use farm fresh, corn-fed eggs for the best flavored cake.
Water. For creamier, more rich flavor, you can use milk instead.
Cooking oil. Vegetable oil or corn oil works best.
Pillsbury Fluffy Frost Vanilla Marshmallow Frosting. This specific kind of frosting will give you the best flavor and texture.
This homemade giant Twinkie Bundt Cake was born out of necessity. Necessity I tell you.You can find this in the baking aisle. It's made up of a mix of oil and flour. Great for releasing baked good from their pan. This will help you easily remove your bundt cake from the bundt pan.
Powdered sugar (optional). Sprinkle this on for a more festive finishing touch.
★ Tips for baking the perfect Twinkie Bundt Cake ★
You will need a bundt pan. Here's the bundt pan I use: Nordic Ware Original Bundt Cake Pan
You don't need any special tools to inject the fluffy marshmallow icing inside other than a plastic sandwich bag and a clean finger, however you can use a piping bag if you prefer. You can also use the end of a spatula to poke the holes.
Also, ever wondered how to keep cake from sticking to your bundt pan? First, make sure the bundt pan is nonstick, then here's the secret: Baker's Joy. This stuff! It's a game changer.
Thoroughly coat the bundt pan with Baker's Joy spray not cooking spray. Baking spray contains flour. Use baking spray and the cake should come out easily looking perfect. It does help to loose up around the edges with a small spatula.
Never fear though, if your cake comes out in more than one piece, then sprinkle on some powdered sugar to cover up any cracks. 😉
and… TA-DA!! Perfect.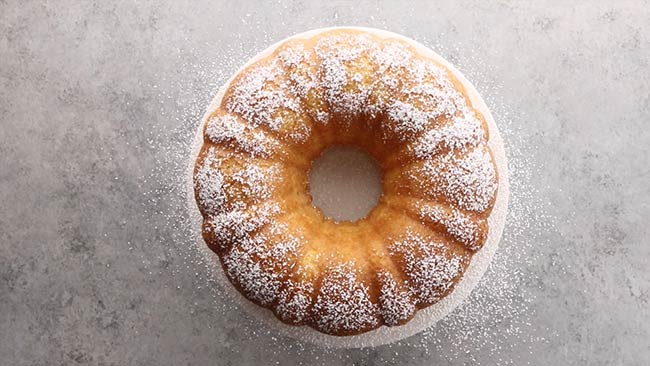 ★ FAQs ★
Remember when Twinkies were almost not a thing?!
I never realized just how sad I'd be to see a favorite childhood snack gone. For-ev-er (or so I thought). Until it happened in 2012.
My two favorite extra lunch money indulgences, HoHos and Twinkies were reportedly being taken off the market. I remember people saying things like "Well, they just aren't a healthy option. Americans are wising up."
Hmmm… don't think so. But that's a nice optimistic thought.
Why did they stop making Twinkies for awhile?
The real reason was actually quite controversial and quite frankly, a little shady.
If you never got the full scoop or somehow missed this moment in history, you can read this article that talks about the behind-the-scenes politics that were at play when Twinkies (and their chocolatey friends, HoHos) were taken off the market.
Thankfully in 2013 balance to the universe was restored. Twinkie and HoHo lovers everywhere rejoiced and the American level of health-conscientiousness remained relatively the same, somewhere between "I'm making healthy eating choices daily" and "YUM, that was delicious."
It's always best to know how to make something yourself, just in case. 😉
So, this homemade Twinkie bundt cake is for all of you still in fear that there might be another scarcity of Twinkies OR for the truly health conscious American who enjoys a good Twinkie but would like the ability to eliminate some of the "junk" ingredients typically found in super processed foods.
Could you use Marshmallow Fluff instead of Marshmallow flavored frosting?
This first time I made this I did use marshmallow fluff. It was yummy. So you can use marshmallow fluff. However, I prefer to use marshmallow frosting now. Specifically, Pillsbury Fluffy Frost Vanilla Marshmallow.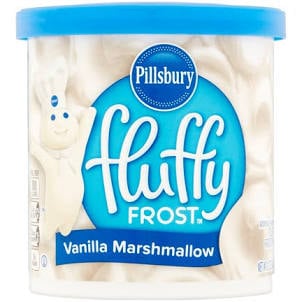 I'll explain why. The Marshmallow fluff is sticky and dense and unless you let the cake completely cool, it tends to melt into the cake so you get the flavor but not much of the Twinkie-like creme filling that you'd expect.
So, when I found out there was a marshmallow flavored frosting, I switched to using that. I prefer it. You still need to let the cake completely cool or the same melting/absorbing issue can occur. I live in a rural area so my grocery store has a pretty limited selection of frostings, however they do carry this flavor.
If you can't find it though, then a vanilla frosting would work well too.
Want to make your own marshmallow frosting?
You can. Here's a well-reviewed recipe for a homemade version of marshmallow frosting: view the frosting recipe here. One reviewer of this recipe on Pinterest had success with Martha Stewart's homemade marshmallow filling, saying it was, "simple and awesome." Here's Martha Stewart's homemade marshmallow filling recipe.
I have not personally tried either of these filling recipes so please feel free to leave a comment if you have about whether it's worth the extra effort and what it tastes like so other readers can decide what they want to do. 🙂
What kind of cooking oil works best?
Any cooking oil with a high smoke point works. You can use coconut oil if you'd like but you do end up with a little coconut flavor and it's not quite as Twinkie-like. A more neutral cooking oil like vegetable oil or corn works best.
Can this be made with coconut oil?
If you enjoy a hint of coconut flavor and want to use coconut oil, I find it's easier to measure in liquid form. I spoon the oil into a glass measuring cup and microwave it for about 30 seconds. Add more as needed until you get to the right amount. It blends a bit better into the batter when it's in liquid form too.
★ Helpful Tools ★
★ More Recipes You'll Love ★
Want more easy dessert ideas?
If you love this Twinkie Bundt Cake, I bet you'll love this Boston Cream Bundt Cake!
Love to cook and also love easy recipes?
Check out my most popular recipes on Pinterest!
This Giant Twinkie Bundt Cake was featured on South Your Mouth as recipe of the week.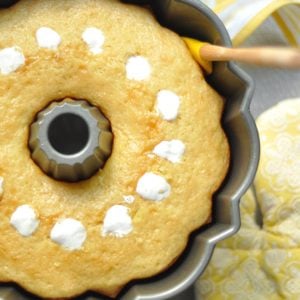 Giant Twinkie Bundt Cake
This homemade giant Twinkie bundt cake is easy to whip up using cake mix. This marshmallow frosting filled golden bundt cake will rock your world. Rave reviews every time!
Read Comments
Print
Pin
Rate
Ingredients
1

box

yellow cake mix

3

eggs

1

cup

water

½

cup

cooking oil

1

cup

Pillsbury Fluffy Frost Vanilla Marshmallow Frosting*

Baking spray

Powdered sugar

optional
Instructions
Prepare cake batter by stirring together cake mix, eggs, water and cooking oil until well blended and only slightly lumpy. Pour batter into a bundt pan coated with BAKING spray (contains flour) or grease and sprinkle lightly with flour. Bake at 350˚for 25-35 minutes. Cook time varies by pan so when the top of the cake starts to firm up, insert a toothpick into the middle of the cake, AS SOON AS it comes out clean, remove the cake. Be sure not to overcook or cake will become dry. It will be nice and moist if you cook it just until it sets!

Once the bundt cake is done, remove from oven and cool. To speed up cooling, you can put the cake in the freezer for 30 minutes. (Note: Make sure you let the cake cool completely or the marshmallow filling will melt and be absorbed into the cake after you add it.)

Once the cake is cooled, leave it in the pan and poke the cake almost all the way to the bottom of the pan (which will be the top of the cake). Move your finger from side to side to widen the cavity and allow in more frosting. Keep poking making your holes about 1 and a half inches apart.

Next, fill up a sandwich bag with marshmallow frosting and cut one of the corner tips of the bag to create a pea-sized hole. Seal the bag and squeeze the bag to dispense the marshmallow frosting into each hole. Tip: Make sure to put the tip of the fluff bag as far into each hole as you can get so plenty of fluff gets into each poked hole.

Using a tiny rubber spatula or butter knife, separate the sides of the cake from the bundt pan as best you can without cutting into the cake. Once the cake is nice and loose, place a flat plate or cake stand upside down on top of the bundt cake pan. Then gently turn both the bundt pan and cake pan over and let gravity do its thing. Carefully lift the bundt pan while you peak around all sides to see if the cake dropped evenly onto the plate.

Top with sprinkled powdered sugar for a festive look.
Nutrition Facts
Calories:
336
kcal
|
Carbohydrates:
48
g
|
Protein:
3
g
|
Fat:
15
g
|
Saturated Fat:
2
g
|
Polyunsaturated Fat:
4
g
|
Monounsaturated Fat:
8
g
|
Trans Fat:
1
g
|
Cholesterol:
41
mg
|
Sodium:
365
mg
|
Potassium:
42
mg
|
Fiber:
1
g
|
Sugar:
31
g
|
Vitamin A:
59
IU
|
Calcium:
98
mg
|
Iron:
1
mg
Want more easy recipe ideas?
Follow @MightyMrs on Pinterest