This post contains affiliate links. As an affiliate, I earn a commission.
Side yards can come in all shapes and sizes. We have, what I would call, a mid-sized side yard that's rectangular in shape but includes a sizable slope towards the back.
We live on .5 acres and our house sits almost right in the middle of that lot. We have a pretty steep slope, a.k.a. a hill in our backyard that required some immediate work to remedy a drainage problem. I'll get into the details of that in another post because that project is still in the works. So, because summer sneaked up on us and we needed to get outside (especially after the quarantine!) we kind of just ended up making the side yard our hang out spot.
The first thing we tackled was cutting away wild bushes and brush. Our lot is wooded on one side and along the back which is nice for privacy but it was a little overgrown. So we cut the "woods" part back a bit and landscaped around the perimeter of the woods rather than attempting to weed the entire wooded area.
We then added some edging to separate the landscaped bed from the grass. We had some leftover from the front yard we we used that and then just filled in on either end with rocks we found in the yard.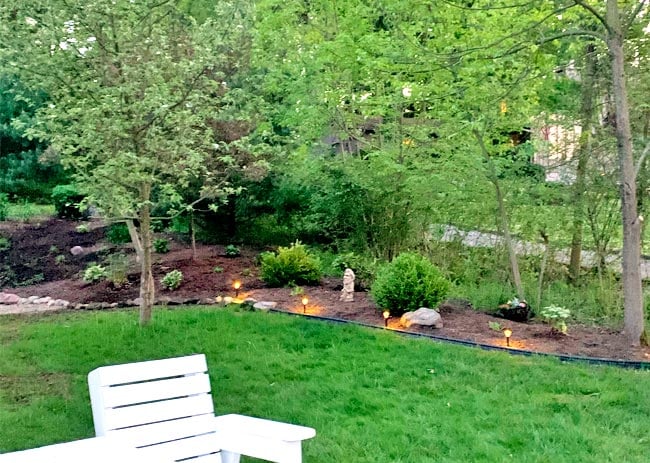 We used Suncast Professional grade landscaping edging that comes as a roll and is plastic. It got great reviews and it was easy to install and work with. This side of the yard was much softer though. When we used it on the other side of the yard where it way much more dry and rock, we had to do some heavy-duty digging. This side of the yard was so soft you could almost push it in place. So, keep in mind, the yard itself plays a big role in how easy or hard it is to put in edging. It's doable either way though.
Shop Suncast edging on Amazon.
We put down black landscaping fabric, then mulched. The landscaping fabric has held up really well. I recommend checking the reviews before you buy to make sure it's a good quality fabric that'll hold up over the years. You don't want to have to dig it up and start over.
Shop black landscaping fabric on Amazon.
The plants and shrubs are all perennials. I wanted low maintenance landscaping. This is our third house so we have wises up to how much work it is to maintain a yard and therefore wanted to keep it minimal but still looking nice.
The shrubs and plants we have in the side yard are:
Boxwood bushes – we relocated these from the front yard during the drainage project. If you dig deep, keep the root ball in tact and water the bushes daily for at least the first couple weeks, they should transplant just fine. Giving them some shrub fertilizer helps too and we do this annually. I've used fertilizer pellets as well as the fertilizer stakes. Both work well to get plant the nutrients they need.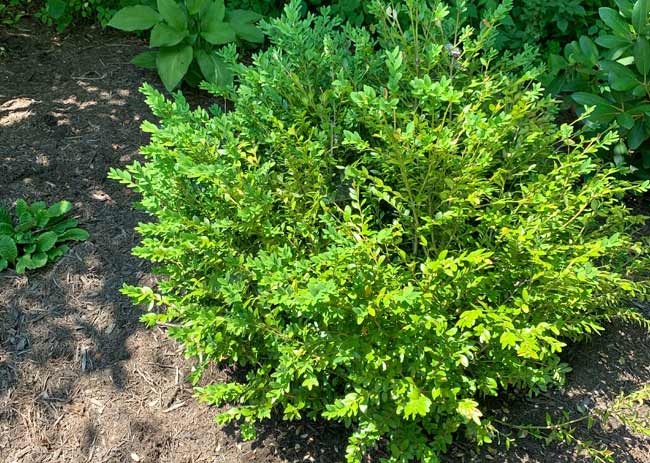 Rhododendron – My friend Holly doesn't like these because they remind her of an old lady for some reason. Ha! I don't mind them. This shrub was already there so we left it. It will get a pretty bloom, usually purple, and weathers the harsh PA winters well. You do have to prune them or they will get huge.
Hostas – So funny side note, we sold our old house to my friend Holly before moving to this house. She was kind enough to bring me some of our old hostas when she split them. She brought me enough to line the whole back of the bed. I have variegated (two-toned) as well as solid green ones in there.
Bleeding Heart – Again, my friend Holly being her awesome self, brought my this plant after I mentioned I loved bleeding hearts. My grandma used to have them in her garden and so it's a constant reminder of her warm love (and her yummy roast beef sandwiches!) each spring when they are in bloom.
Hellebore – This is another perennial that came from our old house. They will bush out over the years and get a pretty flower in very early spring and sometimes even bloom under the snow in the winter!
Primrose – These I found along the side of the new house and discovered they were perennials since the ID tag was helpfully left there. They bloomed early spring, pretty yellow and purple blooms.
Vinca – This is a perennial ground cover vine with purple flowers in early spring. It has a really pretty, dark green leaf and spread while keeping low to the ground. The house already had a large patch of this growing in the backyard so I just took some chunks of it and planted them on the steepest part of the hill. Over the next few years, I anticipate this vine will completely take of the hill and will help with erosion or mulch and the hill itself.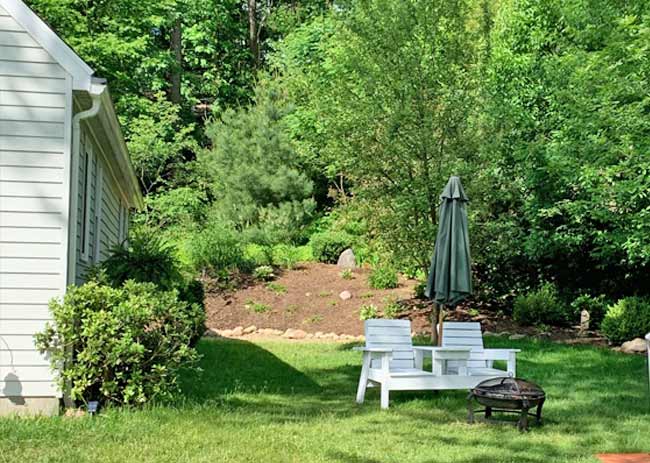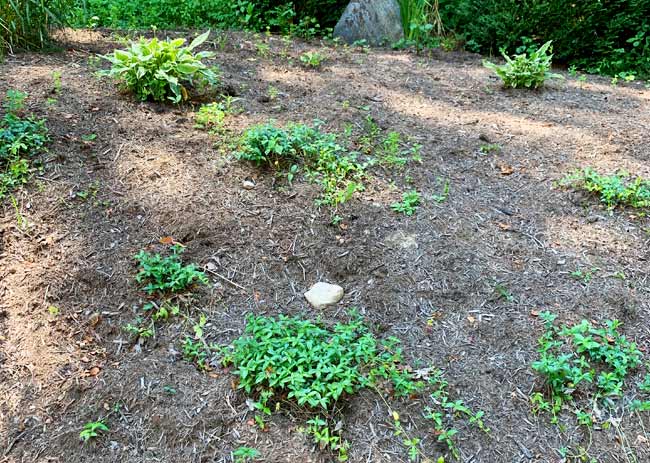 Annuals – I know. I said I only wanted perennials. But I love annuals! So, I picked up a hanging planter from Facebook marketplace for $5 and hung it on a shepherds hook. I can change this out each year and still add some color to this area without digging around in the nice, neat perennial beds. This year I did a mix of Inpatients, Dusty Miller, and Snap Dragons.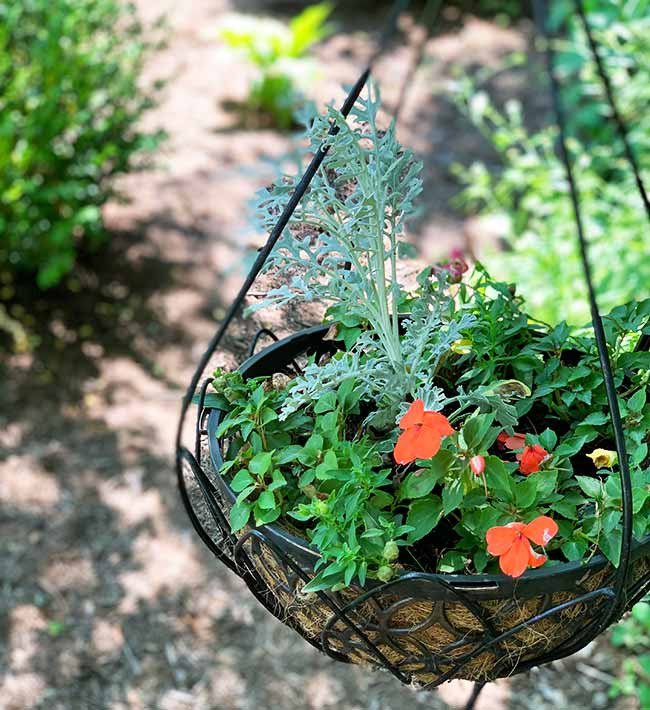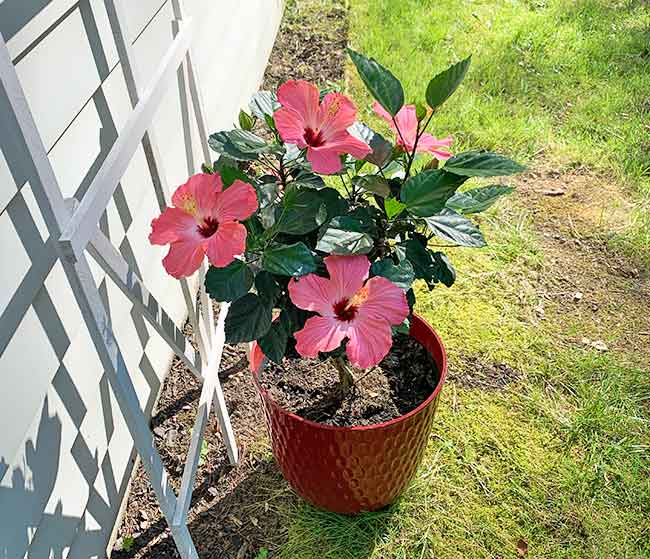 I also picked up a beautiful Hibiscus tree that bloomed all summer long! I'm going to take it inside for the winter and hope that it will make it through the winter so we can put it out again next year.
Ferns! There is something about ferns that is so cozy. If you don't have a porch, you can hang them anywhere on shepherds hooks and still get the same cozy vibe. We put two ferns against the side of the house and they looked great (with some water) all summer long. I'll have to see if I can keep these alive for next year in the basement, next to a window down there.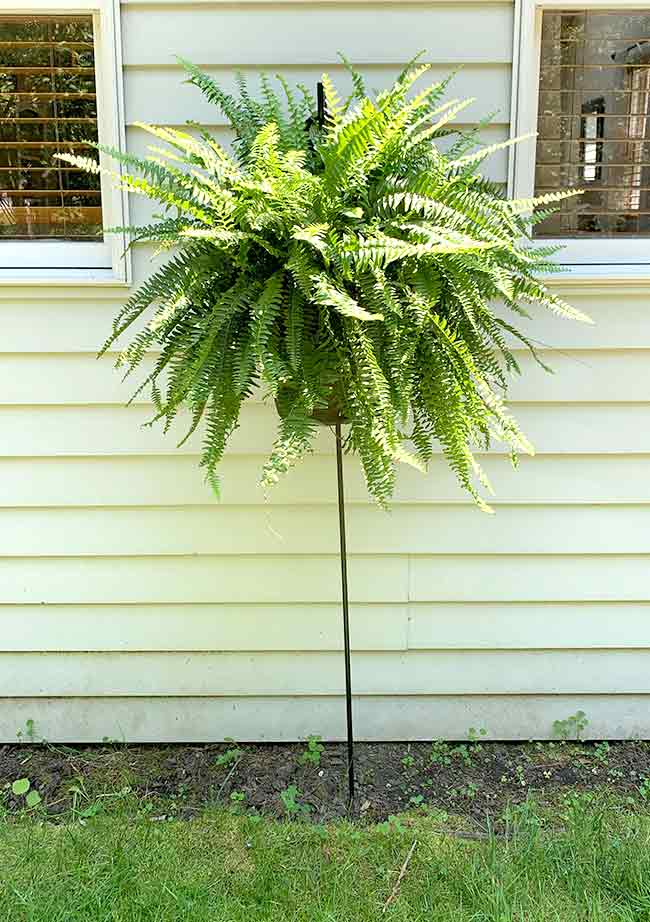 Rocks – A very low maintenance way to add some interest to your garden beds! The family who owned the house before us had some nice, large rocks put in by a professional landscaper and so we moved some around and left others in place. Landscaping rocks can be a bit pricey so if you're on a budget, you may be able to gather them one at a time from people with some land, or sometimes people give them away or sell them for a cheaper price on Facebook.
Solar lights – I'm obsessed with these!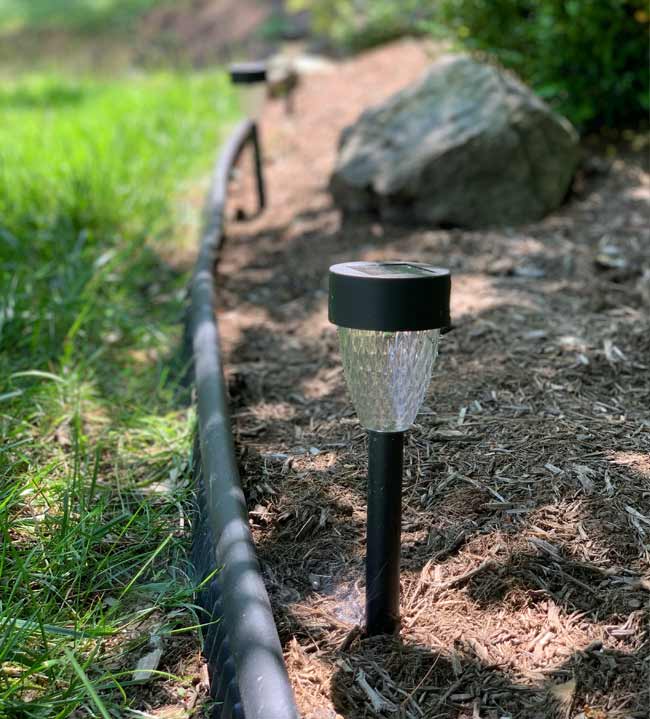 They are such a cheap, easy and low maintenance was to make your yard come alive at night. There are many different styles and price points out there. I scored mine for about $2/each. I spaced them about 6 feet apart (before that was cool, ha ha) and they do a nice job of providing light and adding that whimsical look at night. I also have a couple solar spot lights to light up the front shrub for a little night time drama and also shed a little light for us when we get home after dark. They are fully charged by the sun, no need to run wires and they automatically come on at dusk and shut off at dawn. Even if they only last a season, totally worth it!
Shop solar landscaping lights on Amazon.
Finally, the big feature of the side yard is our 16′ above ground pool! This was definitely a bit of an impulse buy that ended up being the best money we spent all year. This kids used it almost every day and big enough the Mr. and I enjoyed it on several occasions on hot days.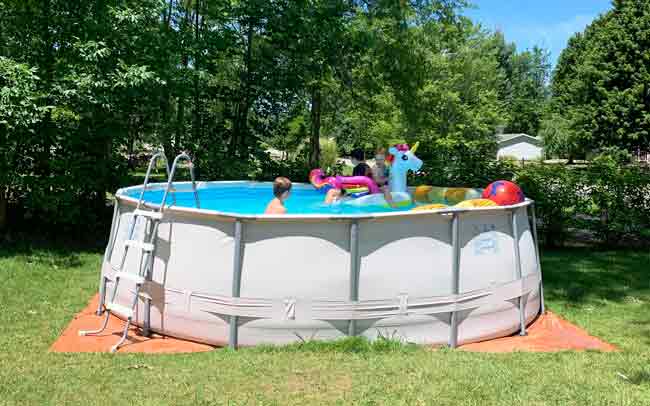 Shop above ground pools on Amazon
Fire pit – We also set up a conversation area in the side yard with an inexpensive fire pit and lawn chairs we already had. The kids enjoyed warming up next to the fire after taking a swim in the pool on cool days. They also cooked hot dogs and s'mores over the fire and I appreciated having a place to put all the sticks the big tree in the front yard likes to continually drop.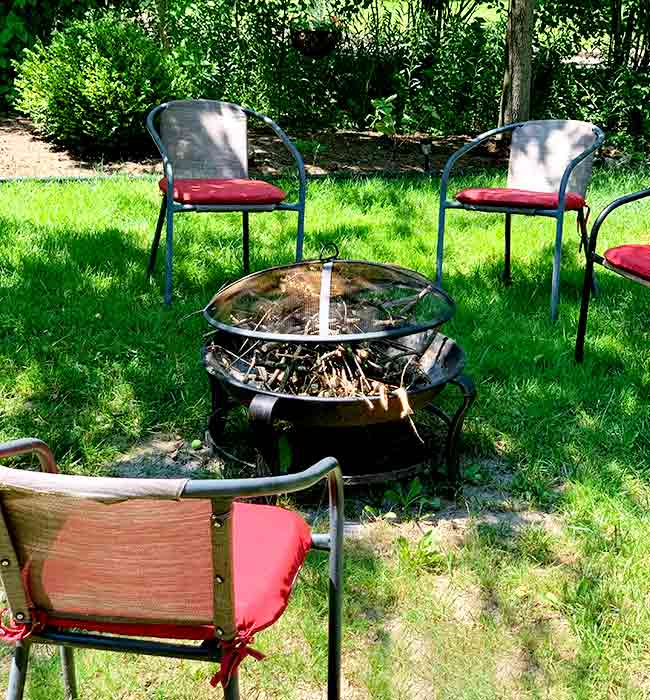 So that's our side yard! It's not big but we made the most of it, I think!
I hope this inspired you with some ideas for what to do with your own side yard, or maybe some extra space you have or are dreaming about.
While you're here, be sure to get some recipe ideas too!