You get both simplicity and rich flavor with this dish! Chicken is cooked in a savory French onion broth and topped with melted cheese creating a mouthwatering dish made with just 6 easy-to-find ingredients! Elevate your weeknight dinner with this quick and easy chicken recipe that tastes great served with rice and a veggie. Ready in just 40 minutes!
This post may contain affiliate links. As an affiliate, I earn a commission.
Jump down to Recipe
Caramelized onions and melted cheese smother this oven-baked chicken dish. A savory broth is created as this dish cooks to create an amazing chicken dish that pairs well with rice and veggies for a complete meal.
★ Why You'll Love this Recipe ★
This dish hits all the right notes of warmth and sophistication yet is so easy to pull off using a packet of French onion soup mix!
In just 40 minutes, you can transform ordinary chicken breasts into a mouthwatering meal packed with the rich flavors of French onion soup and gooey melted cheese.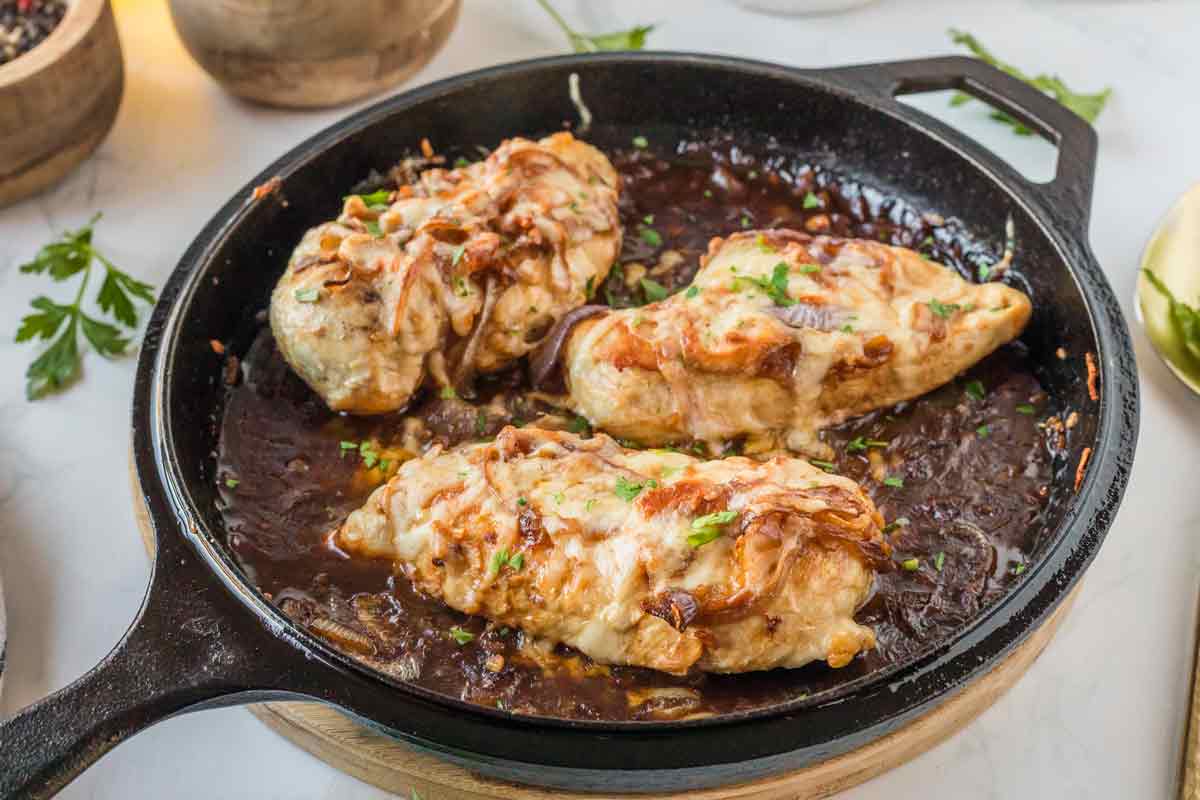 This recipe is very versatile. You can change up the type of cheese you use, add herbs, and choose your broth — chicken or beef both work great. If you make this dish often, try mixing it up each time you make it so it never gets boring.
★ Ingredients You'll Need ★
This recipe is super simple and very versatile.
Here's all you'll need.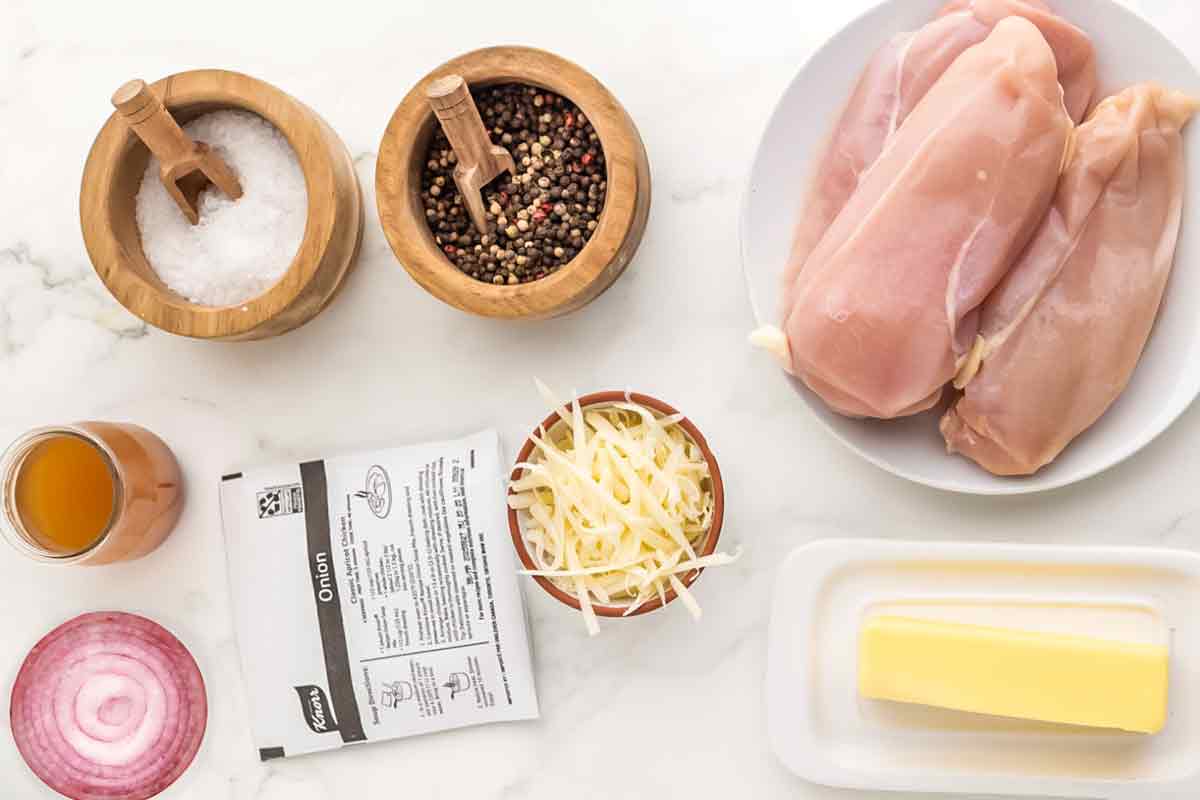 Chicken. You can use chicken breasts, cutlets or even chicken thighs. Just keep in mind cook time may vary depending on the cut of chicken you choose.
Onion. Any kind of onion works. Yellow, red, or white. The flavor will vary depending on the onion you choose. Red will be a bit sweeter and more mild.
Onion soup mix. This is a seasoning packet you can find in the soup aisle. This is a very easy way to add a lot of flavor in one step.
Broth. You can use beef or chicken broth. Beef is traditionally use in French onion soup but if you prefer chicken broth with the chicken, you can certainly do that. Try both and see which you like if you aren't sure.
Cheese. A combination of mozzarella and Provolone cheese is my favorite option but you can also use Gruyère, Parmesan or an Italian cheese blend.
Butter. This is simply to grease the pan. You can use cooking oil if you prefer. Butter does add a subtle creamy taste that is nice which is why I like to use butter for this recipe.
Herbs. Salt and pepper can be added to taste. And herbs like thyme and rosemary compliment and enhance the flavor of French onion very nicely. Add fresh or dried herbs if you'd like.
That's it. Very simple! Just 6 main ingredients.
★ How to Make this Recipe ★
This French onion soup chicken is very simple to prep and cook!
Here's a quickl overview of each step: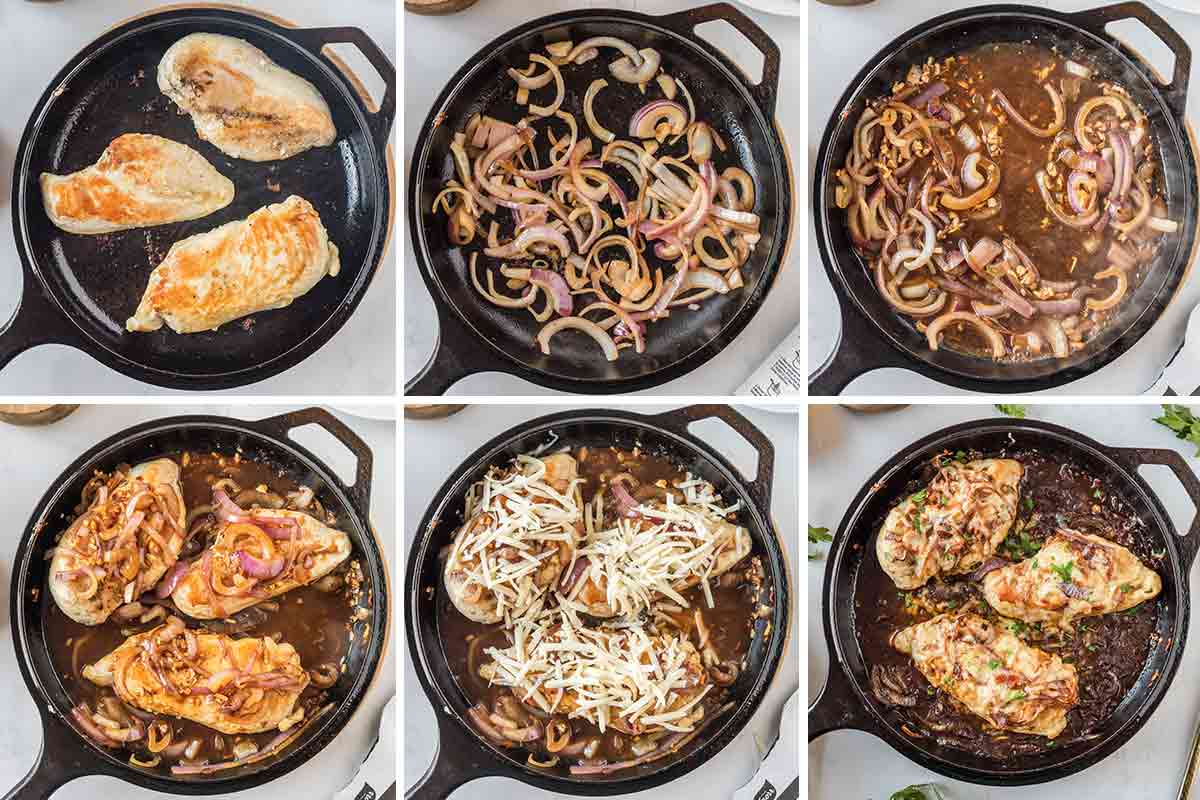 Sear chicken then
aside.
Sauté onions.
Pour in French onion soup mix and broth.
Add chicken back.
Top chicken with cheese.
Bake.
Garnish and serve.
Super simple! So GOOD.
★ Tips & FAQs ★
Using a cast iron skillet distributes heat evenly, allowing for a more consistent and flavorful result.
Searing the chicken before baking helps lock in the juices and adds a nice color and flavor to the dish. Be sure not to fully cook the chicken during this step; it will finish cooking in the oven.
Take your time caramelizing the red onions. This step enhances the sweetness and depth of flavor in the dish.
Cheddar cheese works well in this recipe, but you can experiment with other types of cheese like Gruyère, Swiss, or mozzarella for different flavor profiles.
Be cautious not to overcook the chicken in the oven, as it can make the meat dry. Check the chicken's internal temperature with a meat thermometer; it should reach 165°F.
Serve the dish with side dishes that complement the flavors, such as mashed potatoes, rice, garlic bread, steamed vegetables, or a simple green salad.
Chicken breasts can vary in thickness, so if you have very thick ones, consider pounding them to even thickness before searing. This helps ensure they cook evenly in the skillet and oven.
Can I use bone-in chicken for this recipe?
Yes, you can use bone-in chicken, such as chicken thighs or drumsticks, for this recipe. Just be aware that the cooking time may need to be adjusted to ensure the chicken is cooked through. Use a meat thermometer to check for doneness.
Can I make this dish in advance for a party or special occasion?
Yes, this dish is excellent for preparing in advance. You can make it earlier in the day and reheat it just before serving. Keep it in an airtight container in the refrigerator and reheat it in the oven.
Can I use a different type of onion if I don't have red onions?
While red onions are commonly used for their milder and slightly sweet flavor, you can substitute them with yellow or white onions if needed. The flavor profile will be slightly different, but it will still work well.
Storage
Your leftovers can be stored in the refrigerator for up to 2-3 days. After that, the quality may start to deteriorate, and the dish may become less flavorful.
Freeze the chicken and sauce in an airtight container for up to 2-3 months. When you're ready to enjoy it, thaw it in the refrigerator overnight.
★ More Recipes You'll Love ★
Chicken Dinner Ideas Galore
Browse all my easy and delicious Chicken recipes and be sure to Pin your favorites for later!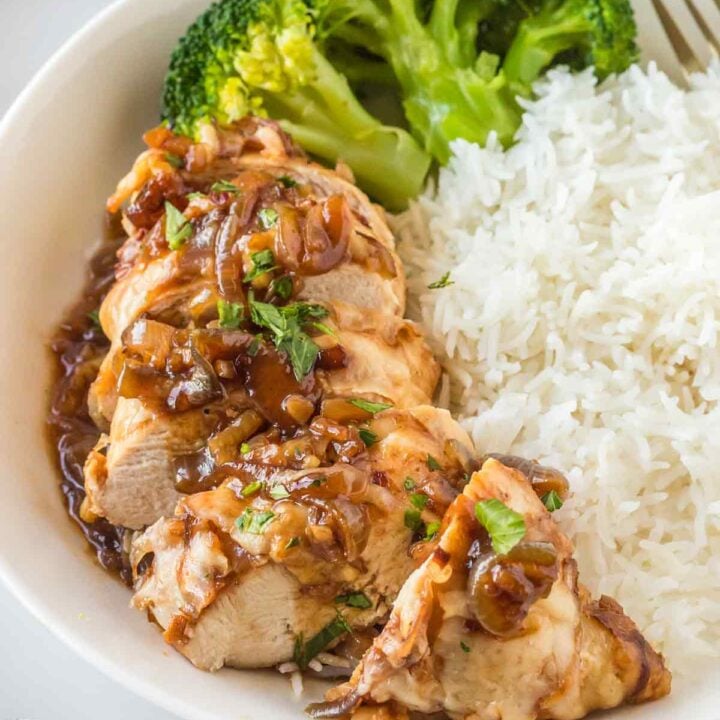 French Onion Soup Chicken Bake
You get both simplicity and rich flavor with this dish! Chicken is cooked in a savory French onion broth and topped with melted cheese creating a mouthwatering dish made with just 6 easy-to-find ingredients! Elevate your weeknight dinner with this quick and easy chicken recipe that tastes great served with rice and a veggie. Ready in just 40 minutes!
Read Comments
Print
Pin
Rate
Ingredients
2

tablespoon

butter

4

chicken breasts

1

red onion

thinly sliced

2

oz

package French onion soup mix

½

cup

beef broth

(4oz)

¾

cup shredded mozzarella and provolone cheese blend
Instructions
Lay chicken breast on a cutting board and cover with plastic wrap. Pound flat to achieve an even thickness.

Season both sides with salt and pepper as desired.

In a cast iron skillet, or oven-safe pan, melt butter over medium-high heat.

Add chicken breasts to the skillet and sear each side for about 2 minutes or until lightly browned.

Remove seared chicken and set aside.

Add sliced onion to skillet. Sauté onion for a 3-5 minutes until translucent and starts to caramelize. Stir to prevent burning. You want the color to be brown, not black. Adjust the heat down as needed to prevent blackening.

Once onions are caramelized, add the onion soup package and beef broth.

Return the seared chicken to the skillet.

Spoon some sauce over the chicken.

Sprinkle shredded cheese evenly over top of the chicken.

Carefully transfer the skillet into the preheated oven and bake for 15-20 minutes, or until the chicken is cooked to an internal temperature of 165˚. Cheese should be bubbling and golden brown.

Serve your French onion chicken hot, spooning some of the flavorful sauce over the chicken.

Garnish with fresh parsley if desired.
Notes
If you don't have a cast iron skillet, you can use a dutch oven or transfer chicken to a baking dish. Using the same pan from stove top to oven is more ideal though so you don't loose those flavors in the pan.
Nutrition Facts
Serving:
1
g
|
Calories:
336
kcal
|
Carbohydrates:
3
g
|
Protein:
49
g
|
Fat:
13
g
|
Saturated Fat:
6
g
|
Polyunsaturated Fat:
1
g
|
Monounsaturated Fat:
3
g
|
Trans Fat:
0.3
g
|
Cholesterol:
163
mg
|
Sodium:
407
mg
|
Potassium:
946
mg
|
Fiber:
1
g
|
Sugar:
2
g
|
Vitamin A:
275
IU
|
Vitamin C:
5
mg
|
Calcium:
49
mg
|
Iron:
1
mg
Follow Mighty Mrs. for more easy recipes!
Find @MightyMrs on Pinterest