This stovetop or crockpot old fashioned vegetable beef soup would make your grandma proud. Easy to make recipe using stew meat or ground beef, mixed vegetables and potatoes in a tomato-beef broth.
This post may contain affiliate links. As an affiliate, I earn a commission.
Jump down to Recipe
This homemade, old fashioned vegetable beef soup will take you way back in so many good, wholesome ways.
Can be made in your crockpot or on the stovetop.
★ Why You'll Love this Soup ★
You'll love the tender chunks of stew meat and how it's packed with healthy veggies all in a light beefy-tomato broth.
The potatoes make it hearty so it eats like a full meal. Perfect for chilly days but truly can be enjoyed year-round.
It tastes like Grandma's vegetable beef soup.
I don't know about your grandma, but mine made a mean pot roast. Maybe because crockpots weren't invented until 1940 or could be that she just liked the way the oven warmed up the house and made it smell divine but it took her allllll day to make.
The beauty of this recipe is that it tastes as good as grandma's cooking, but does not take all day. And you do not even need to turn on the oven unless you want to warm up some bread to go along with this yummy vegetable beef soup.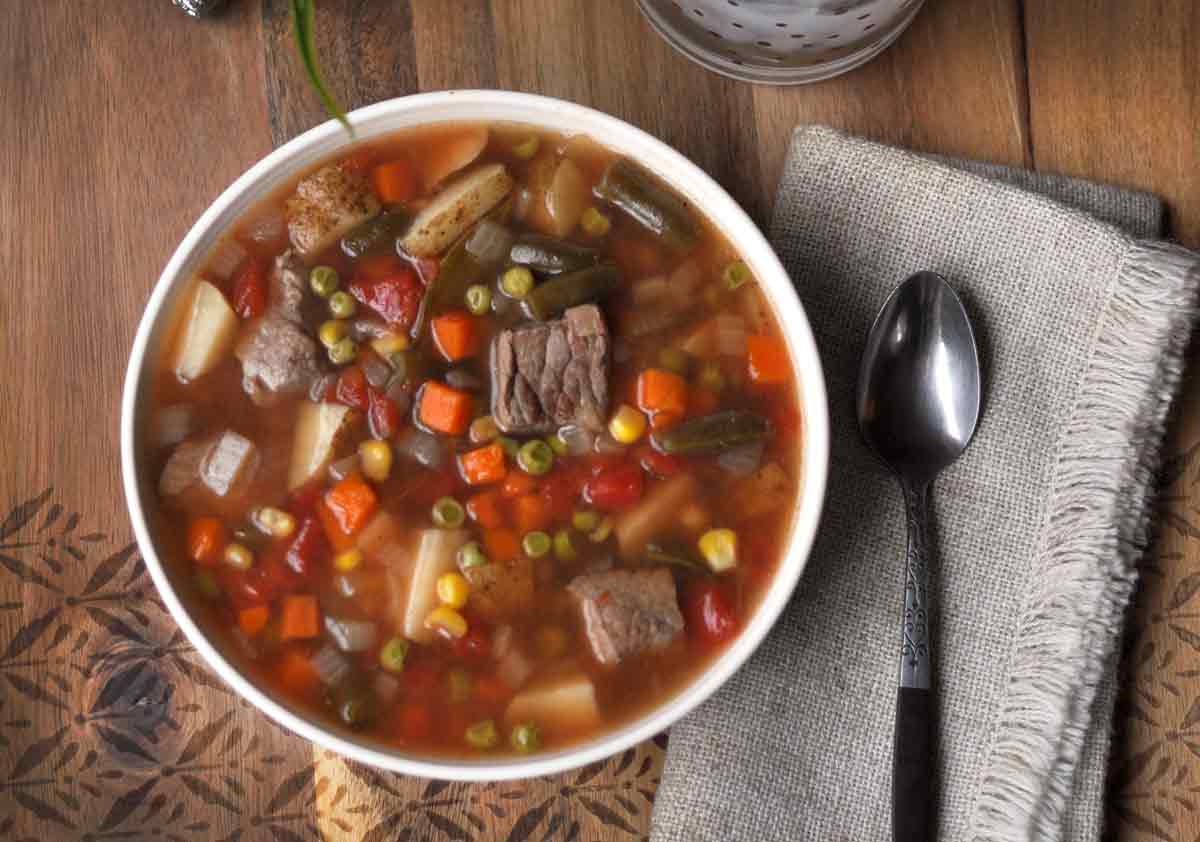 You'll enjoy the tender chunks of stew meat, along with a healthy dose of mixed vegetables all stewed in a light beefy-tomato broth. Rustic potatoes add heartiness to really make this into a complete meal. Perfect for a cool crisp day.
When you don't want to deal with a long list of complicated ingredients or when you have vegetables you want to use up, this soup will come in handy.
Leftovers make a great lunch.
One of my favorite things about this soup is that is stores well in the fridge and makes a great to-go lunch. Pack it in a glass container and just pop it in the microwave for a quick and easy yet hearty and healthy lunch.
I use these glass containers with lids. (from amazon)
Old fashioned but it's easy to make.
This vegetable beef soup is made from scratch but it's very easy to make. Do you remember the mixed veggies that your mom made you eat when you were 10? Well they're back. And your adult-self will love how they add to the health and flavor factor of this soup.
Throw in a diced potato (and serve with a side of garlic bread for good measure) and we are talking a full homemade meal, with very minimal effort.
By the way — frozen dough is my favorite cheat for quick and easy fresh baked bread. Or pick up a fresh-baked loaf of crusty bread from the bakery.
★ Ingredients You'll Need ★
The beauty of my vegetable beef soup recipe is that you don't need a ton of ingredients to get a ton a flavor.
Here's everything you'll need:
Beef broth and beef bullion. For more flavorful stock we are using both.
Diced potatoes. Leave the skin on for added flavor, texture and vitamins.
Frozen mixed vegetables. Easy! Healthy!
Canned diced tomatoes. The beef and tomatoes create a lovely broth as the base for this soup.
Stew meat. You can buy this packaged, already cut into bite-sized pieces or you can use ground beef.
Butter. I like to sear the meat in butter for added creamy flavor.
Worcestershire sauce. This brings out the "meaty" flavor of the beef.
Onion, bay leaves, salt and pepper all add layers of flavor to finish off this soup.
★ How to Make this Soup ★
First, sear the stew meat.
Add chopped onion, frozen mixed vegetables, and diced potatoes.
Add diced tomatoes.
Add Worcestershire sauce, beef broth and beef bullion.
Add bay leaves.
Bring to a boil then simmer until vegetables are soft and flavorful.
Simple and easy! This soup is ready done cooking after simmering.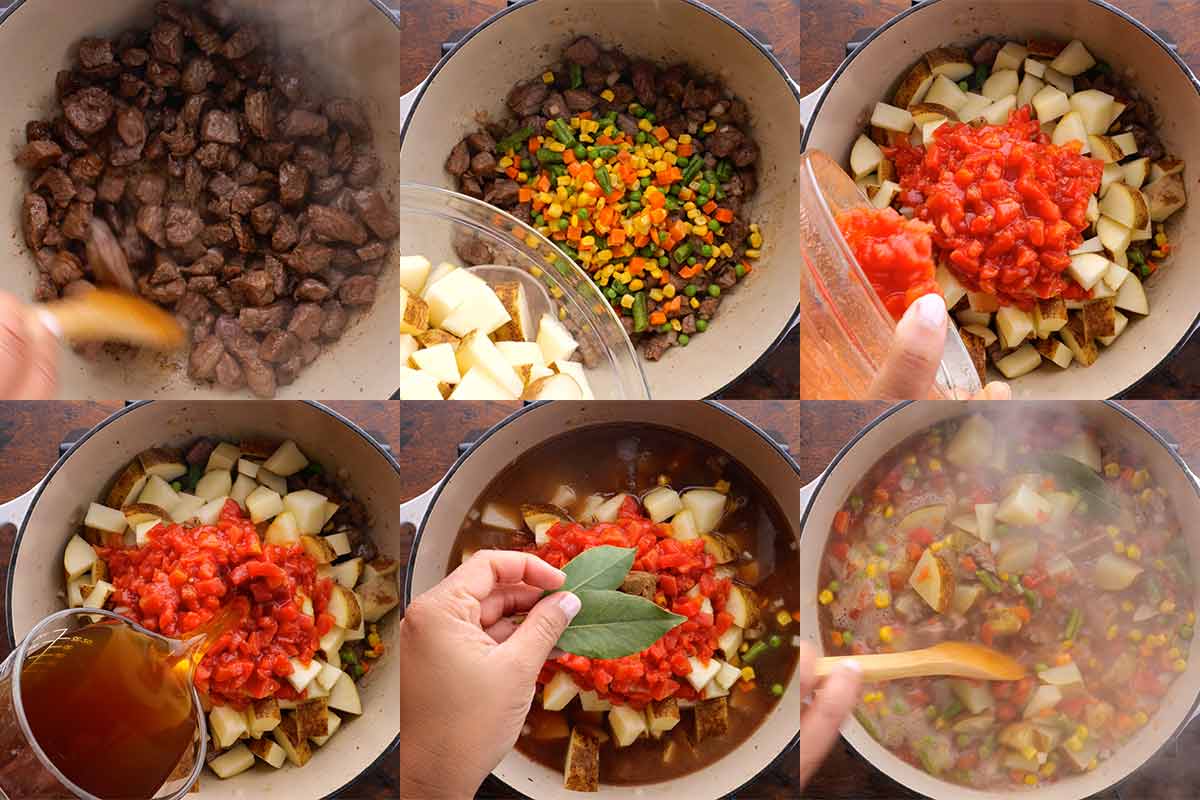 ★ Tips & FAQs ★
Be sure to sear your meat.
It may be tempting to skip this step, but you should sear stew meat. When you take a couple extra minutes to sear the outside of the beef, it locks in juices and moisture. This prevents the meat from becoming dry and overly chewy. Instead, it melts in your mouth and bursts with flavor when you take a bit. Sounds good right? Totally worth it.
Use a dutch oven to make this a one-pot recipe.
This recipe calls for sauteing the stew meat to lock in juices and tenderness, and then slow cooking the soup ingredients with the broth. You can simmer the soup in a crockpot or on the stovetop.
You can sauté and simmer all in one pot using a dutch oven, to save dishes.
I love my dutch oven because of the fact that you can sauté, boil and even roast in the oven — all in the same pot. Perfect for recipes like soups and roasts. It's kinda like an old school Instapot, without the pressure cooking feature.
Here's the dutch oven I have and use frequently: 6-Quart Lodge Dutch Oven
Sometimes I use this method of cooking when I'm going to serve this soup right away. If I'm starting the soup early in the morning for later that day I'll saute everything and then transfer ingredients to my crockpot to simmer on low for a few hours before I switch it to warm. You can choose whatever method works best for your style of cooking, or your plans for the day. But just make sure you sauté first for the best flavor.
You can make this using one pot using a dutch oven or an Instapot, or you can use a combination of a skillet and a pot or slow cooker. There's no right or wrong method, just choose what fits your lifestyle or your day best.
Can you make this vegetable beef soup in a crockpot?
Yes. You can prepare this soup using a combination of searing the meat on the stovetop then finishing off in the crockpot instead of the stovetop.
As I mentioned, the slow cooker is ideal for the kind of days where you have a little time in the morning to get a jump start on dinner, saving time later in the day. You can prep and add all your ingredients and then set it to cook while you go to work or run errands, then come back to a ready-made meal.
Make sure if you are purchasing a crockpot, to go for one that has a timer built in that switches to keep warm when you want it to. This prevents overcooking if you plan to be gone longer than the cook time. Check out this slow cooker. if you're in the market for your first slow cooker or looking to upgrade.
Can this soup be made in an Instapot?
Yep! The nice thing about an Instapot is you can sauté everything in the same pot. You'll need to use this setting to sear your meat and sauté the onions then you can use the Instapot to heat the remaining ingredients and broth quickly.
Once you saute, this soup needs just 12-15 minutes (see note) on high pressure to cook the vegetables and be ready to eat. Follow the directions provided with your Instapot for sautéing, heat up time and for releasing pressure safely.
Note: The longer you pressure cook, the more tender your vegetables and meat will be.
Don't own an Instapot?
You can shop Instapots on Amazon and get one fast!
What is the best cut of meat for vegetable beef soup?
I like to use stew meat that's already cubed. You can typically find this at the grocery store. I enjoy the big chunks and the tenderness of the cubed steak.
Ground beef though, also works really well with this recipe. The flavor will be similarity to stew meat, you'll just experience a different texture. It's also a bit more affordable than stew meat so it's a great option if you're on a budget.
If you're looking for a delicious and natural option, you may want to try grass-fed beef. I recently have become a fan after purchasing a grass-fed steak at the new market that opened up in town.
How to do you add more flavor to beef soup?
Here's the big secret to supremely flavorful soup: bullion!
To make a really flavorful soup, just add a little bouillon! Even if you're starting with beef broth, a little extra of the beef flavor goes a long way.
In general, when making soups, you want to match the meat and/or broth flavor when you add bullion. You only need a teaspoon or so of bullion at a time. The great thing is you can stir in some extra bullion at the end of preparing the recipe. So you can add a little bullion at a time, taste test, and then add more (or not) as your heart desires.
This recipe has a beef broth so you'll want to add beef bullion. You could also add vegetable bullion. I would not recommend adding chicken bullion to this soup.
Try de-glazing your pan for another boost of flavor.
If you want to be fancy and add flavor to your soup, you can de-glaze the skillet after you're done sautéing.
To do this, transfer all the solid ingredients out of the skillet then add ½ cup beef broth to the empty skillet.
Bring broth to a boil and carefully scrape the bits of leftover gristle from the sides and bottom of the skillet until they blend in with the broth. Then add the flavor-infused broth to your soup. YUM!
What kind of beef broth is best with this soup recipe?
You'll be getting some natural juice from the stew meat, but you'll need a bit more meaty flavor for a rich broth. You can go with a variety of options for your broth: beef bullion + water, canned beef broth, or beef stock paste + water.
I like to start with a carton of beef broth (I like bone broth for the flavor and nutrients) then I add some extra beef bullion for a boost of beefy flavor. This is my secret to rich and delicious broth you can eat by itself!
How do I spice up this beefy vegetable soup?
You can add easy ingredients to add a little more flavor and some heat to this soup, I have tried the chipotle hot sauce, regular hot sauce, jalapenos, banana peppers, liquid smoke, green chiles and all have been delicious additions to this easy soup. You can also add Italian Seasoning, tomato sauce, orange juice, tomato juice, Soy Sauce, white pepper, garlic powder, red wine, cilantro, fresh parsley, and green onion to this soup to bring in additional types of flavors.
Do you have to saute vegetables before making soup?
When a recipe calls for sauteing vegetables before adding them to the rest of the recipe it's because it breaks them down and releases more flavor and aroma, it also softens them so they cook faster instead of being crunchy in your finished recipe. You don't have to saute them, but if you have time, go for it and see what you think of the added flavor.
Storage Tips
Store in an airtight container and freeze for up to three months.
This soup can be stored in the refrigerator for up to five days.
What to Serve with Vegetable Beef Soup
I generally have cornbread or garlic bread ready to go with this recipe, something simple since the soup itself is hearty and full of different flavors and textures.
This soup already has lot of veggies but you could also offer a side salad to go with this soup.
★ More Recipes You'll Love ★
Love homemade soup for dinner?
Check out my other easy soup recipes! Be sure to Pin your favorites for later.
Have a craving for beef? Browse all my beef recipes
This old fashioned vegetable beef soup was featured on Full Plate Thursdays, Menu Plan Monday, Meal Plan Monday and Eighty Recipes!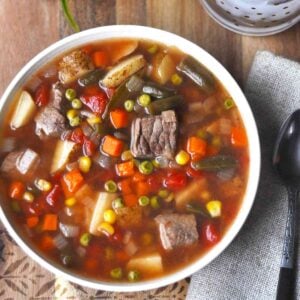 Old Fashioned Vegetable Beef Soup
This stovetop or crockpot old fashioned vegetable beef soup would make your grandma proud. Easy to make recipe using stew meat or ground beef, mixed vegetables and potatoes in a tomato-beef broth.
Read Comments
Print
Pin
Rate
Ingredients
2

lb

stew meat

or 2lb pot roast, cubed

1

small

onion

diced

2

tablespoon

butter

2

cup

mixed vegetables

(corn, carrots, green beans and peas)

3

large

potatoes

diced

3 ½

cups

beef broth

1

beef bullion cube

14

oz

can petite diced tomatoes

not drained

1

tablespoon

Worcestershire sauce

2

bay leaves

salt and pepper to taste
Instructions
Heat butter in a dutch oven or large pot over high heat. Add stew meat and sear so that outside edges are brown, turning over as needed to brown all sides of the meat.

Add diced onion and saute while searing the beef. Continually stir onions to prevent sticking. Cook for about 3 minutes total.

If finishing in a slow cooker*, transfer onions and beef to your crockpot set on low once fully seared.

Add mixed vegetables, cubed potatoes (I leave the skin on like my grandma did for extra vitamins and flavor but you can peel them if you prefer), diced tomatoes, beef broth, beef bullion, Worcestershire sauce, and bay leaves.

Bring to a boil then reduce to simmer. Cook for at least 60 minutes or until potatoes are soft all the way through and meat is desired tenderness.**

If using a crockpot, cook for 1 hour on high (or 2 hours on low). Check potatoes to be sure they are fully cooked through, then serve.

Add salt and pepper to taste before serving.
Notes
*Pre-heat your crockpot to reduce cook time.
**For more rare beef, remove stew meat after searing on all sides and add to hot soup right before serving.
**For more tender beef and vegetables, simmer soup for up to 2 hours.
For extra flavor, de-glaze your pan after cooking the stew meat. To do this, remove the chunks of meat from the pan then add ½ cup beef broth to the empty skillet. Bring to a boil and scrape the bits of leftover gristle from the sides and bottom of the skillet until they blend in with the broth. Add the liquid and beef to your soup.
Nutrition Facts
Serving:
2
cups
|
Calories:
328
kcal
|
Carbohydrates:
35
g
|
Protein:
31
g
|
Fat:
7
g
|
Saturated Fat:
3
g
|
Polyunsaturated Fat:
1
g
|
Monounsaturated Fat:
2
g
|
Trans Fat:
0.1
g
|
Cholesterol:
8
mg
|
Sodium:
644
mg
|
Potassium:
914
mg
|
Fiber:
6
g
|
Sugar:
4
g
|
Vitamin A:
2511
IU
|
Vitamin C:
37
mg
|
Calcium:
70
mg
|
Iron:
2
mg
Follow Mighty Mrs. for more easy recipes!
Find @MightyMrs on Pinterest