This 7-ingredient crockpot beef stew is super easy to make. Tender chunks of stew meat, diced potatoes, a healthy dose of vegetables, and a thick and rich gravy-like broth make this a hearty slow cooker meal. Perfect for cool weather months.
This post may contain affiliate links. As an affiliate, I earn a commission.
Jump down to Recipe
This Crockpot Beef Stew is made with just 7 ingredients and other than searing your stew meat, all cooks in your slow cooker.
An easy, comforting and complete meal that will warm you up on a cool day.
★ Why You'll Love this Stew ★
This beef stew is so simple to make.
And tastes amazing too!
You'll love the tender chunks of stew meat that melt in your mouth!
This stew has a hearty serving of healthy peas and carrots making this a vitamin-rich yet still very tasty dish.
Using frozen diced potatoes making this recipe super easy to prepare. No par-boiling, peel or chopping needed!
This stew has a thick and flavor tomato-beef broth that's seasoned with creamy celery.
Finally using one of my grandma's cooking secrets, an onion soup mix packet, this stew is bursting with flavor.
All this is accomplished using 7 ingredients without lots of chopping or lengthy sauteing. Just sear the stew meat and open a few packages! Combine everything in your slow cooker, set it and forget it until you're ready to eat!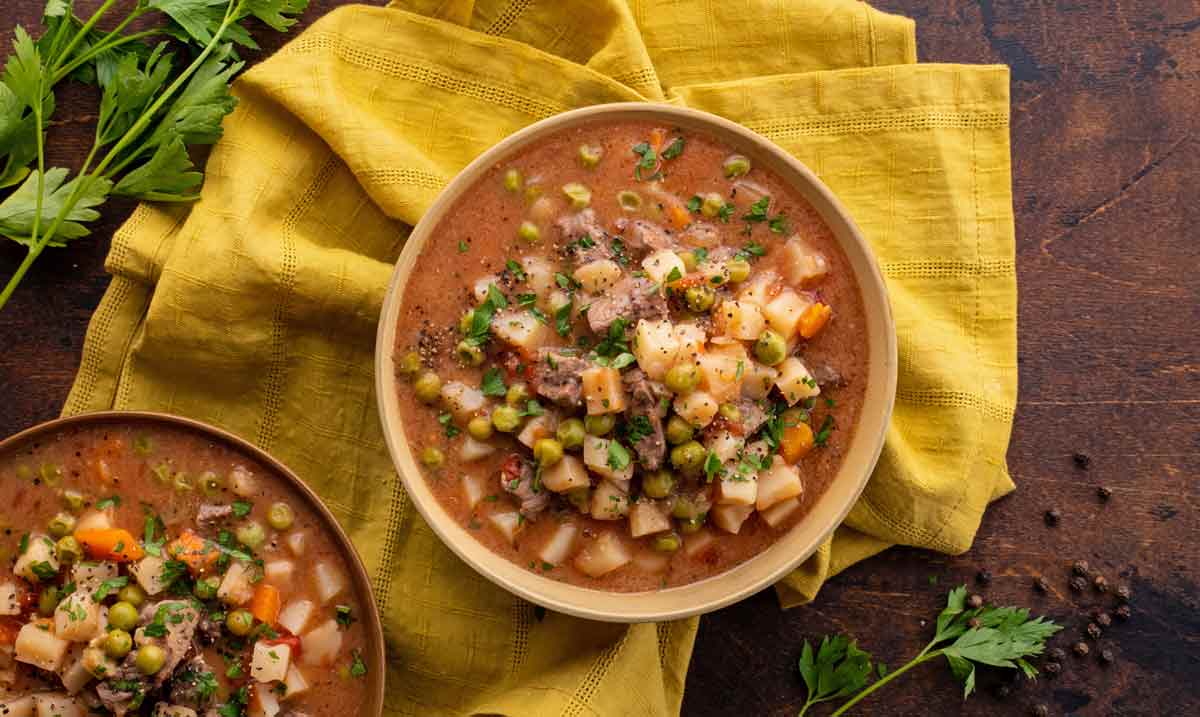 When you don't want to deal with a long shopping list of ingredients or spend too much time in the kitchen, but really want a nice homecooked meal, this is the best go-to recipe for a satisfying yet easy vegetable beef stew.
Save leftovers for lunch.
This makes a big batch of stew so you can feed a family or save leftovers for lunch the next day.
This stew stores in the fridge for up to 5 days and reheats well.
Pack leftovers in a glass container so it's easy to microwave for a quick and hearty meal to-go.
I use and love these glass storage containers with lids. (from amazon)
★ Ingredients You'll Need ★
The best thing about this homemade beef stew is that you don't need a long list of ingredients but you still get mega flavor.
Here's everything you'll need: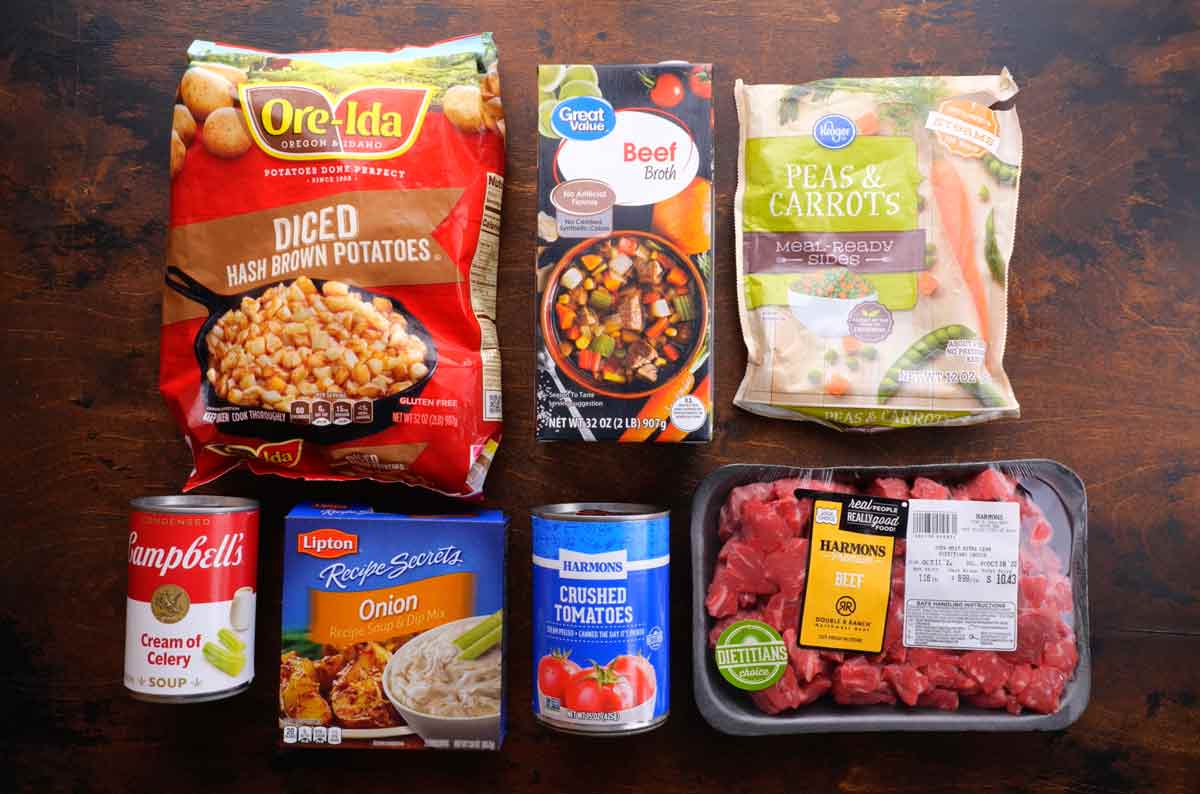 Beef broth. You can use bullion + water, bone broth, a carton of broth or canned. Anything works as long as it's brothy and beefy!
Frozen diced potatoes. You can find these usually along with the breakfast foods or maybe next to other frozen potatoes like the french fries and tater tots. You can use shredded hash browns too but the diced potatoes cook really quickly and add a nice texture to this stew so that's my preference. Best part: no peeling or chopping!
Frozen peas and carrots. This classic blend of veggies goes perfect with this soup and are affordable and super easy.
Cream of celery soup. You could try cream of mushroom or creamy if mushrooms are your thing but I really like how the celery balances out the other onion and carrots in this dish.
Stew meat. Almost all stores sell this cut of meat, already cut into bite-sized pieces, ready for your stew. You can also use ground beef if that's what you prefer or have on hand.
Onion recipe soup and dip mix.These packets are a great way to add flavor without the work of peeling and chopping an onion and a bunch of spices. A great little shortcut my grandma used to use a lot in her cooking.
Crushed tomatoes. You could use diced tomatoes instead but I like how crush tomatoes thickens up this stew.
★ How to Make this Beef Stew ★
This delicious beef stew comes together in just a few basic steps!
First, sear the stew meat then move to crockpot.
Add frozen peas and carrots and diced potatoes.
Add crushed tomatoes.
Add beef broth and onion soup mix.
Let cook.
Top with parsley and pepper before serving. Add salt to taste.
Quick and easy to prep then let your slow cooker do the rest of the work!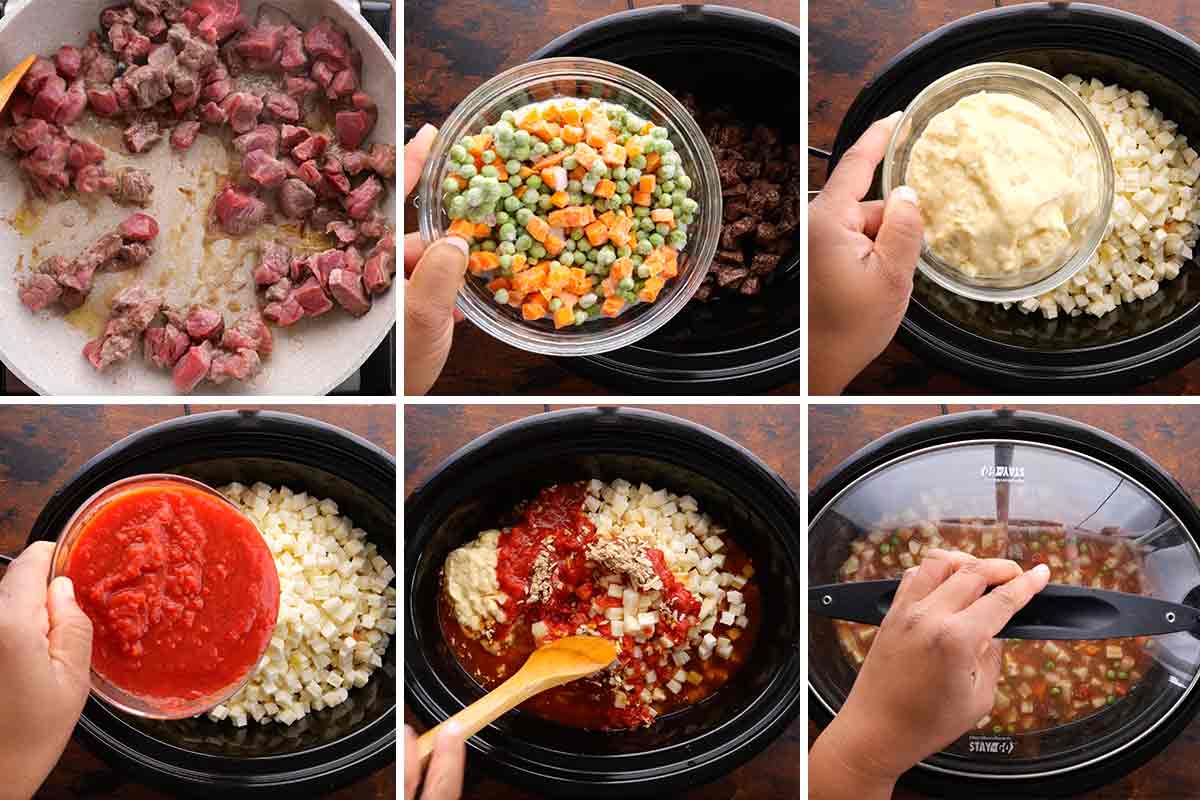 ★ Tips & FAQs ★
Do I have to brown stew meat before slow cooking?
Yes. You want to sear your meat to lock in tenderness.
You may want to skip this step, but it only takes a few extra minutes and the reward is great!
When you sear your meat, you are browning all the side, creating extra flavor. You're also locking in all those meat juices inside each bite of beef.
So instead of tough and chewy bites, you get bites of beef that are so flavorful and moist.
For tender chunks of meat, allow meat to simmer for 2 hours. This will amke the meat almost melt in your mouth!
Searing your meat then slow cooking it, is the secret to tender beef stew!
Cook on the stovetop or your slow cooker.
This recipe is designed with busy families in mind. These days, some parents are lucky enough to work from home. If that's the case and you prefer to make this stew on the stovetop, or this is a more of a weekend meal for you... whatever the case, you do not have to make this in a crockpot. You can follow the same directions to simmer this stew to perfect, right on your stovetop.
When I make soups and stews, I like to use a dutch oven. You can use any large pot though. Just make sure it has a lid.
What I like about using a dutch oven is can you can sauté and simmer all in one pot. Less clean up.
Here's the dutch oven I have and use frequently and would be large enough to accommodate this stew: 6-Quart Lodge Dutch Oven
I use the stovetop method of cooking when I'm going to home and able to keep an eye on things.
However, if I have to work, or run errands, I'll start thew stew early in the morning. I'll saute the stew meat then transfer that along with the other ingredients to my slow cooker. Then set a timer so it cooks on low and automatically switches to warm.
Go with whatever method works best for your style of cooking or your plans for the day. Just make sure you sauté first for the best flavor.
Need a crockpot?
If you're in the market for your first slow cooker or looking to upgrade, check out this slow cooker. It's simple t use yet has some nice features, it's portable and large enough for almost any crockpot recipe.
Can this stew be made in an Instapot?
Yes. The nice thing about an Instapot is you can sauté and simmer everything in the same pot.
You'll need to use the sauté setting to sear your meat, then add the remaining ingredients and set the soup to cook. This is a great method is you want this stew done quickly.
Once you sauté the beef, this soup needs just 12 minutes on high pressure to cook the vegetables and potatoes. Follow the directions provided with your Instapot for sautéing, cook times and for pressure releasing as this may vary slightly.
Don't own an Instapot?
Shop Instapots on Amazon and get one fast!
What is the best cut of meat for vegetable beef stew?
I like to use stew meat that's already cubed. It's just convenient and you can almost always find this packaged and ready to go, at the grocery store.
I enjoy the tenderness of cubed steak within this stew but you can also get great flavor using ground beef. It's more affordable and still has nice flavor. I do recommend browning the beef just like you could the stew meat.
If you're looking for a more natural option, you may want to try grass-fed beef. It has a nice flavor and tend to be more lean as well.
Want extra beef flavor?
Try de-glazing your pan after you sear your meat.
Professional chefs do this, and you can too. It's easy to add flavor to your soups and stews by de-glaze your skillet after you're done sautéing your meat.
To do this, transfer all the chunks of meat out of the skillet then add ½ cup beef broth to the emptied skillet.
Bring broth to a boil. Then, using a spatula, scrape the bits of leftover gristle from the sides and bottom of the skillet until they blend in with the broth. Then just add the extra flavorful broth to your soup. YUMMY!
How to Store this Stew
This recipe stores well in the fridge for up to 5 days and is also freezer-friendly for up to 6 months.
Store leftover beef stew in an airtight containers to store for later.
Do you have to saute vegetables before making this stew?
You can but you don't have to. The process of sautéing adds bit of flavor to the veggies and helps them cook faster. The flavor tends to be sweet. If you like a hint of sweetness, then go for it. If not, skip it.
★ More Recipes You'll Love ★
Love a warm cozy stew or soup for dinner?
Check out my other easy soup recipes! Be sure to Pin some for later.
Have a craving for beef?
Browse all my beef recipes - A great way to get your iron, ladies!
This 7-Ingredient, super easy Crockpot Vegetable Beef Stew recipe was featured on South Your Mouth!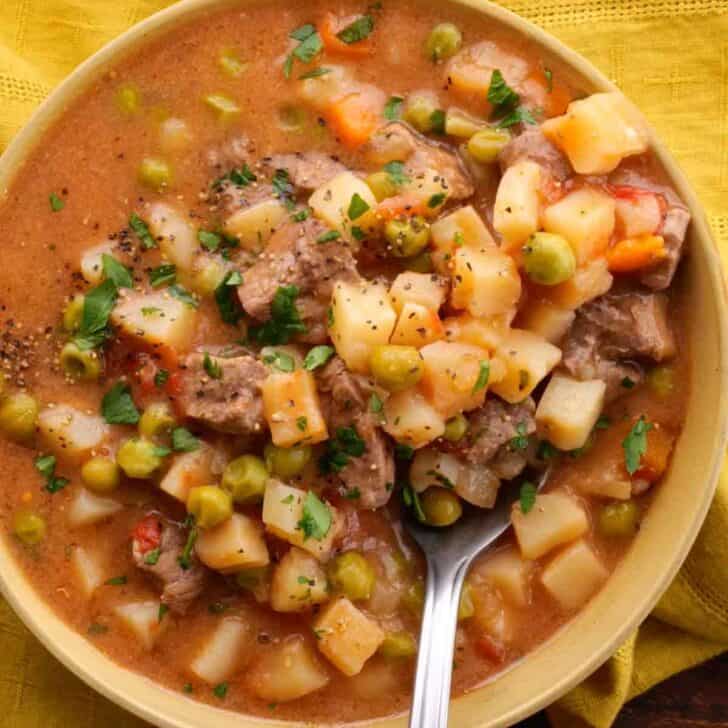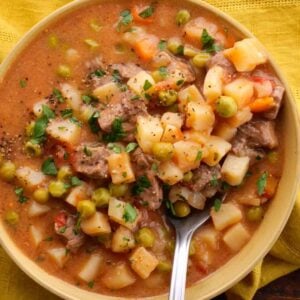 Easy Crockpot Beef Stew
This 7-ingredient crockpot beef stew is super easy to make. Tender chunks of stew meat, diced potatoes, a healthy dose of vegetables, and a thick and rich gravy-like broth make this a hearty slow cooker meal. Perfect for cool weather months.
Read Comments
Print
Pin
Rate
Ingredients
1

lb

stew meat

or 1lb pot roast, cubed

2

cups

frozen peas and carrots

32

oz

frozen diced potatoes

10

oz

can cream of celery soup

or cream of mushroom

14

oz

crushed tomatoes

1

oz

packet onion soup mix

32

oz

beef broth
Instructions
Sear stew meat in a non stick pan or use a touch of oil if needed over high heat. Sear all sides of each piece of meat, just until browned.

Add seared meat,* peas and carrots, diced potatoes, cream of celery soup, crushed tomatoes, packet of onion soup mix and beef broth to crockpot.

Cook on high for 2 hours or slow cook low for 4 hours or until potatoes are cooked through and soft.
Notes
For more flavorful and tender beef, sear on all sides before adding to your slow cooker.
If cooking on high, stir occasionally to prevent bottom from burning.
Nutrition Facts
Serving:
2
cups
|
Calories:
240
kcal
|
Carbohydrates:
32
g
|
Protein:
19
g
|
Fat:
5
g
|
Saturated Fat:
1
g
|
Polyunsaturated Fat:
1
g
|
Monounsaturated Fat:
1
g
|
Cholesterol:
4
mg
|
Sodium:
1007
mg
|
Potassium:
658
mg
|
Fiber:
4
g
|
Sugar:
3
g
|
Vitamin A:
3531
IU
|
Vitamin C:
18
mg
|
Calcium:
68
mg
|
Iron:
3
mg
Follow Mighty Mrs. for more easy recipes!
Find @MightyMrs on Pinterest