Make delicious homemade ice cream without an ice cream maker! Try this easy 3-ingredient recipe. No churn. No special machine. Just a hand mixer.
This post may contain affiliate links. As an affiliate, I earn a commission.
Jump down to Recipe
★ Why You'll Love this Recipe ★
This homemade ice cream is rich, creamy, and has the perfect texture. All made without a churn.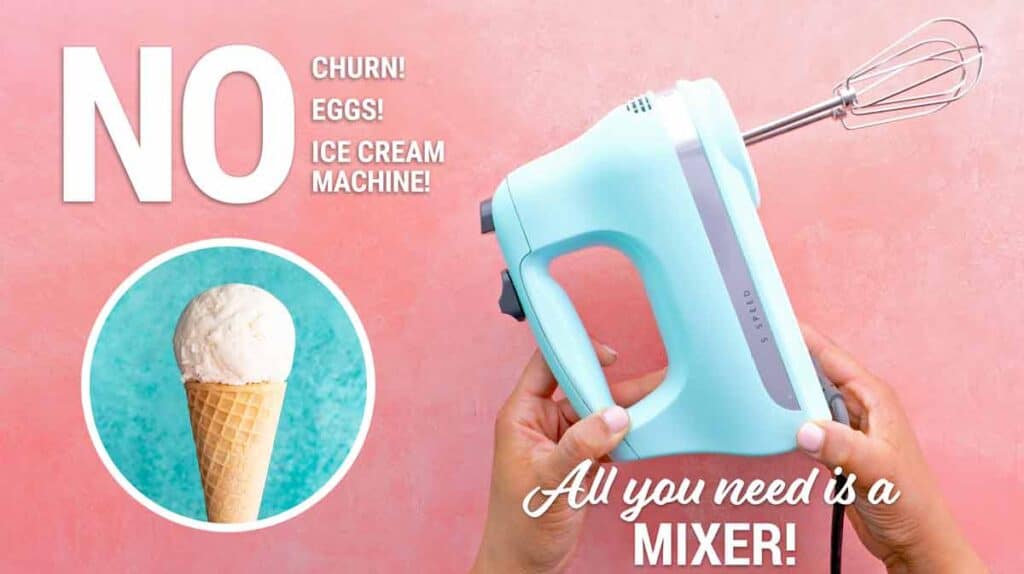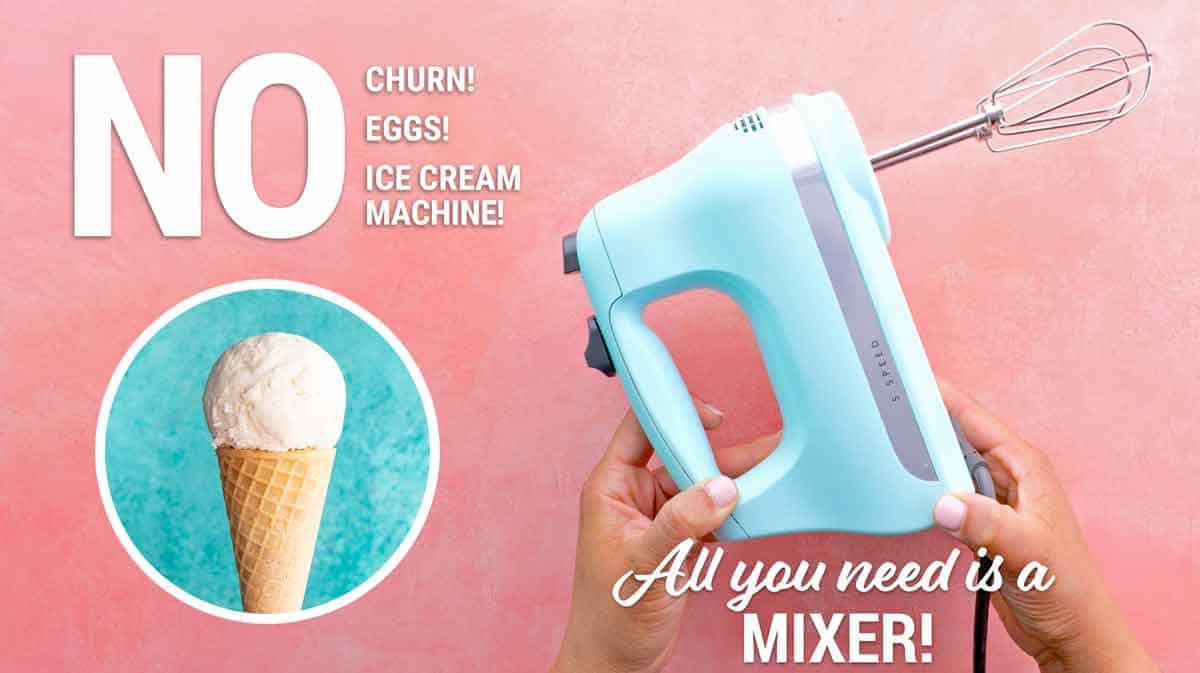 This recipe does not get any easier. You need just 3 ingredients to make vanilla ice cream. For other flavors, just add in a few extra ingredients. Get a list of ideas below.
Who knew. It's entirely possible to make delicious homemade ice cream without an ice cream maker! The only machine you need is a hand mixer. No eggs. No churn. EASY!
★ Ingredients You'll Need ★
There are truly just THREE! This recipe follows a simple formula and all you need to do is mix in extra ingredients to make infinite flavors!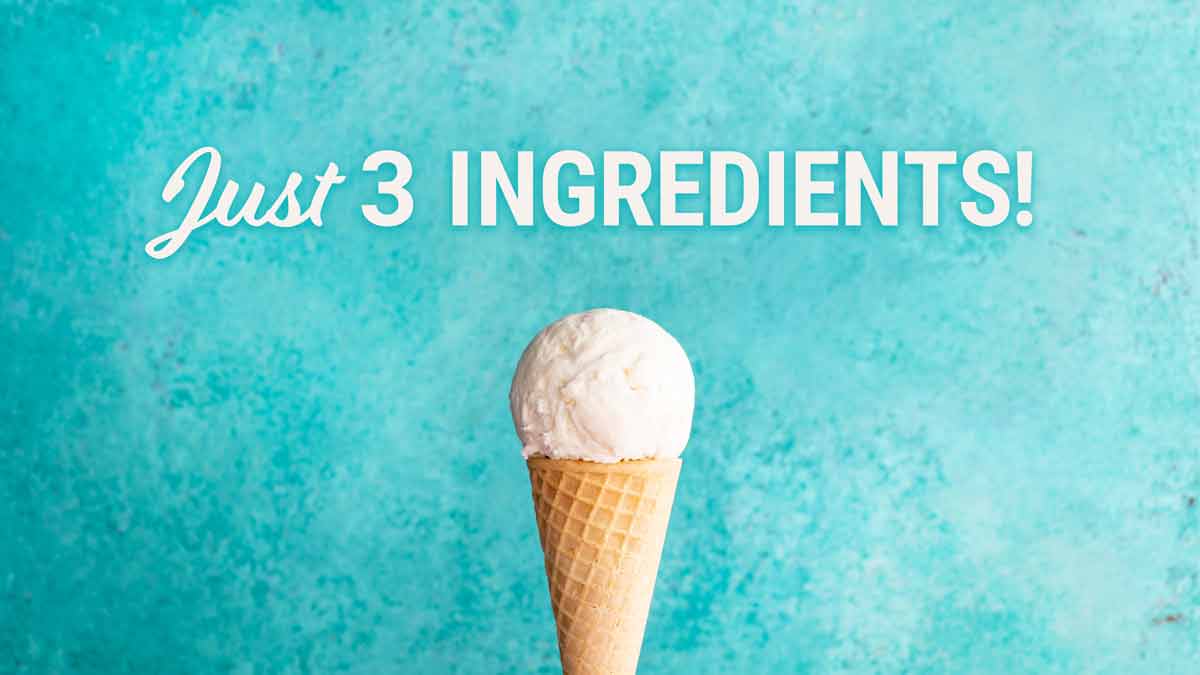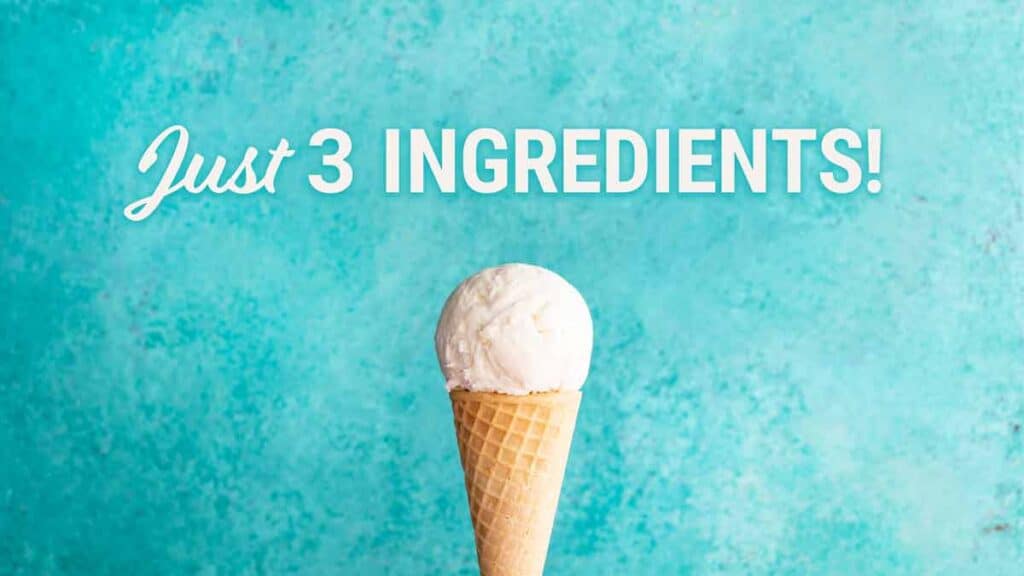 The formula for this easy homemade ice cream is pretty basic. It looks like this:
Heavy Cream + Sweetened Condensed Milk + Vanilla Extract
1. Heavy cream. You can't use milk or even half and half because you need the whipping properties of heavy cream. By whipping heavy cream you'll add air to your ice cream giving it that perfect ice cream texture you know and love.
2. Sweetened Condensed Milk. This adds all the sweetness you'll need, no additional sugar needed. No worries about grainy sugar. Or using overly sweet powdered sugar. This handy bakery staple does all the jobs in one easy step.
3. Vanilla Extract. This creates your base flavor. If you love vanilla ice cream, you can stop here. It's a deliciously easy, 3-ingredient ice cream recipe!
★ Build More Flavors ★
If you're caving something beyond vanilla, no problem. All you need to do is add in some extra ingredients. You can make any ice cream flavor you can dream up.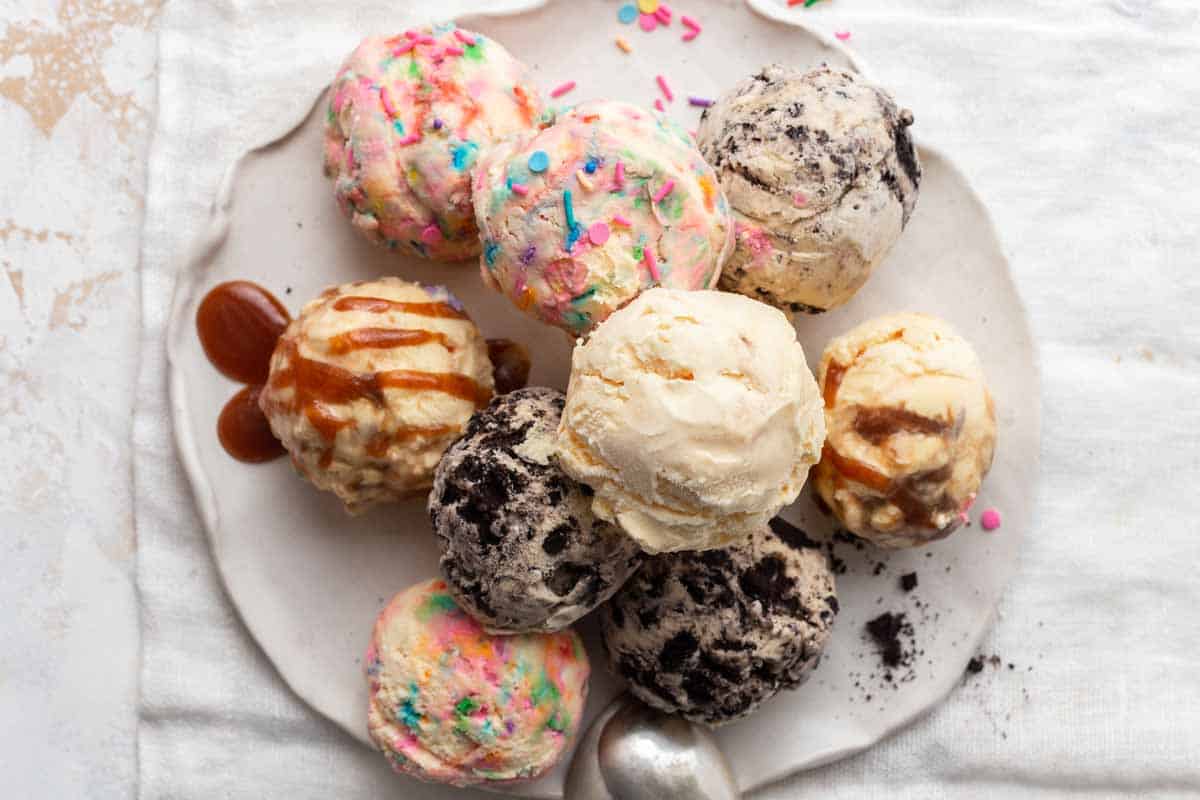 The recipe below details making a yummy yet basic homemade vanilla ice cream. You can simple add to this to create lots of other flavors. You'll still include the vanilla extract as it provides a nice base flavor to build upon.
Vanilla extract goes well with almost any flavor so you can opt to leave that in plus add additional ingredients to create new flavors, or leave it out completely if you don't want that added vanilla flavor. Your choice. This does not affect the recipe other than taste.
Flavor Ideas + Add-ins
Here are some flavor ideas you can try! You truly can't go wrong adding in whatever flavors you want if you go with what sounds good to you.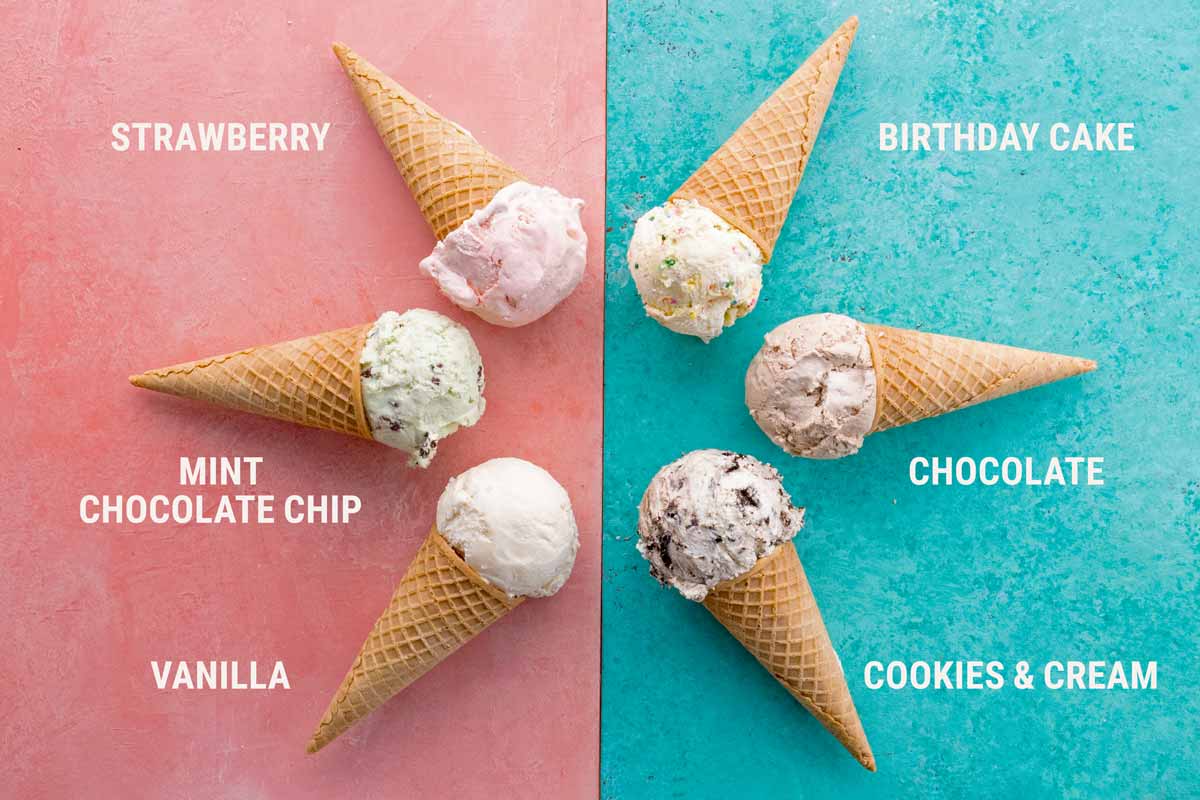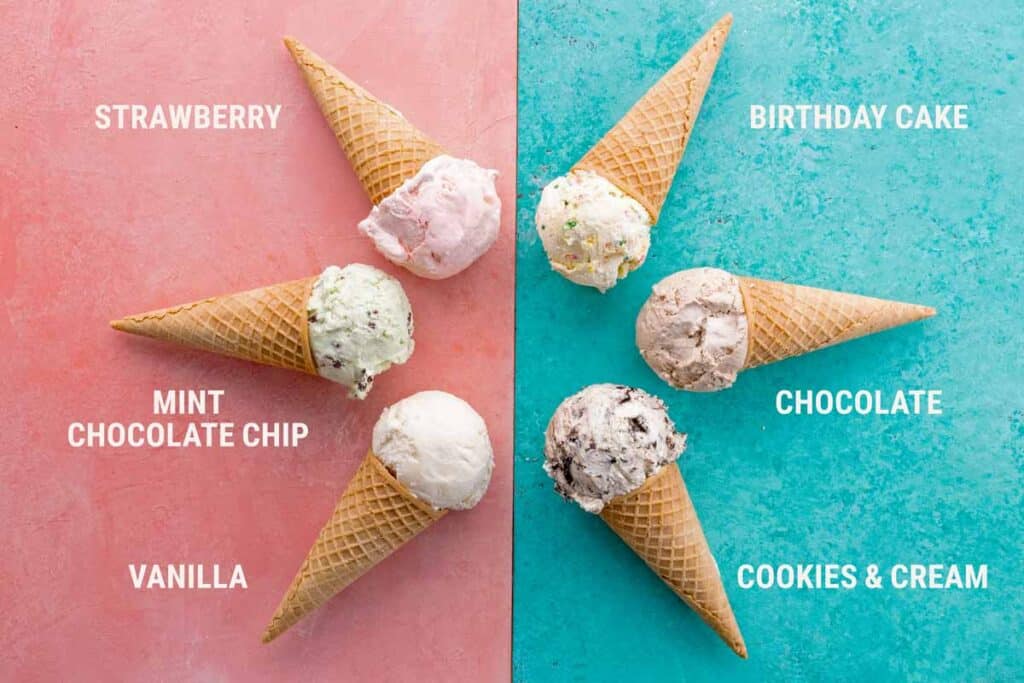 Mint Chocolate Chip
Add 1 teaspoon mint extract + ½ cup mini chocolate chips + couple of drops of green food color (optional)
Birthday Cake
Add 1 tablespoon cake batter extract in place of 1 tablespoon of vanilla + ½ cup rainbow sprinkles
Strawberry Ice Cream
Add ¼ cup strawberry syrup
Chocolate Ice Cream
Add ¼ cup chocolate syrup
Raspberry Cheesecake
Add ½ cup no-bake cheesecake filling then swirl in (don't fully mix in) ½ cup seedless raspberry jam
Caramel Swirl
Lightly swirl (don't fully mix in) in ½ cup caramel syrup right before freezing
Butter Pecan
Add ¼ cup molasses + 2 tablespoon browned butter* + ½ cup chopped pecans
*Brown butter in a pan on the stove over medium heat just until you get an aroma of nuttiness and you see little brown bits form within the butter. Immediately remove from heat, transfer carefully to a dish and let cool before adding to ice cream mixture. (pop in the freezer to speed up cooling)
Cookies and Cream
Add 1 cup Oreo cookie crumbles
Cookie Dough
Add 1 cup edible cookie dough chunks - Get my edible cookie dough recipe here or use store bought cookie dough as long as its labeled "edible"
Peanut Butter Cup
Add 1 cup Reese's peanut butter cup chunks
Banana Foster
Mix in 1 mashed banana + 1 teaspoon cinnamon + 2 tablespoon rum extract then swirl in ½ cup caramel syrup
Create Your Own Flavor!
There are so many other possibilities!
Just remember to start with the base vanilla flavor and stir in whatever sounds good to you. It's actually that simple.
If you try some extras that you love, please leave a comment and let us know what you added in!
★ More Recipes You'll Love ★
Love easy desserts?
Browse all my dessert recipes!
Want more easy recipes for any occasion?
This easy homemade ice cream recipe (made without a machine) was featured on South Your Mouth!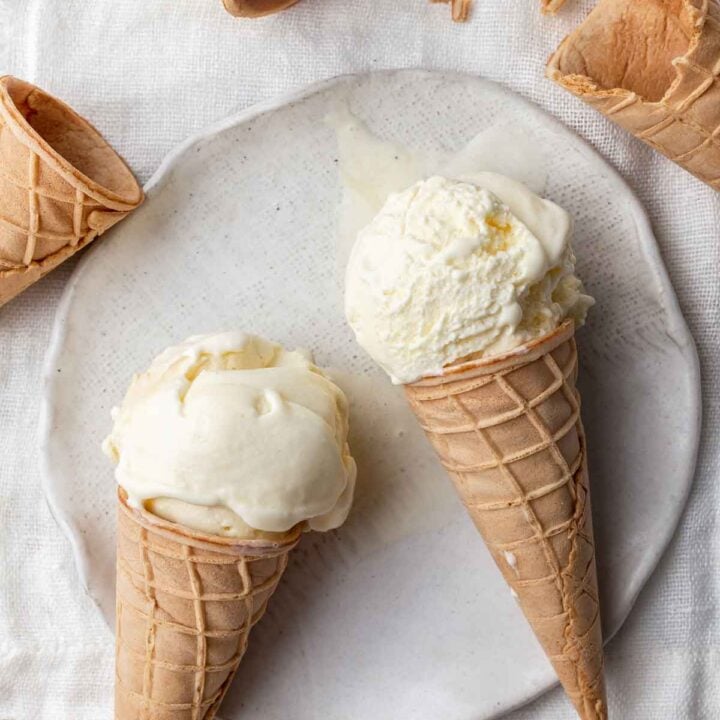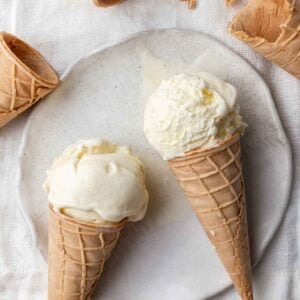 Easy Homemade Ice Cream (without a machine)
Make delicious homemade ice cream without an ice cream maker! Try this easy 3-ingredient recipe. No churn. No special machine. Just a hand mixer.
Read Comments
Print
Pin
Rate
Ingredients
4

cups

heavy whipping cream

14

oz

sweetened condensed milk

2

tablespoon

vanilla extract
Instructions
In a large bowl, beat on high speed heavy whipping cream until thick, stiff peaks form.

Add sweetened condensed milk and extract and beat on low until combined.

Stir in optional ingredients as desired like nuts, chocolate chips, caramel syrup, candy bar chunks, etc!

Transfer mixture to a freezer-safe contain with lid and freeze for at least 2 hours. 3+ for a more solid ice cream.*
Notes
*Depending on a variety of factors, your ice cream may require additional freezer time. If your ice cream is still not firm after 3 hours, try leaving in the freezer overnight or for at least 8 hours.
Nutrition Facts
Calories:
382
kcal
|
Carbohydrates:
21
g
|
Protein:
5
g
|
Fat:
32
g
|
Saturated Fat:
20
g
|
Polyunsaturated Fat:
1
g
|
Monounsaturated Fat:
8
g
|
Cholesterol:
101
mg
|
Sodium:
64
mg
|
Potassium:
201
mg
|
Sugar:
21
g
|
Vitamin A:
1255
IU
|
Vitamin C:
1
mg
|
Calcium:
147
mg
|
Iron:
1
mg
Follow Mighty Mrs. for more easy recipes!
Find @MightyMrs on Pinterest