This no-peel peach cobbler is the perfect summer dessert! An easy homemade recipe using fresh, juicy peaches tossed with cinnamon sugar and then baked with a crisp, buttery biscuit layer on top.
This post may contain affiliate links. As an affiliate, I earn a commission.
Jump down to Recipe
★ Why You'll Love this Recipe ★
You'll love this easy recipe for peach cobbler made with fresh peaches. No peeling required!
This simple, homemade recipe is made with juicy, skin-on peaches spiced with cinnamon, sugar and vanilla then topped with puffy, melt-in-your-mouth chunks of salty-sweet baked biscuit crumbles. YUM.
Finished off with whipped cream or vanilla ice, and a sprig of mint just for fun, this cobbler is gorgeous and delicious too!
★ Ingredients You'll Need ★
The Filling
You'll need just four ingredients for the filling.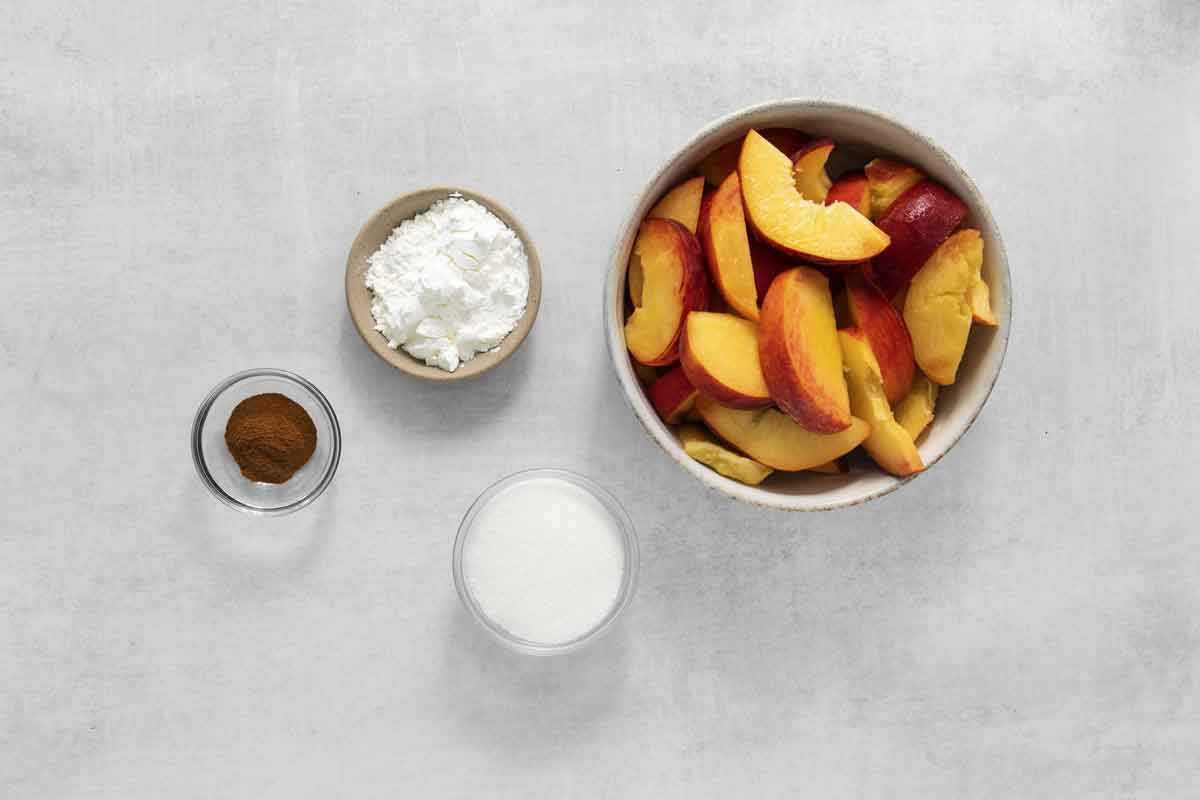 Fresh peaches. No need to peel them. The skin is edible and soft. This dish also looks nice when you leave the skin on your peaches. So save time and just slice, then remove the pit.
Ripe peaches will cook best. If your peaches are under-ripe, they may require extra cook time to soften.
You can use frozen peaches or canned, but fresh is going to taste best. Drain away juice if using canned.
Sugar. Just standard white, table sugar is all you need. However, you can use brown sugar if you prefer. Brown sugar has molasses added so if you like that flavor, substitute all or half your white sugar with brown sugar. Choose light or dark brown sugar depending on how much molasses flavor you'd like.
Cinnamon. Cinnamon adds warmth and spice that pairs deliciously with the peaches and smells amazing too.
Corn Starch. This acts as a thickener.
Optional filling extras: 1 teaspoon lemon zest (to add brightness), ¼ teaspoon ginger (powder or paste), and/ or ¼ teaspoon nutmeg.
Herbs like basil, tarragon, thyme or rosemary can add an interesting flavor as well. Try just one as a time.
Finally, try adding a tablespoon of whiskey for a more sophisticated flavor.
Crumble Topping
The topping requires a very simple list of ingredients, yet is completely from scratch for the ultimate homemade taste. No Bisquick needed. Pre-packaged biscuit mixes really won't save a ton of time here.
Here's everything you'll need: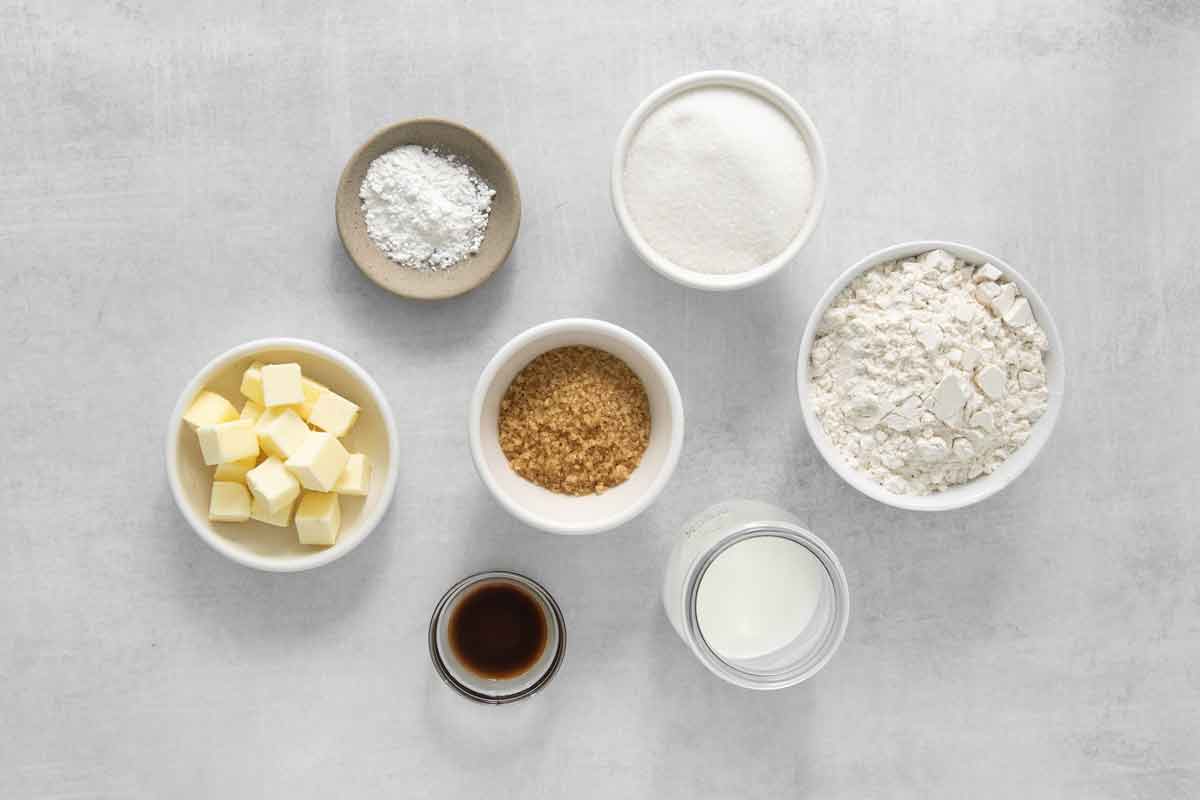 Flour. All purpose flour.
Butter. Cube it up and you actually want it to be cold so keep it in the fridge until ready to cube.
Sugar. Regular white table sugar.
Baking Powder. Make sure your baking powder is fresh and not expired or it may not work well to add puffiness to your batter.
Vanilla extract. Real extract is best, not imitation.
Milk. Any percentage is fine. Whatever you have in the fridge already works!
Turbinado or sanding sugar. This is just large-grain sugar to use as a finishing. You can use regular table sugar if you don't have or don't want to buy special finishing sugar.
Optional toppings: Whipped cream, vanilla ice cream, honey, and/or granola.
★ How to Make this Recipe ★
This peach cobbler is super quick and easy to prep.
Here are the basic steps: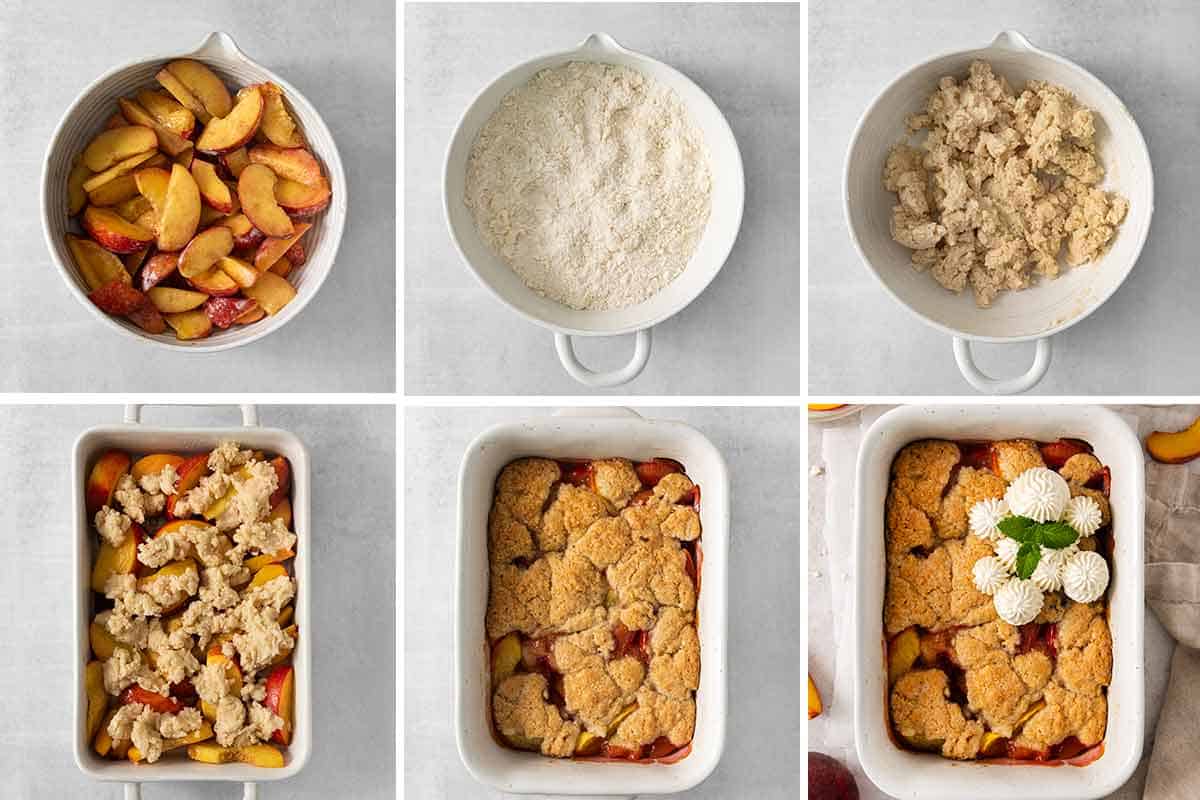 Combine peaches, sugar, cornstarch and cinnamon.
Mix flour, sugar and baking powder.
Add butter to flour mixture.
Combine milk and vanilla extract; add to dry ingredients.
Stir to form dough.
Add peaches to baking pan.
Spoon crumble on top.
Sprinkle with finishing sugar.
Bake.
Let cool, add toppings if desire, then serve.
Pretty easy!
★ Tips & FAQs ★
Use fresh, ripe peaches.
If peaches need to ripen, leave them on the counter until they are soft to touch. Give them a squeeze. If they no longer feel firm, they are ready.
What's the easiest way to cut up a peach?
Simply position a washed and lightly dried peach on a wooden cutting board. Take a knife and cut into the peach until you hit the pit. Then carry your knife around the pit, completing a full circle, and cutting the peach in half.
Twist each half in a different direction to break the peach flesh away from the pit. Remove the pit by pulling on it, then place each half of the peach flat-side down and cut into wedges.
It is not necessary to peel your peaches.
Peach skin is totally edible. It's soft and mild in flavor. It also has a really pretty orangey-red color. Leaving the skin on makes for a pretty and tasty dish!
If you want to peel your peaches, you can. Because peaches are so soft, it can be tricky though. Use a potato peeler and lightly peel the skin in a downward motion.
Try brown sugar.
If you want to experiment, you can substitute some or all of the white sugar for brown sugar. You'll get a darker brown sauce and some hints of molasses flavor when you use brown sugar.
Brown sugar will give you a little more caramel-like flavor as well. So if you're into that, give it a try!
Optional Toppings
Top your cobbler with a scoop of vanilla ice cream or fresh whipped cream.
To make your own whipped cream, beat 1 cup of heavy whipping cream with ¼ cup powdered sugar plus ¼ teaspoon vanilla extract. Whip until peaks form then spoon onto your cobbler.
Or, for pretty starburst dollops, use a piping bag with a star tip.
★ More Recipes You'll Love ★
Love easy desserts?
This easy no-peel peach cobbler recipe was featured on South Your Mouth!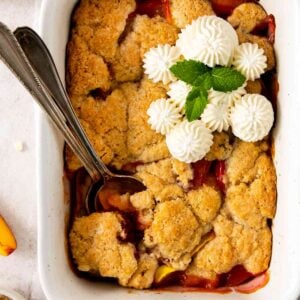 No-Peel Peach Cobbler
This no-peel peach cobbler is the perfect summer dessert! An easy homemade recipe using fresh, juicy peaches tossed with cinnamon sugar and then baked with a crisp, buttery biscuit layer on top.
Read Comments
Print
Pin
Rate
Ingredients
Peach Filling
6

cups

Fresh peaches

pitted and sliced (about 6 peaches)

¼

cup

sugar

2

tablespoon

cornstarch

½

teaspoon

cinnamon
Crumble Topping
1

cup

all purpose flour

½

cup

sugar

1

teaspoon

baking powder

4

tablespoon

cold butter

cubed

¼

cup

milk

1

teaspoon

vanilla extract

¼

cup

turbinado or sanding sugar

(large-grain finishing sugar)
Instructions
Preheat oven to 375°F and grease a 9x12 or 8x8 baking dish lightly with butter or nonstick spray.

In a large bowl, combine sliced peaches, sugar, cornstarch and cinnamon. Toss to evenly coat peaches. Set aside.

In a separate bowl, mix together flour, granulated sugar and baking powder.

Add cold diced butter to the flour mixture and use your fingers to squeeze butter into the flour until the butter is the size of peas.

In a small bowl, combine milk and vanilla extract.

Add milk mixture to dry ingredients and stir until a crumbly dough comes together.

Move peaches to the prepared baking dish. Discard any remaining peach juices.

Spoon cobbler topping over peaches, covering as much of the surface as possible.

Sprinkle topping with turbinado sugar.

Bake for 40 to 45 minutes or until the peach filling is bubbling and the cobbler topping is golden brown.

Remove peach cobbler from the oven and let cool for at least 5 minutes before serving.

Enjoy warm with a scoop of vanilla ice cream or dollops of fresh whipped cream.
Notes
More bake time may be necessary is peaches are not fully ripe.
Cover top with foil to prevent over-browning if additional bake time is needed to soften peaches.
This recipe would work with a 1:1 gluten free flour substitute.
Nutrition Facts
Calories:
267
kcal
|
Carbohydrates:
51
g
|
Protein:
3
g
|
Fat:
6
g
|
Saturated Fat:
4
g
|
Polyunsaturated Fat:
0.4
g
|
Monounsaturated Fat:
2
g
|
Trans Fat:
0.2
g
|
Cholesterol:
16
mg
|
Sodium:
117
mg
|
Potassium:
174
mg
|
Fiber:
2
g
|
Sugar:
35
g
|
Vitamin A:
564
IU
|
Vitamin C:
5
mg
|
Calcium:
50
mg
|
Iron:
1
mg
Follow Mighty Mrs. for more easy recipes!
Find @MightyMrs on Pinterest