These melt-in-your-mouth Scottish-inspired shortbread cookies are simple to make. Just 3 ingredients and they come out so light and buttery!
This post may contain affiliate links. As an affiliate, I earn a commission.
Jump down to Recipe
Easy. Buttery. Shortbread Cookies. Yes!
Add these to your holiday baking list or make them any time of the year to serve with tea or as a birthday treat.
★ Why You'll Love this Recipe ★
These melt-in-your-mouth Scottish-inspired shortbread cookies are simple to make. Just 3 ingredients and they come out so light and buttery!
You can add extra flavoring if you'd like to give them a hint of almond or vanilla.
These are fun to decorate and cut out into any shape you'd like!
★ Ingredients You'll Need ★
Just 3 basic ingredients!
Butter. Salted. You can also use margarine if you prefer.
Flour. All purpose flour is all you need. Nothing fancy or special.
Sugar. Just plain white table sugar.
Simple as that!
Optional Ingredients
If you want to add extra flavor you can add a teaspoon of vanilla or almond extract.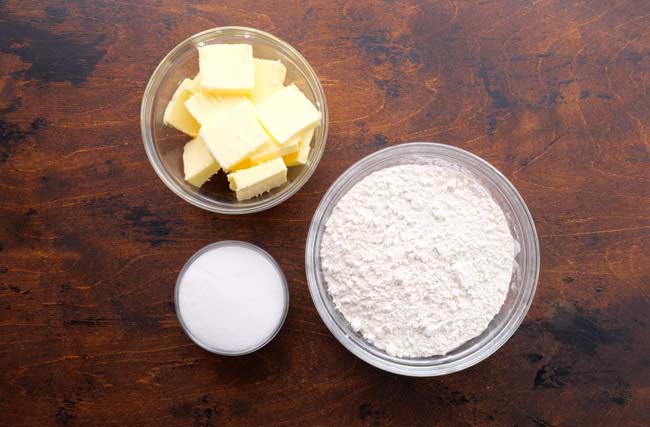 ★ How to Make this Recipe ★
Watch how to make these easy shortbread cookies.
Check out this video below the recipe that shows how to make these cookies, step-by-step.
★ FAQs & Tips ★
Cookie Cutters vs. Stamps vs. Shortbread Cookie Pan
You can use a cookie cutter, cookie stamp, or a shortbread cookie pan. Or heck, you can even cut them with a knife. Your choice! I don't believe in rules when it comes to things like this. 🙂
Using Cookie Cutters
I like this method because most people have cookie cutters on hand so there's nothing new to buy. Cookie cutters work great work and you can cut out your shortbread in any shape so you get to be creative and can make these holiday themed if you want.
You can see I have made them as squares and also as wreaths varying the shape, the thickness and the decorating style yet still using this same recipe.
Want a special cookie cutter shape? Shop cookie cutters on Amazon
Using Cookie Stamps
A cookie stamp kind of does double duty here. It cut out the cookie shape and also applys a decorative texture to the top of the cookie. This is an easy way to make your cookies look really beautiful!
Using a Shortbread Cookie Pan
This traditional tool works great to create an imprint in the cookie dough. The thing I don't like about using a shortbread pan is that it makes 9 cookies at a time in one block. So, you have to cut them out after they are baked. The chance of them crumbling as you separate each cookie is high. However, if you prefer this method, you can purchase a shortbread cookie pan on amazon.
Can I make these thick like traditional Scottish shortbread cookies?
Yes. You can roll these babies as thick or as thin as you'd like. Just just keep in mind, cook time may vary.
You may need to bake them at a lower temperate and for longer if you roll them very thick. 325˚is a safe bet. Just keep an eye on them and snatch them out of the oven as soon as they look completely firm.
Can you decorate these shortbread cookies?
Sure! Have fun with it and put your own twist on it. You can decorate with sprinkles or go more tradition and poke holes to decorate. Try dipping in chocolate, These are a must for your Christmas baking list!
First time making shortbread cookies?
Have you ever wondered why there's no ready-made shortbread cookie mix? Or am I the only one who's that simple? Gah! Well, my friends. These buttery shortbread cookies are so easy to make, there are no shortcuts needed. It's literally three ingredients. Likely ones you have on hand. So these are the perfect thing for those days where you just want to put on your fuzzy socks and not leave the house the whole day.
Finding an easy shortbread cookie recipe.
So, never having make these before (obviously), I looked at a few different recipes for shortbread cookies. I know, it seems silly considering they're so simple but there were a few different types. Some claimed Scottish shortbread cookies are made with brown sugar and others called for vanilla extract.
Now, I'm not necessarily a purest at heart but I do like to keep things as simple as possible. So I sided with the folks who were commenting that true shortbread cookies do not use vanilla. And I like the idea of brown sugar and might try that, but felt like the shortbread cookies I'd had before and loved always tasted like they used regular sugar.
So once I narrowed it down to 3 ingredients it was very easy to get the dough made. The trickiest part was getting the shape right. I wanted a nice flat top and liked the look of the cookies I had seen with dotted indentations.
So I ultimately decided to roll these out and used a square cookie cutter with a wavy edge. I used a kabob skewer to poke holes matching the scalloped edge of the cookie cutter. They have a traditional vibe but I felt like I put my own little spin on them and that was fun. 🙂 I think you could do all different shapes and really have some fun with the dots.
You could try putting initials in the middle or even try a cookie stamp. Get creative! I don't think there's a right or wrong way to do it. Just do your thang! Baking is supposed to be therapy, right?
Try these at your own holiday baking party.
Speaking of baking, I'm thinking about making these for our annual Christmas cookie baking party. I love how simple yet delicious they are. So I'm thinking I'll do half the batch plain and then dip the other half in melted chocolate. Mmmm!! Or maybe do some kind of design in chocolate? I don't know yet but I'm definitely liking the idea of adding chocolate to these.
Special tools you'll need:
Here's the type of cookie cutter I used — square with scalloped edges.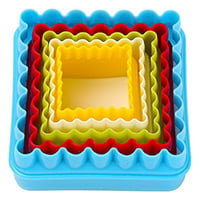 Also, if you don't own one already, I highly recommend purchasing a thin, flexible metal spatula.

The Mr. turned me on to this handy piece of kitchenware. They're very useful for lifting sticky, delicate things (like these cookies!) without smashing them or breaking them.
★ More Recipes You'll Love ★
Feeling the holiday spirit?
Try making my easy yule log cake too, browse my other cookie recipes and see all my Christmas recipes.
These 3-ingredient easy buttery shortbread cookies were featured on Menu Plan Monday and South Your Mouth!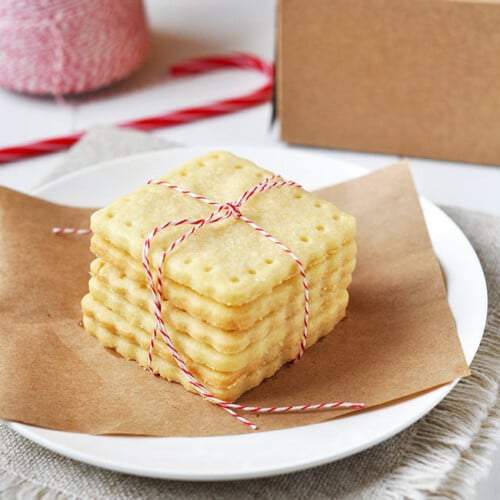 3-Ingredient Shortbread Cookies
These melt-in-your-mouth Scottish-inspired shortbread cookies are simple to make. Just 3 ingredients and they come out so light and buttery!
Read Comments
Print
Pin
Rate
Ingredients
2

cups

flour

½

cup

sugar

1

cup

butter

softened (2 sticks)
Instructions
In a large bowl, whisk together flour and sugar.

Add softened butter to dry ingredients and mix together using a fork until crumbly dough forms.

Grab a ball of dough and roll into a ball. Place dough ball onto a floured surface and roll out with a floured rolling pin.

When dough is about ¼" thick, cut out your cookies using a flour-coated cookie cutter.

Lift cookies using a thin metal spatula and place onto a baking sheet with a silicon baking mat or parchment paper.

Bake at 350˚ for about 8-9 minutes or until the edges show hints of golden brown. If you prefer thicker cookies, just don't roll them out as much and bake a bit longer. You may also want to drop the temp down to 325˚.
Nutrition Facts
Calories:
122
kcal
|
Carbohydrates:
12
g
|
Protein:
1
g
|
Fat:
8
g
|
Saturated Fat:
5
g
|
Polyunsaturated Fat:
1
g
|
Monounsaturated Fat:
2
g
|
Trans Fat:
1
g
|
Cholesterol:
20
mg
|
Sodium:
67
mg
|
Potassium:
13
mg
|
Fiber:
1
g
|
Sugar:
4
g
|
Vitamin A:
235
IU
|
Calcium:
4
mg
|
Iron:
1
mg
Follow Mighty Mrs. for more easy recipes!
Find @MightyMrs on Pinterest