Make this giant soft skillet cookie using a large cast iron skillet. Slide and serve warm, cold and creamy scoop of vanilla ice cream. YUM!!
This post may contain affiliate links. As an affiliate, I earn a commission.
Jump down to Recipe
Know what makes everything better? A slice of this giant soft skillet cookie topped with a scoop of vanilla ice cream.
This is such a quick and easy recipe but one we make on the regular so thought it was time we shared it here.
If you can make regular cookies, you can easily make this cast iron skillet cookie.
Simple enough for big kids to make themselves.
Watch how to make this giant, soft skillet cookie step by step.
The Secret to Soft, Chewy Cookies
In a nutshell, the secret is: patience. Ugh. No one has this though! Not me anyway.
So here's are a few tips for quickly and easily achieving that perfect balance of puffy and chewy, not crispy, just-right cookie texture.
Turn down the temperature.
When you blast dough with heat, you suck out all the moisture before you're done cooking them all the way.
The cookies also don't have a chance to evenly cook when you're exposing the outer layer to high temperatures. The outside and bottom while be overcooked and the inside will be undercooked when your oven temperature is too high.
So, for this skillet cookie, the temperate is a cooler yet still plenty warm, 325˚. Does it take long to cook? Yep. But only a few minutes. Totally worth it for perfect, right?
Don't melt your butter.
Soften your butter, yes. Melt it into a liquid, no. This goes against what many other recipes say. So confusing right? But here's the thing. Melted butter will give you chewier cookies, but they are also flat, greasy and just not good. In my opinion.
We're after that balance of puffy cookie dough and soft, non-crispy texture.
Room-temperature Butter
Ideally, you'll plan ahead and leave out a stick of butter to casually adapt to room temperature. That's ideal. But if you forget, don't fret. You can microwave your butter. Just only heat it enough to soften it. Don't melt it. Heat in 15-second increments if you're nervous about it. Oh, and cover your bowl of butter with a paper towel before you heat it to prevent a splattery mess. 😉
Don't have a cast iron skillet?
You have a few options. You can buy one of course. You'll want a 12" skillet for this recipe.
Shop cast iron skillets on Amazon
If you don't want to splurge on or don't have the space for a new, heavy skillet, then you can use an 8x8 casserole dish or a pie pan.
Make sure to grease whatever you use before you bake with butter. And keep an eye on things while baking. Using a different kind of pan can affect the amount of time needed to fully cook this giant cookie!
Optional Additions
We like to add sprinkles sometimes to make this look festive. This is fun if you have a holiday, birthday or some other special occasion coming up. A lot of times you can find holiday themed sprinkles at the store.
You could also add any type of nut you like. I love walnuts, chopped pecans and macadamia nuts in my cookies. I tell myself this makes them healthier. 😉
Anything extra you want to add, you can stir into the cookie batter when you add the chocolate chips.
Fun toppings
The ice cream, in my opinion is not optional! A scoop of cold and creamy vanilla ice cream is so wonderful on top of a fresh baked and still warm giant skillet cookie! However, you can go even further and try adding caramel or chocolate syrup on top, sprinkles, nuts, crush candy, or even fresh fruit.
Make it minty!
If you want things to look fancy, try adding a mint leaf. Mint leaves are one of my favorite go-tos to making desserts look fancy. I try to keep a fresh plant nearby so I have easy access to them. You could also use a scoop of mint chocolate chip ice cream instead of vanilla, some green sprinkles, crushed peppermint candies or M&Ms and even try substituting peppermint extra in place of or in addition to vanilla. Perfect for mint lovers or if you've made this recipe several times, this helps bring new flavor.
Have a sweet tooth?
You'll love my other easy desserts then.
Browse all my dessert recipes here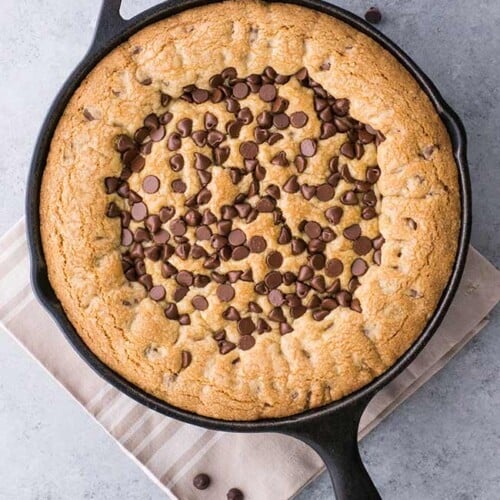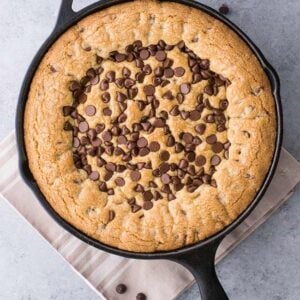 Giant Soft Skillet Cookie
Make this giant soft skillet cookie using a large cast iron skillet. Slide and serve warm, cold and creamy scoop of vanilla ice cream. YUM!!
Read Comments
Print
Pin
Rate
Ingredients
2 ¼

cups

flour

1 ¼

teaspoon

baking soda

1

teaspoon

fine sea salt

1

cup

butter, softened + more for greasing skillet

2 sticks

¾

cup

sugar

¾

cup

brown sugar

1

teaspoon

vanilla extract

2

eggs

2

cups

chocolate chips

divided

8

scoops

vanilla ice cream
Instructions
Whisk together flour, baking soda and salt in a small bowl.

In a large bowl, mix soft butter, sugars and vanilla until well blended. Mix in eggs and blend until you get a light and fluffy texture.

Slowly beat in flour mixture to eggs and sugar. Then fold in 1 ½ cups of the chocolate chips.

Generously grease a cast iron skillet with butter.

Grab all of the cookie dough and roll it gently into a large ball. Then press it into the greased cast iron skillet. Build up the edges a little higher than the center since the edged cook faster.

Press the remaining ½ cup of chocolate chips scattered all over the top of the giant cookie.

Bake in a preheated oven at 325˚for about 25-35 minutes or until the center is just set. Cover with foil if you notice edges starting to get too dark early on in the baking.

When done, remove from oven and let cool for at least 5 minutes. Slice like a pie and serve warm with a scoop of vanilla ice cream.
Notes
A 12" skillet works best for this recipe and cook time.
Make sure to generously grease the skillet butter.
Keep an eye on things while baking. Using a different kind or shape pan can affect the cook time.
Nutrition Facts
Calories:
782
kcal
|
Carbohydrates:
100
g
|
Protein:
8
g
|
Fat:
40
g
|
Saturated Fat:
25
g
|
Polyunsaturated Fat:
2
g
|
Monounsaturated Fat:
8
g
|
Trans Fat:
1
g
|
Cholesterol:
139
mg
|
Sodium:
750
mg
|
Potassium:
220
mg
|
Fiber:
1
g
|
Sugar:
70
g
|
Vitamin A:
1046
IU
|
Vitamin C:
1
mg
|
Calcium:
120
mg
|
Iron:
2
mg
Follow Mighty Mrs. for more easy recipes!
Find @MightyMrs on Pinterest