This post may contain affiliate links. As an affiliate, I earn a commission.
Jump down to Recipe
This shop has been compensated by Collective Bias, Inc. and its advertiser. All opinions are mine alone. #GrillNGear #CollectiveBias

For more backyard barbecue ideas, check out Giant Eagle's Summer of Grilling Pinterest board.
Today I'm mixing it up a little and taking you along on our scavenger hunt at the brand new grocery store near us, Giant Eagle on Interchange Road (or Route 99 as we locals call it).
As you can imagine, grocery shopping is always a doozy with my two kiddos. You're about to find out just how much of an adventure it can be to pick up a few items. So, read along for some laughs and by the end you'll have FOUR summer recipes to try at your next barbecue. I'd like to say you'll also gain some tips on how to keep your cool while grocery shopping with kids in tow, but really I could probably use the tips.
Shopping with the kids!
Check out our adventure at the brand new local Giant Eagle grocery store as we shop for the goodies to make these easy recipes.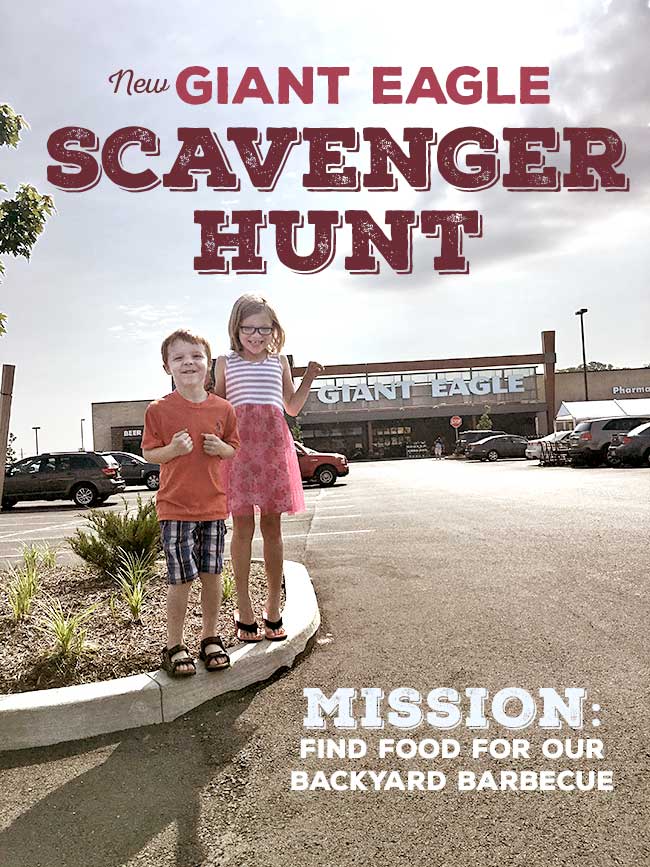 Here are the kids, already boiling over with excitement. Exploring a NEW store and hunting for items on a list?! It's all too much! Bahhhh! Let's go in!

So we crossed the parking lot safely, entered the store, and found ourselves in the produce section. Perfect. We picked up fresh lettuce, tomatoes, mini burger buns and lemons, then headed to the coffee and tea aisle to find our first scavenger hunt item: Lipton Tea Bags.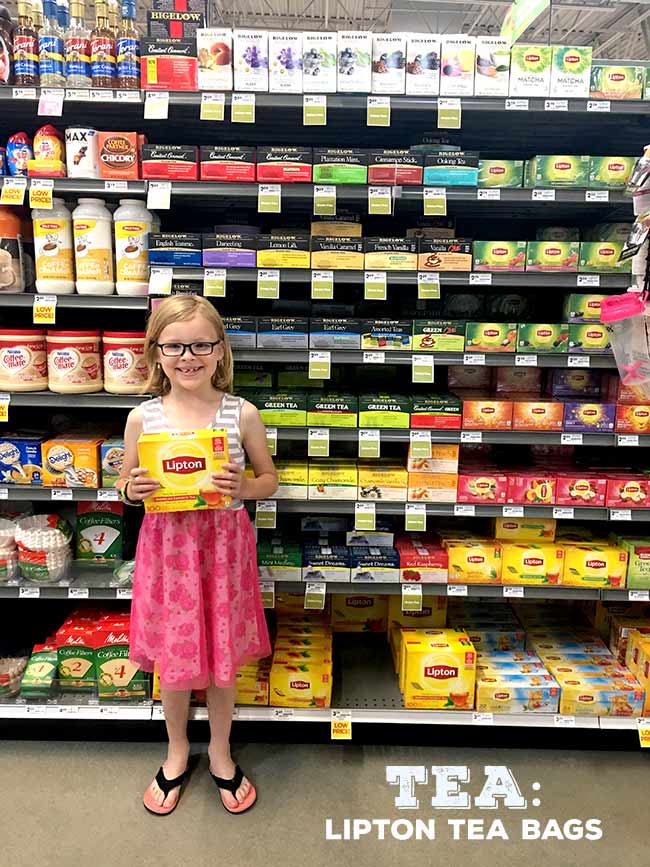 We're going to make sun tea.
I love fresh-brewed iced tea but don't love having to actually brew it which is why sun tea is the perfect solution. I make my sun tea in a quart-sized Mason jar with a pour cap and use four tea bags (1 per cup). I start with warm water and let the jar sit in a sunny window for a few hours until it's a nice dark color. Then I add ice or refrigerate. You can also use hot tap water initially to speed up the process. I'm a bit of a romantic so I like the idea of the sun doing the work of brewing my tea but from what I understand, slow transitions in temperature also prevent the tea from becoming cloudy. So, we got what we needed. Tea bags, check.
Next on the list: Lemon Lemon Sparkling Lemonade
Why sparkling lemonade, you ask? Because bubbles, my friends. Imagine sipping on an Arnold Palmer made with fresh sun tea and bubbly lemonade. Just add some fresh-picked mint leaves, a hammock and some shade and the day is made. Ahhh…
But where were we actually? Ah, yes. At Giant Eagle with two rambunctious kids in search of bubbly lemonade. At this point in our scavenger hunt, the kids discovered the bouncing balls. You all know what happens next… balls bouncing, kids jumping… I was able to get them to move along though with a promise to consider purchasing ONE ball, "if they behaved." Thankfully right down the aisle next to the balls, sitting on the shelf in pretty striped cans, was the sparkling lemonade. Score.
Not sure who is more bubbly here???

OK, so next on the list was gourmet, ready-to-grill burgers with cheddar and bacon already inside. I spotted the meat counter and headed that way, hoping the balls would be forever forgotten. I was getting excited now about how easy it would be to grill those babies and put them on a stick. Note to self (and you guys!): buy wooden skewers.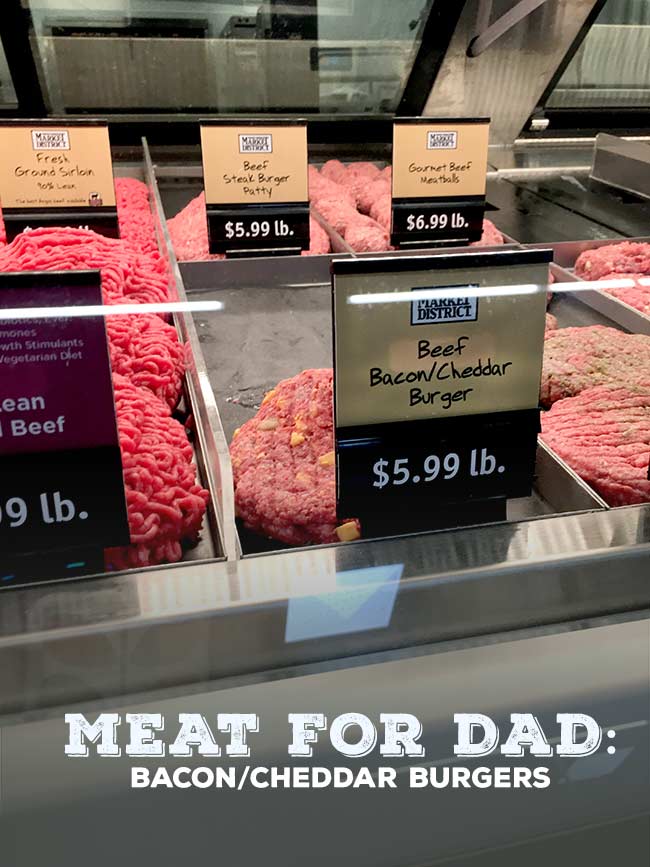 Ready-made hamburger patties with cheese and bacon!
I only saw two patties left though. The guy behind the counter was very accommodating. Said he was just getting ready to make more and would bring them out to me when he was done. That's my kind of service! He gave me a knowing look after I expressed my thanks and I thought, he must have kids.
I turned around and found the kids had discovered the summer-themed display complete with a real jet ski and were going bananas over it. It was cool! But before we did any damage, I whooshed them off in search of the next item: COOKIES!
In hindsight, I probably shouldn't have actually said the word "cookies" out loud to my already-excited kids. As we headed to the cookie aisle, they were quite literally bouncing off the walls, the floors, the shelves… ???? My patience was waning at this point but luckily we rounded the corner and there was the pretty little white bag of Pepperidge Farms Farmhouse Thin & Crispy Chocolate Chip Cookies. Exactly what we were looking for! It was my boy's turn to grab them (gently!) off the shelf.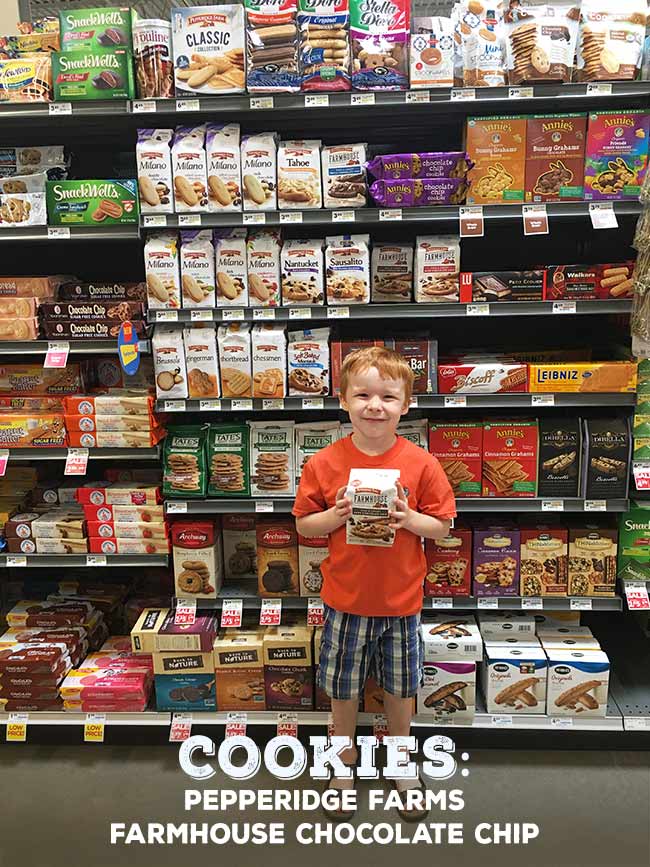 Homemade Ice Cream Sandwiches
We were half way to ice cream sandwiches. Yay! One item left to go. We can do this! We started up the aisle and as I looked up, I saw my neighbor. He is a father of six, husband to a very sweet lady and they are both such patient, and positive, and genuinely kind people. I instantly hoped I hadn't been yelling at my kids within earshot. We chatted for a couple minutes and my attitude shifted. He was my reminder that I needed to keep my patience and carry on. I could do this! We could do this. Com'on, kids!
Then, the kids saw the balls again. I don't remember exactly what happened next. It was kind of a blur. There was a small tantrum, negotiations, a loan made and prices checked. Somehow at the end of everything, our cart had two slightly different colored balls in it. My justification was that it would be good exercise and the kids would use their own money. Let's just move on…
Final item: Breyers Mint Chocolate Chip Ice cream!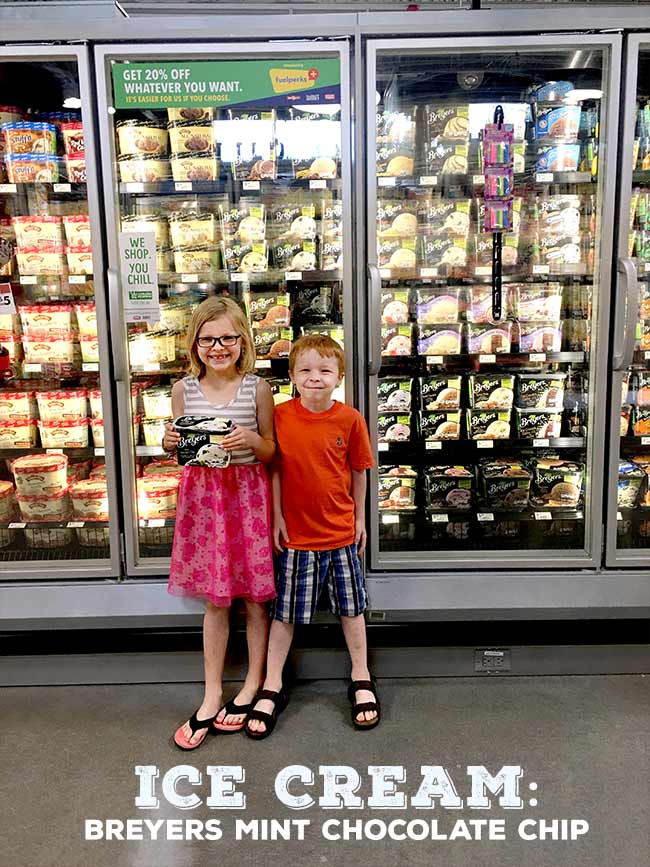 And done! We headed towards the checkout, making a quick stop at the "Freeosk" for a free sample of crackers, and were on our way out the door a few minutes later.
As we walked to the car, I asked the kids what they thought of the new store. "You can tell people really worked hard building this store, it's so nice!" they said. And ultimately deemed it "their favorite store." Ha! I'm guessing the cookies, ice cream and balls we bought had some influence on that decision. Or could have been the free sample machine which was pretty nifty. I personally really liked the selection and quality of the fresh produce and meats (and seafood!) as well as the store layout. It was easy to find things even though I'd never been there before and there weren't so many choices that it was overwhelming.
Backyard Barbecue Menu Taste-Testing
All in all it was a successful trip and our backyard barbecue was sup-a fun! The Mr. happily taste-tested the recipes and gave them two thumbs up.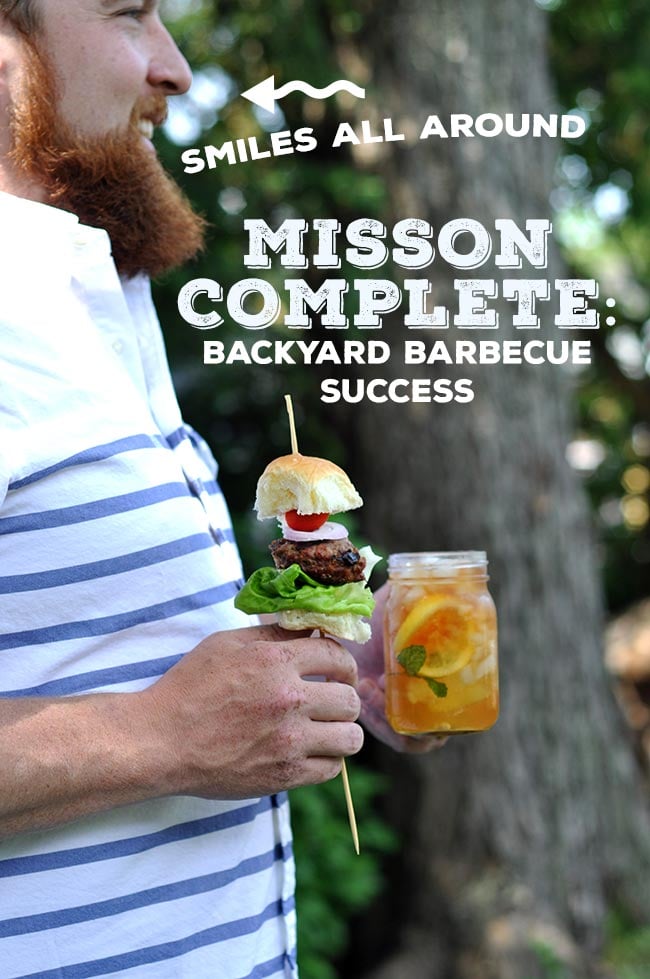 You can see the finished recipe photos in the slider at the top of the page and instructions for preparing each recipe on the menu, below.

Happy grilling season, ya'll! If I see you at Giant Eagle this summer, just know that I'm doing my best. 😉
Want more easy recipe ideas?
Backyard Barbecue Menu
Join our scavenger hunt at the new Giant Eagle as we shop for our backyard barbecue. We're making Walkin' Burgers on a Stick, Sparkling Arnold Palmers, and Mint Chocolate Chip Ice Cream Sandwiches.
Read Comments
Print
Pin
Rate
Ingredients
WALKIN' BURGERS ON A STICK
4

gourmet beef bacon/cheddar patties

1

small head or bag of large-leaf lettuce

16

grape tomatoes

16

mini buns

1

small red onion sliced

Ketchup and mustard to taste

16

skewers
SPARKLING ARNOLD PALMER
4

Lipton tea bags

1

quart

water

2

cans Lemon Lemon sSparkling lemonade

crushed ice

fresh mint leaves
MINT CHOCOLATE CHIP ICE CREAM SANDWICH
8

Pepperidge Farms Farmouse cookies

4

large scoops of Breyers mint chocolate chip ice cream

sprinkles

mini chocolate chips or chopped nuts (optional)
Instructions
Walkin' Burgers on a Stick: Grill burgers on high for 4 minutes on each side or until thoroughly cooked. Cut burgers into quarters and layer the mini burgers onto a skewer like so: bottom of bun, lettuce, burger, ketchup, mustard, grape tomato, slice of onion, top of bun.

Sparkling Arnold Palmer: Fill cup with crushed ice. Add sun tea half way up. Top with Lemon Lemon sparkling lemonade. Squeeze a little lemon juice in if you have it. Garnish with fresh mint.

Mint Chocolate Chip Ice Cream Sandwich: Leave ice cream out for about 5-10 minutes to soften. Place a scoop of ice cream in between two farmhouse cookies and gently press together until ice cream is flush with the edge of the cookies. Roll the sides in sprinkles, mini chocolate chips or nuts if you'd like!
Want more easy recipe ideas?
Follow @MightyMrs on Pinterest