Barbecue shrimp and grits is one of our favorite dinners! It's a southern classic often served at restaurants in South Carolina that's really very easy to make at home!
This post may contain affiliate links. As an affiliate, I earn a commission.
Jump down to Recipe
Barbecue shrimp and grits is one of our favorite dinners! It's a southern classic often served at restaurants in South Carolina that's really very easy to make at home!
★ Why You'll Love this Recipe ★
Shrimp and Grits is a classic southern dish.
It's funny you didn't hear much about this dish until more recently. I'd never heard about it before our honeymoon in 2006. Phew, dating myself there!
We took a road trip down the East Coast and we stopped in Charleston, South Carolina. The town is amazing and so is the food! We ate at Bubba Gump Shrimp Co. where we had shrimp and grits for the first time. It was so delicious that after we ordered it as appetizer, we then ordered the shrimp and grits entree too!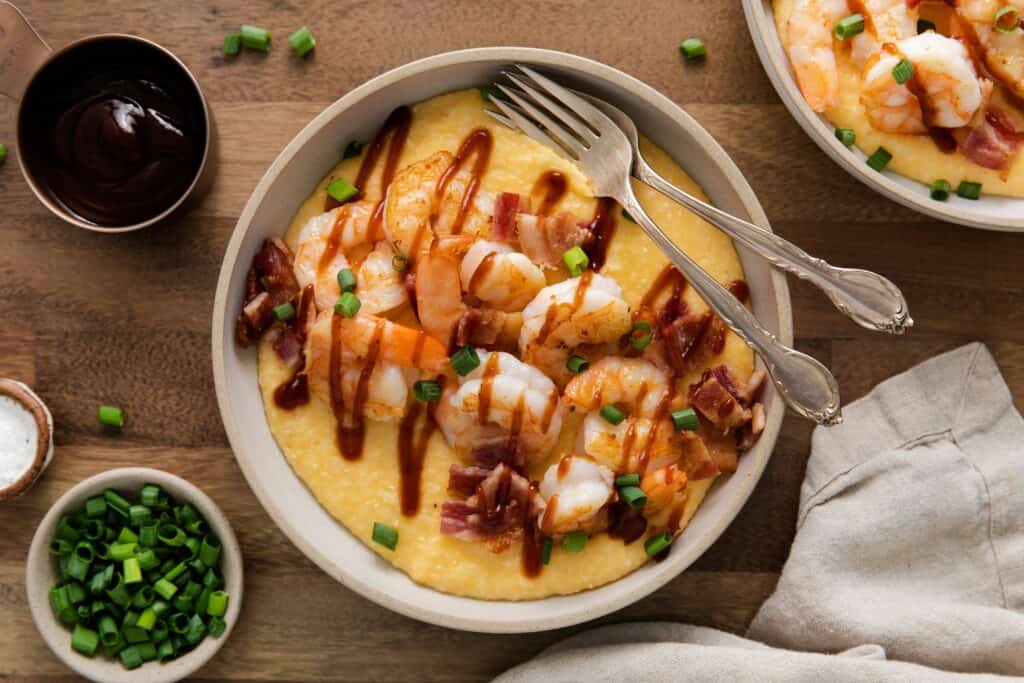 Homemade Shrimp and Grits is a surprisingly easy to make.
Since you couldn't often find shrimp and grits on a menu up north, we came up with our own recipe when we returned home. It was surprisingly very easy to make.
You can use instant grits, microwave or oven bake the bacon, and cook the shrimp all in under 20 minutes. Stir in some cheddar cheese, a bit of butter, your favorite barbecue sauce and top with chopped green onions. Boom! Done.
Easy to make yet feels so fancy!
This barbecue shrimp and grits recipe is super simple to whip up for dinner and is a family favorite because it's kid friendly. It's great for a dinner party because it's unique and looks beautiful when served.
★ Ingredient You'll Need ★
You don't need a long list of ingredients to make this impressive dish!
Here's everything you need to start cooking: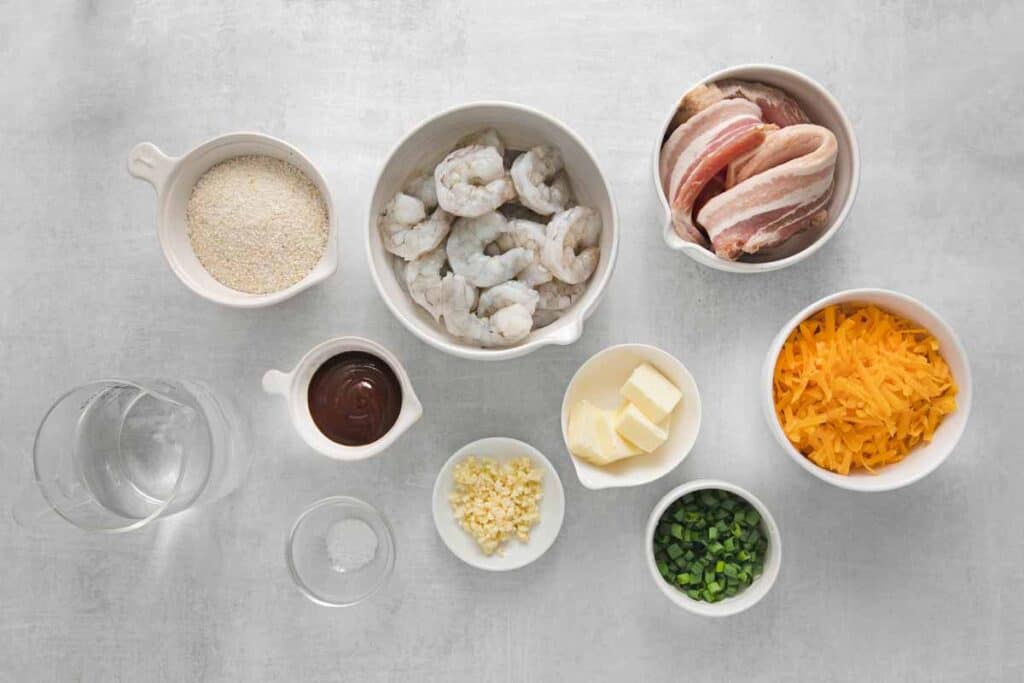 Raw shrimp. You can use any sized shrimp but make sure to start with raw shrimp. You'll cook it just enough so it's plump and pops in your mouth — what you don't want is a rubbery texture which you'll get if you used pre-cooked shrimp.
Quick grits. You can find these in the cereal aisle.
Water. To bring your grits to life!
Butter. Salted. You can also use margarine if you prefer or if using unsalted butter, then you may need to add your own level of salt to taste.
Cheddar cheese. You can use pre-shredded cheese to save time but if you have a few extra minutes, freshly shredded cheese from a block melts better and tastes better too.
Green onions. These add a hint of spice and a nice crunchy texture. You can use the white part as well as the green.
Garlic. I prefer garlic paste but you can use fresh pressed, minced garlic or even garlic powder.
Bacon. Choose a good quality bacon for the best flavor. If you're short on time, you can use real bacon bits.
Barbecue Sauce. Choose your favorite bottled brand or check out my quick, easy recipe to make your own BBQ sauce!
Salt. Sea salt or regular table salt. Your choice and add it to taste.
★ How to Make Shrimp and Grits ★
This recipe is very simple. You'll cook the bacon, shrimp and grits then combine.
Here are the basic steps:
Cook bacon in the oven or in a frying pan.
Cook shrimp on the grill or in a frying pan.
Saute butter and garlic together.
Cook grits; add cheese and garlic butter. Stir to combine.
Layer grits and shrimp in a bowl; top with barbecue sauce and green onions.
Easy! For the full list of ingredients and instructions, see recipe card below.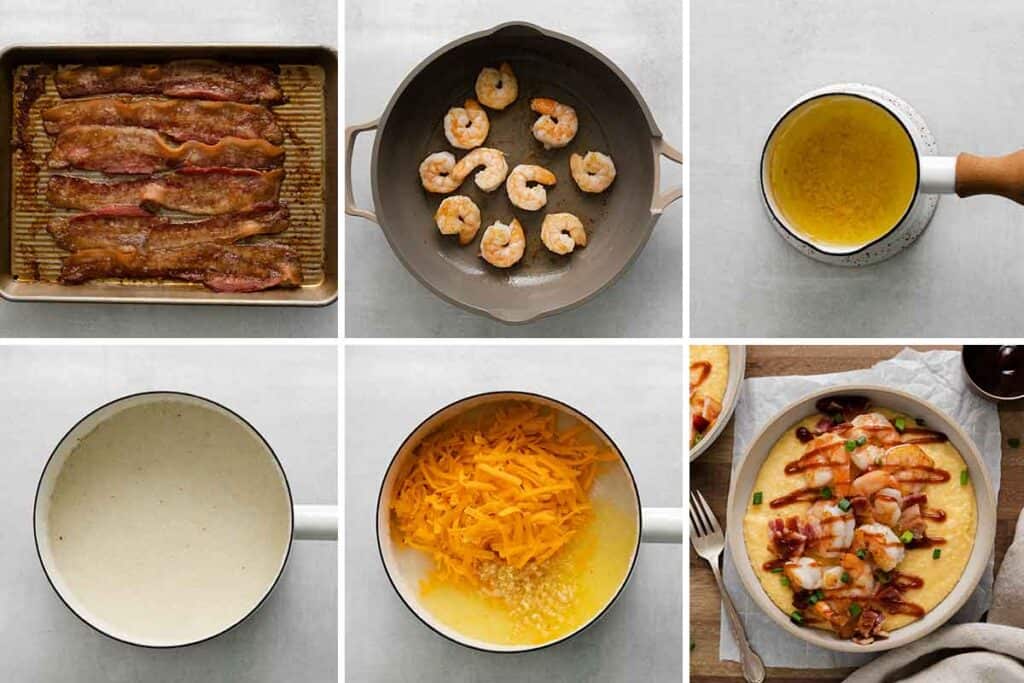 Want to see this recipe being made?
Check out the 1-minute video beneath the full recipe (below). It shows step by step how to make this dish.
★ Tips & FAQs ★
What does shrimp and grits taste like?
The flavors of this dish are pretty classic. Can't go wrong with cheese and bacon, right? The combo plus a little bit of butter really brings the grits to life. Also the texture of the grits really works well with the crispy bacon and plump shrimp. To top things off, choose your favorite style barbecue sauce. I love a spicy, semi-sweet and tangy sauce. You can go with a jarred sauce or make your own pretty easily. Finally sprinkle with fresh green onions. All the ingredients complement each other really well.
Make it kid-friendly
Just deconstruct it!
This is one of those dishes that can easily be deconstructed for kids. Just keep the bacon, cheese and grits separate and serve with a veggies for a complete meal. Most kids, even if they are picky eaters, will eat those ingredients.
Special Cooking Tools
Try cooking your bacon in the oven. There's so much less mess than cooking on the stove top! Use a cast iron flat griddle so you don't ruin your baking sheets. Or if it's summer and you don't want to heat your house, you could grill your bacon on low, using a cast iron griddle.
Finally, if you're in a hurry, try microwaving your bacon. It still gets nice and crispy when you use a microwave bacon tray and it's done in minutes.
Try making your own barbecue sauce.
Want to take you shrimp and grits to the next level? Try making your own sauce! You can start with my simple and easy barbecue sauce recipe and then customize it to create your very own secret sauce.
Get my easy barbecue sauce recipe
Readers love this recipe!
This recipe was first published on All Recipes many years ago and has received rave reviews — even from Charleston natives!
★ More Recipes You'll Love ★
Want more easy and delicious dinner ideas?
Browse all my dinner recipes and be sure to Pin your favorites for later!
This recipe for barbecue shrimp and grits was feature on Menu Plan Monday and Sweet Little Bluebird!
Barbecue Shrimp and Grits
Barbecue shrimp and grits is one of our favorite dinners! It's a southern classic often served at restaurants in South Carolina that's really very easy to make at home!
Read Comments
Print
Pin
Rate
Ingredients
1

lb

medium raw shrimp

1

cup

quick grits

4

cups

water

¼

cup

butter

1 ½

cups

cheddar cheese

¼

cup

green onions

chopped

1

tablespoon

minced garlic

16

oz

bacon

barbecue sauce to taste

¼

teaspoon

salt
Instructions
Separate strips of bacon and lay flat on a lightly greased baking sheet. (Use a bit of bacon fat to grease the pan to prevent sticking) Bake at 350˚ for about 15-20 minutes or until desired level of crispiness. Crumble or chop and set aside.

Peel and devein shrimp. Grill shrimp at 350-450° on a skewer for 3-4 minutes on each side or until pink. (Or fry shrimp in a pan over medium-high heat, until pink all the way through about 4 minutes on each side).

Sauté garlic in butter, set aside.

Bring water to boil, add grits. Turn to low and cover for 5 minutes, stirring occasionally. Stir in cheese, garlic butter and salt.

Layer grits, shrimp, bacon and scallions in a bowl and top with barbecue sauce. Serve piping hot!
Nutrition Facts
Calories:
640
kcal
|
Carbohydrates:
22
g
|
Protein:
29
g
|
Fat:
48
g
|
Saturated Fat:
21
g
|
Polyunsaturated Fat:
6
g
|
Monounsaturated Fat:
18
g
|
Trans Fat:
1
g
|
Cholesterol:
195
mg
|
Sodium:
1277
mg
|
Potassium:
318
mg
|
Fiber:
1
g
|
Sugar:
1
g
|
Vitamin A:
725
IU
|
Vitamin C:
1
mg
|
Calcium:
262
mg
|
Iron:
2
mg
Follow Mighty Mrs. for more easy recipes!
Find @MightyMrs on Pinterest