This easy weeknight shrimp boil recipe is a great way to mix up your dinner rotation. Made with the classics — shrimp, cajun sausage, corn on the cob, and potatoes seasoned with lemons and Zatarain's southern seasoning.
This post may contain affiliate links. As an affiliate, I earn a commission.
Jump down to Recipe
This recipe was developed in partnership with Smith's.
When you think of a shrimp boil, you might think of the traditional low country boil that's cooked in a huge pot, maybe over an open fire and then spread out over a newspaper covered tabled and served to a crowd.
It's a fun dinner with a bunch of fun names. You may have heard it called Frogmore Stew, Low Country Boil or simply a seafood boil depending on where you grew up or what your family might call it. The idea is the same though. Lots of yummy food boiled together in southern spices.
★ Why You'll Love this Recipe ★
A Medley of Foods and Flavors
It's truly a feast as everyone grabs their choice picks from a variety of yummy foods — shrimp, corn, Cajun sausage and potatoes are typical. And maybe if you're lucky, some other specialty seafood like crawfish or even a lobster! If you're in the Maryland area, maybe you'd even sneak in some blue crabs.
We've hosted a couple seafood boils that look exactly like this. A traditional low country boil is no doubt, a great way to feed a group of people something really special. Without the hassle of making a bunch of individual dishes. Everything cooks together yet there's a variety of food and you don't even need a plate! Even the kids love it.
So it just makes sense to try this idea out during the week.
Serve it for Family Dinner
The Weeknight Shrimp Boil
Because, why not? For all the same reasons why it's an excellent way to feed a group of people, it's also a great dinner option. You've got protein, veggies and a starch so it's a balanced meal. And it's easy to prep and cooks quickly.
Make it for a Crowd
A shrimp boil is also a great way to celebrate special occasions!
If you want to feed your family something special to celebrate a birthday, anniversary, or maybe a job well done this is a great dinner option! This recipe feeds 4-6 people but can easily be doubled or tripled depending on the size of your family or group. You'll need to just increase the size of your pot the bigger you go but luckily they make some very big pots should you want to go big!
★ Ingredients You'll Need ★
What will you find in this easy shrimp boil?
Corn on the Cob. Just toss half ears of corn, use frozen or fresh raw shrimp.
Cajun sausage. In this case we love the Smith's mini bites since there's no cutting required, but you can also slice rope sausage into coins.
Red potatoes. Small or cut-up potatoes of your choice. Red potatoes taste great and are small enough so they cook quickly. Since red potatoes have thin skin, you can leave the skin on which makes things even easier (and adds flavor!) However, any potato works, just cut large potatoes small enough that they can cook within 15 minutes. So no larger than 2" cubes.
Red onion. Red onions have a nice flavor and a pretty color but you can use white or yellow onions too.
Garlic. A whole cluster of garlic cloves. No need to peel the garlic, just slice it and plop it in the pot! Easy!
Lemons. Fresh lemons added to the pot will enhance the shrimp flavor and give it a fresh and bright flavor.
Zatarain's Seasoning. All the food cooks in one pot along with a package of Zatarain's Crawfish, Shrimp & Crab Boil seasoning.
Old Bay seasoning. Sprinkle on after you've drained away the water and are ready to serve. This classic seafood seasoning finishes off this tasty meal and brings all the flavors together into one delicious dish. Offer melted butter and additional Old Bay seasoning for dipping as well.
Optional: Add additional varieties of seafood! Try crawfish, scallops, clams, oysters and/or muscles. Note: Oysters, clams and muscles are done cooking when they open. If they do not open when cooked, discard them.
★ How to Serve this Weeknight Shrimp Boil ★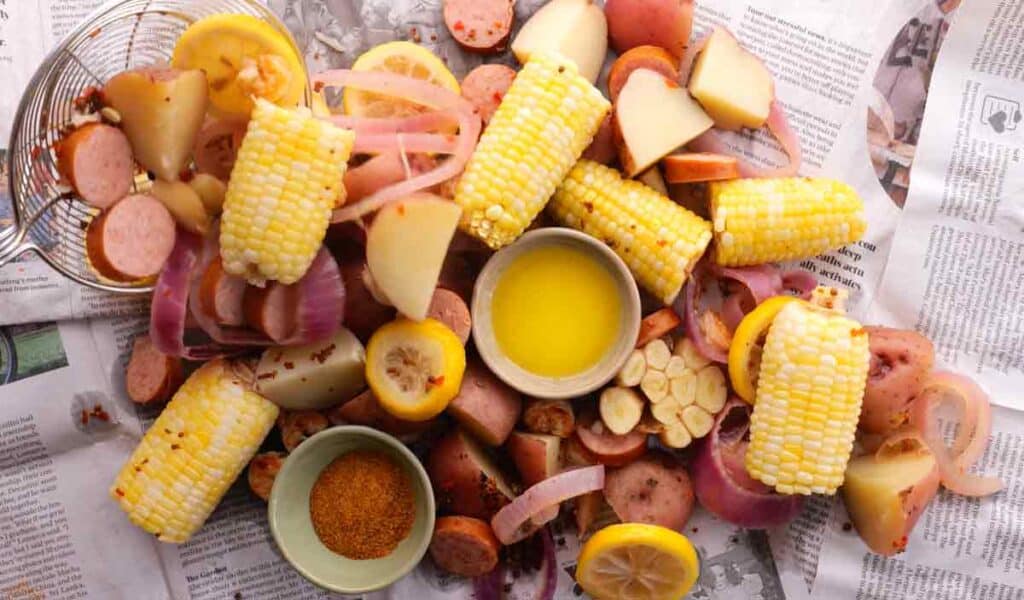 Go ahead and serve it dumped onto the table (just lay down some newspaper for easy clean up). No plates needed!
Set out a small dish of melted butter and some extra Old Bay seasoning for anyone who wants to dip and you're good!
You may want to have paper towels or wet wipes available to clean off sticky hands when done.
★ How to Prepare a Seafood Boil ★
You'll need a large pot.
A 6 quart pot would be the minimum size I'd recommend. If you have a larger pot, use that so you can give things a good stir without making a mess.
Need a large stockpot? They actually make pots specifically for seafood boils that come with a strainer. So if you're into this idea you may want to invest in this handy tool. Browse seafood stock pots on Amazon.
If making a small batch, I use my 8-quart dutch oven.
Once you have a large enough pot, here's what to do: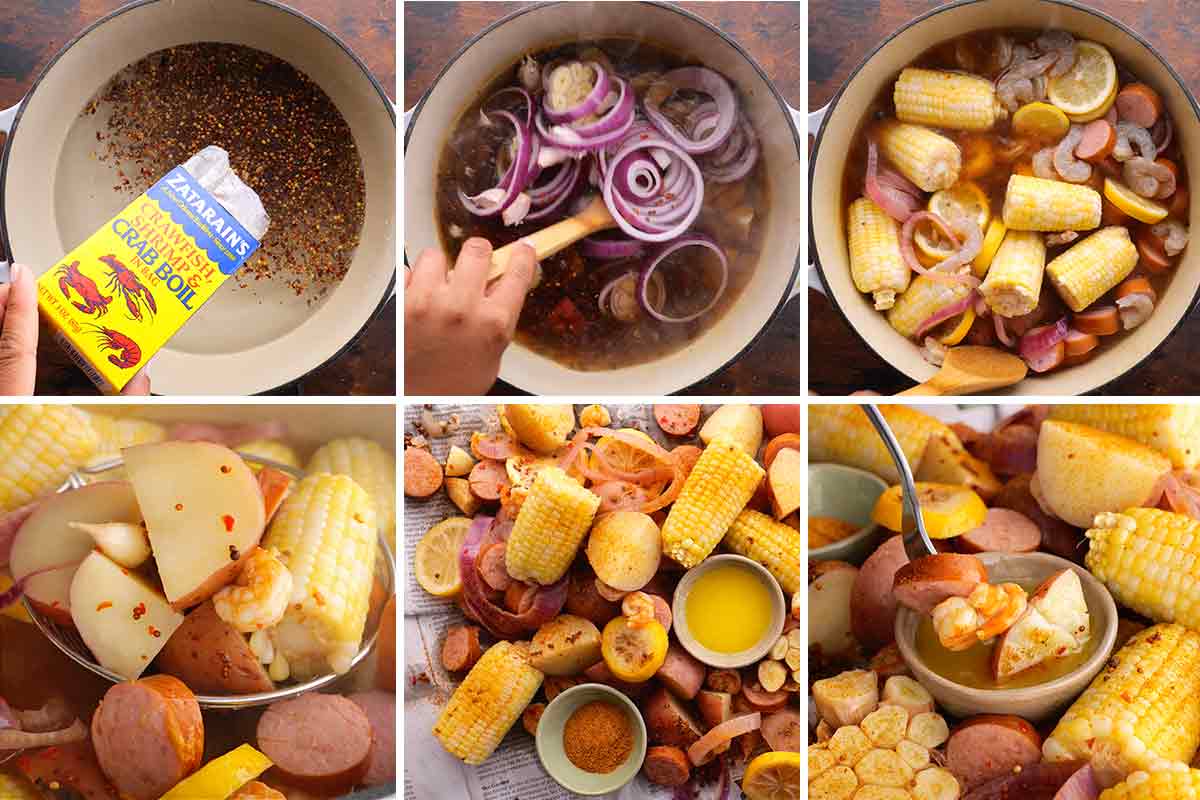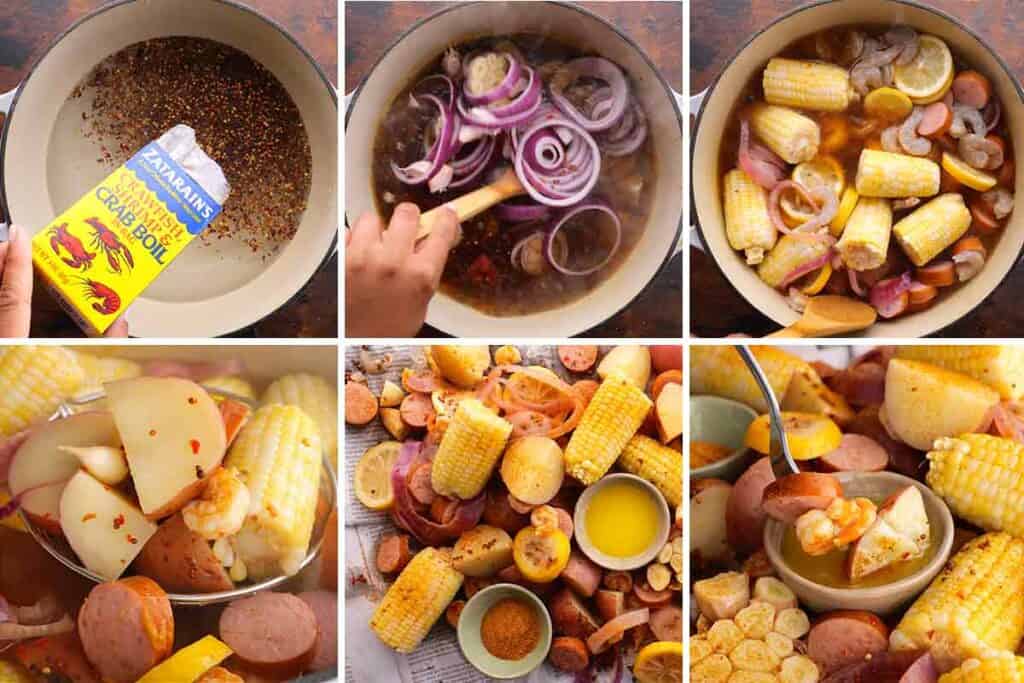 Boil water and add Zatarain's seasoning.
Add potatoes, onions and garlic, cover and boil.
Add sausage, lemons, corn and shrimp; boil longer.
Strain and serve.
Drizzle with melted butter and Old Bay seasoning.
Serve with cups of melted butter and Old Bay seasoning for dipping.
Easy! For full recipe and how-to video, see below.
Special thanks to Smith's!
Smith's, headquartered in Erie, PA has allowed Mighty Mrs. to publish this easy Weeknight Shrimp Boil recipe to inspire families with new ways to cook their prepared meats. You can show your support for Smith's by following them on Facebook: facebook.com/smithshotdogs and on Instagram: instagram.com/smithshotdogs. If you're located in the tri-state area, you can find Smith's meats at your local grocer or chain retailer. Visit Smith's website site for a complete list of locations.
Weeknight Shrimp Boil
This easy weeknight shrimp boil recipe is a great way to mix up your dinner rotation. Made with the classics — shrimp, cajun sausage, corn on the cob, and potatoes seasoned with lemons and Zatarain's southern seasoning.
Read Comments
Print
Pin
Rate
Ingredients
12

oz

Smith's Cajun Sausage Mini Bites

(or use rope cajun sausage and slice into coins)

12

oz

raw shrimp or 1.5lbs fresh shrimp

4

ears

corn

cut in half

12

red potatoes*

1

red onion

sliced

1

head

garlic

halved

2

lemons

halved

3

oz

Zatarain's Crawfish, Shrimp & Crab Boil seasoning

8

cups

water

½

cup

butter (one stick)

melted

Old Bay seasoning to taste
Instructions
Add water and Zatarain's Crawfish, Shrimp & Crab Boil seasoning to a large stockpot. Bring to boil on high heat. Stir in potatoes, onions and garlic. Cover and boil 15 minutes or until potatoes are soft all the way through.*

Add sausage, lemons, corn and raw shrimp to the pot. Cover and boil an additional 3-5 minutes or just until shrimp is pink in color all the way through.

Strain to remove water then serve immediately. To serve, dump everything once strained onto a table lined with newspaper.

Drizzle with melted butter and sprinkle with Old Bay seasoning. Reserve some melted butter as a dip for shrimp (and other seafood if available). Offer additional Old Bay for dipping as well.
Notes
*Using smaller red potatoes is ideal as this will shorten cook time.
Nutrition Facts
Serving:
1
cup
|
Calories:
537
kcal
|
Carbohydrates:
63
g
|
Protein:
20
g
|
Fat:
25
g
|
Saturated Fat:
12
g
|
Polyunsaturated Fat:
2
g
|
Monounsaturated Fat:
8
g
|
Trans Fat:
1
g
|
Cholesterol:
115
mg
|
Sodium:
676
mg
|
Potassium:
1756
mg
|
Fiber:
8
g
|
Sugar:
6
g
|
Vitamin A:
773
IU
|
Vitamin C:
45
mg
|
Calcium:
192
mg
|
Iron:
7
mg
Follow Mighty Mrs. for more easy recipes!
Find @MightyMrs on Pinterest