This post may contain affiliate links. As an affiliate, I earn a commission.
Jump down to Recipe
This Classic Italian Pasta Salad is my favorite summer side dish but it can really be enjoyed year round.
This tried and true side dish is really easy to make, easy to customize, and is always a hit at potlucks, barbecues, or parties. You can make this a no-meat, vegetarian side dish or add meat.
Leftovers also make a great lunch!
★ Why You'll Love this Recipe ★
This Homemade Italian Pasta Salad is similar to the Betty Crocker's Suddenly Salad boxed pasta salad yet it's completely homemade.
You're going to get a lot more of it for your money and everything is going to taste fresh. Plus you'll save yourself and your guests from eating unnecessary preservatives. The only extra work involves cutting up a few veggies. Worth it? I would say so!
★ What does this dish taste like? ★
Remember, this "classic" Italian pasta salad recipe is mirrored after Betty Crocker's boxed pasta salad. So an Italian cook might have a different answer for this I am sure!
Personally, I really like the simplicity of the Betty Crocker recipe but the boxes are so tiny, when you're trying to feed a crowd, I just decided to make my own version one day and never looked back.
The featured flavors in this recipe are: carrots, black olives, bell peppers, Parmesan cheese and creamy Italian dressing.
I go light on the dressing so the pasta isn't overly saturated or greasy but use enough for the pasta and vegetables to be coated in plenty of seasoning and tanginess.
This vegetarian pasta salad is served cold and is best after it has marinated in the fridge for a couple hours or overnight.
★ Ingredients You'll Need ★
You'll need just 8 ingredients to make this Classic Italian Pasta Salad Recipe, plus salt and pepper. Super simple!
Here are all the ingredients you'll need:
1. Cooked Rotini pasta. You can use any shape you'd like, I just like how the dressing get trapped in between the coils of rotini pasta. You can use tri-colored rotini for added color and vitamins.
2. Fresh-shredded carrots. I'm a big fan of shortcuts but I do take the time to shred a full sized carrot. I think you get so much more flavor doing this vs. buying matchstick carrots that can taste dry.
3. Fresh parsley. Fresh vs. dried is key here too. I find that fresh chopped parsley adds a nice texture and "freshens" the flavor of all the other ingredients.
4. Red and green bell peppers. I just like how these two colors compliment the yellow pasta but you could go with orange or yellow bell peppers instead if you want. The colored peppers do tend to be sweeter and my mother-in-law swears they give you less gas. lol
5. Black olives. (optional but please give them a chance) Black olives bring a rich salty umami flavor to this dish which is great because I don't include any meat in this side dish. In case there are vegetarians at whatever event I'm going to or hosting, this is a nice filling dish for them.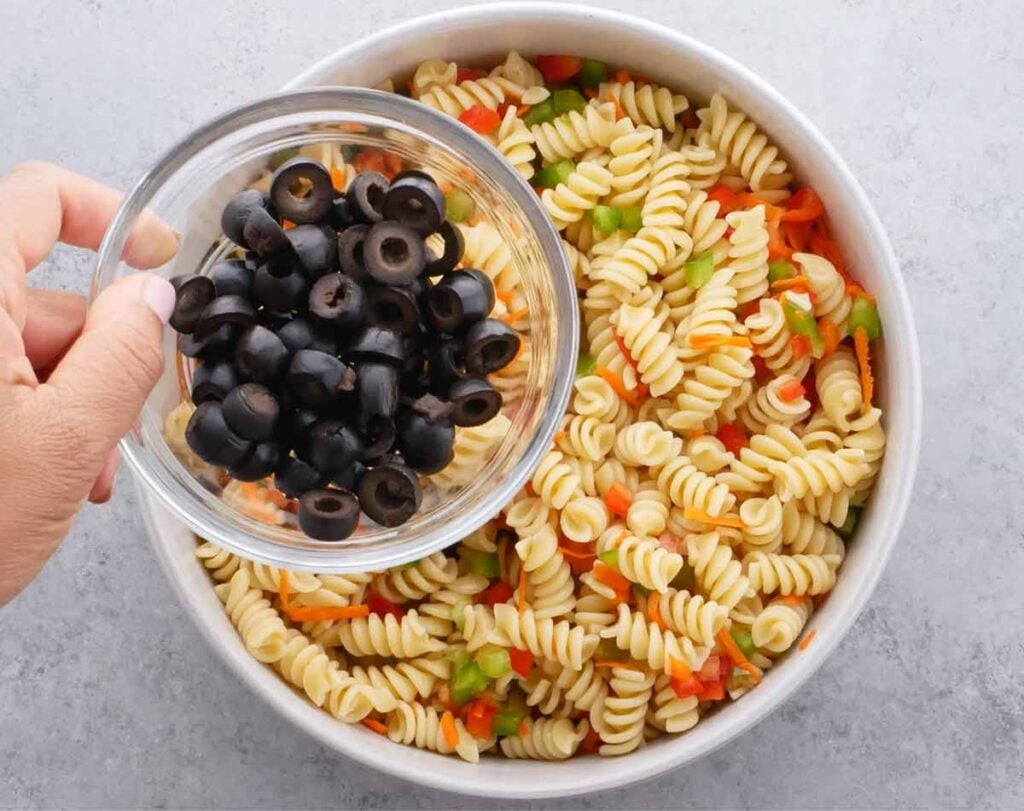 Could you add meat? Sure. Chicken, steak, salami, pepperoni, ham… any of those would taste great and adds some protein if you aren't concerned about keeping this vegetarian.
6. Italian dressing. My favorite dressing is Olive Garden's creamy Italian. Why is it sooo good? Because it has a touch of milk and Romano cheese that give it a rich flavor. Shop Olive Garden Italian Dressing
7. McCormick Perfect Pinch Salad Supreme Seasoning. This is a secret ingredient my husband's side of the family uses to give pasta salad and extra flavor boost — not required but totally recommend. It's a blend of sesame seeds, paprika, poppy seeds, celery seed, pepper, Romano cheese, garlic, buttermilk powder, red and black pepper. Buy McCormick Perfect Pinch Salad Supreme Seasoning on Amazon.
8. Grated Parmesan cheese. I like to offer this as an optional topping. I typically leave a shaker bottle out next to the bowl pf pasta salad and let people add it if they want. I like the flavor and texture it adds.
★ How to Make this Italian Pasta Salad ★
Even though this pasta salad is homemade with fresh vegetables, it's still an easy side dish to whip up for a potluck or for dinner. Here's how:
First, boil the pasta and drain when done. You do not need to rinse it.
Next, add shredded carrots and bell peppers.
Then, fold in black olives (optional) and fresh chopped parsley.
Add Italian dressing.
Sprinkle in my family's secret ingredient "Salad Supreme" seasoning.
Add salt and pepper to taste. (You might not even need it!)
Toss. Then ideally chill for 2 hours before serving. This gives the flavors time to soak into the pasta.
I put out a shaker of grated Parmesan cheese for people to sprinkle on top of their serving if they want.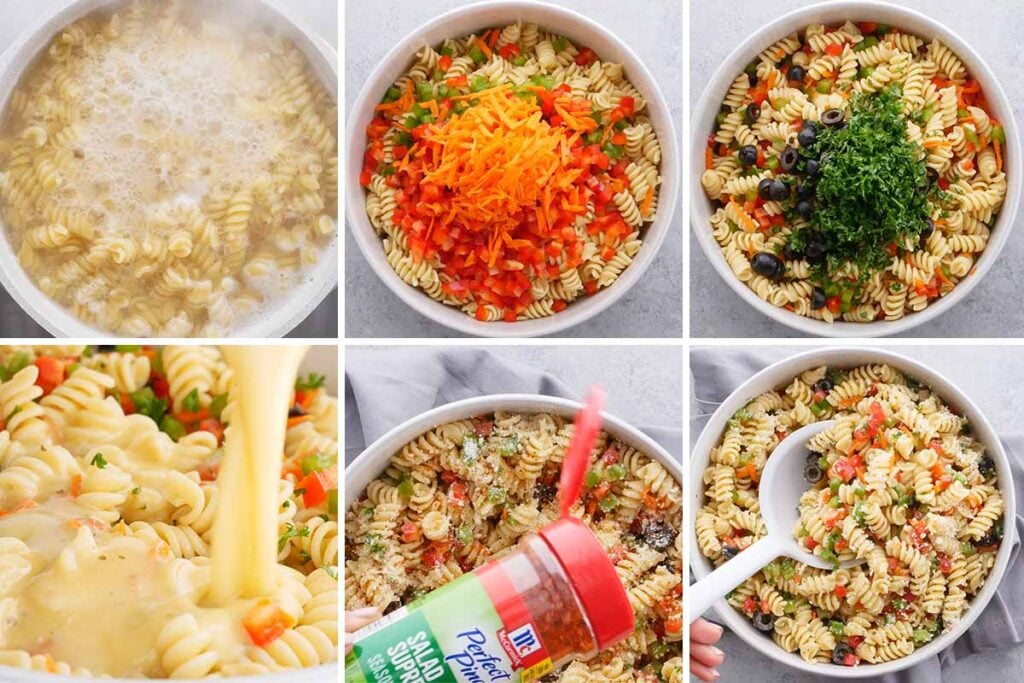 Watch the video beneath the full recipe (below) to see the full process in action!
★ FAQs ★
What kind of dressing is BEST?
Any Italian dressing works with this pasta salad recipe. You can decide what's your favorite. There are several bottled dressings that taste really great. My favorite for this pasta salad is Olive Garden's creamy Italian dressing. If you prefer a zesty, non-cream Italian dressing, by all means, use that instead.
You can also buy the packets of Italian dressing seasoning and mix the dressing yourself, adding your own oil and vinegar. Sometimes if I'm making a big batch of this pasta salad, I'd do a packet of Italian dressing seasoning mixing it with oil and vinegar, and then I'll add a small bottle of the Olive Garden creamy Italian dressing. Kind of like, half creamy half not.
Or you can go fully homemade and mix your own Italian seasoning blend and add oil and vinegar.
So depending on what you like, how much time you have or what you have on hand, choose whatever option fits you best. There's truly no right or wrong, it's a personal preference.
Why are some ingredients optional?
Some of the ingredients are listed as optional. If you left these things out, you'll still have a great tasting side dish.
However, everyone loves a dish that really WOWS. So these ingredients are ones I feel really add to the next level of flavor.
McCormick Perfect Pinch Salad Supreme Seasoning. It's specially made for pasta salads so the spices don't need to cook to activate like other dry herbs do. The flavor complements Italian dressing really well even though there are some overlaps like both have Romano cheese, but is there really such things as too much cheese? You decide.
My personal favorite part about this topping is the little sesame seeds in this mix. They just add a subtle crunchy texture to this pasta salad that's so good.
Again, this is totally optional but usually gets people talking about how yummy the pasta salad is so it's a bit of a secret ingredient if you're looking for amazing flavor.
Parmesan cheese. You have some choices here. You can go with the dry shelf-stable Parmesan cheese that's a popular pizza topping. You can grate or even shave your own from a block. Or you can buy a tub of shredded Parmesan.
I recommend going with whatever you liked best or what's most convenient. The flavor is very similar, the texture is just a bit different with each.
I find grated Parmesan cheese will give you more of that all-over cheesy flavor, whereas the shredded Parmesan cheese will give you a bit more bite, tartness and burst of cheesy flavor. The texture tends to be a little waxy which I kind of like sometimes.
If you're into the pre-shredded, pre-shaved or pre-grated cheese or you can DIY. I am a fan of grating my own because I feel like you get so much more flavor when it's fresh. However, I'm also a big fan of convenience so I am not above buying the cylinder of grated cheese either. I just go with what time allows each time I make this dish.
Note: If you're using an Italian dressing that already has cheese in it, you may not need to add any extra cheese. Taste and see what you think! Like I tell the mister, you can always add things in, but it's hard to take things out. Taste first and then decide!
Could you add other vegetables like cucumbers to this pasta salad?
Absolutely! Cucumbers, tomatoes, red onions, fresh mozzarella, mushrooms, artichokes, beans, pepperoni, ham, salami, fresh spinach… pretty much anything you'd put on a pizza, I think, would work in this salad.
I've even added in a bag of salad greens. This is a great base recipe but you can absolutely customize it especially if you're making it multiple times throughout the season. Try some different ingredients just to keep things interesting and fresh.
What kind of pasta works best?
Again, up to you. I used rotini pasta because it's pretty hearty and holds the dressing well. You can go with the tri-colored rotini, or choose any type of pasta that looks appealing. We like to get fun shapes sometimes, I've even used spaghetti because that's what I had. Mix it up! Use whatever you have! There's no right or wrong pasta. You can even use tortellini!
If you want some extra vitamins, you can opt for tri-color pasta which has veggie powder and extra vitamins. There are also gluten-free pastas and well as extra-protein pasta available. Go with what suites your diet and/or your taste buds.
What if my family doesn't like olives?
I am so sad for you. But I can relate. I have many people in my family who do not like olives. So I just opt to put a bowl of olives on the side. Problem solved! And more olives for me. 🙂
Is this pasta salad kid-friendly?
My son loves this pasta salad. I often make it just for him to eat for lunch, especially over the summer. Make a great dinner to eat in the car on the way to sports on super busy weeknights as well because you can easily eat it with a fork.
Overall, most kids approve of the mild flavor of this dish. It's not too heavy on dressing or overly oil either which appeals to kids. I do typically leave the olives out if making this pasta salad for kids.
Does this need to be refrigerated?
Yes. Store this in the fridge and chill before serving.
This pasta salad tastes best when it has time to marinate overnight or for at least 2 hours. The dressing needs to soak into the pasta.
Before you serve, be sure to give this pasta salad a stir to evenly distribute the dressing after chilling.
What goes well with pasta salad?
Pasta salad is a great side dish for burgers, hot dogs, grilled chicken, kebabs, really anything grilled! I also find it's great with dishes that are low-carb or protein heavy.
Here are some main dish recipes that pair well with this pasta salad as a side dish:
Browse all my main course recipes for more ideas!
Often our family makes this Italian pasta salad to bring to a potluck where there are a number of different dishes. We also make it frequently when we're hosting our own backyard barbecue or having people over for dinner.
My mom almost always had a batch of pasta salad in the fridge. It's great for a quick lunch or even dinner. You can add meat or cubed cheese to make it hearty for more of a meal in itself.
There's no heating necessary so it's an ideal dish for busy summer months.
★ Storage ★
This pasta salad stores well in the fridge for 4-5 day before the vegetables start to become soft and loose a little bit of flavor.
Store in an air-tight container.
I do not recommend freezing this pasta salad. The vegetables become rubbery after freezing and defrosting and the pasta does not taste as fresh.
★ More Recipes You'll Love ★
Want more super easy side dish ideas?
Browse all my side dish recipes
Looking for vegetarian dishes?
Browse all my vegetarian recipes
This classic Italian Pasta Salad recipe was featured on Menu Plan Monday and South Your Mouth!
Classic Italian Pasta Salad
This Classic Italian Pasta Salad is a favorite summer side dish. It's simple to make, easy to customize and is always a hit at potlucks. Made with creamy Olive Garden Italian dressing and fresh veggies. Vegetarian with option to add meat. Quick too, just 20 minutes to prep.
Read Comments
Print
Pin
Rate
Ingredients
14.5

oz

rotini pasta

tri-colored or plain

1

red pepper

seeded and chopped

1

green pepper

seeded and chopped

¼

cup

freshly shredded carrots

1-2 carrots

3.8

oz

sliced olives

¼

cup

dried or fresh chopped parsley

16

oz

Italian dressing

or make your own

Sea salt and pepper to taste

½

cup

Parmesan cheese

shredded or grated

Few dashes of McCormick Perfect Pinch Salad Supreme Seasoning

Optional but highly recommend
Instructions
Boil pasta according to package and drain. Place pasta in a large bowl and toss a few time to cool.

While pasta is cooking, chop peppers and shredded carrots then add to drained pasta. Add olives and parsley and finally stir in Italian dressing.

Add salt and pepper to taste. Ideally chill for at least 2 hours or overnight but OK to serve right away too.

Before serving, add Parmesan cheese and toss to distribute evenly or offer Parmesan on the side as a topping.
Notes
Cook pasta al dente (1 minute less than the recommend cook time on package) to allow for dressing to absorb into pasta.
Chill for at least 2 hours before serving to allow flavors to marinate.
See optional ingredients above for ideas to add variety and customize this recipe.
Nutrition Facts
Serving:
1
cup
|
Calories:
304
kcal
|
Carbohydrates:
38
g
|
Protein:
8
g
|
Fat:
13
g
|
Saturated Fat:
3
g
|
Polyunsaturated Fat:
5
g
|
Monounsaturated Fat:
4
g
|
Trans Fat:
1
g
|
Cholesterol:
3
mg
|
Sodium:
705
mg
|
Potassium:
203
mg
|
Fiber:
2
g
|
Sugar:
7
g
|
Vitamin A:
1175
IU
|
Vitamin C:
27
mg
|
Calcium:
84
mg
|
Iron:
1
mg
Want more easy recipe ideas?
Follow @MightyMrs on Pinterest