This post may contain affiliate links. As an affiliate, I earn a commission.
Jump down to Recipe
This puff pastry chicken pot pie is delicious and easy to make home but tastes even better than any of the frozen ones you can buy.
Puff Pastry and Chicken Pot Pies were made for each other!
Imagine a flaky, warm crust with a creamy, cozy inside. It might just be the ultimate comfort food. And it's really easy to pull off making this meal at home, on a tight budget and without spending a ton of time on it.
A great family-friendly meal when you're on a budget.
Can I admit to you all that I love Banquet pot pies? It's true. I ate many of them when I was a broke college kid, ha! I love that they are so tasty and I love that they are about a buck. This recipe makes two giant pies for about $2.75/each if you can find your chicken on sale like I did. Or better yet, use leftover chicken.
This Chicken Pot Pie is easy to make.
Watch the video to see step by step how to make this chicken pot pie with puff pastry crust!
Homemade Chicken Stock
Homemade Chicken Stock is quite easy to make. You'll actually make homemade chicken stock as a by product as you cook the chicken. Since you'll be using a whole chicken, your stock will be made with bone broth which has some extra health benefit and added flavor. (You can read more about the benefits of bone broth here). You'll be using fresh vegetables (carrots, onions and celery) to boost the flavor of your stock as well.
Herbs & Spices
You can add and change up the flavor of this chicken pot pie by adding herbs and spices. You can customize the amounts to your liking but I've listed a suggested starting point for each in the recipe instructions below.
I personally like how this pie tastes with a bit of rosemary, thyme and garlic but you can change these spices to give this a different flavor profile.
You can use fresh or dried herbs. Of course, fresh herbs are typically more powerful and generally taste better to me but if you only have access to dried, that's OK. You will add them in when you melt the butter and that helps to reactivate the flavor.
Save time and use a rotisserie chicken.
I don't always cook the chicken myself though and you don't have to either. When I find a whole chicken on sale, I'll cook the chicken myself so I can make the chicken stock.
But if I'm short on time, I'll just grab a cooked rotisserie rotisserie chicken. You can use the juices that come with a fresh rotisserie chicken (or it will look more like gel if you buy a chilled rotisseirre chicken). You can use those juices (or gel), and add water + chicken bullion to create your chicken stock.
Now if you still want to make your own vegetable infused chicken stock, you can boil just the bones of the rotisserie chicken along with the carrots, celery and onion then add the juices or gel. Simmer for about 20-30 minutes and you'll get a nice flavorful chicken stock without having to cook an entire chicken.
If you're just in a hurry, you can also purchase ready-made chicken stock.
So, there are a lot of options. Choose what works best for you!
This puff pastry chicken pot pie is freezer friendly.
You can absolutely prep and then freeze this for an I-don't-feel-like-cooking night. Just cover your frozen pie with foil and you will need to cook it for about 30 minutes extra. Uncover it for the last 10 minutes or so to lightly brown the top.
How to make the lattice top.
If you want to get fancy, you can make a lattice top for your pie. It actually helps vent the inside when bubbles form and it looks great too. If you've never made a lattice top before, check out this step-by-step tutorial.
What veggies are best in a chicken pot pie?
This is a trick question because really, any vegetables would be great in this pie. Frozen or fresh. Any assortment or variety. The most common blend of veggies I think would be peas, carrots, green beans and corn. But you can branch out and get more gourmet and try asparagus, spinach, squash, zucchini… anything that sounds good to you, will probably please your taste buds. Changing up the veggies is also a good way to add variety when you make this recipe frequently.
Could you use beef instead of chicken?
Yep! You'll just want to pair beef with beef broth. Everything else can stay the same.
Beef broth is a little harder to make homemade since you usually don't get bones with your beef, but I sometimes will make a large roast and then save the leftover juices in the pan to use as a base for homemade beef broth. If you add some beef bullion and maybe a splash of red wine, you can get a lot of flavor without needing the bones.
Great for using up leftover chicken or beef.
As I mentioned, you can make your own beef or chicken broth using bones or leftover juices. So I often will make a pot pie when I have leftover chicken, particular chicken that is still on the bone. I've even made a chicken pot pie from leftover wings!
What type of baking pan is best for this pie?
You can use a traditional pie pan, a cast iron skillet, or you can use a square or rectangular casserole dish. Since puff pastry comes in a rectangular shape, you will have to trim the extra dough when you use a round pie pan.
Sometimes I use my pretty glass Pioneer Woman casserole dish to make this recipe and I make one large, deep dish pie. Especially if I'm feeding a large crowd.
Want a double crust?
This is a pretty heavy dish so I usually do not choose to line the bottom with crust to make this lower on carbs and the recipe below is written to only have a top layer of puff pastry.
However, you can make this with a double crust. I won't judge! And sometimes I do this too. 🙂
Just line the bottom with a pie crust. I recommend using a regular pie crust just because puff pastry is expensive and once you add the chicken and veggie filling, you don't really get the same puffiness as the top so might as well just use a regular pie crust.
If you opt to use a puff pastry bottom, Pepperidge Farms recommends that you press the puff pastry into the bottom of the dish then cover with foil and bake at 400˚for 25 minutes first. Before you add the chicken and vegetable filling and additional puff pastry top.
Want more easy chicken recipes?
This recipe for homemade chicken pot pie with puff pastry was featured on Meal Plan Monday!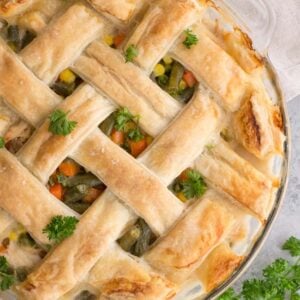 Puff Pastry Chicken Pot Pie
Puff pastry tops this classic American meal — the Chicken Pot Pie. Makes two puff pastry chicken pot pies so freeze one for when you don't feel like cooking.
Read Comments
Print
Pin
Rate
Ingredients
1

whole

whole chicken

2

ribs

celery

sliced

½

large

onion

quartered skin on

2

large

carrots

sliced

2

tsp

salt

divided

1

stick butter

Optional herbs: 1/4 tsp of each sage, thyme, garlic

½

cup

flour

½

cup

milk

4

cups

chicken stock

1

tbsp

butter

2

cups

mixed vegatables

1

package

frozen puff pastry dough
Instructions
Place carrots, celery, onion and whole chicken in a crockpot. Fill 2/3 full of water. It's OK if the chicken is not fully covered. Cook for at least 4 hours on low or 2 hours on high or until chicken is cooked through and reaches an internal temperature of 165˚.

When chicken is cooked through, remove, let cool then separate meat from the bones. Shred the meat. Layer shredded chicken into two pie pans.

In a large pot or dutch oven, melt butter. Once melted, add optional herbs to the butter then whisk in flour. Cook for 2-3 minutes, allow butter and flour to bubble yet stirring frequently. (this cooks the flour and eliminates a floury taste from the sauce). Next, whisk in milk until roux thickens then immediately add cups of chicken broth. Whisk until smooth then turn heat off.

In a small pot, cook mixed vegetables in 1 tbsp of butter over medium heat for about 5 minutes or until veggies soften. Layer veggies on top of chicken in pie pans.

Pour the roux sauce over top of the veggies and chicken. Cut the defrosted puff pastry to fit your pie pan. Try

making a lattice top

if you want to get fancy!

Bake at 400˚ for 15-25 minutes or until puff pastry is golden brown. (This may take longer if your puff pastry is not full defrosted)
Nutrition Facts
Calories:
316
kcal
|
Carbohydrates:
32
g
|
Protein:
7
g
|
Fat:
18
g
|
Saturated Fat:
5
g
|
Polyunsaturated Fat:
2
g
|
Monounsaturated Fat:
10
g
|
Trans Fat:
1
g
|
Cholesterol:
6
mg
|
Sodium:
645
mg
|
Potassium:
258
mg
|
Fiber:
3
g
|
Sugar:
3
g
|
Vitamin A:
3624
IU
|
Vitamin C:
5
mg
|
Calcium:
35
mg
|
Iron:
2
mg
Want more easy recipe ideas?
Follow @MightyMrs on Pinterest