This homemade recipe for oven baked mac and cheese with bread crumbs is creamy and delicious in that comfort food southern way. Made with Velveeta and cheddar cheeses plus a little chicken bullion and sour cream for rich flavor!
This post may contain affiliate links. As an affiliate, I earn a commission.
Jump down to Recipe
Homemade, baked mac and cheese with bread crumbs is one of my favorite comfort food. Creamy macaroni topped with crispy crumbs is what makes this macaroni and cheese next level!
★ Why You'll Love this Recipe ★
Macaroni and cheese is such a simple, well-loved side dish. Yet, can be a little tricky to get just right. I've made macaroni and cheese so many times, tweaking all along the way. I've finally landed on this recipe as our family favorite.
I've picked up a lot of inspiration from different places along that way but the three main sources of inspo are: Cracker Barrel, Chick-Fil-A and my mom's homemade mac and cheese. 🙂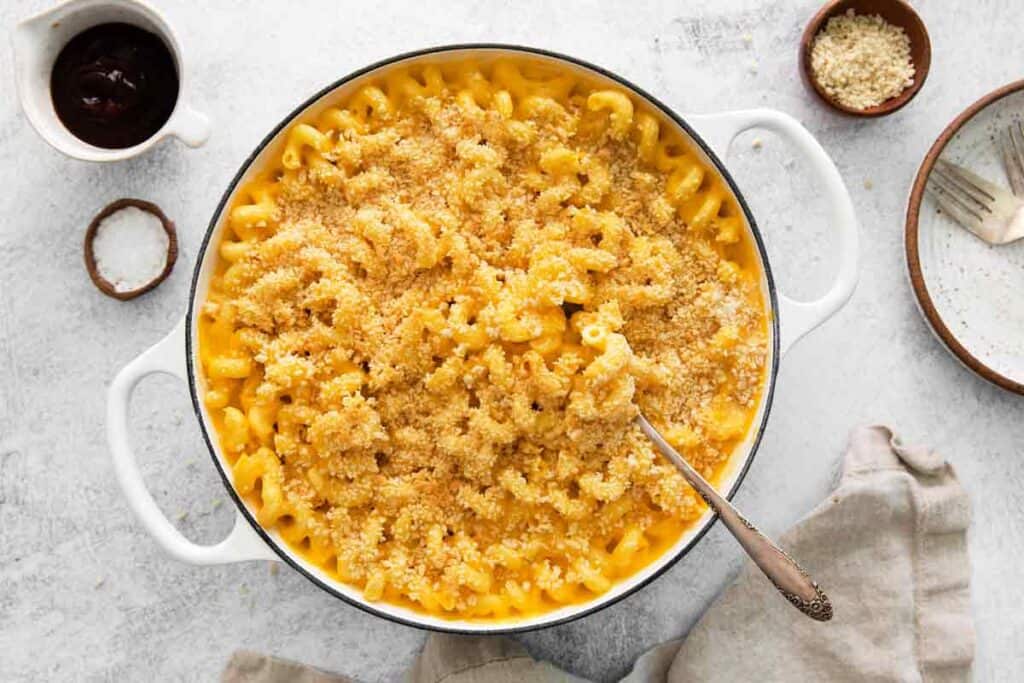 Love Cracker Barrel Mac and Cheese?
Then you'll love the flavor of this mac and cheese.
Inspired by many trips to Cracker Barrel, inquiring with a few of the waitstaff for hints at how they make their macaroni and cheese, I've finally landed on this homemade recipe for baked macaroni and cheese.
What I love about Cracker Barrel's mac and cheese is that is has an extra layer of flavor.
What's their secret? They add chicken stock.
To achieve this rich flavor, you can add chicken bullion to your cheese sauce, or you can add chicken stock (or broth) in place of some of the milk or in addition to the milk to make this more creamy and saucy.
Have you tried Chick-Fil-A's mac and cheese?
Chick-Fil-A's macaroni and cheese is rich and creamy with a tangy taste. If this kind of flavor is more your style, here are a few tips for making a homemade version of Chick-Fil-A mac and cheese:
Add more milk. You can add more or less milk depending on how thick and creamy you want your cheese sauce to be. More milk, makes it more saucy.
Add a heavy dollop of sour cream. Have you noticed is has a bit of a tart flavor to it? You can easily get that by just stirring in some sour cream to taste.
Change up your cheese. On the Chick-Fil-A website, they tell us they're using cheddar, Parmesan and Roman cheese. So those would be your cheeses to substitute in.
Skip the bread crumbs. If you want. Or add them and put your own spin on Chick-Fil-A's tasy side dish. 😉
★ Ingredients You'll Need ★
There are some basics and a few little extras that will take your mac and cheese to the next level.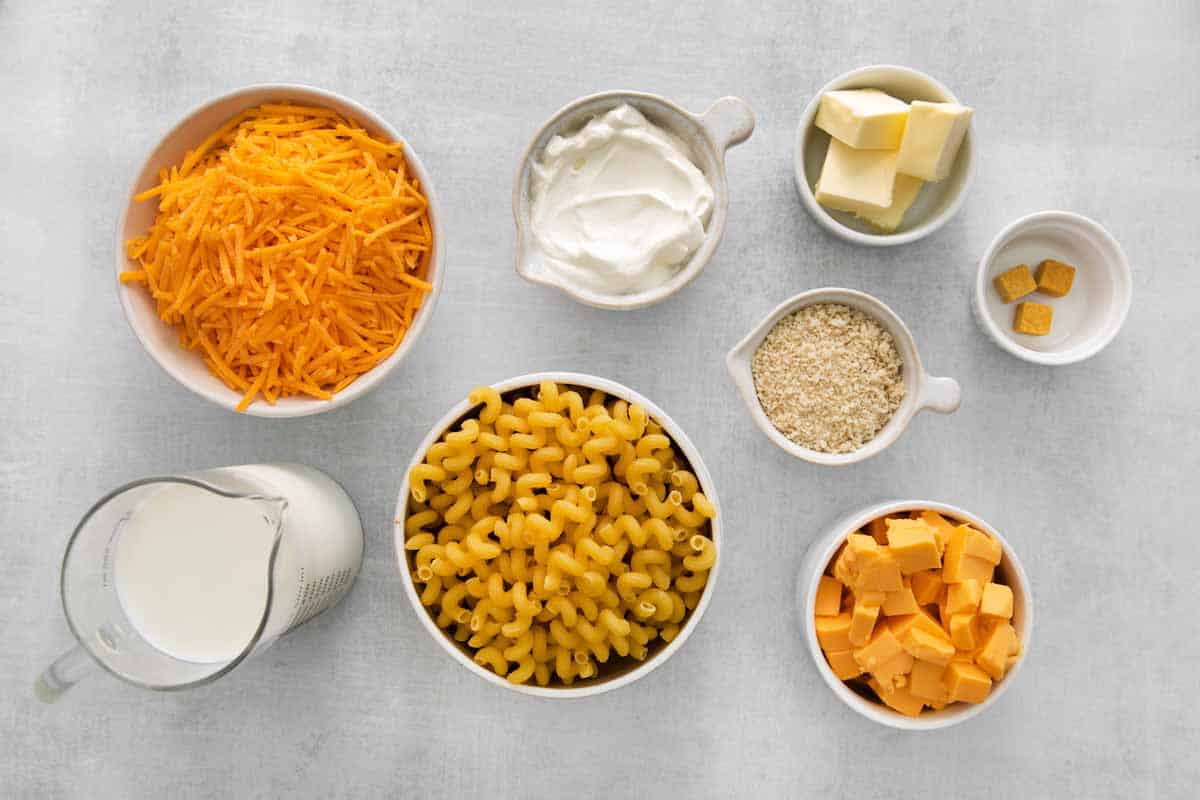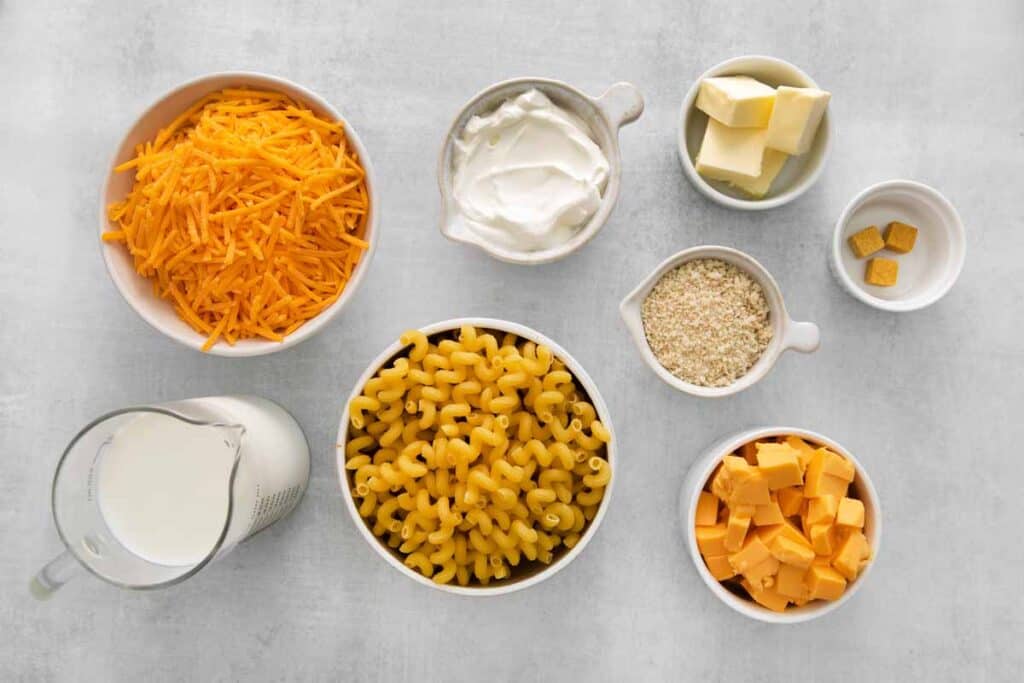 Here's everything you'll need for this recipe:
Elbow macaroni pasta. This is my preferred shape but feel free to go with any shape that's your favorite. Follow the directions on the box for boiling time.
American or Velveeta cheese. Both of these cheese melt so nicely for a smooth and creamy texture. They are pretty basic in their flavor so these cheese provide a nice base layer of cheesiness.
Sharp cheddar cheese. Shredded. I prefer freshly shredded so you don't run into issues with the powdery coating they put on pre-shredded cheese not melting well. Now, if you want to introduce some other flavors of cheese, you can substitute any cheese instead of sharp cheddar. Colby Jack, Gouda, or even Parmesan cheese are some of my favorite cheeses to change up the flavor.
Butter. I use salted butter but you could use unsalted and then add more flavorful sea salt to taste, or less salt if you are trying to lower your salt intake.
Flour. All purpose flour is what you want for this. The flour combines with the butter to create a roux which acts as a thickener for your cheese sauce.
Milk. Any kind of milk works so you can choose your fat %. Whole milk will taste more rich and thick vs. skim milk.
Sour cream. Ah, one of the secret ingredients to adding a layer of flavor to your mac and cheese in stirring in a little sour cream. This adds a very subtle tang.
Chicken bullion. This is the second secret. Adding bullion to the sauce enhances the flavor of this classic dish. For a vegetarian option, you could leave this out or use vegetable bullion.
★ How to Make this Mac and Cheese ★
Here are the basic steps for preparing this yummy dish. For the full recipe and ingredients list, scroll down to the recipe card.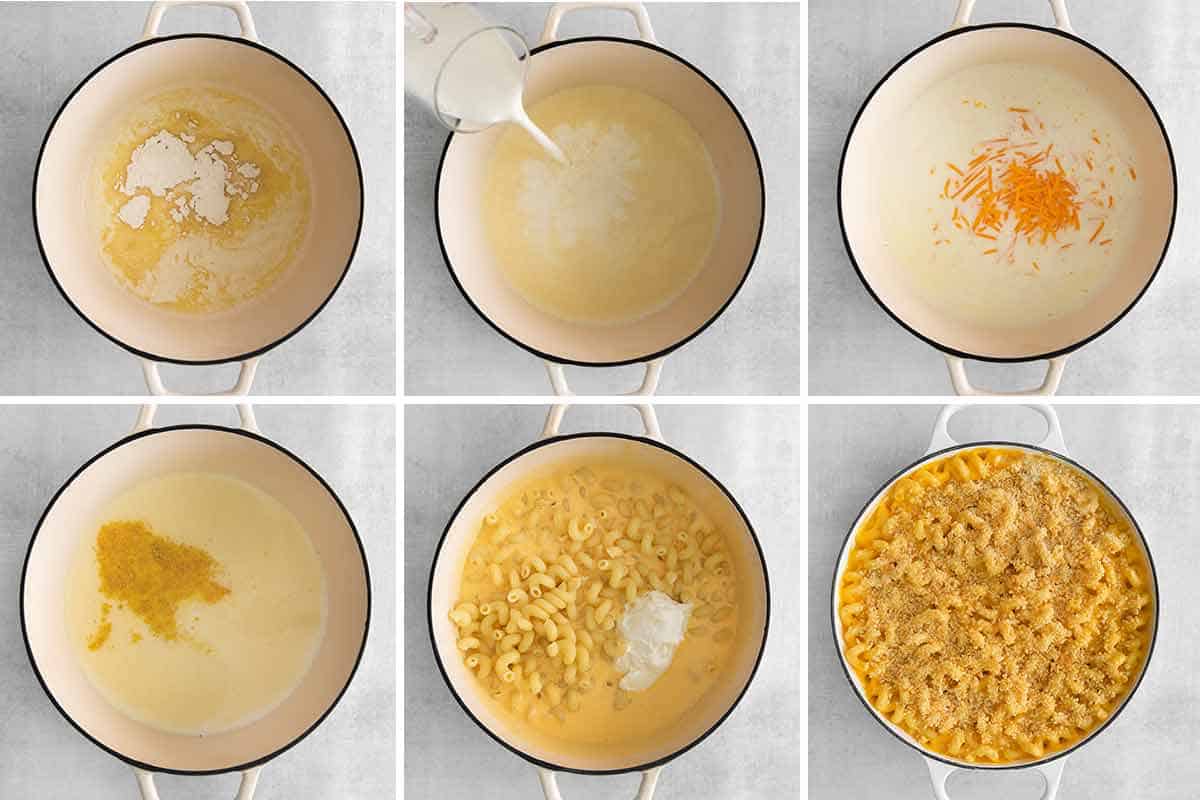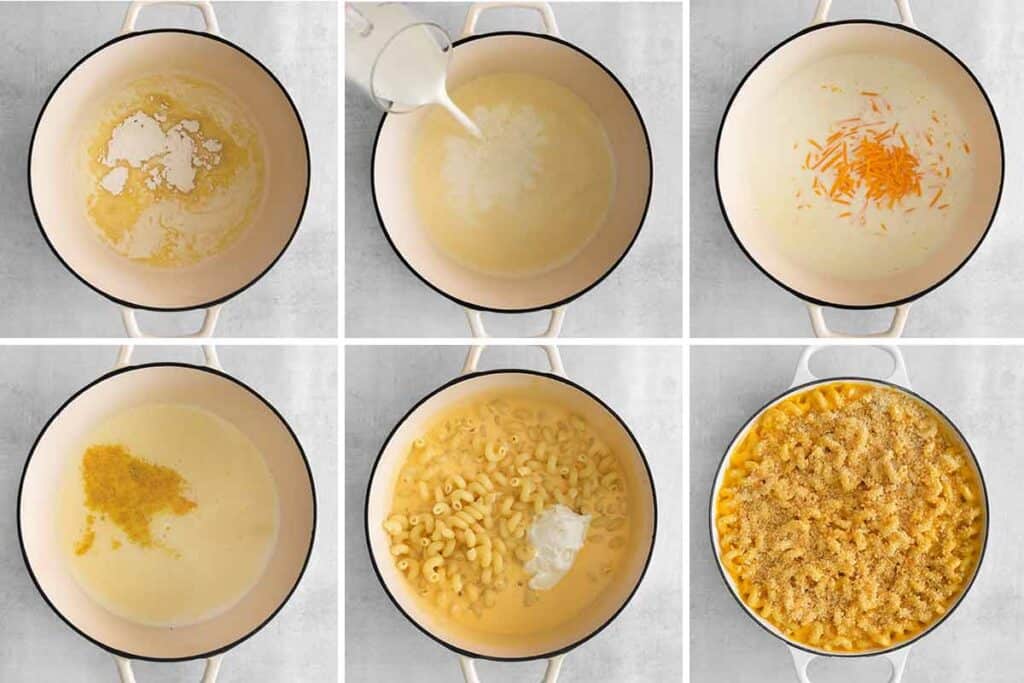 Cook pasta according to package and drain.
Create a roux by melting butter and whisking in flour.
Stir in milk, cheese and chicken bullion.
Add cooked macaroni and sour cream to pot. Fold together.
Top with breadcrumbs and bake until golden brown.
Check out the 1-minute video beneath the full recipe (below) to watch this being made.
★ FAQs & Tips ★
Bread crumbs and baking optional. But recommended for best results. 😉
Unlike Cracker Barrels mac and cheese, I do like to add panko or Italian breadcrumbs to the top because I love the little bit of crunch you get. However, you can leave those off if you'd like. You can also skip the step of baking the mac and cheese if you're short on time.
I like the breadcrumbs baked until their golden brown and I also think baking the noodles in the cheese sauce helps to meld the flavor together a bit more but it's not 100% necessary.
Velveeta and American cheese are the best melting cheeses for homemade mac and cheese.
I know both of these aren't "real" cheeses but they melt really well.
You can use other types of cheeses though to change up the flavor. Some cheeses don't melt as nicely and can make your cheese sauce chunky. What helps is melting the cheese into your sauce at a low temperature. For best results, don't let you cheese sauce come to a bubbling boil. This is what causes your cheese sauce to look like it's curdling.
Using a Dutch Oven
A secret to making baked mac and cheese a little easier is the pot. You can use a dutch oven or a cast iron skillet. With the dutch oven there's no need to transfer the cheesy macaroni into an oven-safe pan before baking, you can take the whole pot right from the stove top to the oven.
You can do the same with the cast iron skillet, the sides are just lower so it's more difficult to stir without spilling but the presentation is nicer. So I guess which one you choose, depends on your priority there.
What's the best dutch oven brand to buy?
Well, I'm not sure of that but I can tell you a little about the ones I've used. I used to own the Food Network dutch oven and I loved it. I actually purchased it from Kohl's on Black Friday and didn't know if I was going to use it that much but it was a great deal and they are not cheap otherwise.I quickly learned it's very versatile! You can fry in it, make casseroles, popcorn and even bake bread in it! So dutch ovens in general are pretty awesome. I you don't own one, I highly recommend making the investment.
But the point was, which one is the best. Well, the Food Network brand is pretty affordable compared to other brands. I am already on my second dutch oven though. The enamel started chipping on my first one I think because I used bleach to clean it. Apparently that's a no no but I didn't like the stains.
I now have a Lodge dutch oven and I think I love that one even more. 🙂 It's even more reasonably priced and I like the rounded shape of it more. So far it's held up about a year and it hasn't stained like my other one did although, that may be because I know better how to use it now. ?
What about a cast iron skillet?
As you may have noticed, the photos show my macaroni and cheese baked in my cast iron skillet. I knew I was going to be taking photos so I opted for the prettier presentation.
As I mentioned, you can still create your cheesy roux in the skillet, add your noodles and then transfer the skillet into the oven, it's just a little harder to contain the macaroni noodles when you stir in the cheese but not impossible!
So if you have either a cast iron skillet or a dutch oven, you're good to go. If not, no biggie, you'll just have to use an extra casserole dish when transferring from the stove top to the oven to bake.
Tips for Making a Roux-based Cheese Sauce
Making a roux is simply melting butter and adding flour to form a paste that thickens your sauce. It's pretty straight forward but one tip that will help you achieve the best flavor is this: When you melt the butter and whisk in flour, you want to let it bubble for a minute or two. This cooks the flour and the butter enriching the flavor, and cooking out some of the floury taste. You'll want the butter and flour mixture to become a golden brown and then you'll know it's just right.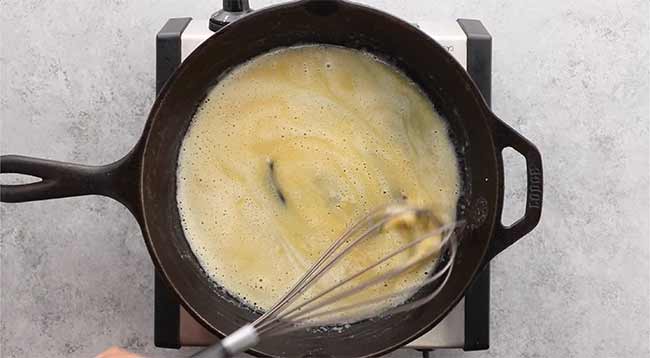 A roux-based cheese sauce becomes really thick quickly so you can thin it out with extra liquid, in this case, milk or chicken stock.
What's the deal with adding barbecue sauce to macaroni and cheese?
I really love this combination! Especially when baking with bread crumb on top. This is a southern thing. The barbecue sauce is completely optional but if you're serving this mac and cheese with something like pulled pork, ribs or even grilled chicken, then the barbecue sauce really works.
What other food goes well with mac and cheese?
My favorite way to serve mac and cheese is with pork ribs smothered in good quality barbecue with a side of broccoli slaw! And maybe a side of corn bread or corn casserole. 🙂
Grab my homemade broccoli slaw dressing recipe
Try the 3-2-1 Ribs method for cooking pork ribs. It's a no-fail easy way to cook ribs whether you're a noob or pro.
Mac and cheese is a great side dish for any meal though, really. It pairs well with most any main dish.
★ More Recipes You'll Love ★
Mac and cheese is a great and all but maybe you may need some other ideas!
Browse all my side dish recipes and be sure to Pin your favorites for later!
This baked mac and cheese with bread crumbs recipe was featured on Sew It Craft It Cook It, My Pinterventures and Menu Plan Monday!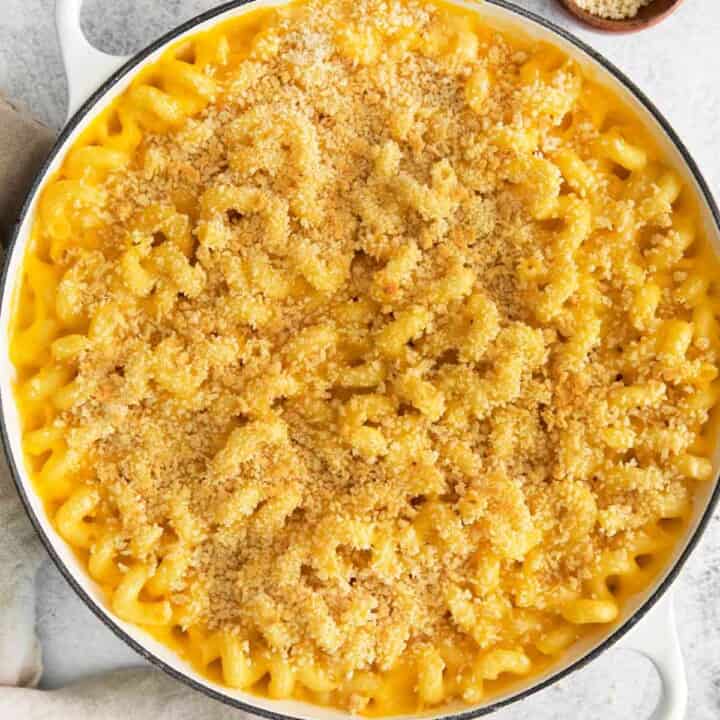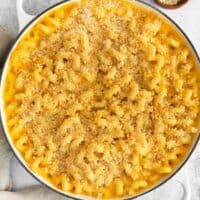 Baked Mac and Cheese with Bread Crumbs
This homemade recipe for oven baked mac and cheese with bread crumbs is creamy and delicious in that comfort food southern way. Made with Velveeta and cheddar cheeses plus a little chicken bullion and sour cream for rich flavor!
Read Comments
Print
Pin
Rate
Ingredients
¼

cup

butter

2

tablespoon

flour

4

cups

whole milk

add more for a creamier sauce

2

cups

uncooked elbow or cavatappi

spiral macaroni

3

chicken bouillon cubes**

crushed

½

lb

American or Velveeta cheese*

½

lb

sharp cheddar cheese*

½

cup

sour cream

optional

Salt to taste

¼

cup

Panko or Italian bread crumbs

Barbecue sauce

optional
Instructions
Cook macaroni noodles as directed on the package, stirring frequently. Be sure to generously salt your water. Drain and set aside.

In a dutch oven or deep dish cast iron skillet, melt butter over medium heat. Whisk in flour; continually stir and cook for 1 min to cook out the flour taste. Gradually stir in milk and crushed chicken bullion cubes and bring to boil; cook and stir until thick. Congrats, you have made a roux! Now, let's make it cheesy...

Add American (or Velveeta) and cheddar cheese; stir and cook until thoroughly melted. Remove from heat and fold in cooked macaroni then sour cream. Add salt to taste.

Sprinkle the top with breadcrumbs. Bake at 350˚for 15-20 minutes, uncovered or until breadcrumbs are light golden brown.

Serve topped with barbecue sauce for an amazing flavor kick! (optional)
Notes
*Use 16 ounces total cheese of your choice.
**You can make this without any chicken bullion at all, or use less if you prefer a less savory, more classic mac and cheese flavor.
Nutrition Facts
Calories:
527
kcal
|
Carbohydrates:
38
g
|
Protein:
22
g
|
Fat:
32
g
|
Saturated Fat:
19
g
|
Polyunsaturated Fat:
2
g
|
Monounsaturated Fat:
8
g
|
Trans Fat:
1
g
|
Cholesterol:
93
mg
|
Sodium:
1175
mg
|
Potassium:
342
mg
|
Fiber:
1
g
|
Sugar:
9
g
|
Vitamin A:
1024
IU
|
Vitamin C:
1
mg
|
Calcium:
673
mg
|
Iron:
1
mg
Follow Mighty Mrs. for more easy recipes!
Find @MightyMrs on Pinterest