This post may contain affiliate links. As an affiliate, I earn a commission.
Jump down to Recipe
★ Why You'll Love this Recipe ★
I have only three words to describe this Italian mascarpone and ricotta cheesecake: To. Die. For.
Ok, I lied. I have more words. And pictures.
This cheesecake is made with ricotta cheese and mascarpone which is a cheese similar to cream cheese but with a more sophisticated flavor. The ricotta adds a light and fluffy texture. It's the perfect combination of cheeses to elevate your cheesecake.
We're pairing this cheesecake with a simple yet homemade crust made using honey oat granola bars!
Finally, I'll show you how to get a perfectly flat top to your cheesecake — no cracks. It's easy to achieve when you follow the steps.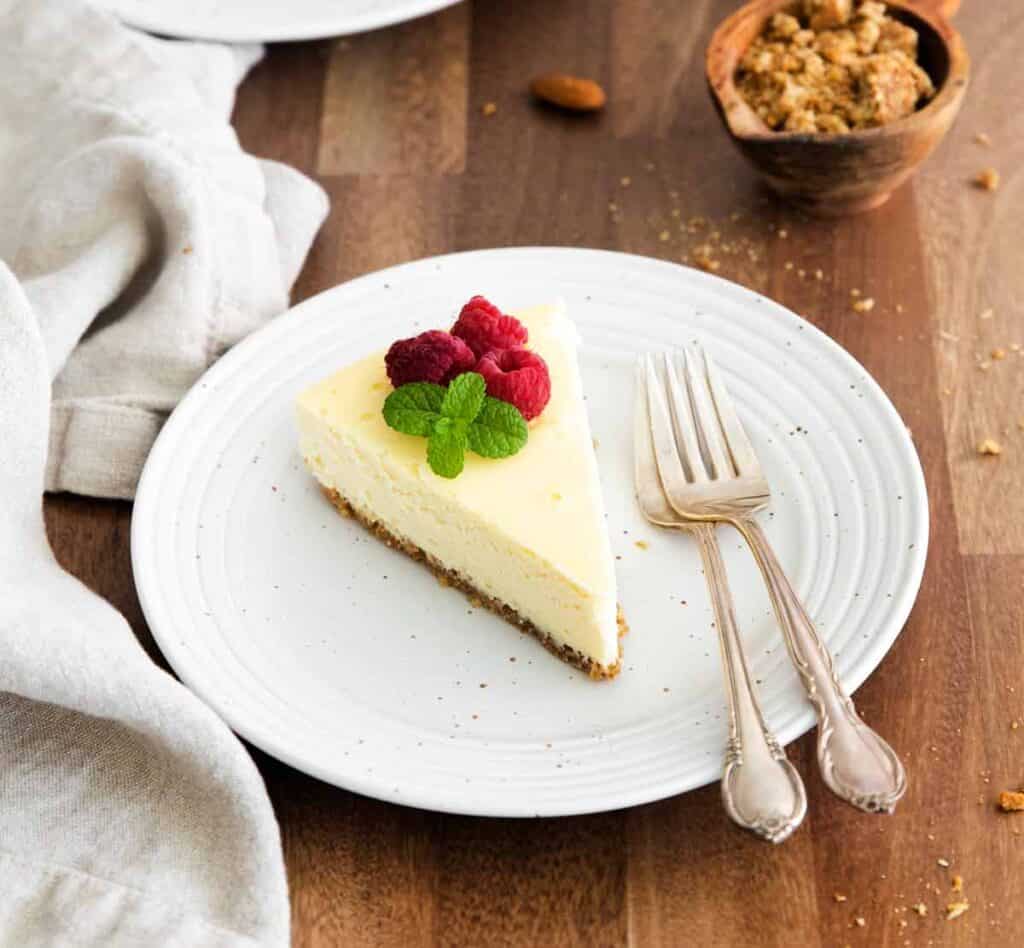 This ricotta cheesecake is very light and almost fluffy thanks to the texture of the ricotta itself. It's not as dense and what you'd expect from a traditional cheesecake, which for me is fabulous! So if you sometimes feel put off by the density of a traditional cheesecake, you'll love this lighter version.
★ Ingredients You'll Need ★
This cheesecake is made of a blend of three creamy cheeses — cream cheese, ricotta, and mascarpone.
You'll also need sugar, eggs, vanilla and almond extract and lemon juice to give this a really nice depth of flavor.
Of course, you'll need a crust as well and I'll be sharing with you my favorite type of homemade yet very easy crust to use with this cheesecake.
★ FAQs & Tips ★
How is this mascarpone and ricotta cheesecake different than traditional cheesecake?
The flavor is a bit different too as you might expect. The mild flavor of the ricotta blended with the mascarpone makes for a much less rich cheesecake than what you may be familiar with.
I personally don't love such rich desserts. I'm usually pretty full from dinner when I get to dessert so a rich dessert can just be too much.
You'll love the flavor boost that comes from a subtle blend of almond extract, vanilla, and lemon juice!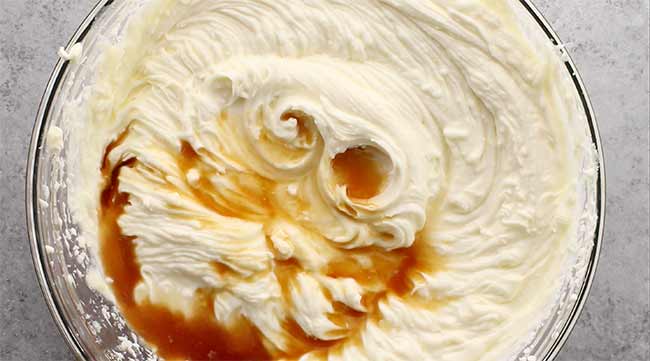 It's all about the cheese—Mascarpone and Ricotta. Cheesecake's new BFFs.
The use of these two less common cheeses blended with familiar cream cheese is what really make this stand out from other cheesecake recipes. However, it's just as easy to throw together as any other cheesecake you may have prepared before.
You can even cheat and use a pre-made crust if you're short on time. However, the almond crust is really good and really not too hard to make.
Watch step by step how to make this cheesecake.
This is an easy recipe to make if you follow the directions. Check out the video below the recipe to watch step by step.
What kind of pan do you need to make a cheesecake?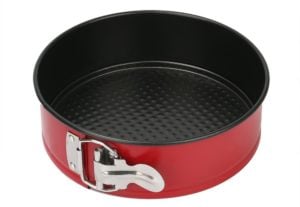 There is a special pan you'll need to use to make a proper cheesecake — a springform pan. They look like this:For this recipe, you'll want to use a 9″ springform pan. A springform pan has a bottom that releases from the sides after the cheesecake is cooked.
This special pan is what gives your cheesecake the perfect, low-profile, flat-topped shape you see at restaurants but to really perfect your cheesecake, you'll need to bake the cheesecake in a water bath.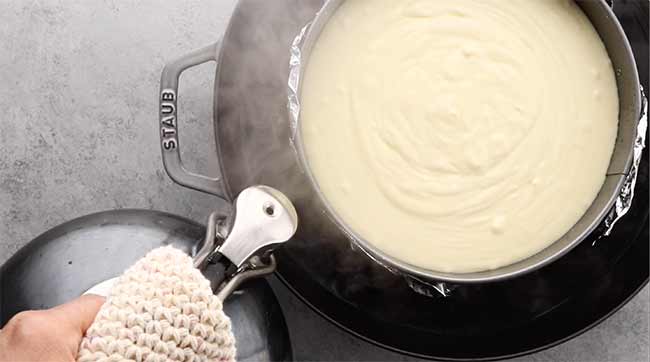 A water bath is an important technique that prevents the top of your cheesecake from cracking. It's not hard so don't skip this step!
With a water bath you get a perfectly smooth and flat top to your cheesecake, like this: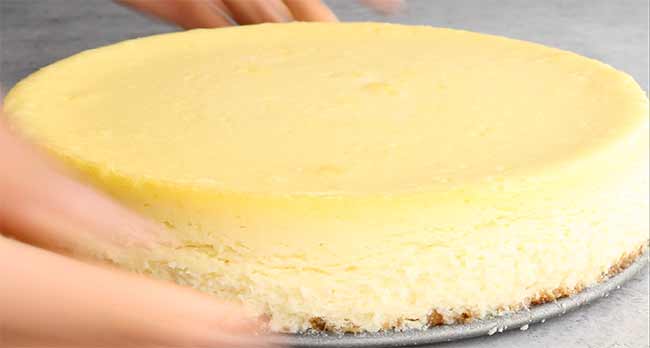 Read through the recipe directions below for more explanation and watch the video to learn you how to set up your water bath. It's pretty easy once you have the right tools and you'll really feel like a pro after you have done it once or twice.
How to Make an Easy and Delicious Honey Oat Crust with Almonds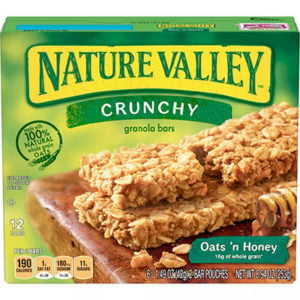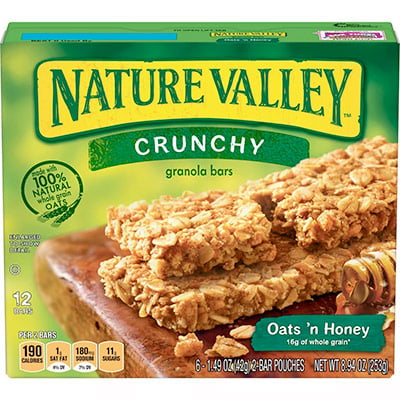 For the crust, here are the granola bars I start with as a super helpful shortcut:

You can find these at most grocery stores in the snack aisle or near the breakfast bars. Most popular stores like Walmart and Target carry these. If you can't find them, a traditional graham cracker crust works well too. Or you can order them on Amazon.
Then just add almonds for added nutty flavor and use a bit of butter and a pinch of salt to bind it all together and an easy and delicious homemade crust!
Other helpful tools for making this mascarpone and ricotta cheesecake:
★ More Recipes You'll Love ★
Love dessert?
Get monthly recipe inspiration!
I usually send out an email once a month with seasonal recipe ideas. When you sign up, I'll also send you a copy of the printable meal planner and grocery list I use.
Sign up for my email newsletter here
While you're here, explore my other most popular recipes:
This mascarpone and ricotta cheesecake recipe was featured on Sew It Cook It Craft It and Sweet Little Bluebird!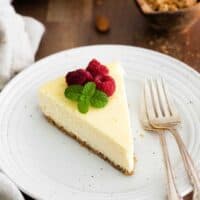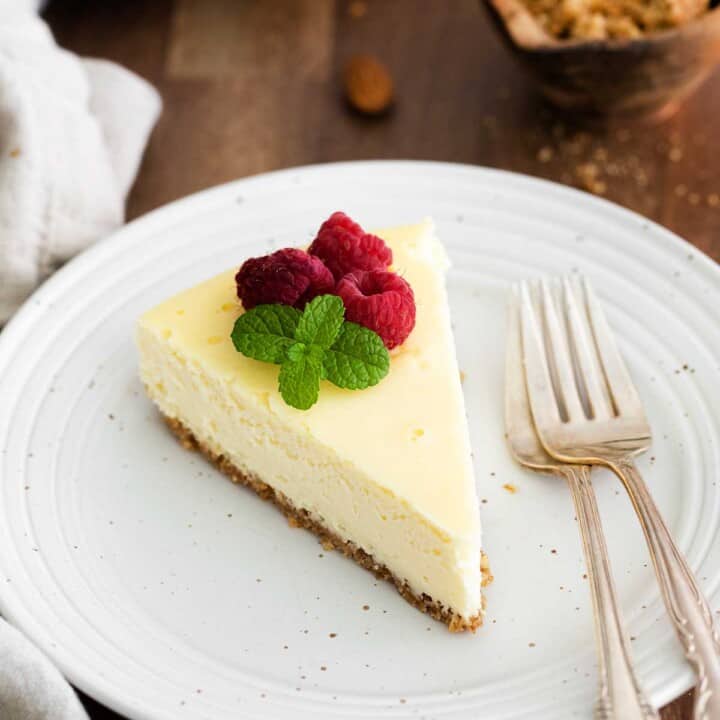 Italian Mascarpone and Ricotta Cheesecake
This ricotta cheesecake is very light and almost fluffy thanks to the texture of the ricotta itself. It's not as dense and what you'd expect from a traditional cheesecake.
Read Comments
Print
Pin
Rate
Ingredients
CRUST
4

honey oat granola bars

2 individual packages

¼

cup

almonds

ground

1

tablespoon

butter

melted

1

tsp

salt

1

tbsp

sugar

1

tbsp

flour
FILLING
16

oz

cream cheese

room temperature

8

oz

mascarpone cheese

room temperature

8

oz

ricotta cheese

1

cup

sugar

1

tbsp

lemon juice

1

tsp

vanilla extract

½

tsp

almond extract

4

large

eggs

room temperature
TOPPING IDEAS
Heat Nutella w/ a little milk and drizzle over top

Cherry pie filling

Caramel sauce drizzled with shaved chocolate

Fresh raspberries or other fresh fruit
Instructions
Preheat oven to 325˚F.

For the crust: Grind oatmeal bars and almonds together using food processor or a mortar and pestle. Add melted butter and salt and press into bottom of a completely greased springform pan.

Bake for 10 minutes at 325˚. Let cool. Mix sugar and flour together and sprinkle over top of crust. (This prevents crust from getting soggy)

Prepare the water bath: wrap the bottom of your springform pan with a single sheet of foil, going all the way up the sides and fold over along the top edge or the springform pan. This will block water from coming in. Place the springform pan into a roasting pan and set aside.

For the filling: Beat cream cheese, mascarpone cheese, ricotta cheese and sugar in a large bowl until smooth. Beat in lemon juice, vanilla and almond extract. Mix in eggs one at a time. Pour cheesecake mixture into the springform pan overtop of the crust layer.

Fill your roasting pan with hot water, half way up the side of the springform pan. Here's

a great video from allrecipes.com

if you need some visuals for preparing a water bath for your cheesecake!

Bake at 325˚ until the center of the cheesecake is no longer wobbly when shaken, about 1hr and 5 mins. Let cool then refrigerate, preferably overnight.
Notes
Cook time can vary depending on how watery the ricotta is. To reduce cook time, squeeze ricotta cheese using clean hands or cheese cloth to remove excess liquid.
Nutrition Facts
Calories:
620
kcal
|
Carbohydrates:
42
g
|
Protein:
14
g
|
Fat:
44
g
|
Saturated Fat:
23
g
|
Polyunsaturated Fat:
2
g
|
Monounsaturated Fat:
9
g
|
Trans Fat:
1
g
|
Cholesterol:
202
mg
|
Sodium:
565
mg
|
Potassium:
234
mg
|
Fiber:
1
g
|
Sugar:
32
g
|
Vitamin A:
1463
IU
|
Vitamin C:
1
mg
|
Calcium:
193
mg
|
Iron:
2
mg
Want more easy recipe ideas?
Follow @MightyMrs on Pinterest