When you love beer and bread, this easy honey herb beer bread recipe just makes sense. No yeast. Just 5 Ingredients then add in extra to give this a unique spin. Use bread flour for best results.
This post may contain affiliate links. As an affiliate, I earn a commission.
Jump down to Recipe
When you love beer and you love bread, this honey herb beer bread recipe just makes sense. 😉
No yeast required. Just 5 Ingredients!
This loaf of tasty bread harnesses the powder of baking powder and bread flour to create a fluffy yet semi-dense, moist, chewy texture that toasts well and tastes amazing!
All you need is: bread flour, baking soda, honey, beer and salt. Plus oil for greasing the pan so it slides right out.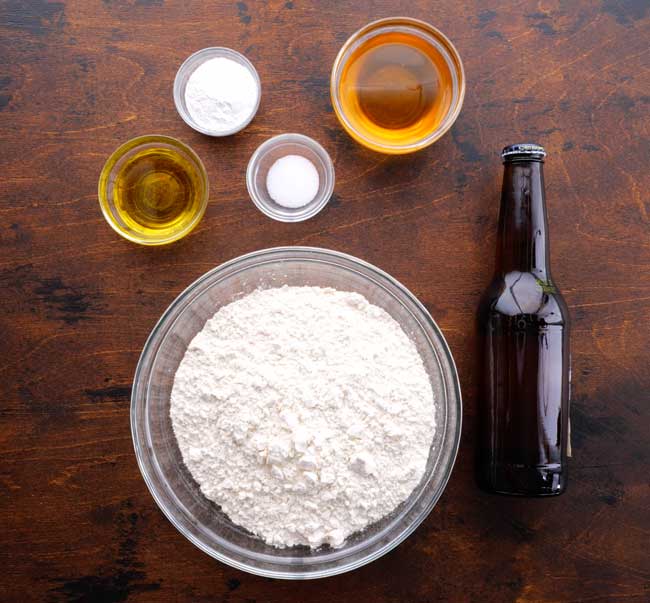 Beer is the star of the show here.
Beer is what brings the flavor to this tasty oaf of bread. But don't worry, a simple beer will do just fine. We use whatever we have on hand from something as simple (and cheap) as Miller Lite to something dark and bitter like Guinness to a fruity wheat ale like Purple Haze (my fave!).
Any type of beer works and will add a unique flavor to your bread. So, have fun experimenting to see what you like best.
Try seasonal beers!
Fall pumpkin beer is amazing mixed into this beer bread. But so is a summery twist. Add seasonal beers to this bread to give is a unique flavor to match this time of year!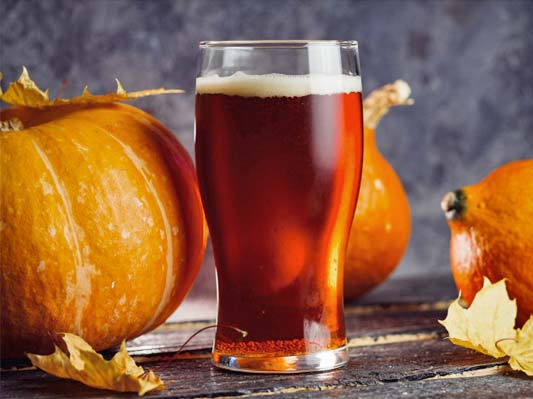 Herbs for extra flavor.
Herbs are totally optional. However, they will also totally change the experience of enjoying this bread. Without herbs, the flavor of the beer comes through nicely and tastes great when you toast a slice of the bread or enjoy it fresh out of the oven, and smear it with butter.
The experience with herbs is a bit different. You still get that enhanced bready flavor that the beer brings, yet you'll also get a layer of zing from the herbs. Choosing what herbs to use might depend on what you're in the mood for, or what you're planning to serve this with.
Here are some ideas.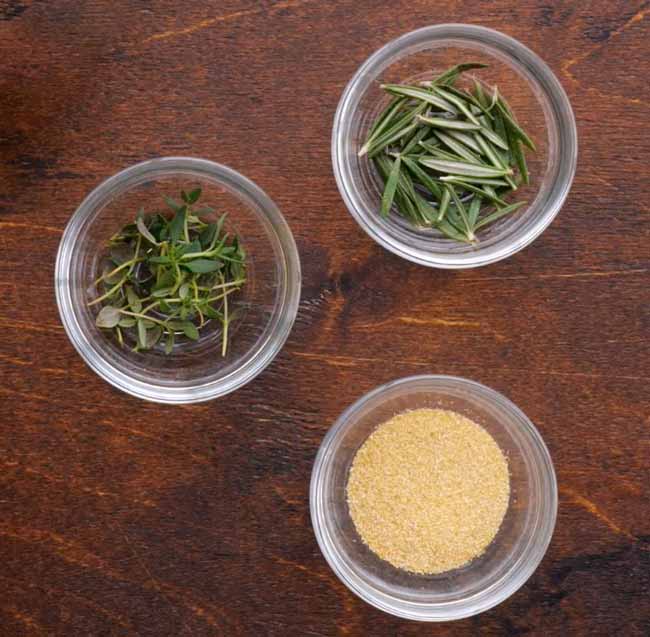 Rosemary produces a strong flavor and scent that's reminiscent of focaccia bread. Thyme goes well with rosemary if you're looking for a more complex flavor but it's OK to just go all rosemary or even all thyme. Both are powerful enough to stand alone. This flavor works well if you're enjoying this beer bread as an appetizer.
Garlic and bread are just always a good idea, so if you'd like, go ahead and throw in some fresh, minced or garlic powder.
Try adding Italian herbs. If you love Italian flavors, then instead of just rosemary, try using a blend of Italian seasonings.
Try this bread toasted and topped with Everything Bagel Seasoning.
Everything Bagel seasoning seems to be all the rage these days. And rightfully so. That stuff is delicious! Do you happen to have this seasoning blend in your spice cabinet? Give this a try instead of other herbs. You could also add this on after the fact. Meaning, after it's baked, as a topping. To do this, spread a slice of the baked beer bread with cream cheese, then sprinkle Everything Bagel seasoning on top. Delicious!
Or, try a Cheddar Jalapeño spin!
Instead of herbs, you could also go with a cheddar cheese and jalapeño spin! Just stir in cheese and jalapenos. Totally optional but give this beer bread a different flavor you might just love. The cheddar jalapeño version goes great with chili.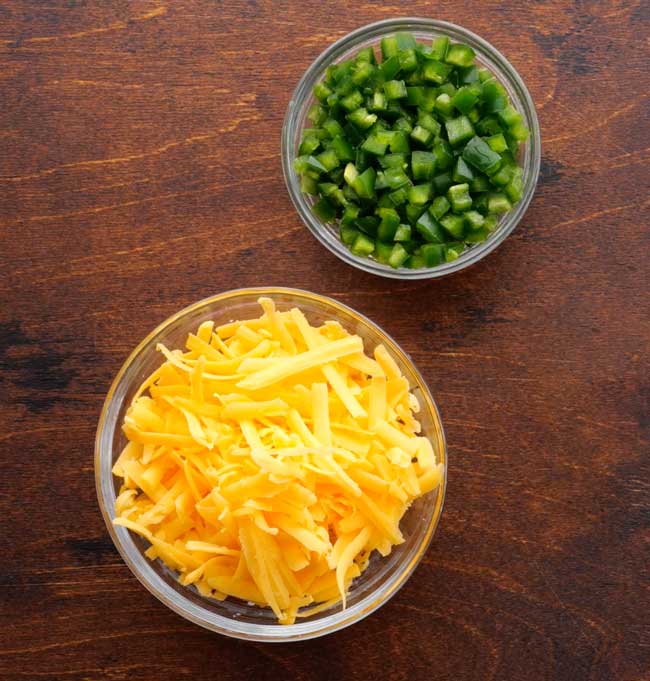 Does this bread need to be toasted and buttered?
Up to you. You can enjoy it plain, warm and fresh out of the oven, or you can slice and toast it to get it more crispy.
You can spread your slice with butter (try making homemade butter!) or dip it in salted olive oil. If you leave the herbs out of the bread, try adding herbs to your oil and then dipping the bread into the herb oil. It feels so fancy and it's so yummy! Slicing the bread, toasting it and then cutting the toasted slice into 4 strips works best for dipping.
You can also try this beer bread toasted and topped with cream cheese. Or try melting a slice of cheese onto it. SO GOOD.
What goes well with beer bread?
This bread pairs nicely with classic Italian dishes like spaghetti and meatballs or try my veggie lasagna. This bread also makes a tasty breakfast or brunch menu item.
You can even make this bread into a sandwich! Try making a grilled cheese or loading it up with your favorite sandwich fixings. This bread would make an excellent starting point for a veggie sandwich. It would also taste great with meat too though. Anything from roast beef to salami to meatballs would be excellent served between two slices of this bread.
Try it with a salad. Since this bread is somewhat dense and filling, it makes a great mate to a light and healthy salad. You could even cut this bread into cubes, toast or lightly fry them, and make homemade croutons!
Try this beer bread with soup. Need some ideas for delicious homemade soup? Browse my soup recipes for ideas.
How about making it into a pizza? It's totally doable. Take a slice, spread a little pizza sauce on top then sprinkle with mozzarella cheese to make an amazing little pizza!
The possibilities are endless. Anything you'd do with regular bread, you can do with this beer bread. Get creative and have fun coming up with new ideas. I'd love to see what you make. Leave a review and you can upload a photo of your creations to inspire others!
What's the difference between using all purpose flour and bread flour?
Without getting too scientific, the main difference is noticeable in the end result. The texture of the bread is different. Bread flour produces a loaf of bread that, when sliced, is much chewier, flexible and fluffier. You can use all purpose flour in a pinch, however, the result will be a more stiff slice of bread with a hard outer crust.
You may also notice a slight difference in flavor. All purpose flour tends to taste a bit more chalky to me too. So if you're looking for that stretchy, bread-like texture and flavor from your homemade bread, then you'll want to be sure you're using bread flour.
What's the difference between using honey and sugar?
Really it comes down to taste and whether or not you prefer to use more natural ingredients. When you use honey, you'll taste a bit of that signature honey flavor coming through which tastes great with beer. Sugar does the job too though. It will provide a very subtle hint of sweetness without the touch of extra beeswax flavor honey will add.
Is this beer bread sweet or savory?
There is only a small amount of sweetener in this bread whether you use sugar or honey, so I would not classify this as a sweet bread. Think of the honey or sugar as that spoonful of sugar your grandma used to add to everything to make it taste better. It's a flavor enhancer, not necessarily added to make the bread sweet.
Want more homemade bread recipes?
This easy 5-Ingredient, no-knead beer bread recipe was featured on South Your Mouth!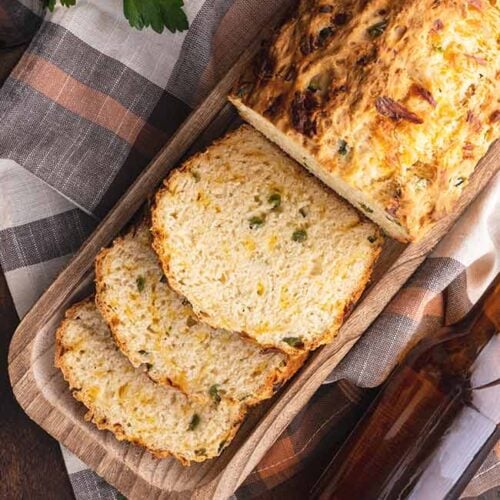 Honey Herb Beer Bread (5 Ingredients)
When you love beer and bread, this easy honey herb beer bread recipe just makes sense. No yeast. Just 5 Ingredients then add in extra to give this a unique spin. Use bread flour for best results.
Read Comments
Print
Pin
Rate
Ingredients
3

cups

flour

bread flour or all purpose flour

3

teaspoon

baking powder

1

teaspoon

sea salt

3

tablespoon

honey

or sugar

12

oz

beer

Olive oil

cooking oil or butter for greasing pan
Garlic and Herbs - Option 1
1

teaspoon

rosemary

fresh or dried

1

teaspoon

thyme

1

teaspoon

garlic

powder or fresh
Cheddar Jalapeño - Option 2
1

cup

shredded cheddar cheese

2

jalapeños,

diced
Instructions
In a large bowl, combine flour, baking powder and salt. Whisk together. If adding optional cheese and jalapeños or garlic and herbs, stir those in next.

Add honey and entire can or bottle of beer and stir until a ball of dough forms.

Grease a bread loaf pan with oil. Gather dough and gently press it evenly into the loaf pan. Smooth out and shape the top as needed.

Bake in a preheated oven at 375˚for 1 hour.

Let cool for at least 5 minutes, remove from loaf pan, slice and enjoy!
Notes
This beer bread is great in its basic form, no extras needed. Enjoy it warm with butter and it's delicious and simple.
However, there are two sets of optional ingredients you can use to elevate this loaf of bread and give it a new spin:
First option incorporates garlic and herbs
Second option includes jalapenos and cheddar cheese
You can toast this bread or enjoy it warm and fresh out of the oven without toasting. Try it with cream cheese too!
Nutrition Facts
Serving:
1
slice
|
Calories:
214
kcal
|
Carbohydrates:
44
g
|
Protein:
5
g
|
Fat:
1
g
|
Saturated Fat:
1
g
|
Polyunsaturated Fat:
1
g
|
Monounsaturated Fat:
1
g
|
Sodium:
453
mg
|
Potassium:
68
mg
|
Fiber:
1
g
|
Sugar:
7
g
|
Vitamin A:
3
IU
|
Vitamin C:
1
mg
|
Calcium:
99
mg
|
Iron:
2
mg
Follow Mighty Mrs. for more easy recipes!
Find @MightyMrs on Pinterest