This vegetable lasagna with white alfredo sauce is easy yet so good! With layers of vegetables, cheese and noodles, there's a lot to love.
This post may contain affiliate links. As an affiliate, I earn a commission.
Jump down to Recipe
This vegetable lasagna is made with white Alfredo sauce, layers of healthy fresh vegetables, a blend of cheeses and lasagna noodles.
★ Why You'll Love this Recipe ★
This layered vegetable lasagna is super easy to make!
This vegetable lasagna gets rave reviews every time yet it's such a simple recipe! Made with fresh veggies and Italian cheeses, you can't go wrong.
Bursting with flavor! You won't miss the meat.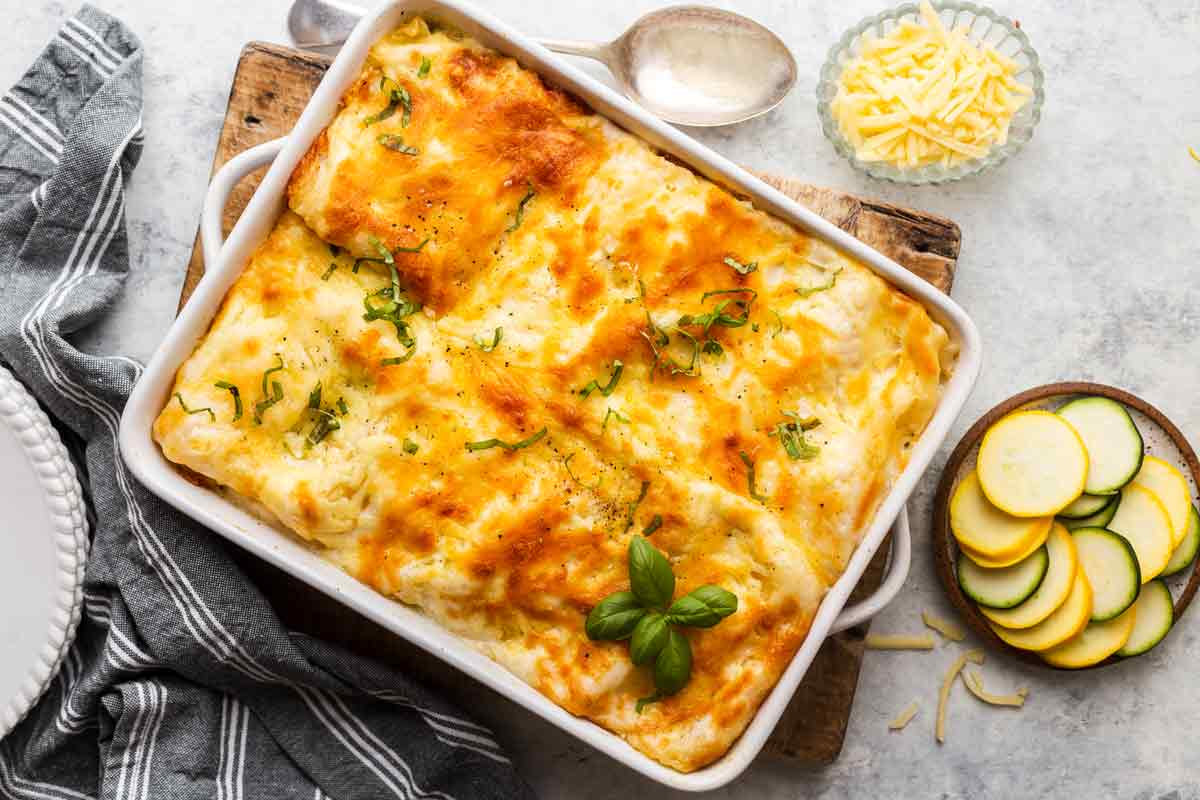 With a few shortcuts, this white sauce lasagna comes together quickly.
Here are the two time-saving tricks:
Jarred Alfredo sauce. You want to go with a quality Alfredo sauce that has added flavors like garlic and a blend of cheese. This adds layers of flavors in one step. My go-to Alfredo sauce is Parmesan Roasted Garlic Parmesan Alfredo sauce.

Oven-ready noodles. This saves not only time, but also makes clean up much easier. No noodle pot or colander to clean. The noodles cook right in the lasagna, absorbing extra juices from the veggies which makes these extra flavorful too! Win-win.
★ Ingredients You'll Need ★
You can use any vegetables in this veggie lasagna but the ones listed here are my personal favorites.
I really enjoyed eating a lot Stouffer's Vegetable Lovers lasagna in college, ha ha, and this is the combination of vegetables that is in their recipe. So that's what I like to use. You can experiment though and see what tastes best to you!
This veggie lasagna recipe includes:
Vegetables: Fresh spinach leaves, fresh shredded carrots, thinly sliced yellow squash, and thinly sliced zucchini.
Alfredo sauce. I recommend Roasted Garlic Parmesan Alfredo sauce. This sauce has a lot of flavor which really brings the vegetables to life.
Oven-ready lasagna noodles. No need to cook them before hand. Saves time and dishes!
Cheese. Lots of cheese! A blend of different cheeses help add flavor. Feel free to substitute any of these cheeses to fit your personal taste but here is the blend I really like: ricotta cheese, mozzarella cheese and cheddar cheese.
Finally, spices. These are optional, but if you love flavor and crave dishes with a lot of spice, feel free to sprinkle in Italian herbs on top of your layers of sauce.
★ How to Make this Recipe ★
This recipe involves a bit of prep work to slice and shred the veggies but then you're just layering everything in a baking dish and popping it in the oven. Super simple.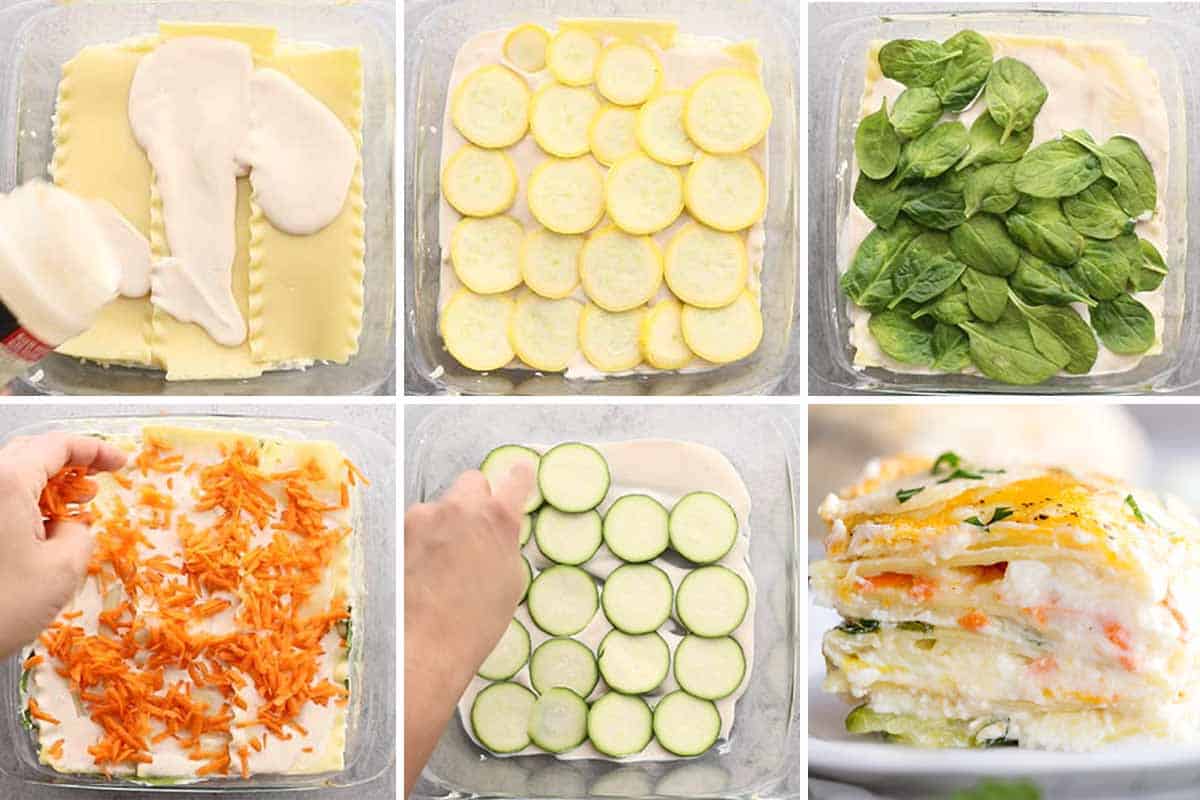 Here are the basic steps:
Shred carrots, slice squash and zucchini.
Layer Alfredo sauce, lasagna noodles, veggies and cheese.
Add spices.
Bake.
See? So easy. For the full ingredients list and recipe instructions, see below. You can also check out the video to see this being made step by step. Video is located beneath the full recipe.
★ Tips & FAQs ★
What kind of Alfredo sauce is best with veggie lasagna?
I am always amazed at how blending vegetables with cheese can transform into something so delicious! This white-sauce lasagna incorporates jarred Alfredo sauce with extra flavoring, traditional ricotta cheese, a layer of mozzarella and a sprinkle of cheddar cheese.
As I mentioned, I like to use Roasted Garlic Parmesan Alfredo made by Ragu. This sauce has added garlic and Parmesan which really enhances the overall flavor of this dish.
However, you can choose your favorite Alfredo sauce. Just keep in mind, the sauce is key to how this dish will ultimately taste since the veggies themselves are mild in flavor.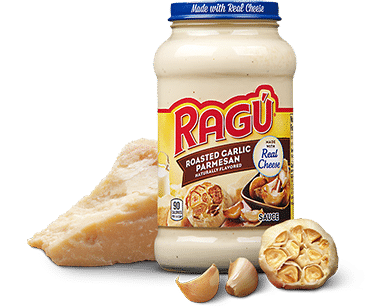 Buy this Ragu Alfredo sauce on Amazon
White or black pepper — which one is best?
Both work in my opinion. I like the idea of white pepper when I make white sauces because it looks cleaner. But then sometimes I like the look that pepper ads. There's a flavor difference too though.
The difference between the white and black pepper is that black pepper has its outer shell. Whereas, white pepper is just the inside seed of a peppercorn. Since black pepper contains for the seed and shell, it can add a slightly more complex flavor.
My advice is to go light if you're using white pepper. Because it doesn't have the the shell like black pepper does, you are working with just the powerful, peppery inside. So you actually need less of it.
Make two because yes, you can freeze this vegetable lasagna.
This recipe makes a deep dish 9x12 lasagna or you can use two 8" x 8" pans.
Making two smaller lasagnas is great if you plan to share with friends and family.
Think freezer meals for new moms or new neighbors. Yes, people still do this and certainly appreciate it. Be that person!
Or if you're in a stage of life where you're just struggling to get dinner on your own table, I get you! You could serve one lasagna for dinner that night and freeze the other one for a quick and easy weeknight meal another day.
My sister-in-law and I made this alfredo lasagna together and it was so easy that we actually made three others at the same time. We ate two (there was a lot of us!) and then I took two home and froze them, uncooked.
If you freeze yours, then when you're ready to eat it, just put the lasagna dish into a cold oven to let it warm up as the oven warms. This will prevent the casserole dish from cracking. Still use caution, especially if using glass because glass can shatter if it changes temperature too quickly. It will need to cook for about an hour or until the center is nice and hot if you're starting with it frozen.
Believe it or not, easy enough for a weeknight dinner!
Reviewers have been surprised exactly how easy this recipe is to make. See for yourself!
Need a casserole dish?
For this recipe, you will need a baking dish that is oven safe. I love the colorful Le Creuset baking pans. They are pricey but they are sturdy. They're both oven and freezer safe. Pyrex is another good choice. Or use foil baking pans if you plan to give one (or more) away so the recipient doesn't have to worry about returning your dish.
★ More Recipes You'll Love ★
Want more easy dinner ideas?
Browse all my dinner recipes and be sure to Pin your favorites for later!
Love the flavor of Alfredo sauce?
Then you might also like my alfredo zucchini pie or my ravioli with pink sauce!
This Alfredo vegetable lasagna was featured on Back to My Southern Roots, Meatless Monday, South your Mouth and Meal Plan Monday!

Easy Vegetable Lasagna with Alfredo Sauce
This vegetable lasagna with white alfredo sauce is easy yet so good! With layers of vegetables, cheese and noodles, there's a lot to love.
Read Comments
Print
Pin
Rate
Ingredients
1

box

lasagna noodles

cooked

½

cup

fresh spinach leaves

½

cup

shredded carrots

1

small

zucchini

thinly sliced

1

small

yellow squash

thinly sliced

15

oz

ricotta cheese

2

cups

mozzarella cheese - shredded or sliced fresh

¼

cup

cheddar cheese

1

jar

Ragu Roasted Garlic Parmesan alfredo sauce

Salt and white or black pepper to taste

Italian spice blend

optional
Instructions
In a deep 9x12" baking dish, spread a thin layer of alfredo sauce on the bottom.

Layer the zucchini on top of the alfredo sauce then spoon on a layer of ricotta cheese then sprinkle a layer of mozzarella cheese. Sprinkle a pinch of salt, pepper and Italian spices (optional). Top with a layer of noodles.

Repeat the layering process with the squash, spinach and carrots topping each layer with alfredo sauce, ricotta cheese, a sprinkle of mozzarella and then noodles.

After the carrots layer, place a final layer of alfredo sauce on the noodles then top with remaining mozzarella and cheddar cheese. Be sure to cover the noodles so they don't dry out.

Bake at 350˚ for 35-40 minutes or until the center is hot.
Notes
Use a large and deep 9x12 baking dish, or divide the recipe into two 8x8 pans.
If making two, you can freezer one for later or share with a friend!
Nutrition Facts
Calories:
453
kcal
|
Carbohydrates:
43
g
|
Protein:
20
g
|
Fat:
22
g
|
Saturated Fat:
12
g
|
Polyunsaturated Fat:
3
g
|
Monounsaturated Fat:
6
g
|
Cholesterol:
80
mg
|
Sodium:
563
mg
|
Potassium:
283
mg
|
Fiber:
2
g
|
Sugar:
3
g
|
Vitamin A:
1807
IU
|
Vitamin C:
5
mg
|
Calcium:
264
mg
|
Iron:
1
mg
Follow Mighty Mrs. for more easy recipes!
Find @MightyMrs on Pinterest