Here's an easy recipe to learn how to make homemade white sauce! Ditch the canned cream-of sauces forever. Made with a butter + flour roux base.
This post may contain affiliate links. As an affiliate, I earn a commission.
Jump down to Recipe
Homemade white sauce is so easy to prepare and once you learn how to make it, you'll find yourself using it or the base of it (a roux) quite frequently in cooking from scratch.
I'm all for a good shortcut, but white sauce is one of those things that tastes so much better when it's made from scratch. It's worth taking a few minutes to prepare it yourself.
★ Why You'll Love this Recipe ★
No more cream of ____ canned sauces.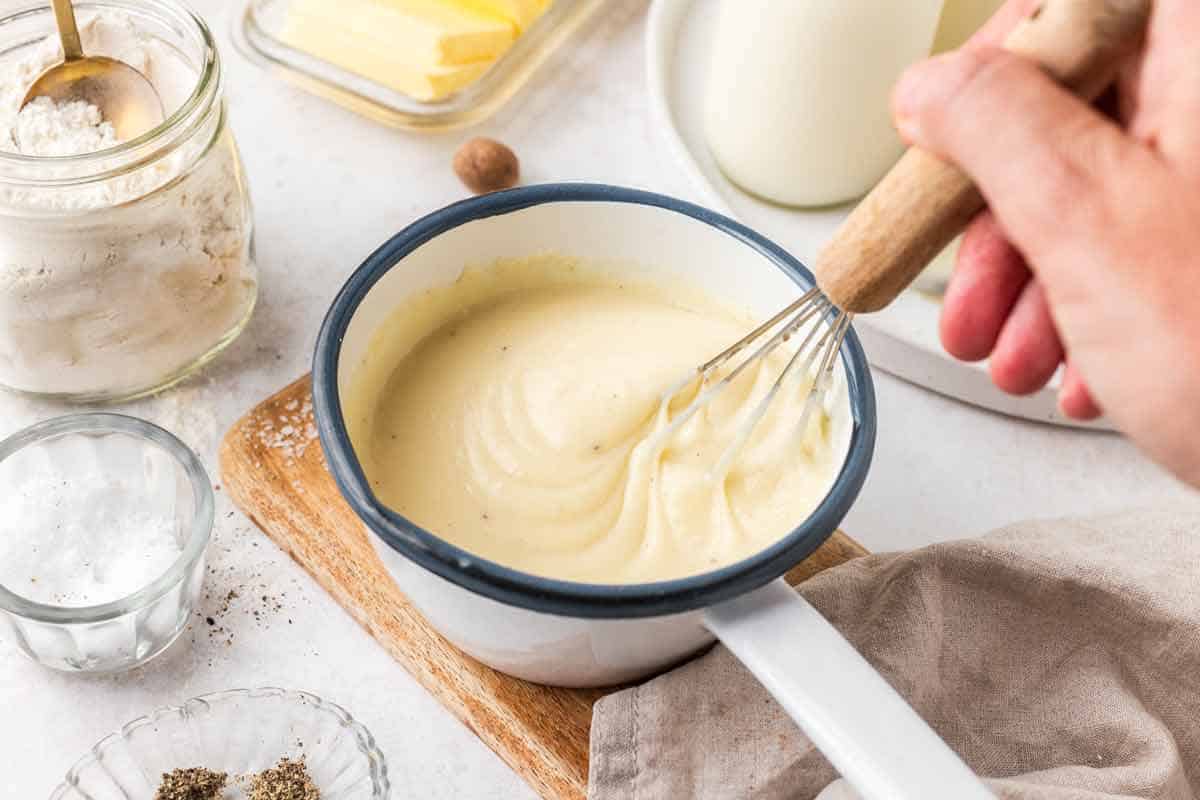 I have a few recipes that do call for these cream-of sauces for convenience but to be honest when I make these recipes, I usually make my own sauce because it's easy and you get more flavor, less preservatives and typically lower sodium.
So, I thought it was time I shared with you how to make a white sauce too so you have the option to make your own cream sauces.
★ Ingredients You'll Need ★
You'll need just 3 basic ingredients to make a white sauce.
Butter. You can use salted or unsalted. If using unsalted, you will need to add additional salt. This allows you to adjust the level of salt you use to suit your taste or dietary restrictions.
Flour. All purpose flour is what you need. You can use gluten-free flour if you need your sauce to be gluten-free.
Milk. You can use any liquid to thin out your flour + butter combination to form a sauce, but milk is what's typically used in a classic white sauce. Any percentage works, so you can choose according to your preference.
★ How to Make White Sauce ★
Here are the basic steps. You can check out the full recipe and how-to below, this is just a quick overview.
Melt butter.
Whisk in flour.
Let bubble.
Whisk in milk.
Season with nutmeg (optional) and salt.
That's it! It's very simple and easy to pull off making your own white sauce. Just follow the detailed directions below.
★ Tips & FAQs ★
What is a roux?
A roux is flour and fat heated together to form a thickener. Any type of fat works but I often make my roux with butter and flour. You can, however, use bacon fat or any animal or vegetable fat. The ratio of fat to flour is 1:1. Pretty easy to remember.
A white roux is one that you let cook for just about a minute to cook away the floury taste, but not so long that the butter browns and becomes a brown roux. A brown roux is not wrong and actually can taste really great! Browning the butter adds a nutty flavor so if you're into that, go for it. Just don't burn the butter.
White sauce is otherwise known as Béchamel sauce.
If you're fancy. Or you can call it white sauce like I do. Béchamel sauce is one of the French mother sauces that is made with a white roux plus milk.
Another fancy French word. I don't have another less-fancy name for this one, but a roux (pronounced rue, rhymes with clue) is something I use all the time in my cooking and if you browse all my recipes, you're sure to find a roux at play in many of them.
What can you serve with white sauce?
I often associate white gravy with breakfast foods. It can dress up a breakfast sandwich or top an otherwise dry egg casserole. However, it can also be enjoyed at dinner time too depending on what you're topping with it.
White sauce is great with a meat added in. Add chicken, ham, or sausage. Delicious! Serve with biscuits, and you're in business.
Add white sauce to vegetables for a creamy experience.
Seasoning Your White Sauce
A white sauce is just flour, butter and milk. To season your white sauce, some chefs recommend adding nutmeg to give it a depth of flavor and you should add salt and white or black pepper to taste as well. That's all you need for a basic white sauce!
Going From a Roux to a Sauce
Once you've made your roux consisting of melted butter and flour, you then add a liquid to make it a sauce.
For this white sauce, we're adding milk. There is no golden ratio or proper amount of liquid to add. It really just depends on how thick or thin you like your sauce. The less liquid, the more thick your sauce.
Add liquid and bring it to a boil. Bringing it to a boil activates the thicken powder of the butter and flour combination and makes everything combine. So once that happens, you can see how thick your sauce is and add more liquid if you want.
How to thicken or thin out your white sauce
You can always add more liquid to thin out your sauce.
It's more difficult to thicken your sauce because you can't just add butter or flour separately or it will clump and you'll end up with a lump sauce.
To thicken your sauce, you would need to separately combine additional, equal amounts of flour and butter then add that to your sauce and then bring to a boil before reducing to a simmer.
You'll want to turn the heat down to a simmer so that you don't overcook things while trying to find your perfect consistency.
Other than seasoning it a bit, once you have your desired thickness, you're done!
★ Beyond the Basic White Sauce ★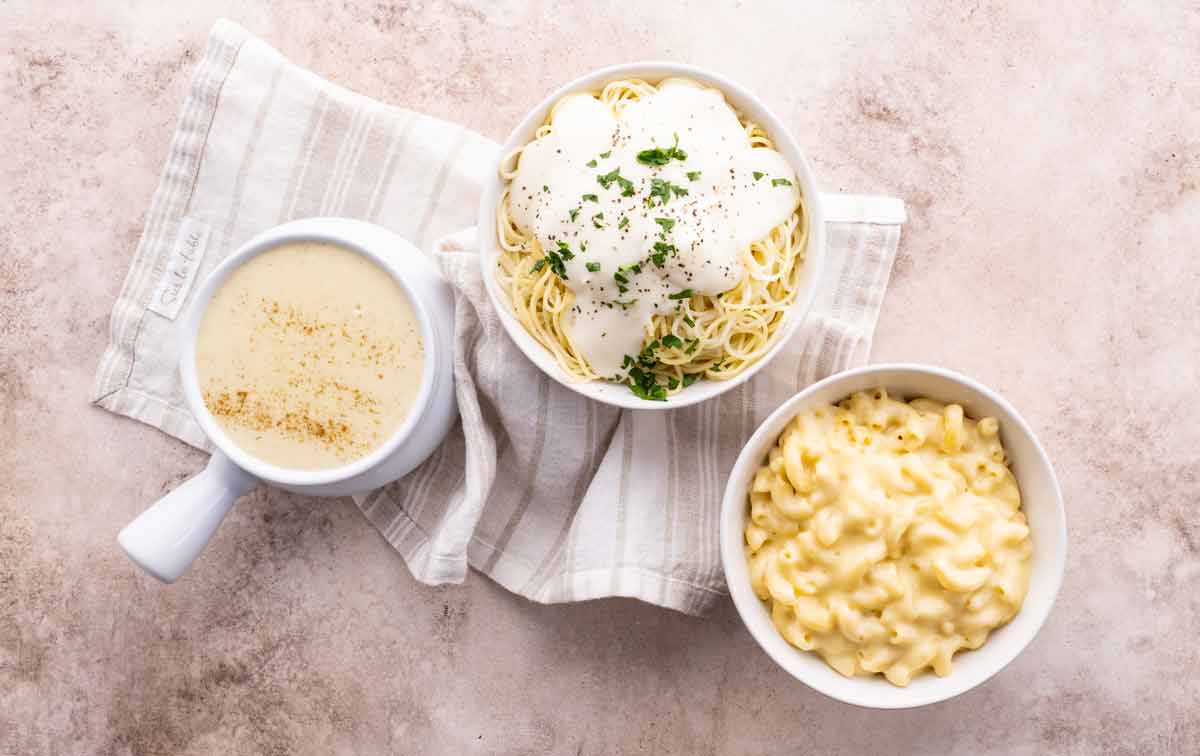 Use Your Roux to Create Other Sauces
When you've mastered how to make a roux and turn it into a delicious sauce by adding a liquid, then you can experiment and branch out almost indefinitely.
Once you learn how to make a basic white sauce, you can take these same roux-making skills to the next level but adding herbs, cheese, or bullion to transform it into stews, gravy, Alfredo sauce and more!
Here's how to take your roux and sauces beyond a basic white sauce:
Brown your butter by cooking it longer to achieve that nutty flavor. This transforms your white sauce to a brown-butter sauce.
Try different fats other than butter. You can use leftover meat drippings from bacon, or even ground beef. You can also try vegetable-based fats like avocado oil.
Add cheese to your white sauce. Melting in Parmesan cheese creates an awesome homemade Alfredo sauce.
Adding cheddar cheese creates a wonderful cheese sauce for mac and cheese.
Add white American cheese and you have the start of a yummy queso dip!

The amount of cheese you add is totally customizable. I typically start with 1-2 tablespoon of fresh grated cheese per every 1 cup of milk but you can do less or more depending on how cheesy you like your sauce. You can also add more milk to thin out your sauce.

Instead of or in addition to adding milk to your roux, try adding other liquids.

For example, adding chicken broth creates a lovely chicken gravy. Beef broth for a beef gravy. And so on. This can be used as gravy, or a base for stews as well as fillings for things like pot pies.
How to Make Homemade Cream of Chicken Sauce
To make your own cream of chicken sauce (similar to the canned condensed soup), create a thick white sauce using a 1:1 butter and flour mixture then slowly add milk until you reach the desired thickness of your sauce.
Don't forget you need to bring the sauce to a boil for the thickening agent to combine with the milk and "activate." Then add 1-2 teaspoon of chicken bullion powder for each cup of milk.
Adjust the amount of chicken bullion to your own taste. More bullion means more chicken flavor but also means more salt so find your happy medium—the beauty of homemade is you can control these things.
You can also add herbs if you'd like. Add the herbs to the butter and flour stage so that the oils in the butter activate the herbs' full flavor.
Typical season for cream of chicken soup includes celery powder, onion powder, and garlic powder. Black or white pepper too.
Other herbs that pair well with chicken are: thyme, marjoram, tarragon, cilantro, rosemary, sage, oregano, and garlic. If you want a blend of herbs but aren't sure what goes well together, you can opt for a ready-made spice-blend for poultry.
Can I use either salted or unsalted butter?
Yes. Either one. You can control the amount of salt you use in your white sauce by opting to start with unsalted butter.
I typically start with salted butter since I like to add even more salt to season my white sauce.
However, maybe you are on a low sodium diet or want to use a special salt like sea salt for a different flavor, then you can start with unsalted butter and add your own salt to taste.
Add salt at the end of the cooking process so that you can taste the sauce to see how much you need to add. Make sure the sauce is still warm so that it dissolves evenly.
★ More Recipes You'll Love ★
Here are a few of my favorite recipes that incorporate some variation of a white sauce:
• Parmesan Shrimp Alfredo
• Oven-fried Ham Steaks
• Creamed Spinach
Browse all my recipes and Pin your favorites
This tutorial for how to make white sauce was featured on South Your Mouth!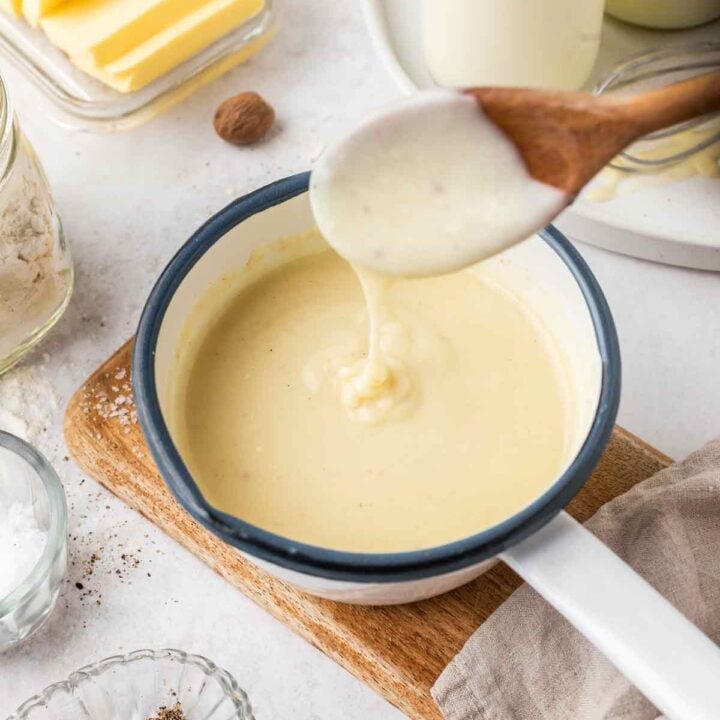 How to Make White Sauce
Here's an easy recipe to learn how to make homemade white sauce! Ditch the canned cream-of sauces forever. Made with a butter + flour roux base.
Read Comments
Print
Pin
Rate
Ingredients
2

tablespoon

butter

2

tablespoon

flour

1

cup

milk

salt and black or white pepper

to taste
Optional
pinch of ground nutmeg

more or less to taste
Instructions
In a small sauce pot, melt butter over medium heat.

As soon as butter is completely melted, whisk in flour. Let bubble for 1 minute to cook out the floury taste. Do not let the butter turn brown. Stir as needed.

Next, whisk in milk. Bring to a boil then reduce to simmer. Whisk until thickened and smooth.

Add salt and nutmeg (optional) to taste.
Notes
Be careful not to overcook butter or butter + flour mixture as it bubbles. You do not want the butter to form brown bits.
Nutrition Facts
Calories:
404
kcal
|
Carbohydrates:
23
g
|
Protein:
9
g
|
Fat:
31
g
|
Saturated Fat:
19
g
|
Polyunsaturated Fat:
1
g
|
Monounsaturated Fat:
8
g
|
Trans Fat:
1
g
|
Cholesterol:
85
mg
|
Sodium:
887
mg
|
Potassium:
345
mg
|
Fiber:
1
g
|
Sugar:
12
g
|
Vitamin A:
1095
IU
|
Calcium:
285
mg
|
Iron:
1
mg
Follow Mighty Mrs. for more easy recipes!
Find @MightyMrs on Pinterest