Hollandaise sauce. It's what makes breakfast more beautiful (and way more delicious). It's easier than you think to make homemade Hollandaise sauce from scratch. If you can use a whisk, you can make this sauce.
This post may contain affiliate links. As an affiliate, I earn a commission.
Jump down to Recipe
Hollandaise sauce. It's what makes breakfast more beautiful (and way more delicious). It's easier than you think to make homemade Hollandaise sauce from scratch.
If you can use a whisk, you can make this sauce. Makes egg casseroles delicious!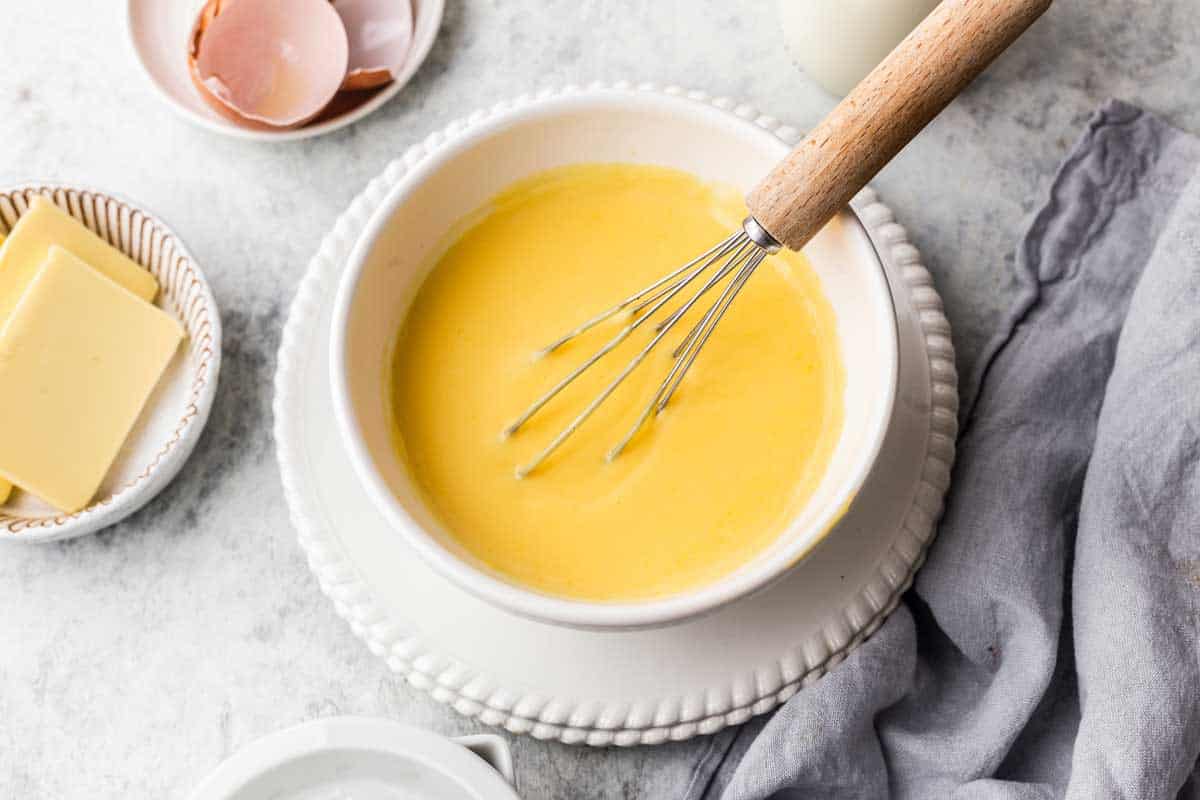 You don't have to go to a fancy restaurant to get a delicious hollandaise sauce or Eggs Benedict, you can make your own homemade hollandaise sauce anytime you want.
Fancy French cuisine doesn't have to be hard. I'll walk you through each simple step to make this delicious sauce. Then you'll be putting it on everything!
★ Why You'll Love this Recipe ★
Hollandaise sauce is a tangy, silky topping for just about anything. It's best known served over Eggs Benedict but you can also enjoy it over vegetables, chicken and waffles, steak, salmon, and more! It's an easy, creamy and lemony sauce to add to any dish that could use extra moisture and richness.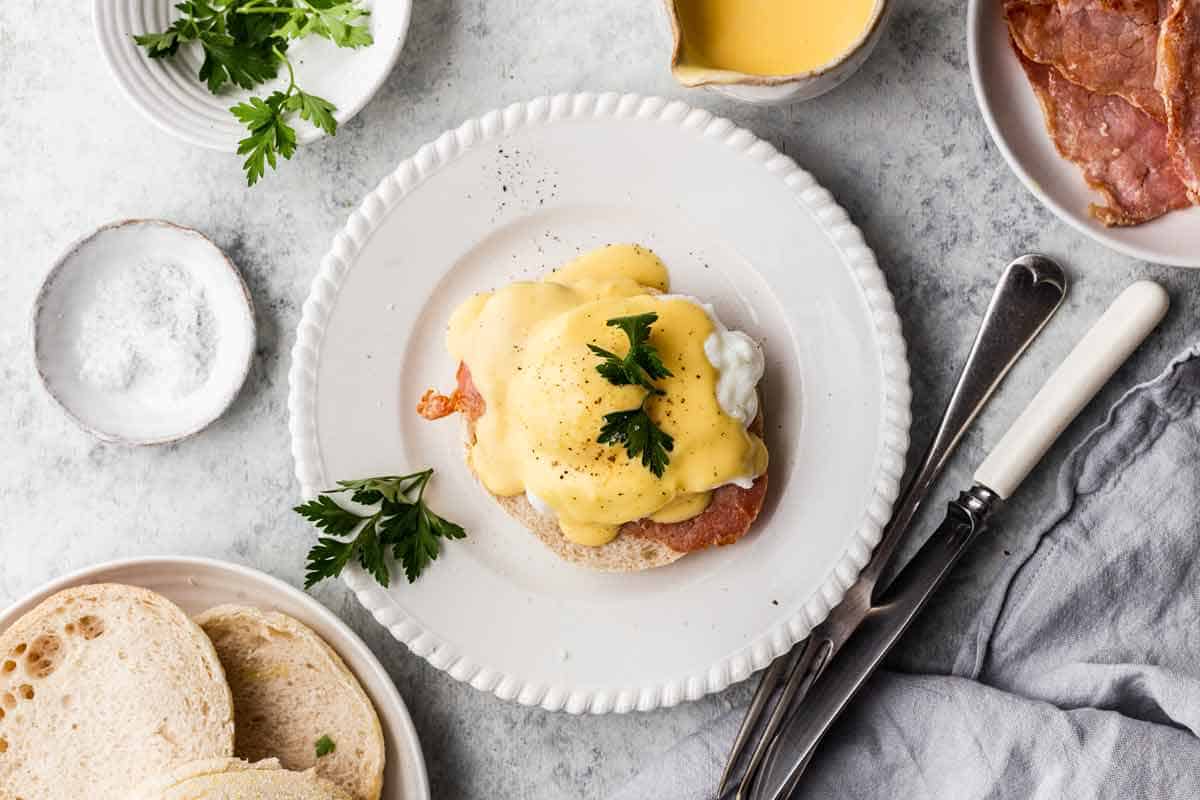 I've taken all the complications out of this recipe and made it as simple and straightforward as possible. No fancy equipment required. Even if you don't have a whisk, you can use a fork.
Add little ingredients to make it your own and further complement the dish you're serving it with.
Some people like to add a little bit of mustard, some use a small amount of hot sauce or a pinch of cayenne pepper, and some like to use lime juice in place of the fresh lemon juice.
★ Ingredients You'll Need ★
Simple pantry and refrigerator staples make up this easy, buttery sauce. You likely won't even need to make a trip to the store for anything special.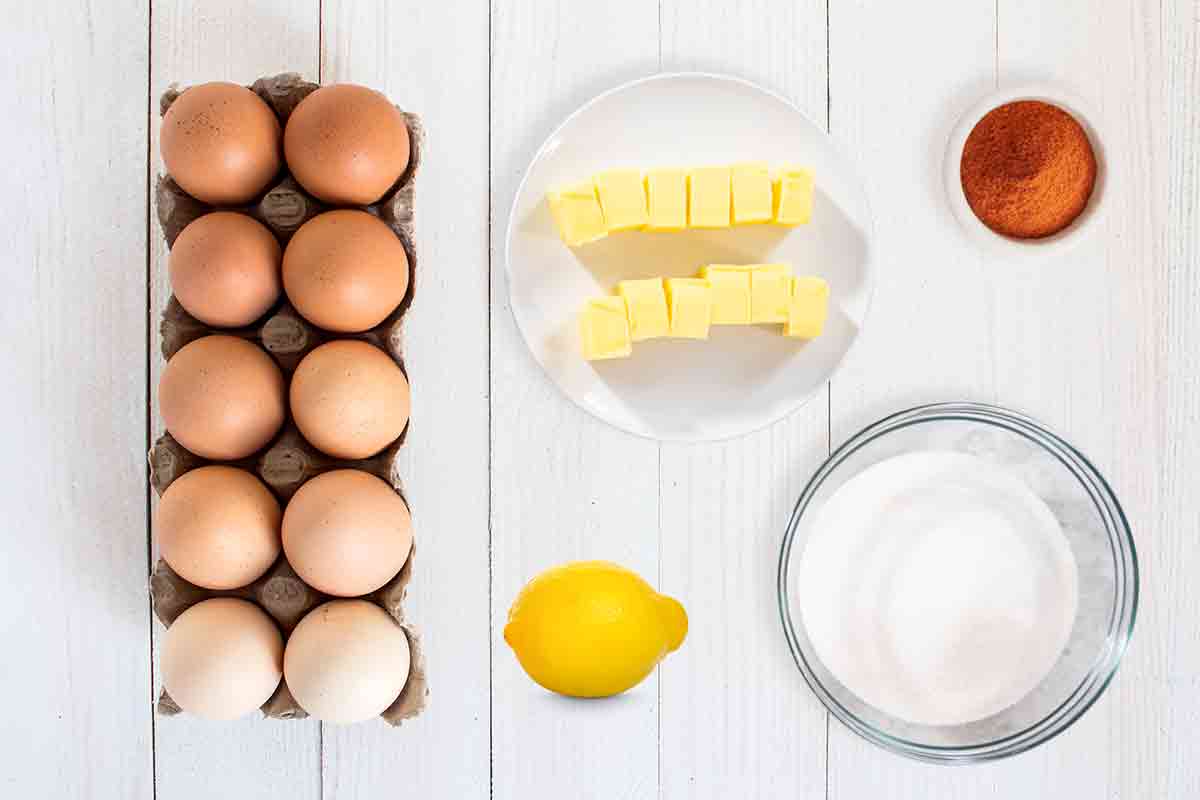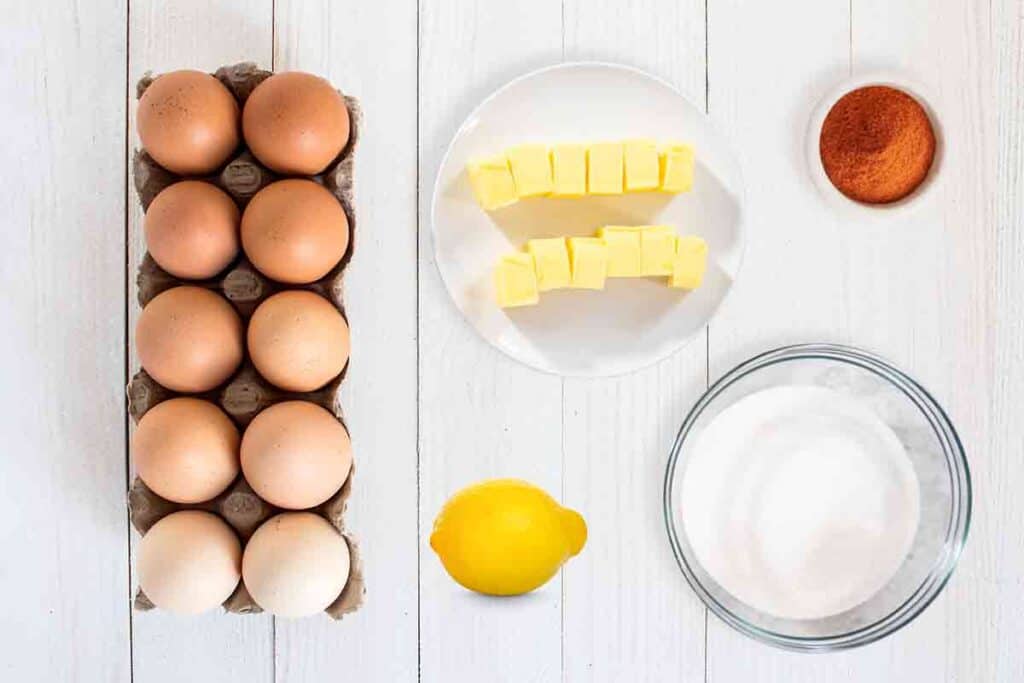 Here's everything you need:
Egg yolks. You will only need the yolks for this recipe, so save the whites for something else or go ahead and add them to breakfast.
Butter. I use salted butter for just about everything because it's easy. However, if you want more control over the amount of salt you add to this sauce, go with unsalted and add in your own salt to taste. One thing to note is that salted butter does have a higher water content so it isn't quite as creamy as unsalted.
Lemon juice. Feshly squeezed lemon juice is going to give you much more flavor than buying lemon juice. If you have to use bottled, make it a last resort. It's not nearly as flavorful and doesn't add the same brightness that fresh juice will.
Milk or half and half: Half and half will give you a more rich flavor and texture but if you don't have any or prefer a lighter sauce, milk will work too. The higher percentage of fat the creamier your sauce will be.
Cayenne pepper. Adding a pinch of cayenne pepper goes a long way. Stir it into to your finished sauce or use it to garnish your dish. This adds color and flavor to the sauce.
★ How to Make Hollandaise Sauce ★
Just follow these simple steps!
Melt butter in a pan on the stove. Keep the heat low, you don't want to accidentally brown it, just melt it.
Add egg yolks, lemon juice, and milk or half and half to the melted butter and whisk until thick and frothy. Immediately remove from heat.
It is very important to whisk non-stop while this sauce is cooking or the sauce can cook unevenly and become lumpy.
It's also important to remove the pan from heat. Do not turn off the burner or it will continue to cook and sauce may become chunky.
Finally, add cayenne pepper and serve immediately.
★ Alternate Cooking Methods ★
1. Traditional double boiling method - this is probably he most commonly accepted way to make Hollandiase sauce and what they teach you in culinary school. It involves using a proper double boiler, or placing a large metal bowl over top of a sauce pan about ⅛ of the way full of water. The water in the sauce pan boils and heats up the metal bowl. You place your eggs, butter, milk and lemon juice into the bowl and whisk. You need to use a bowl that is wider than the sauce pan.
2. Microwave - Yes you can make Hollandaise sauce in the microwave! See below for instructions.
If you're feeling confident with your ability to make the stovetop version of this sauce, you might be ready to try the microwave shortcut.
Wait. You can really use the microwave to make this sauce? Yes. The mircowave has long been used to cook breakfast foods from eggs to bacon. So, yes, you really can actually make Hollandaise sauce entirely in the microwave.
All you have to do it combine the melted butter (so microwave the butter first by itself) with lemon juice, whisked eggs, warm water or milk and cayenne pepper in a glass bowl. Then microwave in 15 second increments, whisking in between. For about 30-45 seconds until it's thick.
Side note: You can also melt chocolate using this same method!
The microwave method gets a little tedious with all the stopping and starting so that's why I settled on the sauce pan method as my preferred way to make Hollandaise sauce. The stove top method is how this recipe is written.
3. Just use a sauce pan. This is how I do it. I have a double boiler, but it's more dishes to wash later.
★ Tips for Success ★
The key to make Hollandiase Sauce without lumps is whisking continuously.
No matter your method.
When using the microwave you will heat and stir, heat and stir. You can use a whisk or a fork.
The 3 keys to success when cooking stove top Hollandaise sauce.
Cooking over low heat. You want to cook this sauce slowly, over very low heat or the eggs will cook too fast and become chunky. You want the eggs to cook just enough for the sauce to thicken, but you don't to cook this egg-based sauce so long that it turns into scrambled eggs.

Whisk constantly. Don't stop whisking. Whisking does two things: 1.) It keep the eggs from clumping together. 2.) It allows you to feel the sauce thicken so you can tell when it's ready.

Do not overcook. As soon as the sauce starts to thicken, remove it from the heat. It's done. If you keep cooking it or keep it over heat, it will overcook and become too thick and more like scrambled eggs and no longer s sauce. Once you overcook the eggs in the sauce, there's no way to get them back to their original smooth and more liquid state.
Once you feel the sauce thicken as you are whisking, remove the sauce from heat, stir for another 30 seconds or so to release some heat so it doesn't continue cooking. Then use your Hollandaise sauce immediately. Or, keep a lid on it until ready to use so the top does not dry out and form a layer you'd need to skim off.
★ FAQs ★
What Does Hollandaise Sauce Taste Like?
The best way to describe Hollandaise sauce is a silky smooth sauce that tastes like butter but in a light and somewhat frothy texture. Some people compare it to whipped and thinner mayonnaise with a buttery taste. It's unlike anything else that you find on breakfast food or vegetables.
Do you need a double boiler to make Hollandaise sauce ?
No. Hollandaise sauce recipes often recommend you use a double boiler instead of direct heat in a saucepan. However, this creates more dishes to wash and can be a bit much to handle while whisking the whole time. I've found you don't need the double boiler if you cook over low heat and continually whisk your sauce as it cooks.
Is homemade Hollandaise sauce hard to make?
Nope. It's not hard to make homemade Hollandaise sauce with the right technique.
There are several techniques you can use. Go with what works best for you. Here's what yo expect with each:
What is in traditional hollandaise sauce?
In a traditional hollandaise sauce, you have butter, egg yolks, mustard, and cream with cayenne pepper.
What is the difference between hollandaise and bearnaise sauce?
Hollandaise sauce is the base for bearnaise sauce, you add white wine vinegar, shallots, and tarragon to the hollandaise base in order to make bearnaise sauce. Hollandaise sauce is one of the five mother sauces of French cuisine, so you will find it frequently used as the base of a recipe with ingredients added.
Is hollandaise sauce the same as mayonnaise?
Mayonnaise has egg yolk, and either vinegar or lemon juice, blended with oil to create a thick and creamy sauce; therefore, it is not the same as hollandaise.
Can you make hollandaise sauce without lemon?
If you are short on lemons for your hollandaise sauce you can use white cooking wine and vinegar, you will only need about one tablespoon of each, and these will provide the acid needed to balance the sauce.
Can you make Hollandaise sauce without a blender?
My recipe does not use a blender, I whisk the ingredients while they are cooking as in traditional French methods.
How do I store leftover Hollandaise sauce?
You can store hollandaise sauce in an airtight container in the refrigerator for up to three days or in the freezer for up to a month.
What to Serve with this Recipe
You can serve just about anything with hollandaise sauce to top it. Some of our favorites are the classic Eggs Benedict, any breakfast sandwich, roasted or steamed vegetables like asparagus, mushrooms, broccoli, and Brussels sprouts; we also enjoy hollandaise sauce on chicken and steak dishes, and as a lighter sauce for some pasta dishes.
★ More Recipes You'll Love ★
Hollandaise & Eggs Benedict
Be sure to try my Eggs Benedict Casserole topped with this sauce!
Or if the more traditional Eggs Benedict is your style, check out my classic Eggs Benedict recipe.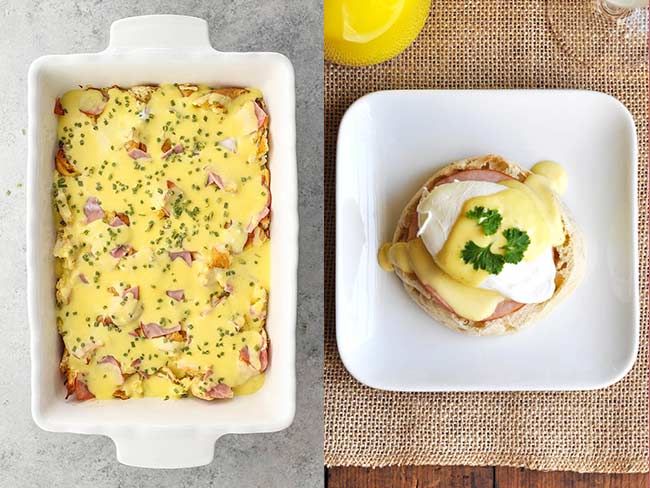 Breakfast, the best meal of the day?
I could argue that it is! Browse all my breakfast recipes for more breakfast ideas.
Browse all my easy recipes!
Browse all my recipes and Pin your favorites.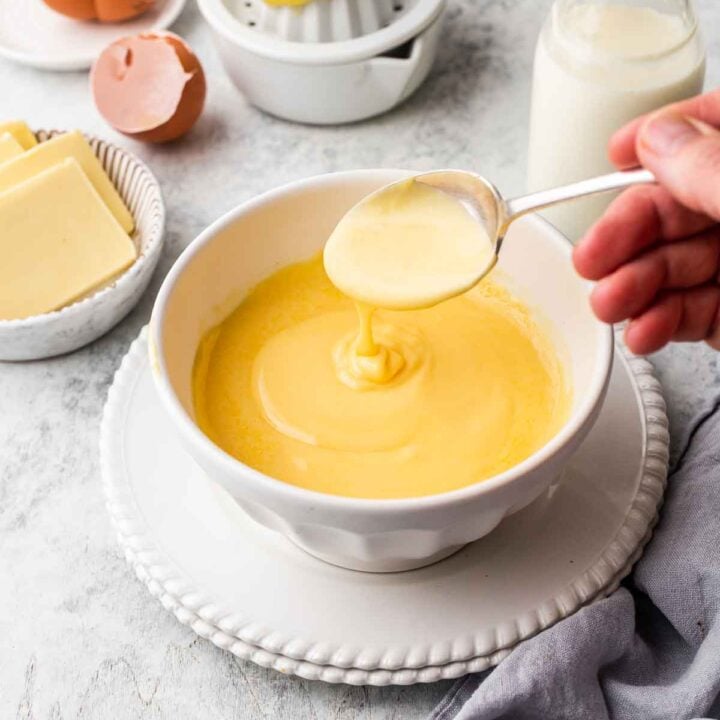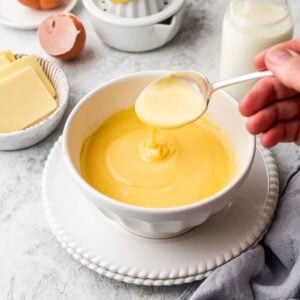 Homemade Hollandaise Sauce
Hollandaise sauce. It's what makes breakfast more beautiful (and way more delicious). It's easier than you think to make homemade Hollandaise sauce from scratch. If you can use a whisk, you can make this sauce.
Read Comments
Print
Pin
Rate
Ingredients
1

stick

butter

4

egg yolks

1

tablespoon

freshly squeezed lemon juice

more or less to taste

2-3

tablespoon

milk or half and half

Optional: dash cayenne pepper
Instructions
In a small pot over medium heat, melt the stick of butter.

Add egg yolks, lemon juice and milk or half and half to the melted butter and continually whisk for about 3-5 minutes or until sauce starts to get thick and frothy. Remove from heat.

Finally sprinkle and stir in cayenne pepper and serve immediately.
Nutrition Facts
Calories:
266
kcal
|
Carbohydrates:
1
g
|
Protein:
3
g
|
Fat:
28
g
|
Saturated Fat:
16
g
|
Polyunsaturated Fat:
2
g
|
Monounsaturated Fat:
8
g
|
Trans Fat:
1
g
|
Cholesterol:
257
mg
|
Sodium:
214
mg
|
Potassium:
40
mg
|
Fiber:
1
g
|
Sugar:
1
g
|
Vitamin A:
978
IU
|
Vitamin C:
1
mg
|
Calcium:
39
mg
|
Iron:
1
mg
Follow Mighty Mrs. for more easy recipes!
Find @MightyMrs on Pinterest