This post may contain affiliate links. As an affiliate, I earn a commission.
Jump down to Recipe
This recipe for easy poached eggs using a Mason jar ring will have you wondering why you've never tried poaching an egg before. Or maybe you have an just need an easier way. Try this!
But why would you want to poach an egg anyway?
Here are a few reason:
You don't need butter, oil or non-stick spray
You won't get any crispy, burned or rubbery edges
You can keep the yolk runny without having to worry about whether the white of the egg is cooked all the way or not.
I thought poached eggs were for fancy people and I was just fine scrambling my eggs thank you very much until I came across this delicious photo of poached eggs over top of avocado toast (which I highly recommend!).
I do like my eggs over medium on occasion but I do not like those brown crispy edges. So a poached eggs is truly the only way to get the best of both egg white and egg yolk worlds. Just like a fried egg, you can create runny or firm yolks depending on how long you cook your egg. So if you like your poached egg runny, then you're going to want to cook it for just 4 minutes. If you like it firm but a bit jello-y like I do, then go for 4 and 1/2 minutes. Hard, a full 5 minutes.
It's easier than you think to poach an egg!
If I can do it, you can do it. I was able to successfully poach on egg on my the first try using a Mason jar ring! I learned this little trick from reading one of my favorite food blogs, Pinch of Yum. It's not 100 % necessary to use a Mason jar ring, but when you're just learning to poach an egg, it makes things a lot easier. And you know me at all, you know I like to cook. But only if it's easy.
Mason jar rings help poach multiple eggs at once.
Final cool thing about the mason jar lid trick is that if you use a large pot or skillet then you can cook several poached eggs at once. Pretty much however many mason lid jar tops (just the ring) you can fit into your pot, that's how many poached eggs you can cook. So hurray! for making a tricky cooking technique super easy and achievable for the not-so-fancy cooks like me (and maybe you too?).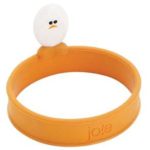 Tip: If you don't already have a metal Mason jar ring laying around, check out these cute silicone ones. Truly these would probably work even better than the metal rings because I did notice that the egg sometimes sticks to the metal and puts the yolk at risk of breaking as you remove it from the pot.
What to eat with poached eggs?
Now that you know how to make a perfectly poached egg on the first try, you might be wondering what goes well with them. Well, I have a couple ideas for you. The first one is my favorite breakfast of all time—Eggs Benedict. I just love the combination of the English muffin, ham, egg and Hollandaise sauce. This dish is surprisingly easy to make at home for as fancy as it looks and tastes.
Get my recipes for Eggs Benedict and Hollandaise sauce.
Here's a super healthy breakfast idea using poached eggs: Try my homemade low carb bagels, topped with smashed avocado, a little sea salt, a poached eggs and microgreens. So yummy and filling yet so good for you too!
Want more breakfast or brunch ideas?
Browse all my breakfast recipes
This recipe for easy poached eggs using a Mason jar ring was featured on Back to My Southern Roots!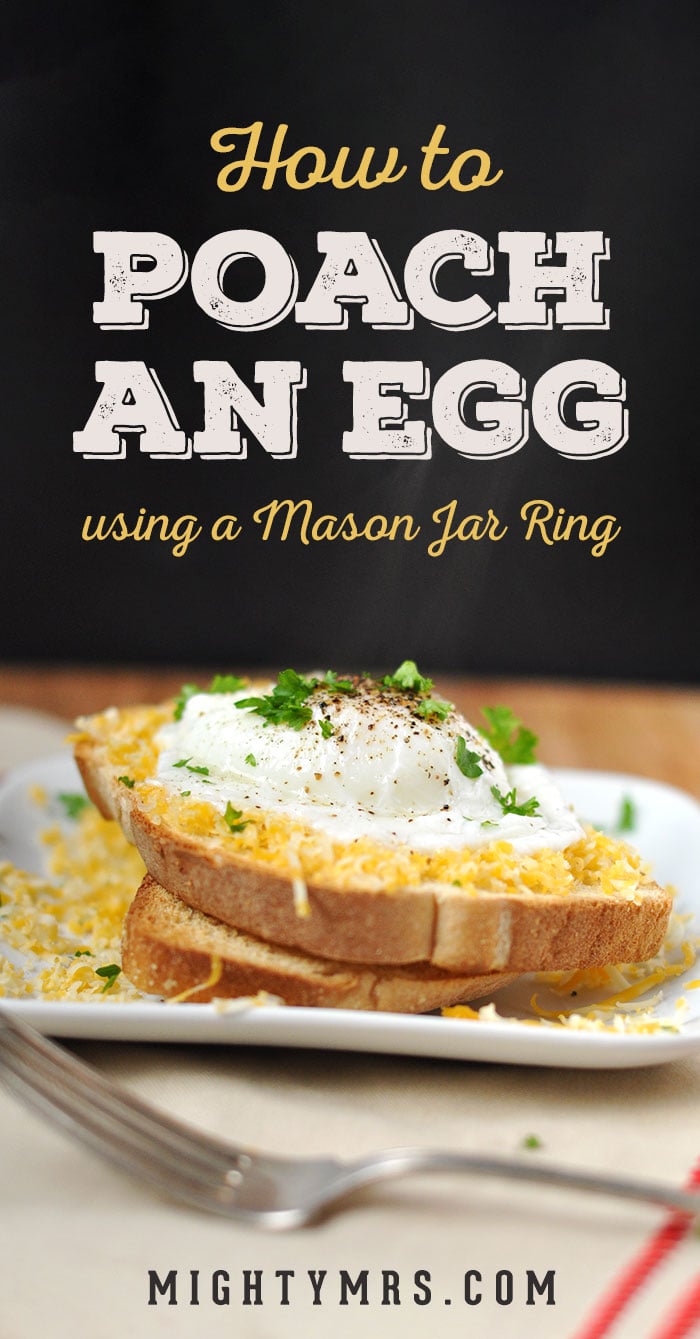 Easy Poached Eggs using Mason Jar Ring
This recipe for easy poached eggs using a Mason jar ring will have you wondering why you've never tried poaching an egg before. Or maybe you just needed an easier way. Try this!
Read Comments
Print
Pin
Rate
Ingredients
2

large

eggs

salt and pepper to taste

2

slices

toasted bread

Shredded cheese

Fresh parsley to taste
Instructions
Place two mason jar lid rings (without the center) into a large pot. Fill the pot with water just above the lids. Bring water to a boil then turn the heat off.

Crack and drop an egg into each mason jar lid then cover the pot.

Let the egg poach for 4-5 minutes depending on your yolk preference then remove gently with a spatula.

Serve on top of toast with your favorite shredded cheese and/or smashed avocado. Spice to taste.
Nutrition Facts
Calories:
147
kcal
|
Carbohydrates:
14
g
|
Protein:
9
g
|
Fat:
6
g
|
Saturated Fat:
2
g
|
Polyunsaturated Fat:
1
g
|
Monounsaturated Fat:
2
g
|
Trans Fat:
1
g
|
Cholesterol:
186
mg
|
Sodium:
216
mg
|
Potassium:
120
mg
|
Fiber:
1
g
|
Sugar:
2
g
|
Vitamin A:
271
IU
|
Vitamin C:
1
mg
|
Calcium:
67
mg
|
Iron:
2
mg
Want more easy recipe ideas?
Follow @MightyMrs on Pinterest