Homemade bagels. Easy? Yep! It's true. Just 5 ingredients is all you need to make these baked bagels. Lower your carbs and get some protein plus flavor with the help of Greek yogurt.
This post may contain affiliate links. As an affiliate, I earn a commission.
Jump down to Recipe
Homemade bagels. Easy? Yep! It's true. Just 5 ingredients is all you need to make these baked bagels. Lower your carbs and get some protein plus flavor with the help of Greek yogurt.
Homemade bagels, really? That's possible?
Yep. Never in my life would I have thought I'd find myself making my own bagels. I don't know why the thought really never crossed my mind. Homemade bread? Sure. But bagels? That's a whole other level I thought was out of my reach. The boiling I think is what scared me. It sounded complicated and I like things that are easy.
Yet, here we are...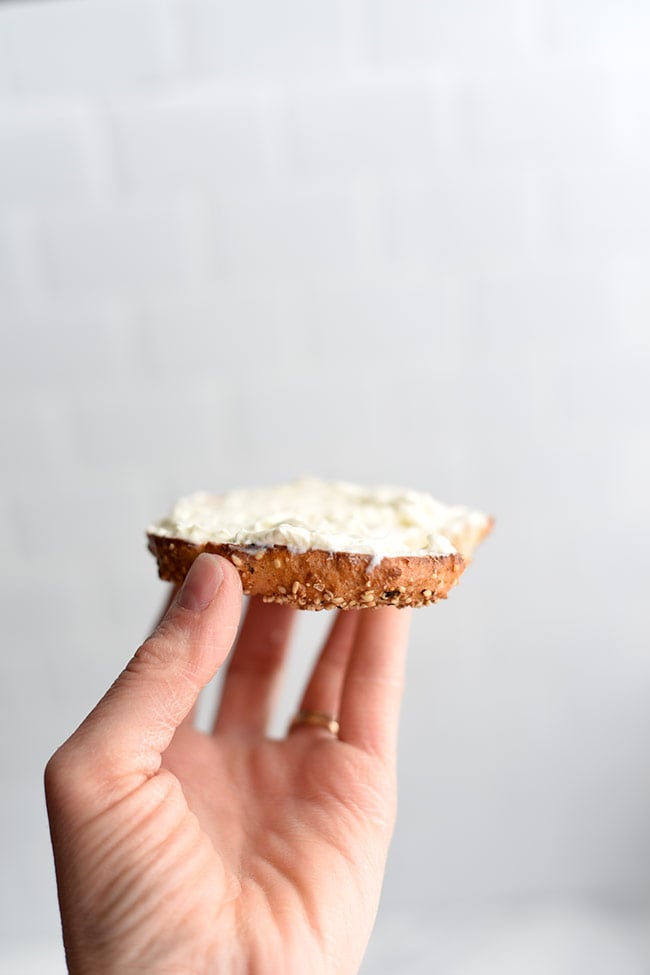 These bagels are baked, no boiling required.
Come to find out you don't need to boil bagels. You can learn more about why the pros boil bagels, but essentially it creates a thicker more chewy crust. And to be honest, I always toast my bagels anyway to get rid of the chewy crust. So my lazy brain says, why boil them then?
You don't need to. In fact you'll get a lighter, less dense bagel if you don't boil them and I actually prefer that as well. Dense bread makes me feel like I'm instantly gaining 5lbs with every bite so the lighter, the better in my opinion.
No lye required.
The second part about homemade bagel-making that was a little scary was the lye. It's so dangerous you need gloves and goggles to use it! That sounds kind of fun actually but not really something I want to get into if I'm making bagels on the reg. So I did a little research to find out if you need to use lye when making bagels.
Here's what I found out: Lye is what gives the bagel its brown color and unique flavor. Hmmm... sounds kind of important. But as I read more I discovered you can achieve those qualities in other ways. Baking soda, in fact, is supposed to have a very similar flavor as lye once baked.
"Great," I thought! You're going to need that to get the bagels to rise anyway. Two birds with one stone. I like it. And for the brown color. If color is really that important to you, then you can get that with an egg wash. The egg wash also serves to help your toppings stick so again, two birds with one stone. See, lazy cooking is all about efficiencies and making legit excuses for leaving out extra steps and ingredients. So, yes, you can make delicious bagels without lye and it'll be just fine.
No yeast required.
Finally, I thought there was yeast involved. And some bagel recipes do call for yeast. Me no likey yeast though. The fact that yeast is a living thing and that it may or may not activate is a risk I'm not very willing to take. It doesn't jive with my lazy ways of finding things in the cabinet about to expire and using them anyway.
Guess what though? Things rise without yeast. You just need to employ the magical powers of baking powder yet again. Magical yet humble. It just sits there, patiently, on the top shelf of the cabinet, not taking up much room then comes to rescue when you need flavor and air bubbles. Love it.
Easy to make on the first try.
So. How did I end up getting into all this bagel-making research? Well, I stumbled upon a recipe posted by Skinny Taste for 5-ingredient bagels. No yeast. No boiling. No lye. I liked the sound of that. I read her tips, (You can read them too here) and was able to make delicious homemade bagels on the first try! So, I'm confident you can too.
My ingredients are the same as her recipe but method slightly different (lazier). There's truly only five ingredients (plus toppings) and you can even reduce the ingredients down to TWO if you use self-rising flour. But that requires you to actually have self-rising flour and I typically only have regular flour. So, five it is.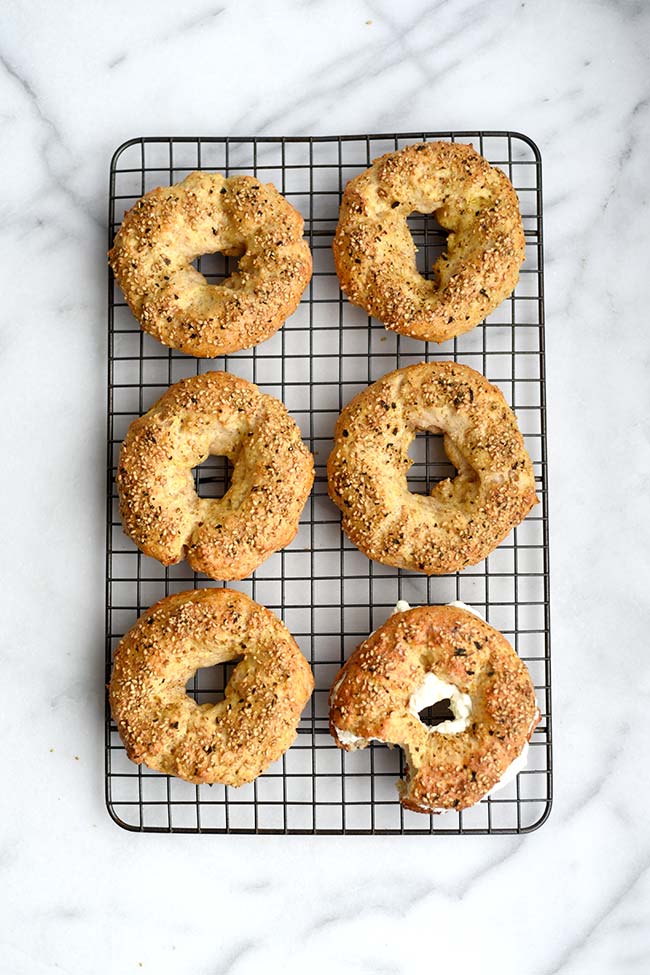 Make it an Everything Bagel!
You can find Trader Joe's Everything but the Bagel topping on Amazon or obviously, at Trader Joe's if you're lucky enough to live close to one.
Make these low-carb and gluten free with almond flour.
Looking to cut carbs without giving up your beloved bagels? These can be made low carb and gluten free. Yes, homemade low carb baked bagels will be your new best friend if you've previously had to give up eating bagels. They don't taste like a typical bagel, they are a bit chewier, more crumbly and almost have a cheesy flavor to them, but they are pretty darn close for a gluten free option.
Please note you will need twice as much almond flour as yo would all purpose flour to form the dough
Lower carb using all purpose flour as well.
These bagels can be made with all purpose flour, bread flour, or almond (gluten free flour). Just note the difference in amounts you'll need in the recipe ingredient list.
While these homemade bagels made with all purpose flour are are not a "low carb food" necessarily, they do have far fewer carbs than a traditional bagel. These bagels have approximate 15 grams of carbs compared to a traditional bagel with about 29 grams of carbs. (without toppings)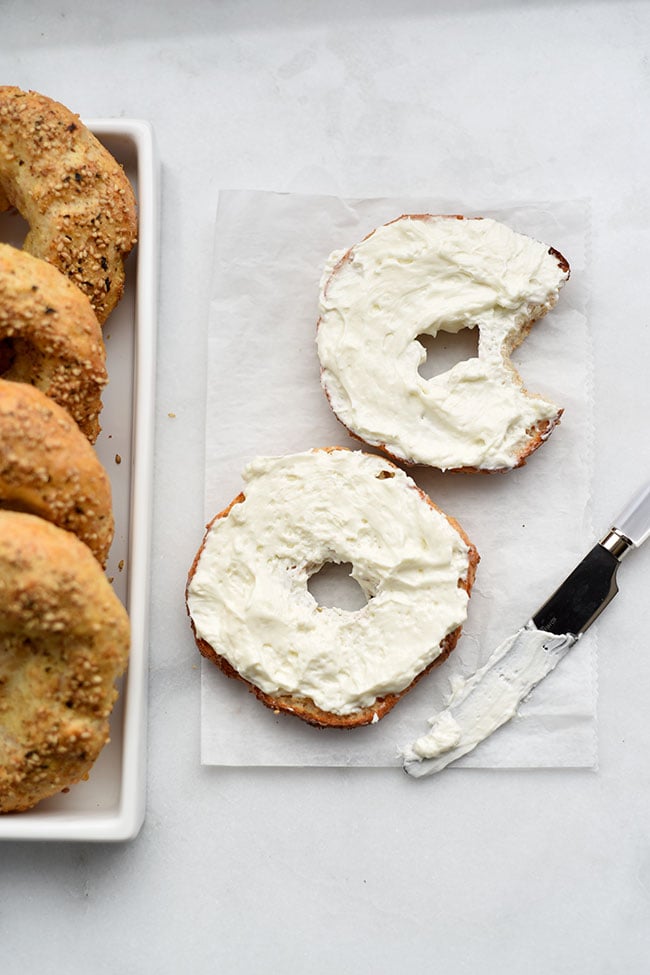 I love a hearty layer of whipped cream cheese.
For healthier toppings, you can go with avocado, egg white, light cream cheese or even just just a sprinkle of cheddar cheese and then toasted is good.
I also love these bagels topped with cream cheese, smoked salmon (lox), fresh dill and sliced red onion. Capers too if I want to get really fancy. So rich and delicious!
Shown here is one of these baked bagels topped with a poached egg. (You can learn how to poach an egg here.)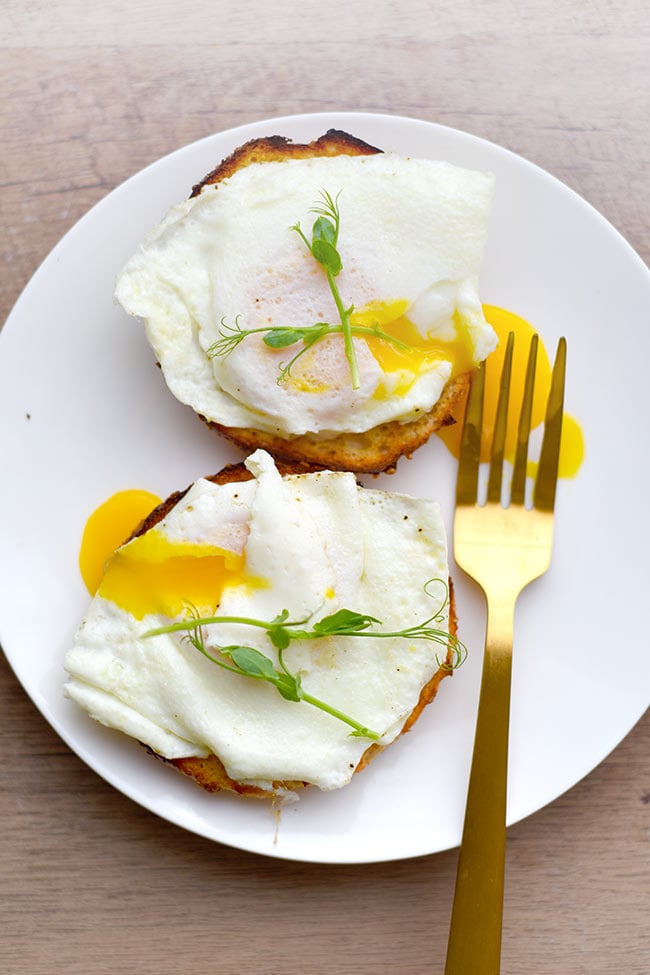 What's best, all purpose flour, bread flour or almond flour?
All Purpose Flour
This is the most common flour people have on hand and it works great to make these bagels. The dough is easy to work with and the texture is dense yet airy.
Bread Flour
Bread flour is the best choice for making these. However, it's not common that you stock this in your pantry unless you make a lot of homemade bread. When you use bread flour, your bagels will be chewier and more like a traditional bagel. So if you have time and space in your pantry to get this special flour, you'll get the best results.
Almond Flour
Almond flour is going to be a great gluten-free option and will produce a lower carb bagel. The texture is going to be more grainy and has a flavor that's different than a typical bagel. To me it has a cheesy flavor to it. Not bad! But just different than what you expect from a bagel. You also need TWICE AS MUCH almond flour as you do bread or all purpose flour.
You can also try a half and half blend of regular flour and almond flour. Just keep in mind, you'll need substitute twice as much almond flour as regular flour to make these come together.
Do you recommend using bread flour then?
Yes. I do. Bread flour creates a chewier texture than all purpose flour which makes these taste more like a traditional bagel. However, if you don't have time to run to the store or don't want another bag of flour in your pantry, all purpose flour works well too.
Could you use self-rising flour?
I have heard you can and eliminate the need to add baking powder. I have not tried it myself though so please comment if you have and let me know how it turned out. My concern would be, these require a lot of baking powder to puff up, so there may not be enough in self-rising flour.
How does the nutrition vary based on type of flour used?
Greatly! Check out this comparison I created using Nutrition facts generated but ReciPal. This recipe is shown made with bread flour vs. almond flour vs. a Lender's brand bagel for comparison. Please note nutrition facts may vary by brand of ingredients used. To generate your own brand-specific nutrition facts, go to ReciPal.com.
Note: All purpose flour results not shown but do vary most significantly by calories (190), carbs (35g), fiber (0g), and protein (9g).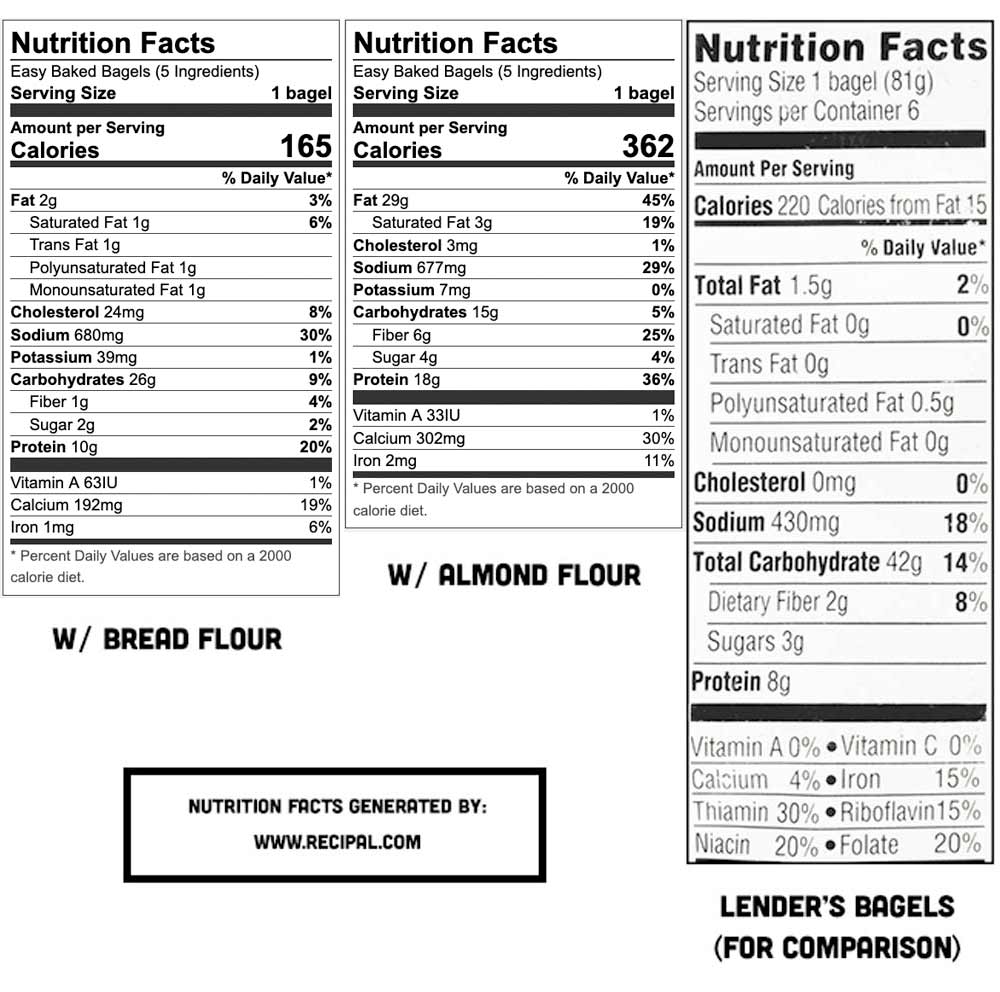 Helpful tools for making these bagels
You really don't need anything special to make these other than a little bold confidence and trust. It does help if you have silicon baking sheets or parchment paper though.
Watch the how-to video to see how to make these step-by-step:
Other Breakfast Ideas
Are you a breakfast person? Browse all my breakfast recipes
These 5 ingredient easy baked bagels were featured on Make Life Pretty, Wow Me Wednesday and South your Mouth!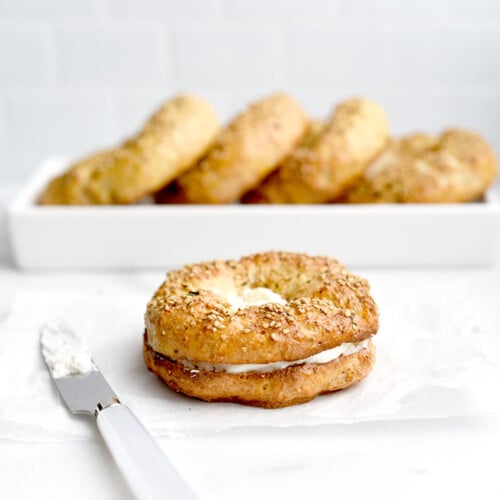 Easy Baked Bagels (5 Ingredients)
Homemade bagels. Easy? Yep! It's true. Just 5 ingredients is all you need to make these baked bagels. Lower your carbs and get some protein plus flavor with the help of Greek yogurt.
Read Comments
Print
Pin
Rate
Ingredients
2

cups

bread flour

recommended -or- all purpose flour -or- 4 cups almond flour

4

teaspoon

baking powder

1 ½

teaspoon

salt

2

cups

plain Greek Yogurt

1

egg

Topping ideas: Everything bagel topping

dried onions, poppyseeds, sesame seed, salt, etc.!
Instructions
In a large bowl, whisk together flour, baking powder and salt.

Add Greek yogurt and blend just until lumpy dough forms. *Do not over mix the dough or this may result in flat bagels*

Divide dough into 8 equal parts.

Grab the first chunk of dough and roll it around using your hands, pressing it together to compact it. Then poke a hole in the center and gently squeeze the dough all the way around to enlarge the circle. The hole in the center should be about 2" wide.

Place the bagel-shaped dough onto a lined lightly floured baking pan. Repeat until all bagels are formed and placed onto the baking sheet, leaving space between each so they have room to expand. I put four bagels on each baking sheet.

In a small bowl or cup, beat the egg then brush it onto each bagel. Add your toppings.

Bake on the upper rack at 400˚ in preheated oven for 20 minutes or until lightly golden brown. Remove from oven and cool for about 5 minutes before cutting. Toast and add toppings as desired.
Notes
You can mix extras like cheese or dried fruit (dried onion, cranberries, blueberries, raisins, cinnamon sugar, etc.) right into the dough before baking to create different flavors of bagels.
Nutrition Facts
Serving:
1
bagel
|
Calories:
159
kcal
|
Carbohydrates:
26
g
|
Protein:
10
g
|
Fat:
2
g
|
Saturated Fat:
1
g
|
Polyunsaturated Fat:
1
g
|
Monounsaturated Fat:
1
g
|
Cholesterol:
3
mg
|
Sodium:
678
mg
|
Potassium:
38
mg
|
Fiber:
1
g
|
Sugar:
2
g
|
Vitamin A:
33
IU
|
Calcium:
189
mg
|
Iron:
1
mg
Follow Mighty Mrs. for more easy recipes!
Find @MightyMrs on Pinterest