Coffee cake with cinnamon crumb topping is such a classic brunch dish. You won't believe how easy it is to make with a box mix.
This post may contain affiliate links. As an affiliate, I earn a commission.
Jump down to Recipe
You're going to love this easy cake mix coffee cake recipe. I have two swaps for you also in case you want to make it a little healthier.
Imagine this: It's Saturday morning and you have nowhere to go. You're wearing your favorite pair of fuzzy socks. There's a cup of freshly brewed coffee sitting on the table and next to it is a big slice of fresh-baked coffee cake. You with me?
Now, let's take it one step further and imagine that this coffee cake has the most perfect crumble topping... AND it's lightened up. So the size of your slice (remember, it's BIG) is totally justifiable. Sound too good to be true? It's not! It's entirely possible with a few strategic ingredient swaps.
Wanna know what they are?

I really love using oil when baking because it's one of the secrets to a very moist and delicious cake.
Swap #1 - Substitute 1 or more eggs with nonfat Greek yogurt.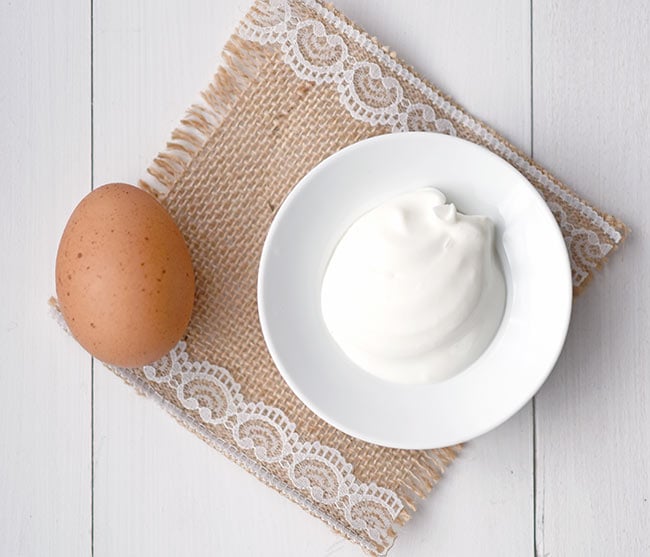 Greek yogurt contains protein, calcium and potassium, is a lot lower in cholesterol than an egg, and is fat free assuming you buy the 0% fat yogurt. At a ¼ cup yogurt to 1 egg substitution ratio, you can successfully swap out as many eggs as you want.
If you or someone you know has an egg allergy, then try this swap! I personally like the flavor and texture the yogurt adds but we don't have any egg allergies so I like to just swap out one of the eggs for the health benefits and keep the other two for the fluffy qualities the egg provides.
If you swap all your eggs for yogurt, you can expect a more dense yet very moist cake.
Swap #2 - Substitute pudding mix with applesauce.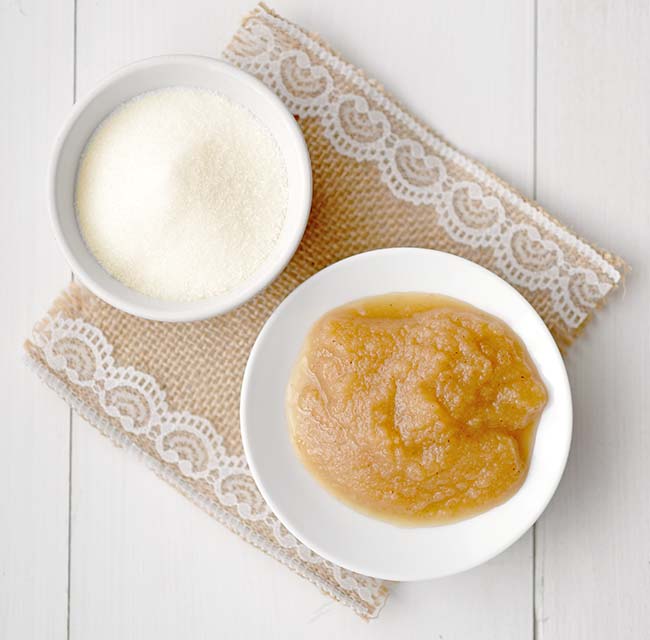 One of the typical ingredients you'll find in homemade coffee cake is a pack of pudding mix. It adds an extra layer of flavor however, if you want a healthier choice that adds flavor as well as vitamins and fiber, then applesauce is a great swap. It enhances the overall flavor of the cake, compliments the cinnamon, all while adding moisture.
So those are some of my favorite easy swaps for lightening up your coffee cake. You can use these swaps in other cooking as well.
Now, let's talk about the crumble.
My favorite part! I'm guessing maybe yours too??
There's a trick I have to getting perfect crumble. I've tried a number of coffee cake recipes and I've learned that when you cook your crumble with the cake, the sugar crystallizes and forms a crunchy layer between the cake and the crumble. I'm not a fan of the crispiness when everything else is light and fluffy and soft.
So, this cooking method takes a little bit extra effort and careful timing but I think it's worth it. If you're in a hurry and you don't mind the crunchiness, go ahead and cook your crumble on top of your cake. If you want crumble perfection though, follow the steps in the recipe and I think you'll find this different cooking method makes the cake a whole lot more delicious.
If you've followed this blog for awhile, you'll know I'm all about easy recipes. So for me to ask you to take an extra step in the cooking process, it has to be really worth it! Plus it truly only adds a couple minutes to whole process so you'll still have a cake ready to eat, in less than 30 minutes.
Leave me a comment and let me know which cooking method you tried and if you went the extra mile for that perfect crumble or if you baked the crumbs right on top. I also want to hear what you thought of the swaps? My kids and hubby approved this recipe, so my hunch is you're going to enjoy this lightened up coffee cake just as much as any other! 🙂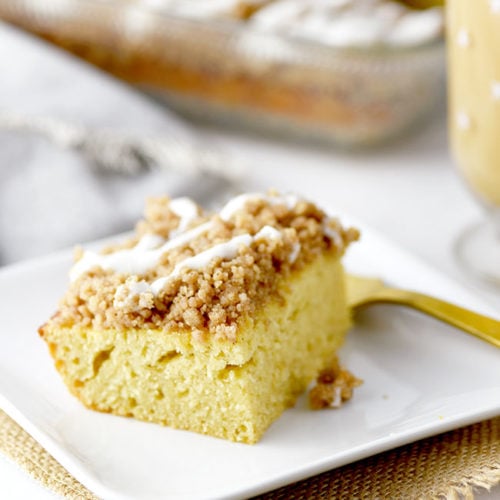 Easy Cake Mix Coffee Cake
Coffee cake with cinnamon crumb topping is such a classic brunch dish. You won't believe how easy it is to make with a box mix.
Read Comments
Print
Pin
Rate
Ingredients
1

box

vanilla cake mix

2

eggs

¼

cup

Greek yogurt

or 1 additional egg

⅓

cup

Mazola Corn Oil

4

oz

applesauce

or 3.2oz pack of instant pudding

2

teaspoon

cinnamon

½

cup

water
CRUMB TOPPING
½

cup

flour

¼

cup

brown sugar

2

teaspoon

cinnamon

4

tablespoon

chilled butter

cubed
ICING
1

cup

powdered sugar

1

teaspoon

vanilla

3-4

teaspoon

milk
Instructions
Using a hand mixer, in a large bowl, mix together cake mix, eggs, yogurt (or extra egg), corn oil, applesauce (or pudding packet), cinnamon and water. Beat until just blended.

Pour cake batter into a greased 9x12 pan. Bake at 350˚ for 18-22 minutes or until a toothpick poked through the center comes out clean.

While cake is baking, get a new bowl or clean the batter bowl, and mix together flour, sugar, brown sugar, cinnamon and cubed butter using an electric mixer. Beat on a high speed until big crumbles form. About 2-3 minutes of mixing.

Immediately spread out crumbles on a baking sheet. Put the baking sheet in the oven along with the cake, on a different rack. Bake for 4 minutes then remove from oven and scrape crumbs back into the bowl. Lightly beat the cooked crumbles using the mixer to break them up. Carefully sprinkle cooked crumbles on top of the cake so that they cook on top of the cake the last 4 minutes of baking. When done, remove coffee cake from oven and let cool.​

Prepare the icing by beating powdered sugar, vanilla extract and milk together in a bowl.

To pipe the icing onto the cake, fill a plastic sandwich bag with icing and cut a small hole in the corner. Squeeze the bag of icing over the cake in a zig zag fashion.

Cut cake into 12 squares and serve warm or make ahead the night before and seal with plastic wrap once cooled until morning.
Nutrition Facts
Calories:
344
kcal
|
Carbohydrates:
55
g
|
Protein:
4
g
|
Fat:
12
g
|
Saturated Fat:
4
g
|
Polyunsaturated Fat:
2
g
|
Monounsaturated Fat:
5
g
|
Trans Fat:
1
g
|
Cholesterol:
38
mg
|
Sodium:
347
mg
|
Potassium:
68
mg
|
Fiber:
1
g
|
Sugar:
34
g
|
Vitamin A:
163
IU
|
Vitamin C:
1
mg
|
Calcium:
118
mg
|
Iron:
1
mg
Follow Mighty Mrs. for more easy recipes!
Find @MightyMrs on Pinterest