This post may contain affiliate links. As an affiliate, I earn a commission.
Jump down to Recipe
Guys, homemade chocolate chip scones. They're so easy to make! I never knew.
Lightened Up and Super Simple to Make
What's different about these chocolate chip scones from all the other recipes out there? Well, these taste amazing and they're pretty healthy. I mean, healthier than a donut.
These scones have a touch of maple syrup and cocoa powder for extra flavor. You can make these with or without the cocoa powder though if you don't have it on hand. It's good both ways and produces a different looking scone each way. You'll see the difference in the recipe photos.
I made about a hundred scones in an attempt to come up with the best scone recipe to share with you all. I think you will love how these melt in your mouth. They are overly sweet too so they make a great sweet breakfast that isn't as heavy as typical pastries.
These scones make a great after school snack, or brunch item too!
Everything You Need to Make these Scones
Scones can be made with pretty common ingredients you likely already have in your pantry. So, if you get the urge to do some baking, chances are you might not even have to make a special trip to the store.
You'll need: flour, mini chocolate chips, butter, vanilla, maple syrup, eggs, sugar, and powdered sugar and milk to make a quick icing.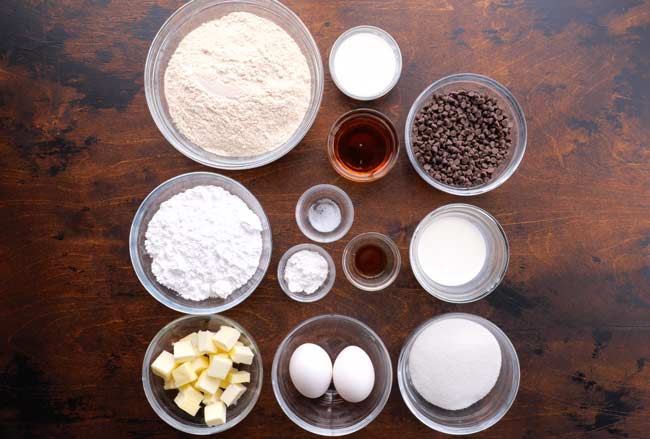 Melt in Your Mouth Delicious
You'll see that this scone recipe calls for whole wheat flour, a little maple syrup, and a little cocoa powder… a powerful little trio of ingredients that give these scones a lot of flavor without a lot of sugar or butter.
The best part about these scones is that they melt in your mouth. They are dry as a scone should be, but slightly chewy and once you take a bite, they melt. Mmmm! Can't wait for you to try them!
I love the texture of an authentic scone
So, my other source of inspiration was Amy's Healthy Baking triple chocolate scones. I love Amy's recipes because she finds clever ways to make sweets, much, much healthier. So definitely check her out if you love sweets but don't love all the calories.
I did try Amy's version with Greek yogurt and they were good, the kids ate them and they got good reviews from the neighbors. But for me, I was really going after that traditional dry, crumbly texture. So that's how I finally landed on the recipe below without any Greek yogurt, but still pretty healthy. It's healthier than the traditional scone recipes you'll find but you won't sacrifice flavor or texture.
What would the perfect scone be like?
A perfect scone in my mind should be dry with a slightly soft center, somewhat crumbly but holds together and has a buttery taste to it when it hits your taste buds. Scones in general are typically lightly sweetened so aren't as heavy as other pastries but can be covered with a light glaze to add sweetness.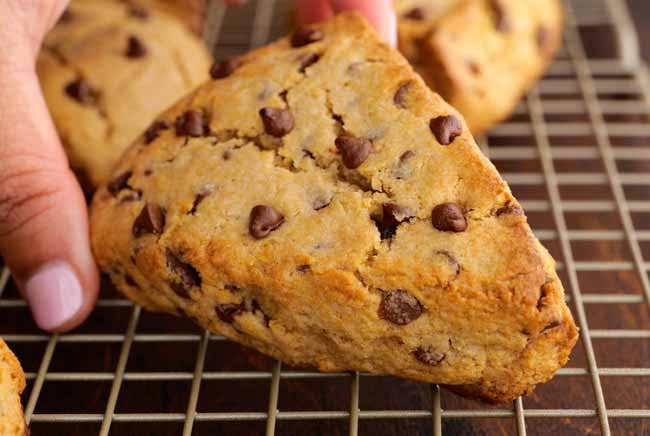 Tips for Success on the First Try
Make sure you're using parchment paper to line your baking sheet or silicon baking sheets – I love, love, love my silicon baking sheets and use them all the time. I haven't had burnt bottoms in years and they are less hassle and obviously reusable as compared to parchment paper. If you don't have them, I recommend buying them as a set with a baking pan otherwise you can run into issues with them fitting (or not fitting as the case may be) into your baking pan.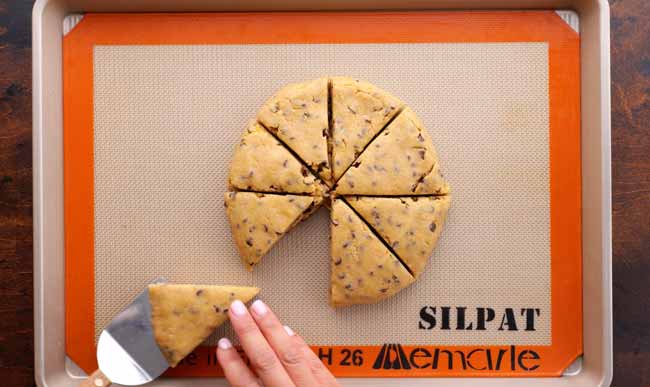 Or if you'd rather skip the whole cutting of wet dough part, you can just use a portioned scone pan. Less dishes too! Win. Check out this cute ceramic scone pan if that's more your style. Make sure to heavily grease this type of pan though since you can't use a liner.
You'll need to gather your dough. Scones are dry by nature. That's part of their charm and what creates that melt-in-your-mouth effect. This does, however, make the dough very dry and will seem a but unusual if you're used to other types of dough. At the final stage, after adding the chocolate chips, the dough will still appear crumbly. Using your hands, you will need to gather up the crumbs and press them together until you form a ball of dough. Then you'll be able to press the ball flat and ultimately cut it before baking it.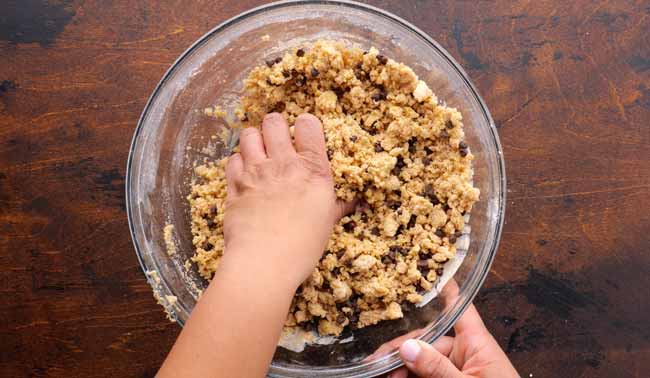 How to tell when the scones are done. This is tricky! They don't puff up as much as other pastries so the best way to tell if they are done is to look for a touch of golden brown color. This is hard when you're using cocoa powder though since that tint the color of the dough. So, the next best tell is to tap them with a fork and if they sound hollow, this indicated they are done. You want to be careful not to over cook them or they will become too dry, crunchy and not at all soft in the center.
Are scones supposed to be hard or soft?
Unlike biscotti, scones are really not supposed to be hard. They are dry, yes. But soft in the center, and the outside should be firm but not crunchy.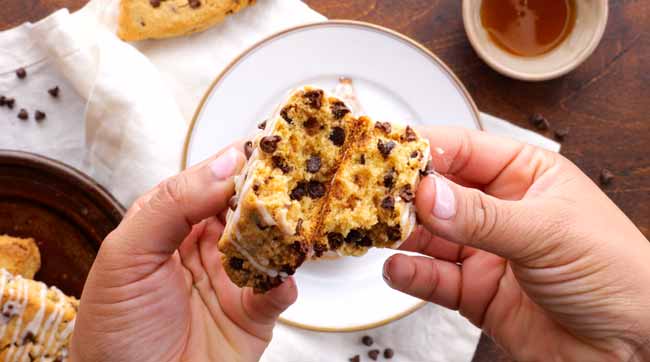 Biscotti, for comparison, is intentionally hard and dry because it's meant to be somewhat re-hydrated by dipping it into your coffee. Many times they have chocolate icing that melts into your coffee. If you want to try making biscotti, you can check out my easy chocolate almond biscotti recipe.
Double chocolate, optional.
I love just a hint of cocoa powder in these. It gives the dough a richer flavor. However, it's an extra ingredient you might not have on hand. So it's totally fine to completely leave it out. No adjustments needed.
Icing Optional
You can drizzle, you icing on using a piping bag or you can submerge your cooled scones in icing for more of a glazed finish. You can also enjoy these cones without icing. They are still very yummy on their own. Your choice!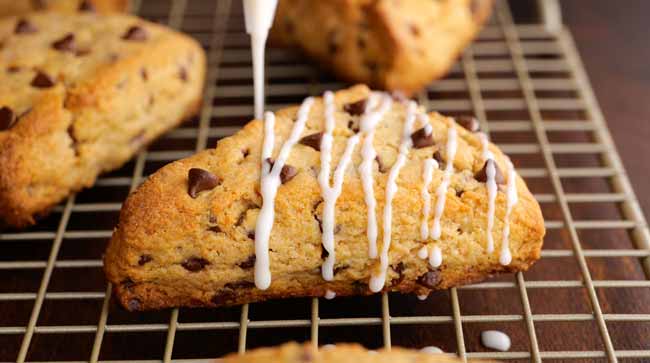 Want more easy breakfast ideas?
Browse all my delicious breakfast recipes
Easy Chocolate Chip Scones
These scones have a touch of maple syrup and cocoa powder for extra flavor. You can make these with or without the cocoa powder though if you don't have it on hand. It's good both ways and produces a different looking scone each way.
Read Comments
Print
Pin
Rate
Ingredients
2

cups

white whole wheat flour

1 ½

tsp

baking powder

2

tsp

cocoa powder

optional

Dash of salt

6

tbsp

butter

chilled and diced

2

egg yolks

2

tbsp

maple syrup

½

cup

sugar

¼

cup

half and half

¾

cup

mini milk chocolate chips
Icing (optional)
1

cup

powdered sugar

½

tsp

vanilla extract

1-2

tbsp

milk
Instructions
In a large bowl, mix together flour, baking powder, salt and cocoa powder.

Using your hands, press and knead diced butter into the dry ingredients until butter has combined with the flour.

Add egg yolks, maple syrup, sugar, and half and half. (You can also use milk to lighten up the recipe or go heavier and use cream.) Stir until wet and dry ingredients are well combined and saturated. Dough may still be crumbly.

Finally mix in the chocolate chips. If you'd like a polka-dotted look to your scones, set aside some chocolate chips to press into the top in a minute.

Gather the dough with your hands and knead it into a ball. Press the dough ball flat between your hands forming a circle that is less than 1 ½" thick. Place the flattened circle of dough onto a lined baking sheet and slice the dough like a pizza, into eight slices.

Spread out the slices to leave room for each scone to expand. If you want that polka-dotted look, press your reserved chocolate chips into the tops of your scones.

Bake at 400˚ for 20-25 minutes or until edges just start to turn golden brown.

To avoid over-cooked bottoms, remove scones immediate from the baking sheet and transfer to a cooling rack. Or carefully lift your silicon/parchment paper liner with scones from the hot pan and place onto a cool surface.

If topping with icing, beat together powdered sugar, vanilla extract and milk in a bowl using a whisk or hand mixer until combined. Pour over or pipe icing onto cooled scones using a sandwich bag with the corner cut to form a small dispensing hole.
Notes
The dough is very crumbly and dry. It does come together eventually. Don't give up! Keep mixing until you get to the gather stage and then use your hand to press the crumbles together to form the final dough before baking.
Nutrition Facts
Serving:
1
scone
|
Calories:
347
kcal
|
Carbohydrates:
49
g
|
Protein:
6
g
|
Fat:
15
g
|
Saturated Fat:
9
g
|
Polyunsaturated Fat:
1
g
|
Monounsaturated Fat:
3
g
|
Trans Fat:
1
g
|
Cholesterol:
77
mg
|
Sodium:
172
mg
|
Potassium:
66
mg
|
Fiber:
4
g
|
Sugar:
26
g
|
Vitamin A:
392
IU
|
Vitamin C:
1
mg
|
Calcium:
106
mg
|
Iron:
1
mg
Want more easy recipe ideas?
Follow @MightyMrs on Pinterest