These oven-fried country ham steaks are quick and easy to make starting with sliced ham. Top with white gravy and serve with a vegetable or salad for a complete dinner.
This post may contain affiliate links. As an affiliate, I earn a commission.
Jump down to Recipe
This recipe was developed in partnership with Smith's.
These oven-fried country ham steaks are quick and easy to make are so tasty too!
Start with sliced ham steaks that are already cooked, then just add a coating of breadcrumbs and bake! Or get them extra crispy in the air fryer.
Topped with a simple homemade white country gravy! Serve with mashed potatoes and a vegetable or side salad for a complete meal. A great easy dinner idea.

A New Look for Ham
When you love the ease of cooking ham for dinner, but are getting a little tired of the same-old, same-old...
Put a new spin on things! Why not add a crunchy coating? All the other meats are doing it. Why should ham get left out of the fun?
Ham steaks are already cooked.
Which is the first win in my book when it comes to a ham dinner. Ham steaks come sliced and ready to eat. If you want to enjoy them warm, just have to heat them up. It's almost too easy!
Dressing Up Your Ham
So, why not take the extra time you're saving by not having to truly cook the main course, and add some pizazz to these tasty ham steaks? This is where the crunchy coating comes in. Ham is great, don't get me wrong, but it's always been kinda just... plain!
I'm all for a good ham glaze. And anyone who knows anything, knows that pineapples and ham are just made for each other. There traditional ways to dress up a ham are not bad but any means. But what about something a little outside the norm? Something with some texture?
Texture is a secret food weapon.
You know that first bite into a crispy chicken wing or a juicy piece of fried chicken or a breaded mozzarella stick? That's the kind of thing we're after here. Something new and different. Ham in all its glory, but with an unexpected yet familiar texture. Something crispy, crunchy, and something to make our mouths happy!
Why are we oven frying these ham steaks?
You could pan fry these if you'd like. I lean toward developing recipes that are on the healthy side and since you can still get a nice crisp from the oven, that's my preferred method for "frying" these breaded ham steaks.
You can also air fry these as well if you have an oven with a built-in air fryer.
Try topping these oven-fried ham steaks with white gravy!
These ham steaks are next level when you top them with white country-style gravy. Follow this recipe for white sauce and add a pinch of cayenne pepper (optional for some spice) and black pepper to taste. Simple yet so rich and delicious!
What side dishes goes well with oven fried ham steaks?
Thought you'd never ask.
I love ham with mashed potatoes. I think white gravy works well when you're serving ham. So you can opt for plain mashed potatoes with white gravy, or have some fun and try my sour cream and chive whipped potato recipe.
I also really love brussels sprouts or peas with ham.
Shredded brussels spouts are amazing and although involve the extra step of shredding them (you can use a food processor), they take way less time to cook. To cook shredded brussels sprouts, just toss them in a little grape seed or olive oil and sea salt and then pan fry them or spread them out on a baking sheet and bake them at 400˚until they are light golden brown.
Want more easy dinner ideas?
Special thanks to Smith's!
Smith's, headquartered in Erie, PA has graciously allowed Mighty Mrs. to publish this recipe in order to inspire families with new ways to cook their prepared meats. You can show your gratitude and support by connecting with Smith's on Facebook: facebook.com/smithshotdogs and on Instagram: instagram.com/smithshotdogs. If you're located in the tri-state area, you can find Smith's meats at your local grocer or chain retailer. Visit Smith's website site for a complete list of locations.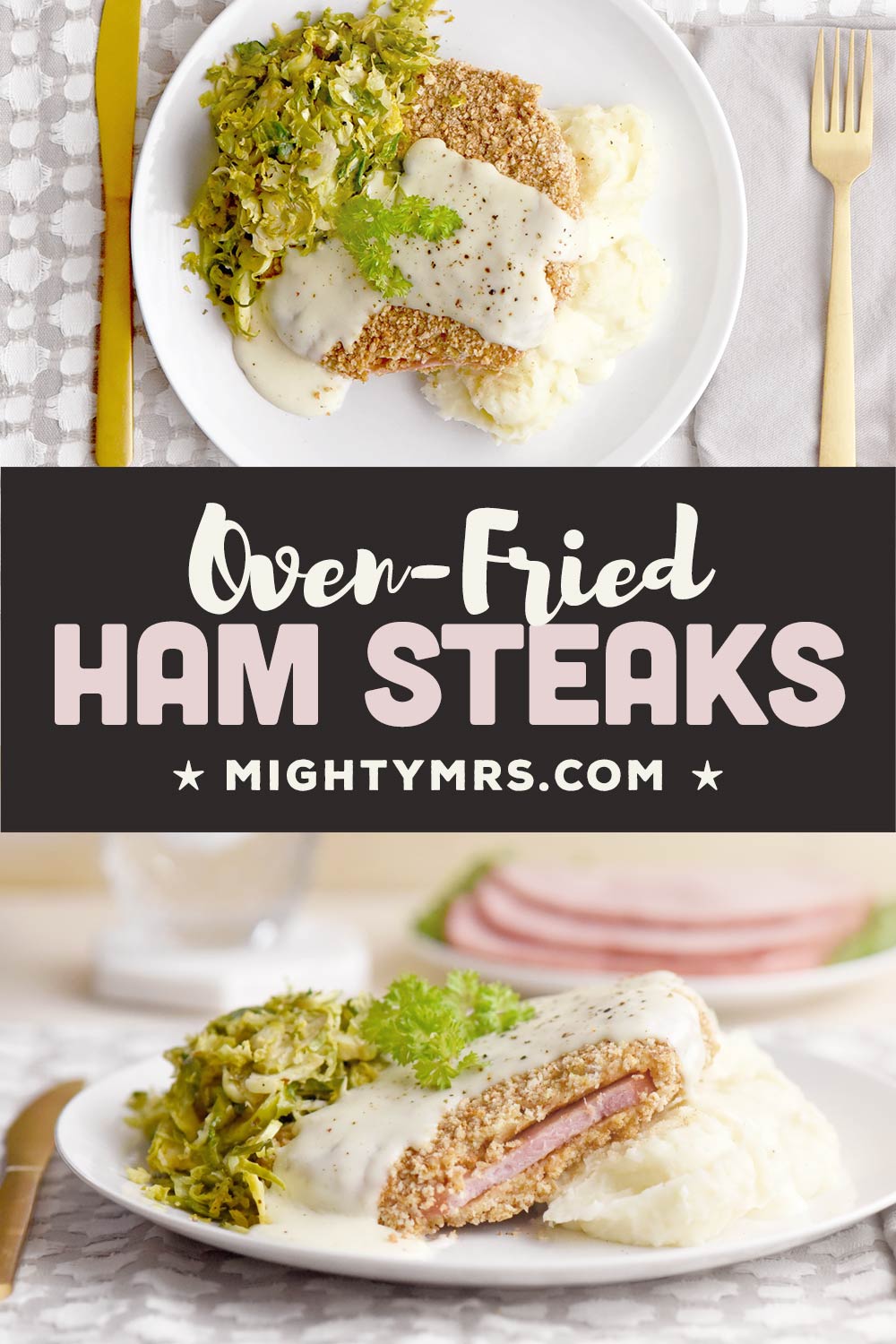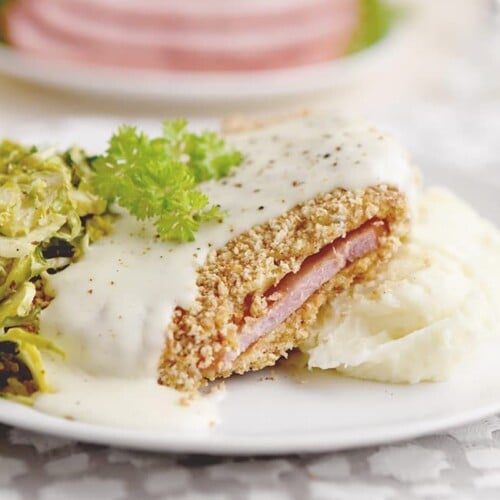 Oven-Fried Ham Steaks
These oven-fried country ham steaks are quick and easy to make starting with sliced ham. Top with white gravy and serve with a vegetable or salad for a complete dinner.
Read Comments
Print
Pin
Rate
Ingredients
3

Smith's ham steaks

1

cup

panko crumbs

1

teaspoon

smoked paprika

1

teaspoon

garlic powder

½

teaspoon

cayenne pepper

1

teaspoon

salt

½

cup

flour

3

eggs

eggs

1

tablespoon

milk

2

tablespoon

butter

1

cup

white sauce
Instructions
Add panko crumbs, smoked paprika, garlic powder, cayenne pepper and salt to a large bowl and whisk together.

Prepare a separate bowl or dish with just flour.

In another medium bowl, beat eggs together with milk.

Take each ham steak and coat it in flour. Next coat the floured ham in the egg wash. Finally coat it in seasoned panko crumbs.

Lay the coated ham steak on a lined and generously greased (with butter) baking pan. Bake at 425˚ for 18-22 minutes or until crumbs are golden brown.

Top ham steaks with white gravy before serving.
Nutrition Facts
Serving:
1
ham steak
|
Calories:
854
kcal
|
Carbohydrates:
34
g
|
Protein:
80
g
|
Fat:
42
g
|
Saturated Fat:
16
g
|
Polyunsaturated Fat:
7
g
|
Monounsaturated Fat:
16
g
|
Trans Fat:
1
g
|
Cholesterol:
1026
mg
|
Sodium:
4205
mg
|
Potassium:
1174
mg
|
Fiber:
2
g
|
Sugar:
3
g
|
Vitamin A:
2021
IU
|
Vitamin C:
73
mg
|
Calcium:
196
mg
|
Iron:
9
mg
Follow Mighty Mrs. for more easy recipes!
Find @MightyMrs on Pinterest