Here's an easy dinner idea! Chicken Taquitos made with chicken, taco seasoning, cream cheese and green chilis for a hint of spiciness, all rolled up in flour tortillas. Baked or air fried until crispy. Add taco toppings if you want or not! These chicken taquitos are easy to make and are freezer-friendly too.
This post may contain affiliate links. As an affiliate, I earn a commission.
Jump down to Recipe
★ Why You'll Love this Recipe ★
These 5-ingredient homemade chicken taquitos can be baked in the oven or use your air fryer for a quick and easy yet delicious dinner.
Add toppings if you'd like. Anything you would put on a taco works great!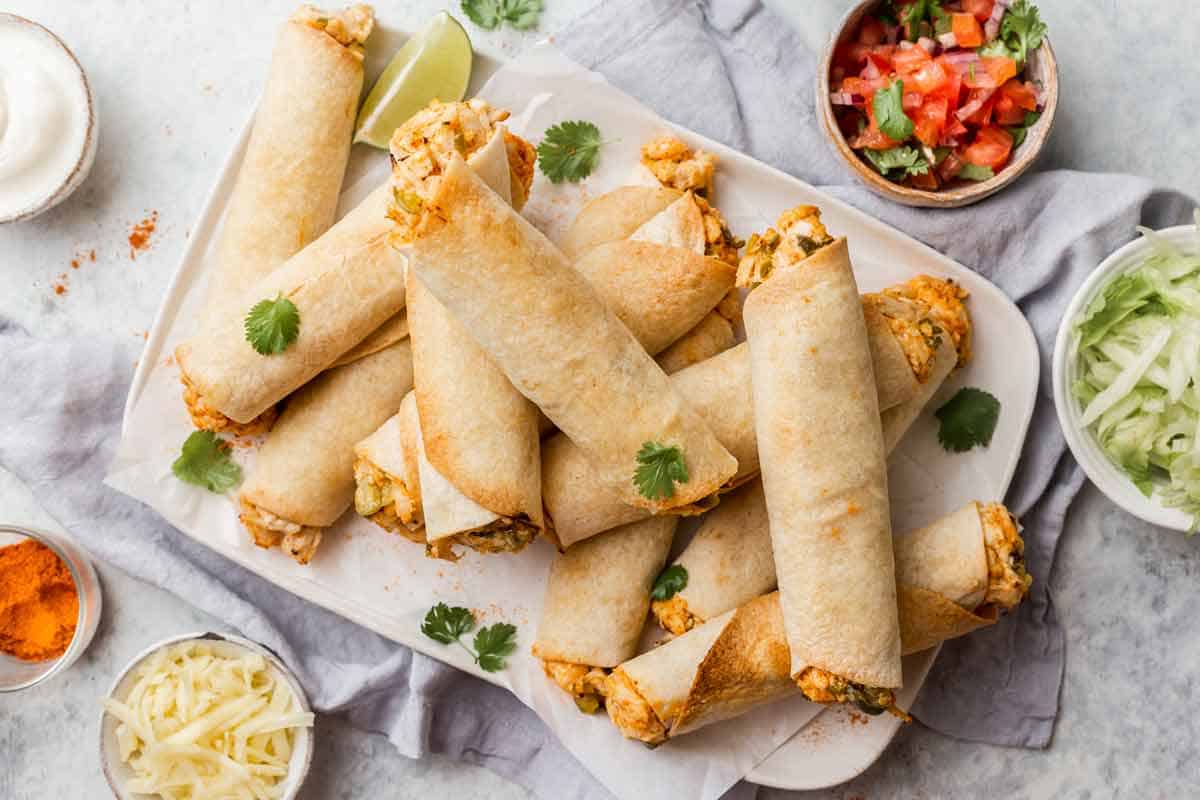 These taquitos are freezer-friendly so you can make them ahead to take to work or to heat for a meal on the go.
★ Ingredients You'll Need ★
You'll need just 5 basic ingredients to make these chicken taquitos, plus any toppings you'd like.
Here are the main ingredients:
Chicken. You can use any cooked chicken. Leftover chicken works great, grill some chicken, grab a rotisserie chicken, or pop open a can of chicken. Whatever your style, just make sure it's already cooked.
Taco seasoning. This is what you'll use to season your chicken and maximize the flavor of these taquitos.
Green chilies. A Mexican staple. This adds a touch of spiciness. Add the whole can, liquid and all.
Cream cheese. This makes the taquitos stay together and adds a rich creaminess. Win-win! I prefer to use whipped cream cheese for easy mixing but you can use block cream cheese, you just may need to use an electric mixer to blend everything together.
Toppings are optional by highly encouraged!
Here are topping ideas:
Shredded iceberg or romaine lettuce, pico de gallo or salsa, cheddar cheese, fresh authentic Mexican cheese like cotija, and/or or sour cream.

You can top things off with hot sauce if you want some extra heat.
★ How to Make this Recipe ★
Here are the basic step to making these yummy chicken taquitos. (Full recipe below)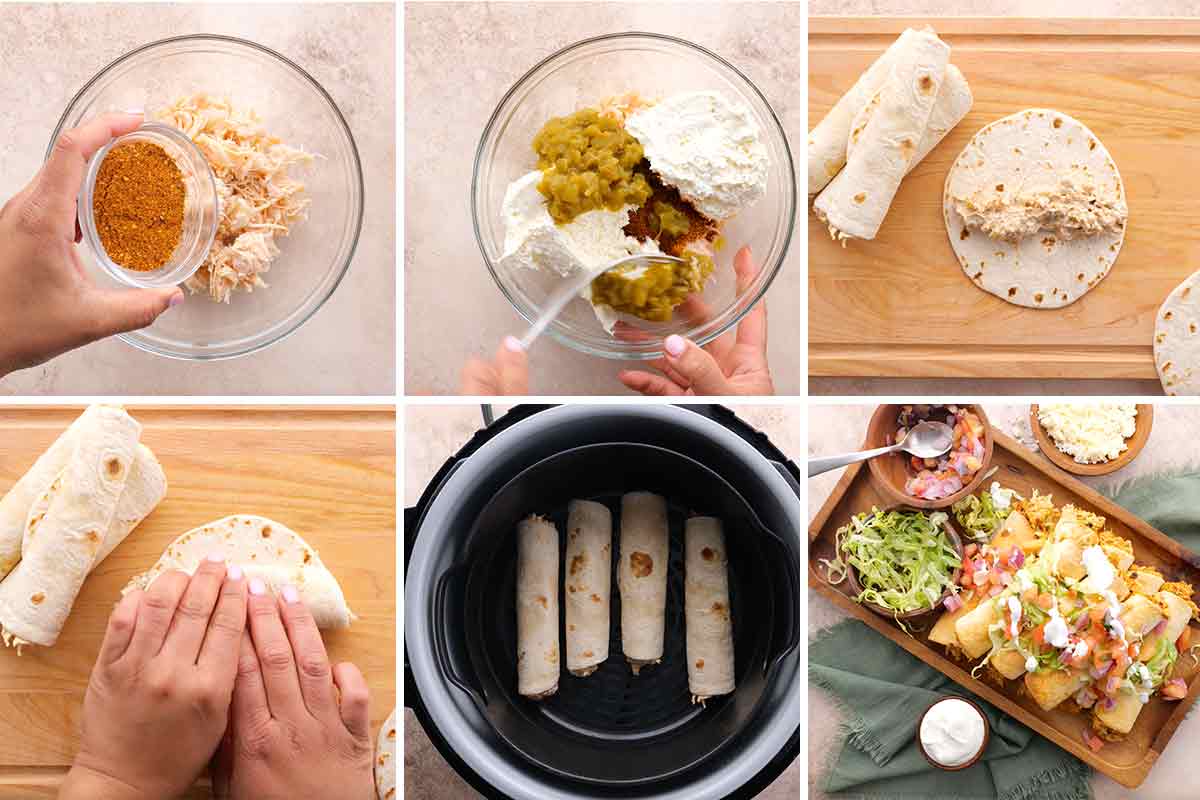 Start with cooked chicken, add in taco seasoning, cream cheese and green chilis for a little kick.
Spread that yummy mixture onto a flour or corn tortilla and roll it up.
Brush with butter or oil (optional for extra crispy shells) then bake or air fry those babies to a golden crisp. Enjoy plain or topped with your favorite taco toppings.
★ Tips & FAQs ★
What kind of cooked chicken is best?
Really, whatever works for you. You can toss some chicken into the crockpot, Instapot, or broil your own chicken and shred or chop it.
You can also save time by buying pre-cooked chicken.
I love picking up a freshly cooked rotisserie chicken and using that. They're so moist and flavorful and I also like putting the leftover bones to use.
Canned chicken great works too. If you've ever been like, "what could I possibly I do with canned chicken?" This recipe is honestly perfect. You want the chicken to be shredded and spreadable so the texture of canned chicken works really well for these taquitos. Just drain the chicken, and follow the recipe. Couldn't get easier. ½ cup is equal to 4oz of chicken.
Choose what type of chicken works best for your lifestyle and your taste buds.
These chicken taquitos can be oven baked or air fried.
If you have an air fryer, go ahead and use it! Directions are the same for oven or air fryer. However, you may need to add a few minutes to your bake time to get these extra crispy. Keep an eye on them if you're oven-baking and pull them when they look golden brown.
What I love about my air fryer (that also a toaster oven) is that you get wire baskets to cook things in. So all sides of your food get cooked evenly without having to flip anything over.
Don't have an air fryer yet but thinking about getting one? There are lots of options. You can get an air fryer that does just air frying. Or you can get a toaster oven that's also an air fryer, or you can even buy a full sized oven with an air fryer now.
Check out the options if you're curious. Shop Amazon for air fryers
Not interested in an air fryer? No worries. You can bake these chicken taquitos in the oven and still get a nice crisp. You don't have to flip them, but if you want to try and crisp them on both sides, go ahead and turn them over half way through baking.
Try different toppings!
What I love about these taquitos is that they are really good just on their own. They are a great little on-the-go meal because you can eat them in the car without a big mess if you have a busy evening.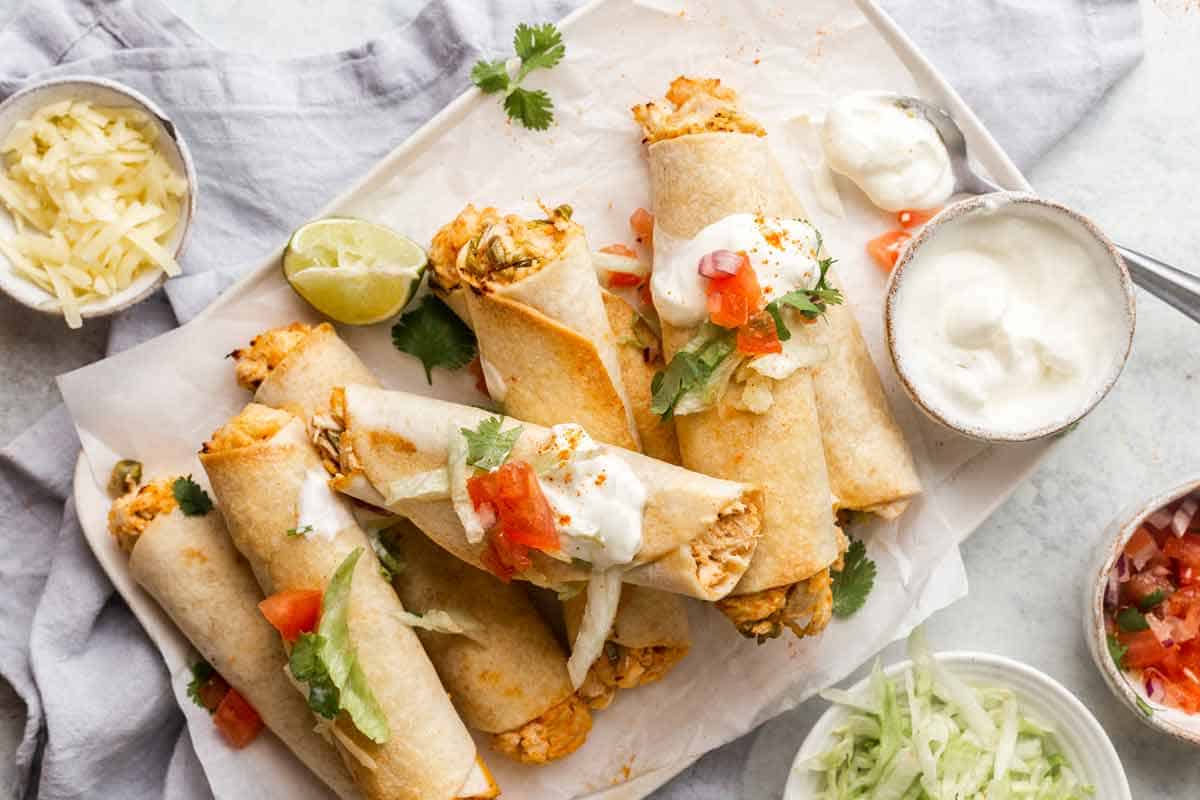 However, if you have more time and want to make these into a family-style dinner, then try adding some toppings. Anything you'd put on a taco works.
My favorite toppings are: lettuce, shredded cheddar cheese, pico de gallo, sour cream and hot sauce.
Ideally you'll want to use flour tortillas.
Corn tortilla are difficult to work with and they will crack when you attempt to roll them up because they are thick and pretty dry.
If you really prefer the taste of corn tortillas and are willing to do a little prep work, then here's what I would recommend: wrap each corn tortilla individually in a wet paper towel and warm each one up in the in the microwave for about 5-10 seconds before you fill and roll it up. Heat and moisture will help you roll the corn tortillas. Be sure to place the rolled and filled taquitos seam-side down so that they don't unfurl before they cook.
What size flour tortillas are best?
There are so many sizes to choose from when it comes to tortillas! Why? I don't know!
Luckily, you can choose any size for this recipe. I typically make these taquitos with the medium sized flour tortillas. However, you can use the small, medium or large sized tortillas, you'll just have to divide up the filling a bit differently. Cook time should be pretty similar but keep an eye on them as they cook. You'll know they are done when they are golden brown on the edges.
Are these chicken taquitos freezer friendly?
Yes. I recommend freezing them before you bake or air fry them or add toppings.
So fill and roll them up, wrap in plastic (or try a reusable wax wrap) then freeze them.
Let them thaw to room temperature then bake or air fry as directed. Or you can bake them frozen and add a few extra minutes for them to thaw as they cook.
Make-Ahead & Refrigerate or Freeze
You can make these taquitos ahead of time for the week and keep them in the fridge to bake and eat later. Be sure to wrap them in plastic wrap tightly before storing.
These chicken taquitos keep well in the fridge for about 2-3 days but can get a touch soggy after awhile so you may need to add a minute or two of extra bake time if you see they aren't getting crispy with the normal bake time.
You can also freeze these for up to 2 months. Freezing individual taquitos makes for a great grab-and-go lunch. These can be heated in the microwave if you don't have access to a toaster oven.
Try these with beef instead of chicken.
You can substitute cooked ground beef with chicken or you can even use faux "meat" or beans in place of chicken to make these taquitos vegetarian.
★ More Recipes You'll Love ★
Want more easy dinner ideas?
Browse all my dinner recipes. Be sure to Pin your favorites for later!
This easy recipe for 5-Ingredient Chicken Taquitos was featured on South Your Mouth!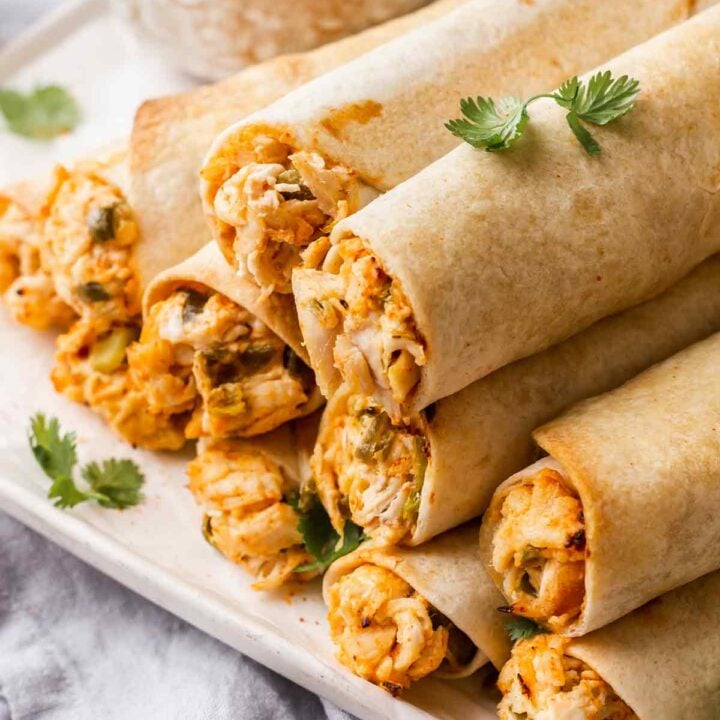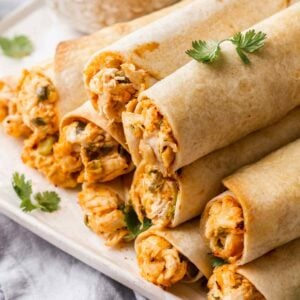 5-Ingredient Chicken Taquitos
Here's an easy dinner idea! Chicken Taquitos made with chicken, taco seasoning, cream cheese and green chilis for a hint of spiciness, all rolled up in flour tortillas. Baked or air fried until crispy. Add taco toppings if you want or not! These chicken taquitos are easy to make and are freezer-friendly too.
Read Comments
Print
Pin
Rate
Ingredients
½

cup

cooked chicken

drain if using canned chicken

1

oz

packet taco seasoning

4

oz

whipped cream cheese

4.5

oz

can green chilis

drain excess liquid

12

flour or corn tortillas

brush with oil or butter if desired*
Optional toppings
salsa or pico de gallo

lettuce

sour cream

cheddar cheese

hot sauce
Instructions
Drain chicken and place in large mixing bowl. Add taco seasoning, cream cheese, and pepper jack cheese. Stir until combined.

Spread chicken mixture onto each tortilla then tightly roll up.

Place in air fryer basket or onto baking sheet, seam-side down.*

Bake in preheated oven or air fryer at 400˚ for 6-9 minutes or until tortillas are crispy and hot in the middle.*

When done, plate taquitos and add toppings if desired.
Notes
Heat flour tortillas in the microwave for 5 second to soften if needed to help tightly roll.
If baking vs. air frying, you may want to add a couple extra minutes of cook time to get them extra crispy. Keep an eye on them toward the end of the cook time and pull them out when they turn golden brown.
*Brush rolled taquitos with butter or oil before baking or air frying if you'd like a crispier shell.
Nutrition Facts
Serving:
2
taquito
|
Calories:
366
kcal
|
Carbohydrates:
36
g
|
Protein:
13
g
|
Fat:
19
g
|
Saturated Fat:
9
g
|
Polyunsaturated Fat:
2
g
|
Monounsaturated Fat:
6
g
|
Cholesterol:
53
mg
|
Sodium:
1103
mg
|
Potassium:
201
mg
|
Fiber:
3
g
|
Sugar:
5
g
|
Vitamin A:
1017
IU
|
Vitamin C:
9
mg
|
Calcium:
111
mg
|
Iron:
3
mg
Follow Mighty Mrs. for more easy recipes!
Find @MightyMrs on Pinterest