Here's a great appetizer or dinner you're going to love. Start with baked pizza dough, top with ground beef and pizza toppings and ta-da! You have taco pizza! Choose your favorite pizza dough frozen, fresh or Pillsbury. You can even use crescent rolls.
This post may contain affiliate links. As an affiliate, I earn a commission.
Jump down to Recipe
★ Why You'll Love this Recipe ★
It's a pizza and a taco all in one... you truly cannot go wrong here.
Taco Pizza! Take the dough crust you love and pair that with all your favorite taco fillings and toppings. Oven baked in a cast iron skillet or if you prefer squares, use a baking sheet.
It's a fresh spin on pizza night... or taco night. 😉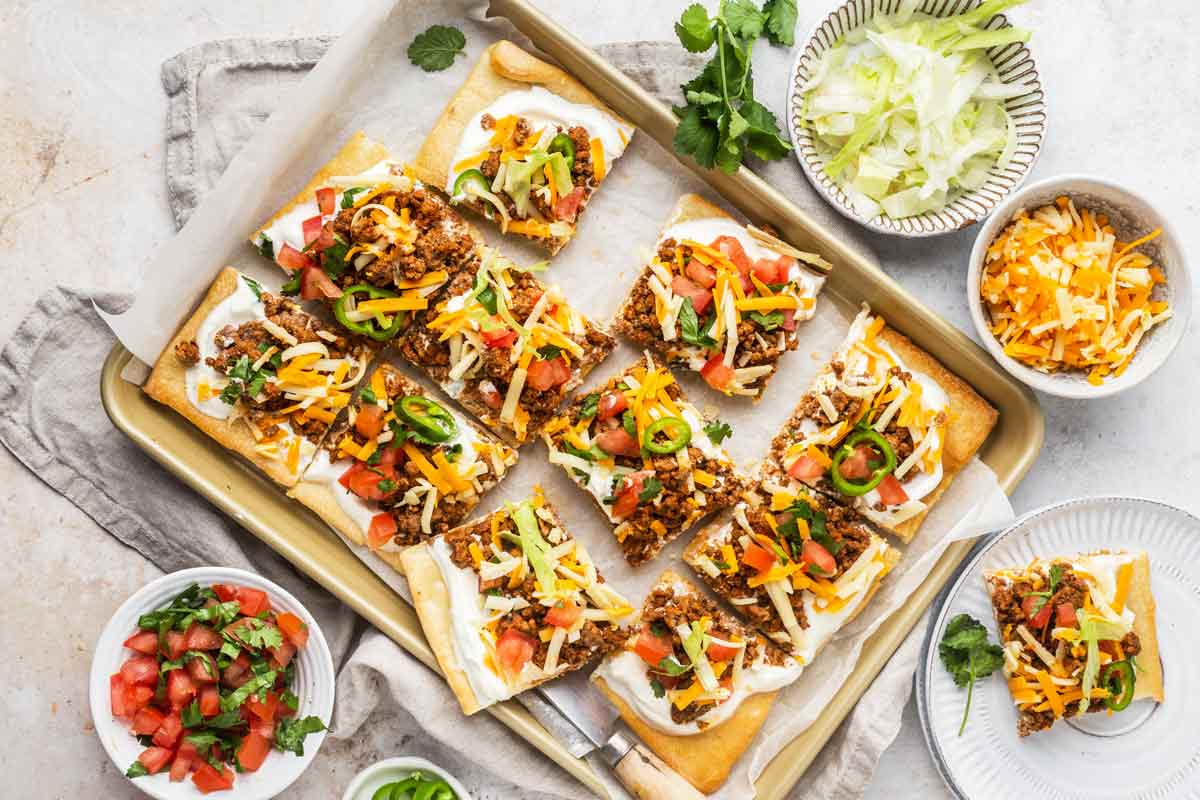 This is a very easy homemade recipe that works as a dinner or serve it up as a party appetizer. It's kid-friendly. Simple to prep. Easy to customize.
Did I mention it's ready to go in about 30 minutes?
★ Ingredients You'll Need ★
Here's everything you need:
Pizza dough. I like to use ready-made fresh pizza dough that you can find in the refrigerated section of the grocery store.
Ground beef. You can also use ground or shredded chicken. Choose a lean beef for less grease.
Taco seasoning. To season the meat.
Oil. Any high-heat cooking oil works. Bush this on your dough to prevent it from sticking to the pan and also to give it a nice crispy, golden brown finish.
Toppings: shredded lettuce, pico de gallo, tomatoes, shredded cheese, sour cream and hot sauce.
Feel free to add other toppings if you'd like!
★ How to Make this Recipe ★
You can make this a rectangular taco pizza on a baking sheet or make it a more traditional round pie pizza shape using a cast iron skillet or pizza stone.
Either one works. Simply shape the dough differently depending on what shape you want.
Here are the basic steps involved (full recipe below):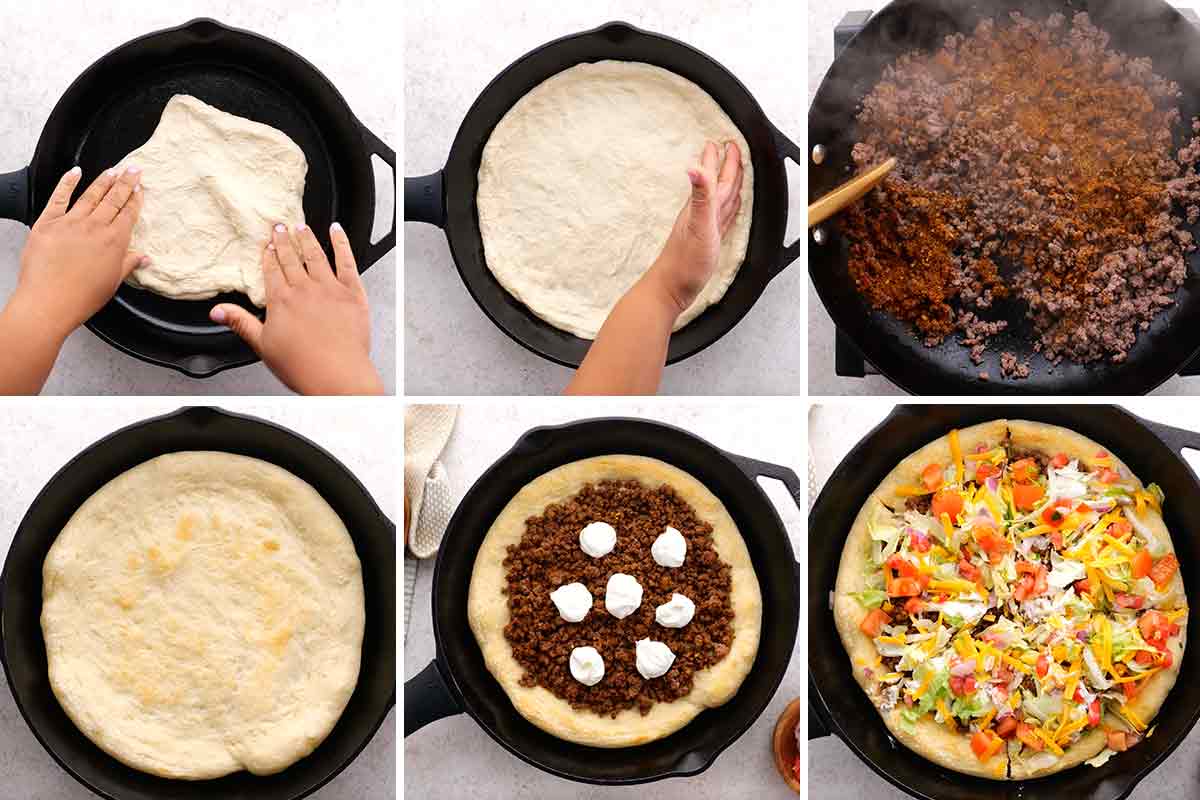 Press pizza dough into grease cast iron skillet.
Bake pizza dough in oven.
Brown ground beef and add taco seasoning.
Layer taco meat, sour cream, lettuce, cheese and tomatoes onto baked crust.
That's it! Easy!
★ Tips & FAQs ★
Do you use pizza sauce on taco pizza?
No. You do not want to use traditional pizza sauce on a taco pizza.
Think of the pizza crust as a soft taco shell similar to a Chalupa from Taco Bell. You're starting with the pizza crust and the rest is just like how you'd make a taco. Layer on sour cream as the "sauce" to help everything stick to the dough.
Or you can slice and fold each piece so it's easier to eat.
Taco Pizza made with Your Favorite Pizza Dough
Any pizza dough works here. And there's a huge variety of pizza dough out there with differing opinions on each, I am sure. So I'll break down a few of my go-to options and give you my cents on what's best:
Fresh Pizza Dough - This is the option I recommend for the best tasting taco pizza. It does require a little planning though.
You can usually find fresh pizza dough in the refrigerator section at the grocery store for about $1 a bag. It's hunk of fresh dough that needs to get used quickly or it will go bad in a day or two. It also needs to be stretched, shaped and oiled.
The taste though is excellent. Fresh dough has a really nice yeasty flavor and is chewy yet has pockets of air giving it some nice texture.
This is my favorite type of crust to use for both this taco pizza and for when we make regular homemade pizzas at our house. Once you master stretching (hint: be patient and use gravity to your advantage) and shaping the dough (shape some while you stretch then press out the thick parts to shape it the rest of the way) it's really worth it. A small amount of oil oil is all you need to finish it off and keep it from sticking to the pan.
Pillsbury Pizza Dough - This is an easy and safe choice. The size is perfect for feeding a hungry family of 4 or cut into smaller slices and you can make this into an appetizer for a small party or shower. The rectangular shape fits perfectly on a baking sheet.
The taste is decent. It's fresh-baked and chewy as you'd expect from pizza dough. It's nothing special but its extremely convenient. No greasing of the pan or dough is required if you line your baking sheet but you can oil the dough if you'd like to give it a more crisp outer layer.
Crescent Roll Dough - Another Pillsbury refrigerated dough option that gives you a flakier, sweeter crust with all the same convenience of the pizza dough. It's not as chewy or dense so is a popular choice if you're looking for some added texture. No greasing of the pan or dough needed.
Other -There are others types of pizza crust such as those you mix up from a box, and baked pizza crust you can pick up fresh from the bakery or preserved in the pizza aisle. But none of those options are my own personal go-to so I would go with one of the three options listed above, as my personal preference and recommendation.
What topping go best with this taco pizza?
We are starting with cooked ground beef, seasoned with taco seasoning, then layering shredded cheddar cheese or a Mexican blend of cheese, diced roma tomatoes, shredded iceberg lettuce, sour cream and salsa.
That is my favorite combination of ingredients, however, feel free to adjust to your liking.
Other Topping Ideas
Try fresh avocado, guacamole, corn, corn salsa, black beans, refried beans and/or rice too!
Choose your meat.
You can substitute ground beef with ground chicken, or save time and grab pre-cooked and shredded rotisserie chicken. Just heat and add in taco seasoning.
You can also opt for steak. I'd just recommend cutting your steak into small pieces so that you have enough to spread out all over the pizza.
Salsa or Pico de Gallo
Both are great options! Choose your favorite salsa. My favorite is Tostitos Restaurant Style. Or the deli-fresh pico de gallo makes a great topping too.
Make it round or rectangular.
Depending on how you're serving this, you may want to opt for a square shape.
Just like a pizza, you can stretch your dough to be circular shape like a pie, or use a baking sheet and cook it ready to be cut into squares.
★ More Recipes You'll Love ★
Love tacos?
Check out more of my taco recipes!
Love pizza?
Browse my other pizza recipes!
This recipe for Taco Pizza was featured on South Your Mouth!
Taco Pizza
Here's a great appetizer or dinner you're going to love. Start with baked pizza dough, top with ground beef and pizza toppings and ta-da! You have taco pizza! Choose your favorite pizza dough frozen, fresh or Pillsbury. You can even use crescent rolls.
Read Comments
Print
Pin
Rate
Ingredients
1

roll

pizza dough

(see post for recommendations)

1

tablespoon

cooking oil

(vegetable, corn or olive oil)

1

lb

ground beef (or chicken)

1

oz

packet taco seasoning

½

cup

sour cream

(more or less to taste)

2

cups

shredded lettuce

2

cups

shredded cheddar or Mexican blend cheese

2

roma tomatoes,

diced

½

cup

salsa or pico de gallo

(more or less to taste)
Optional Toppings
black olives, hot sauce, jalapeo slices,
Instructions
Stretch out pizza dough in a round shape then press into a 12" greased cast iron skillet. Bake for 12-16 minutes at 400˚ or until golden brown.

While dough is baking, use a skillet over high heat to cook ground beef until browned. Add taco seasoning packet and toss. Set burner to low to keep warm while dough finishes baking.

Spread a thick layer of sour cream onto cooked pizza dough. Then layer with ground beef, shredded lettuce, cheese, tomatoes, salsa and hot sauce if desired.

Cut into slices using a pizza cutter and dig in!
Notes
You can use ground chicken instead of ground beef. Or save time and use shredded rotisserie chicken.
Choose your favorite type of pizza dough. See post for notes comparing pizza dough options. Bake time may vary by dough.
If you prefer melted cheese, layer ground beef on to crust, then cheese, then remaining toppings.
For less mess slices, layer sour cream directly onto crust as the "sauce" then layer on meat and other toppings.
Nutrition Facts
Serving:
1
slice
|
Calories:
318
kcal
|
Carbohydrates:
5
g
|
Protein:
18
g
|
Fat:
25
g
|
Saturated Fat:
12
g
|
Polyunsaturated Fat:
1
g
|
Monounsaturated Fat:
9
g
|
Trans Fat:
1
g
|
Cholesterol:
77
mg
|
Sodium:
629
mg
|
Potassium:
309
mg
|
Fiber:
1
g
|
Sugar:
3
g
|
Vitamin A:
1003
IU
|
Vitamin C:
5
mg
|
Calcium:
239
mg
|
Iron:
2
mg
Follow Mighty Mrs. for more easy recipes!
Find @MightyMrs on Pinterest