Pizza dough stuffed with mozzarella cheese and pepperoni, brushed with olive oil and sprinkled with Italian herbs then baked. Served hot in a seasoned cast iron skillet with marinara sauce in the middle. An easy and tasty appetizer! Inspired by Erie, PA's popular treat.
This post may contain affiliate links. As an affiliate, I earn a commission.
Jump down to Recipe
Frozen and thawed pizza dough is stuffed with mozzarella cheese and pepperoni then brushed with olive oil, sprinkled with Italian herbs then baked. Served warm in a cast iron skillet with marinara sauce for dipping.
An easy and yummy appetizer for a crowd! Inspired by Erie's popular treats!
★ Why You'll Love this Recipe ★
These pepperoni balls are so good and so easy to make! You need just 5 main ingredients plus marinara sauce for dipping.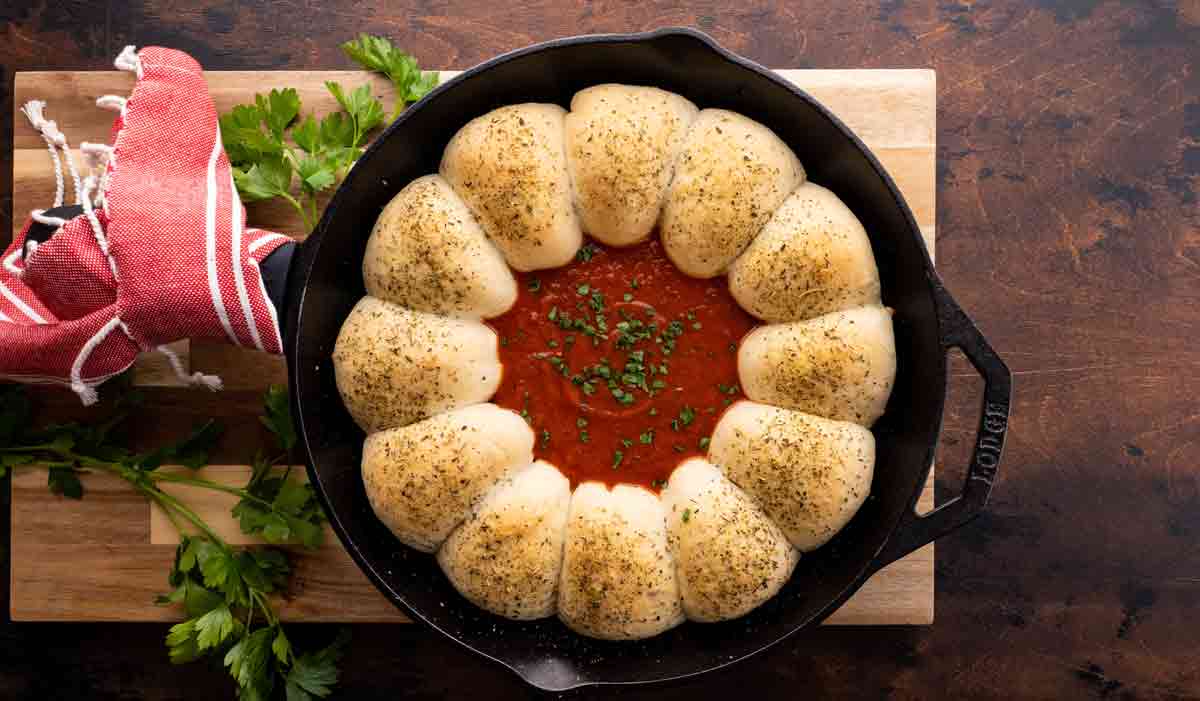 The make a great appetizer for holiday gathering, football game days, tailgating, or try them for dinner!
These pepperoni balls are baked with a coating of olive olive so you get a nice crispy outside with a doughy center. This is an easy way to get that fried taste without all the effort of deep frying.
★ Ingredients You'll Need ★
You'll nee just 5 ingredients to make these pepperoni balls! These are delicious served with marinara sauce but you can enjoy them without any sauce at all and they are still very good.
Here's everything you need to prepare this yummy appetizer: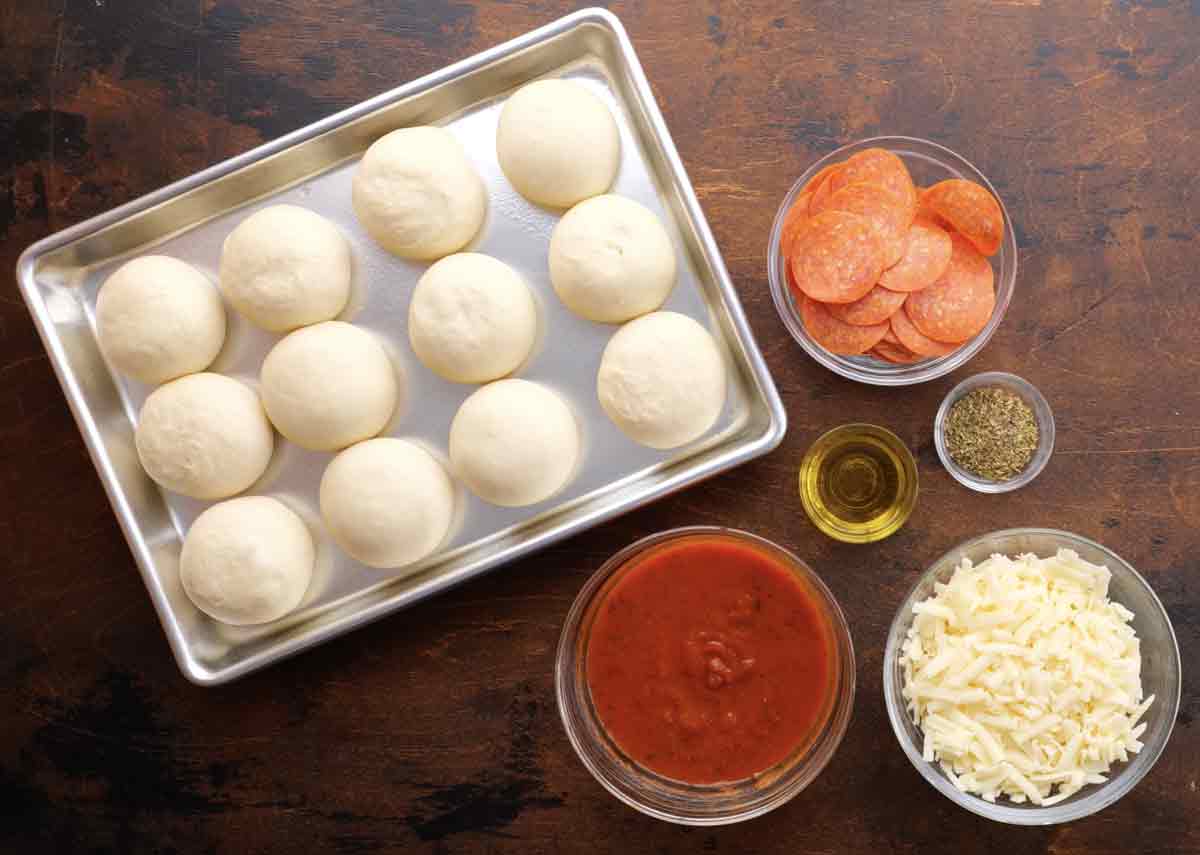 Pizza dough. You can use any pizza dough but I like to use Rhode's frozen roll dough to save time. Each dough ball is already portioned for you, all you have to do is thaw the dough and you're ready to roll. 😉
Pepperoni. Sliced pepperoni just like you'd put on a pizza is what you want.
Mozzarella cheese. You can use shredded mozzarella or fresh mozzarella balls are really yummy too!
Olive oil. Make sure your olive oil is fresh for the best flavor.
Italian herbs. Typically a blend of marjoram, basil, rosemary, thyme and oregano. Feel free to add garlic powder too if you'd like!
Marinara sauce. I adore Rao's brand sauce. It's so expensive but worth every penny. That's what I recommend but any marinara sauce works if Rao's is not in your budget.
That's everything! Super simple. SO GOOD!
★ How to Make this Recipe★
No chopping, no kneading, no frying! These are very easy to assemble, you'll be ready to bake these in about 10 minutes.
You can oven bake these or cook them in your air fryer.
Here are the basic steps. For the full recipe with ingredients list, see below.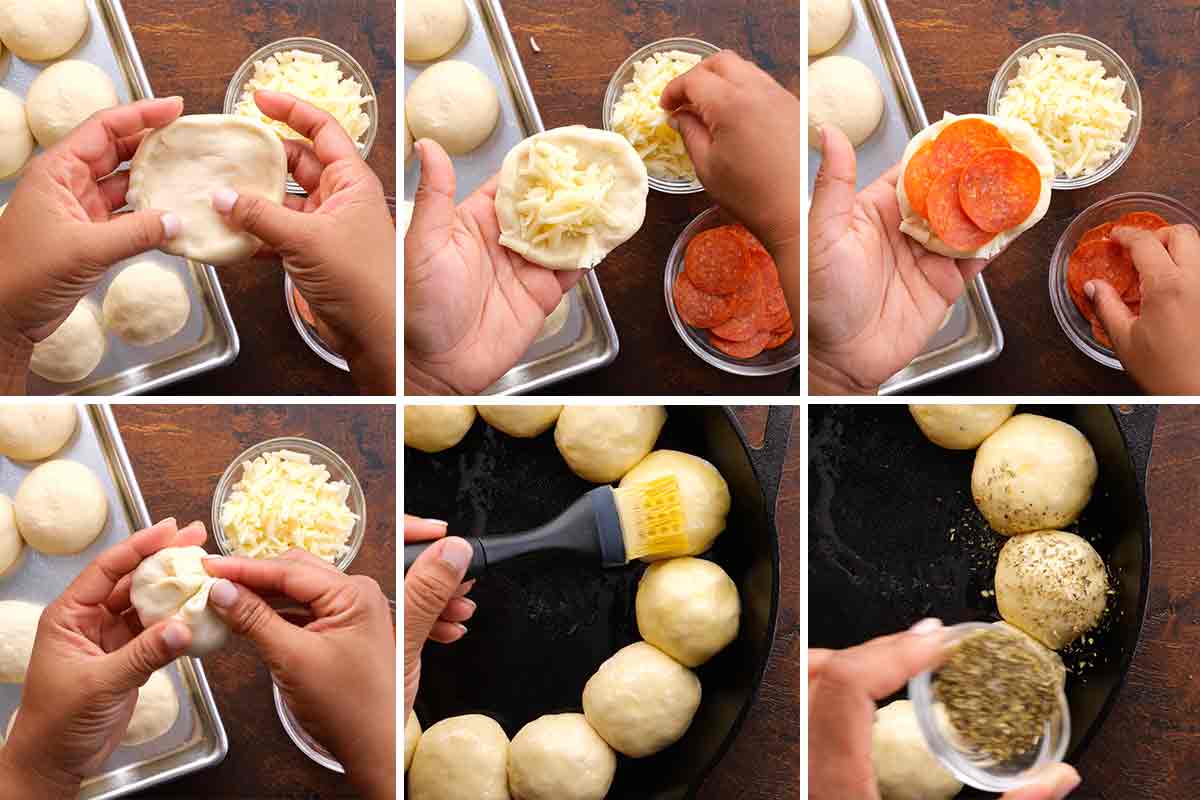 Flatten thawed dough.
Layer on cheese and pepperoni.
Pinch to close and place in greased skillet.
Brush with olive oil.
Sprinkle with herbs.
Bake.
Serve with marinara sauce.
That's all there is to it. Quick and easy!
★ Tips & FAQs ★
What is a pepperoni ball?
Pepperoni balls made popular by Stanganelli's Italian Foods, are made with pizza dough, pepperonis and cheese. You can also order them online stuffed with jalapenos, jalapeno cheese, & pepperoni; or sliced ham & mozzarella cheese.
Unless you live near or have ever visited Erie, Pennsylvania you might not have ever had the famous pizza-like pepperoni balls.
In northwestern Pennsylvania, pepperoni balls are often sold and enjoyed at football games or other sporting events at the concession stand.
Pepperoni balls made by Stanganelli's are frozen baked but you can also find them served fried.
Choosing the Best Dough
There are a ton of options when it comes to dough. I always strive to find that happy medium between easy and still great-tasting.
That's why I opt for using Rhode's frozen dinner roll dough. You get that bakery taste that comes with a yeast dough without all the work of making your own dough.
You can also find fresh pizza dough, not frozen, in the refrigerator section of most grocery stores. This is a great option if you don't want to wait for the dough to thaw. You do, however, have to portion the dough yourself in this case.
Make sure your cast iron skillet is well seasoned.
Tomatoes are highly acidic so you'll want to make sure your pan is well seasoned or the marinara sauce will eat away at your skillet. If you're using a new cast iron skillet, or one that's not seasoned well, then you can insert an oven-safe contain (possibly a pyrex glass dish) in the center to hold the sauce.
How to season your cast iron skillet
What if you don't have a cast iron skillet?
Get one! They are so useful and pretty affordable. You'll want a 12" skillet for this recipe. You can shop 12" cast iron skillets on Amazon.
★ More Recipes You'll Love ★
Want more delicious and easy appetizer ideas?
Browse all my appetizer recipes
Love Italian food?
Browse all my Italian style recipes
This recipe for pepperoni balls was featured on South Your Mouth!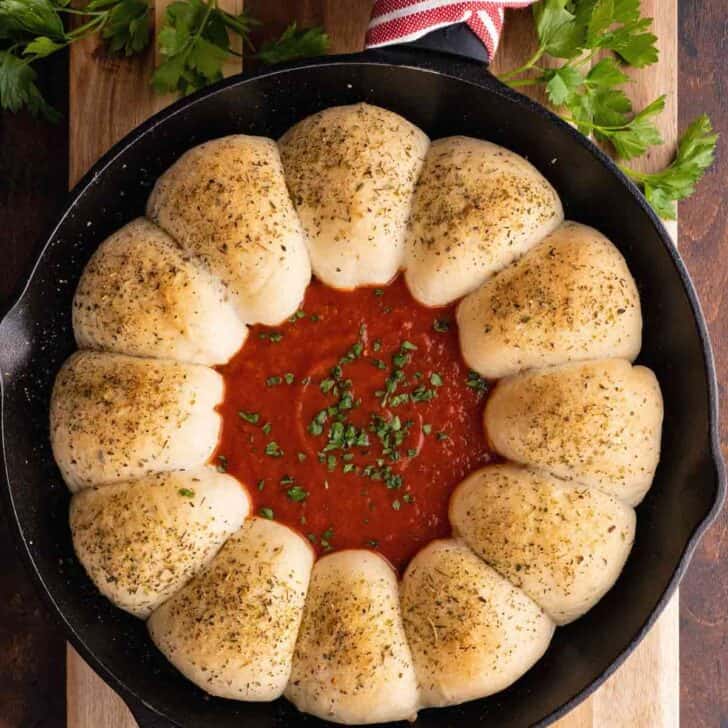 Pepperoni Balls with Marinara Sauce
Pizza dough stuffed with mozzarella cheese and pepperoni, brushed with olive oil and sprinkled with Italian herbs then baked. Served hot in a seasoned cast iron skillet with marinara sauce in the middle. An easy and tasty appetizer! Inspired by Erie, PA's popular treat.
Read Comments
Print
Pin
Rate
Yield:
12 pepperoni balls
Ingredients
12

Rhode's Dinner Rolls (Frozen Dough)

(thawed)

1 ¼

cup

shredded mozzarella cheese

60

slices

pepperoni

¼

cup

olive oil

divided

2

tablespoon

Italian spice blend

9.5

oz

Roa's marinara sauce

for dipping
Instructions
Thaw dough according to package.

Press about 2 tablespoon of a mozzarella cheese and 5 pepperonis into the center of thawed dough. Pinch to seal dough around cheese and pepperoni.

Grease large cast iron skillet with olive oil. Place dough balls, seam-side down, around the outside of the skillet, pressing together as needed to fit all 12. Brush each roll all over with oil.

Sprinkle tops of balls with Italian spices.

Bake at 350˚for 15-20 minutes or until rolls are a golden brown in color.

Remove skillet from oven and add room temp marinara sauce to the center before serving.*
Notes
*

If you prefer to serve with warmed marinara sauce, you can heat the sauce in the microwave for 1-2 minutes, right in the jar, with lid removed and covered with a paper towel. Careful, jar will be hot.
Nutrition Facts
Serving:
1
ball
|
Calories:
250
kcal
|
Carbohydrates:
22
g
|
Protein:
9
g
|
Fat:
15
g
|
Saturated Fat:
5
g
|
Polyunsaturated Fat:
2
g
|
Monounsaturated Fat:
7
g
|
Trans Fat:
0.2
g
|
Cholesterol:
19
mg
|
Sodium:
563
mg
|
Potassium:
163
mg
|
Fiber:
2
g
|
Sugar:
2
g
|
Vitamin A:
190
IU
|
Vitamin C:
2
mg
|
Calcium:
153
mg
|
Iron:
2
mg
Follow Mighty Mrs. for more easy recipes!
Find @MightyMrs on Pinterest