These baked pepper jelly and brie knots are super easy to make! The recipe uses just 5 ingredients including fresh rosemary for garnish. Great little appetizer for the holidays!
This post may contain affiliate links. As an affiliate, I earn a commission.
Jump down to Recipe
These baked pepper jelly brie knots are a great appetizer that can be ready in less than 15 minutes.
Perfect for the holidays. Festive and easy! These can be made with apricot jam for a less spicy option.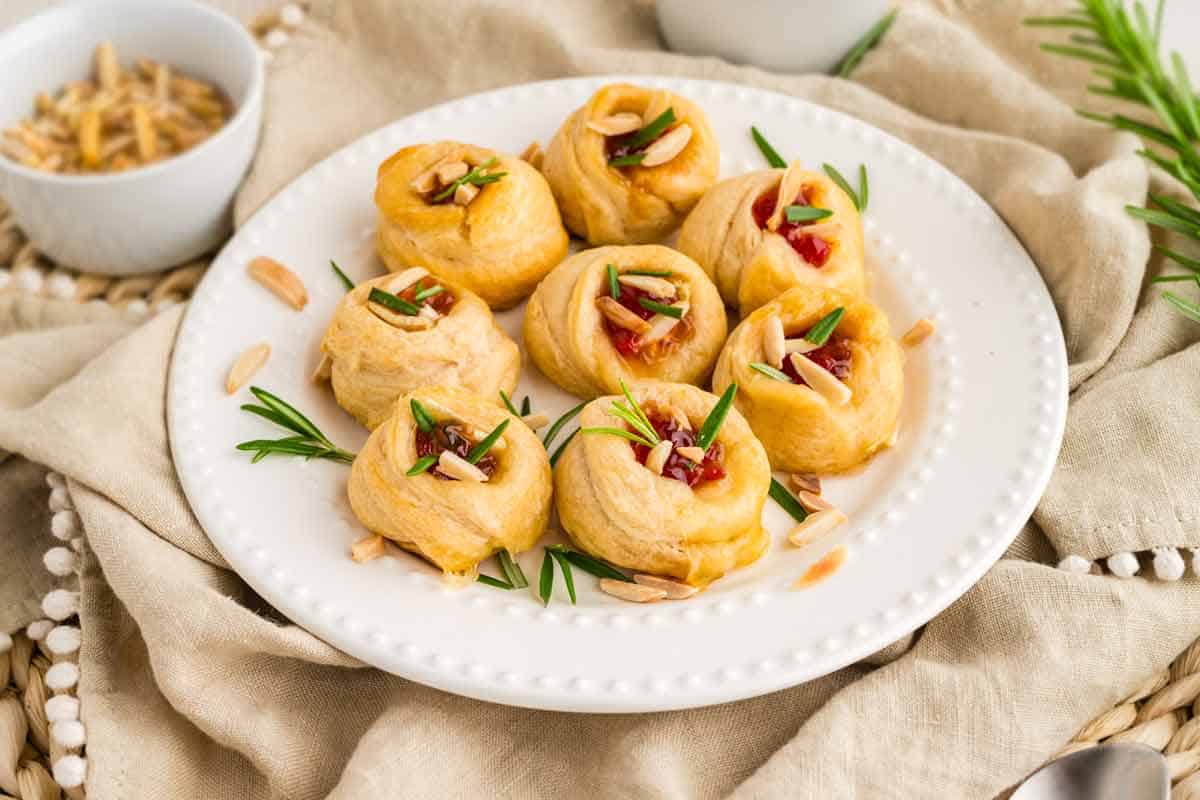 ★ Why You'll Love this Recipe ★
Sweet and mildly spicy pepper jelly pairs perfectly with rich and creamy brie cheese. Baked and melted together inside of fresh dough, then topped with fresh herbs and nuts. Your guests will rave over these little treats!
They look just a good as they taste. The red and green color makes these perfect for a Christmas party.
These baked pepper jelly brie knots are delicious fresh out of the oven.
The brie is still melty, the dough is fresh baked, warm and fluffy and the jam is warmed and melds together with the brie in the most amazing way!
So these are a great little appetizer if you are hosting a party.
However, these can be made ahead, covered with foil and brought to a party. They hold up well even when cooled.
★ Ingredients You'll Need ★
You need just 5 ingredients!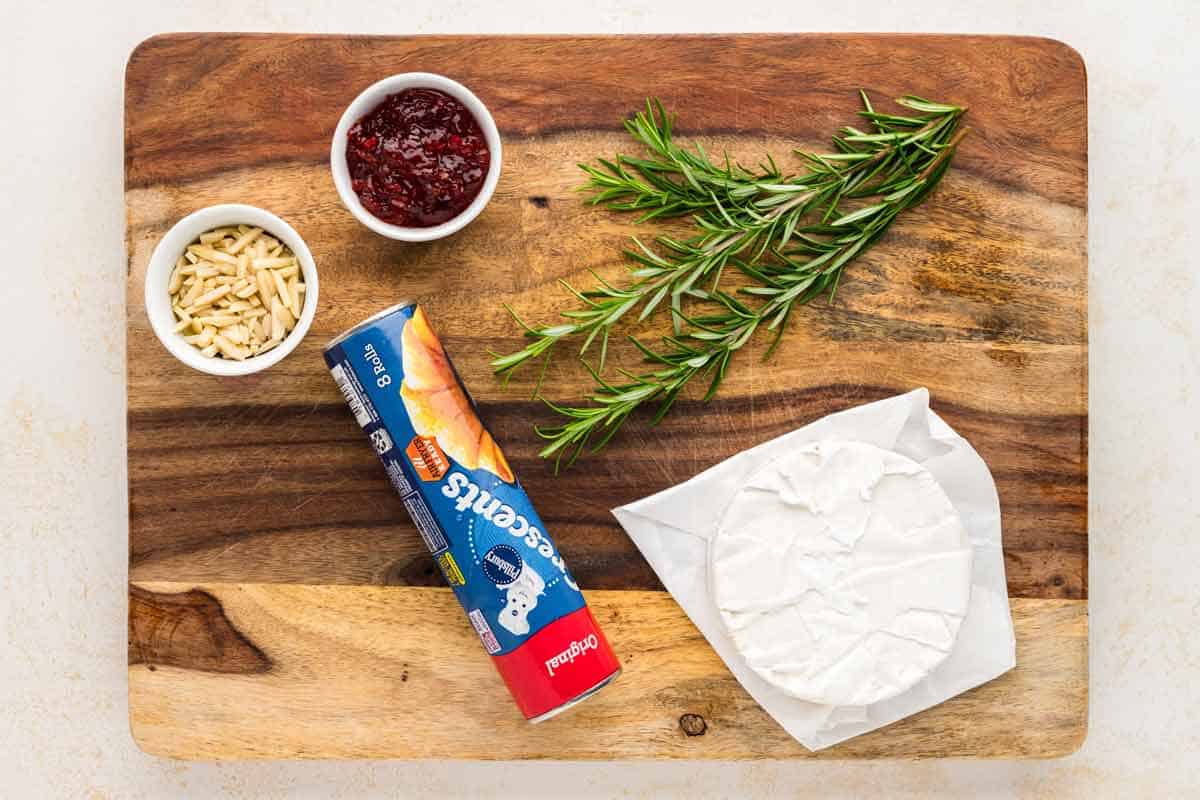 All you need to make these awesome appetizer knots are:
Pillsbury crescent roll dough. This can be found in the refrigerated section.
Brie cheese. This typically comes in a wheel. You do not need to remove the rind. It's completely edible and adds to the flavor and texture of the brie.
Pepper jelly. You can also use apricot jam if you prefer a non-spicy option. I have tried other jams, but they are not as good in my opinion as pepper jelly or apricot jam or preserves.
Almond slivers. These are optional but add a lovely earth flavor and crunch as well as a bit of protein.
Rosemary. Fresh rosemary adds a pretty finishing touch and a nice subtle fragrance. You could use fresh thyme as well.
The simple combination of ingredients creates amazing flavor.
★ How to Make this Recipe ★
These baked brie knots are very easy to make.
The trickiest part is rolling these into "knots" so I have some snapshots to show how to roll these properly. However, if you don't roll them just right. Don't fret. They will still taste great!
Here's a quick look at how to prepare these pepper jelly brie knots: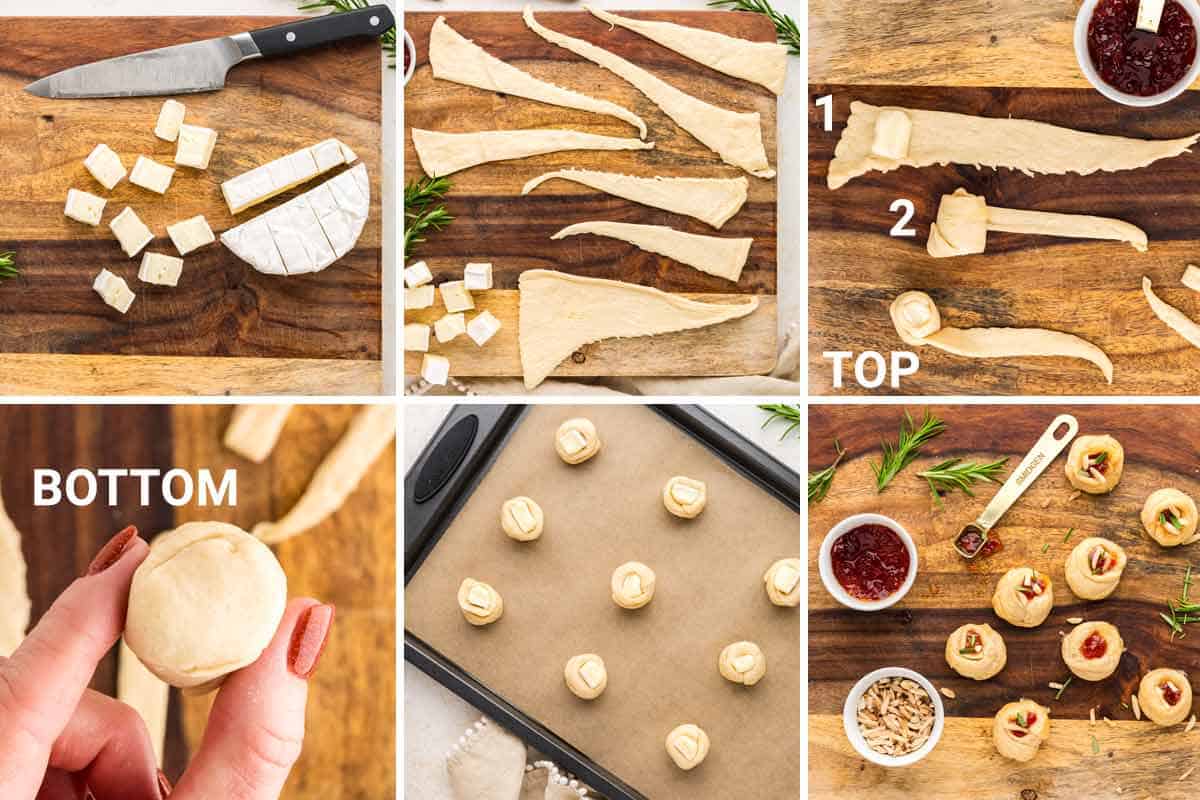 Cut up brie then freeze.
Place Brie at the short end of the dough triangle then roll half way. (1-2)
Wrap remaining dough under the knot to form a flat bottom. Then remaining dough point can continue to wrap around the side once bottom is formed. (Bottom view).
Pinch to seal dough, leaving the top open.
Press excess dough down so knot is round in shape.
Flatten the whole knot of dough w/ Brie by pressing down gently with the palm of your hand. (Dough will puff back up when baked)
Bake to a golden brown.
Spoon jelly into each knot.
Garnish with almonds and rosemary.
This is meant to illustrate how to roll and wrap the dough. The full recipe can be found further down.
★ Tips & FAQs ★
You can use any type of jam, jelly or preserve you'd like.
My favorite jam to pair with brie is apricot and I love the spicy-sweet flavor or pepper jelly. Pepper jelly's red color makes these extra festive so that's my go-to choice when making these as an appetizer around the holidays.
Apricot jam is orange in color so it's fitting for a fall fest, Halloween party or serve it up as football food.
Orange marmalade, peach, raspberry, fig and strawberry jams and jellies would also work well!
I do prefer these two flavors with the Brie. I have tried lingonberry jam,
What kind of jam goes best with Brie?
If you're having trouble deciding which type of jam to use here are some that naturally pair really well with brie:
Apricot jam
Peach jam
Raspberry Jam
Strawberry jam
Fig jam
You can use preserves, jelly or jam. What's the difference? Read here to learn more.
Could you add another type of nut to these jam and brie knots?
Sure. I think almonds pair well with these flavors and look nice but walnuts and pecans would also work well.
Can I make Baked Brie Pepper Jelly Knots in advance?
Yes, you can prepare these knots in advance and refrigerate them before baking. When you're ready to serve, simply bake them according to the instructions.
Can I freeze Baked Brie Pepper Jelly Knots?
Yes, you can freeze these knots before baking. Arrange them on a baking sheet, freeze until solid, then transfer them to a freezer-safe container or bag. When you're ready to enjoy them, bake them straight from the freezer, adding a few extra minutes to the cooking time.
How should I store any leftovers?
If you have leftovers, store them in an airtight container in the refrigerator for up to 3 days.
Reheat them in the oven at a low temperature to maintain their crispiness or you can microwave them for about 20-30 seconds, just until warmed.
★ More Recipes You'll Love ★
Want more breakfast or brunch ideas?
These apricot jam and brie knots were featured on Full Plate Thursday and South Your Mouth!
Baked Jelly and Brie Knots
These baked pepper jelly and brie knots are super easy to make! The recipe uses just 5 ingredients including fresh rosemary for garnish. Great little appetizer for the holidays!
Read Comments
Print
Pin
Rate
Ingredients
7

oz

brie cheese

cut then frozen*

4

tablespoon

red pepper jelly

(or apricot jam)

8

oz

crescent rolls

4

tablespoon

slivered almonds

optional

3

sprig

fresh rosemary

optional
Instructions
Cut brie cheese into small, ½" x ½" squares and freeze overnight.*

Separate crescent roll dough into triangles along perforations. Cut each triangle in half lengthwise, so you have 16 triangles total.**

Place a square of frozen brie cheese next to the shortest side of each triangle.

Starting at the short side of the triangle, loosely roll up brie and jelly in the dough, half way.

Take remaining half of the dough triangle, and wrap it underneath to form a bottom. Then, there should be just enough dough to bring the tip of the triangle up the side and lay it on top of the rolled dough.

Pinch the dough along the bottom and sides as needed to seal any cracks. Press down any dough points for a smooth, circular shape.

Repeat for all triangles.

Arrange each knot on a lined baking sheet.

Using your hands, flatten the rolled dough and expand the opening if needed so brie is visible. Should look a bit like a nest.

Bake at 350˚ on the upper rack for 12 minutes or until golden brown. then remove from oven.

Spoon ½ teaspoon of pepper jelly into the opening of each knot.

Garnish each knot with a small cluster of rosemary needles and almond slivers before serving. Serve warm.
Notes
*For best results, cut Brie cheese into pieces then freeze overnight before using. Starting with frozen cheese slows it from melting and bubbling out of the dough knot when baked. This is not required but is helpful as otherwise, the melting cheese can get messy.
Triangles will have 2 very long edges and one very short edge.
Nutrition Facts
Serving:
1
knot
|
Calories:
239
kcal
|
Carbohydrates:
19
g
|
Protein:
7
g
|
Fat:
15
g
|
Saturated Fat:
7
g
|
Polyunsaturated Fat:
3
g
|
Monounsaturated Fat:
5
g
|
Trans Fat:
1
g
|
Cholesterol:
25
mg
|
Sodium:
382
mg
|
Potassium:
81
mg
|
Fiber:
1
g
|
Sugar:
8
g
|
Vitamin A:
147
IU
|
Vitamin C:
1
mg
|
Calcium:
61
mg
|
Iron:
1
mg
Follow Mighty Mrs. for more easy recipes!
Find @MightyMrs on Pinterest