A delicious holiday appetizer or take these camping! Post-Thanksgiving, transform leftover turkey into delicious sliders stuffed with cranberry sauce, Brie cheese, fresh rosemary, orange zest and honey topped with a buttery garlic and poppy seed sauce all baked to golden brown perfection. Use deli turkey to make these year-round. Easy recipe. Ready in 30 minutes!
This post may contain affiliate links. As an affiliate, I earn a commission.
Jump down to Recipe
Turkey Cranberry Brie Sliders are oven-baked, mini sandwiches made with turkey, cranberry sauce and creamy brie cheese, all sandwiched between soft slider Hawaiian roll buns.
They are a perfect combination of sweet, savory, and cheesy flavors, ideal as an appetizer or a quick meal.
★ Why You'll Love this Recipe ★
You'll love how easy these turkey-cranberry-brie sliders are to fix. Made with deli or leftover turkey, these sliders are so flavorful thanks to a few fresh ingredients we are stirring in.
Fragrant, fresh rosemary, orange zest and a touch of honey will bring new life to leftover or canned cranberry sauce.
Pair that yummy, sweet-tart and aromatic sauce with leftover or deli turkey and Brie cheese... layer everything into Hawaiian rolls and bake with a garlic, onion, poppy seed buttery glaze.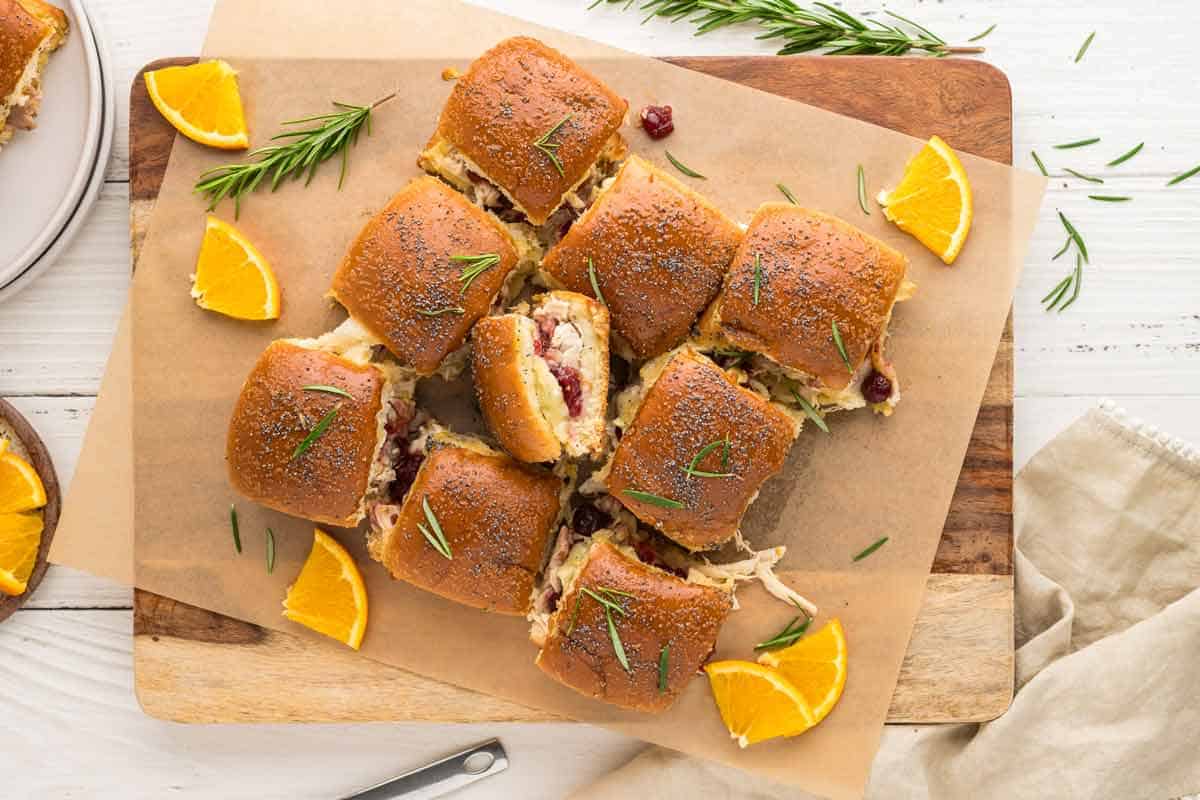 Golden brown, melty cheese, slider perfection. Mmmm mmm.
This is go-to fall recipe because it's perfect for transforming leftover Thanksgiving turkey into somethings new and exciting, in an easy way.
This makes a big batch of sliders, so feeds a family. Great if you have guests staying with you for the holidays.
This makes a lovely New Year's Eve appetizer as well. Freeze some of that leftover Thanksgiving turkey and simply defrost it before assembling these sliders.
★ Ingredients You'll Need ★
These sliders are quite simple to make using leftover Thanksgiving foods, some typical pantry spices, and a few fresh ingredients to liven and refresh this dish so it doesn't just taste like you slapped some leftovers on a roll.
Here's what you'll need to make that happen: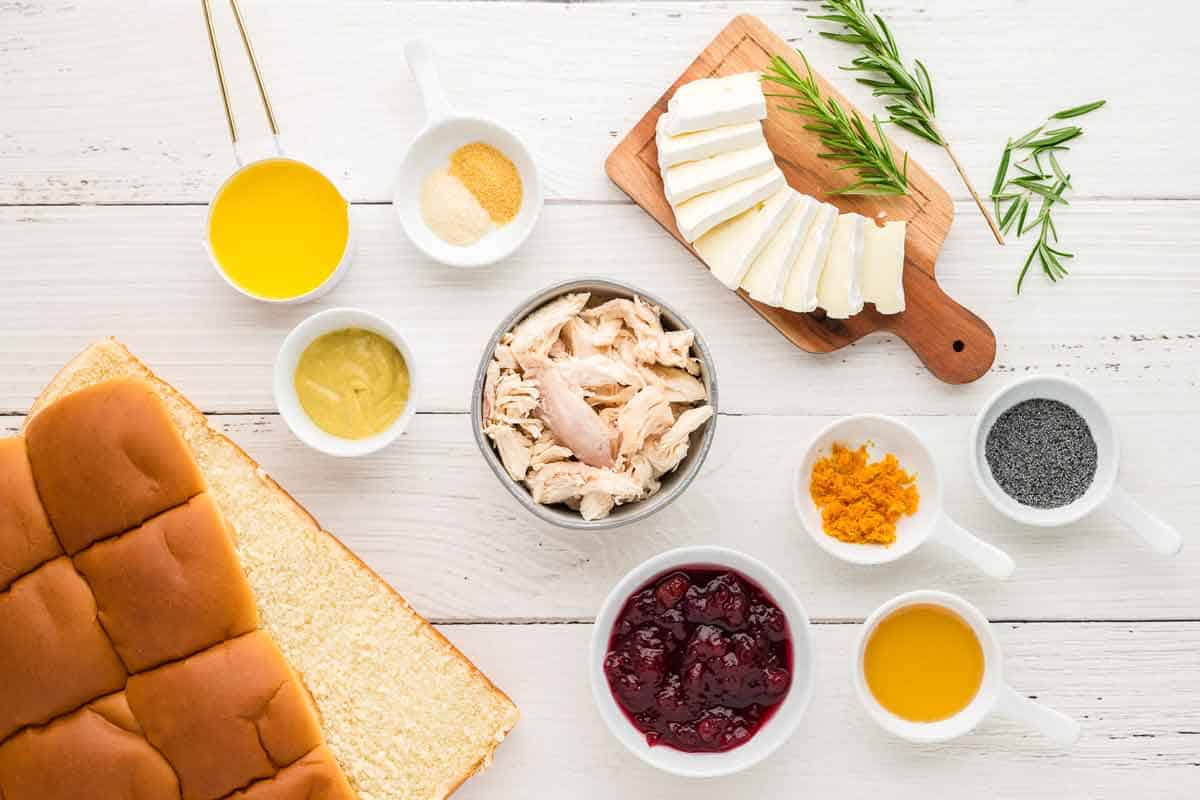 Hawaiian rolls. The regular sweet King's Hawaiian rolls are what I think pair well with the tart and earthy flavors we're using, but if there's too much sweetness for you, the savory butter rolls can be used instead.
Leftover Thanksgiving turkey. You can use white or dark meat or a blend of both I find is best. If you don't have leftovers, you can absolutely use deli turkey. Roasted and thick-cut will be ideal, but really any turkey works.
Cranberry sauce. Another typical Thanksgiving leftover but you can also just start with a fresh can of cranberry sauce. I love the whole berry sauce because the berries add a nice texture and pop of flavor when you bite into a whole berry. However, you can use jellied cranberry sauce if you prefer or that's what you have left.
Orange zest. Simply grate the rind of an orange until you have a nice pile of zest. I find this really livens up the cranberry sauce and compliments the brie cheese really nicely.
Fresh rosemary. This adds amazing aroma and flavor that compliments the turkey, brie and cranberry sauce and really ties everything together so well. You can also use thyme which is similar to, but a little more subtle than rosemary.
Honey. This adds a touch of sweetness to the tart cranberry sauce and really makes the brie sing. A little goes a long way. You don't need much.
Brie cheese. Brie comes in rounds, wedges, and logs. Use the round and just slice it. The log works well for slicing rounds, but is typically only available in 6oz sizes. Do what works best for you. For best flavor, choose a good quality Brie cheese.
Dijon mustard. This acts as a base of flavor. If you prefer more spice, you can use grain mustard.
Onion powder, garlic powder, poppy seeds and butter. This little combo comes together to create a melt-in-your-mouth butter glaze for the rolls. This keep the rolls from drying out or over-browning.
That's everything! Nothing too fancy, really. Just some really great flavor combinations that take the typical turkey slider from meh to MMMmmm!
★ How to Make these Sliders ★
These sliders come together quickly in just a few steps.
Here's just a brief overview, you can scroll further down for the full recipe.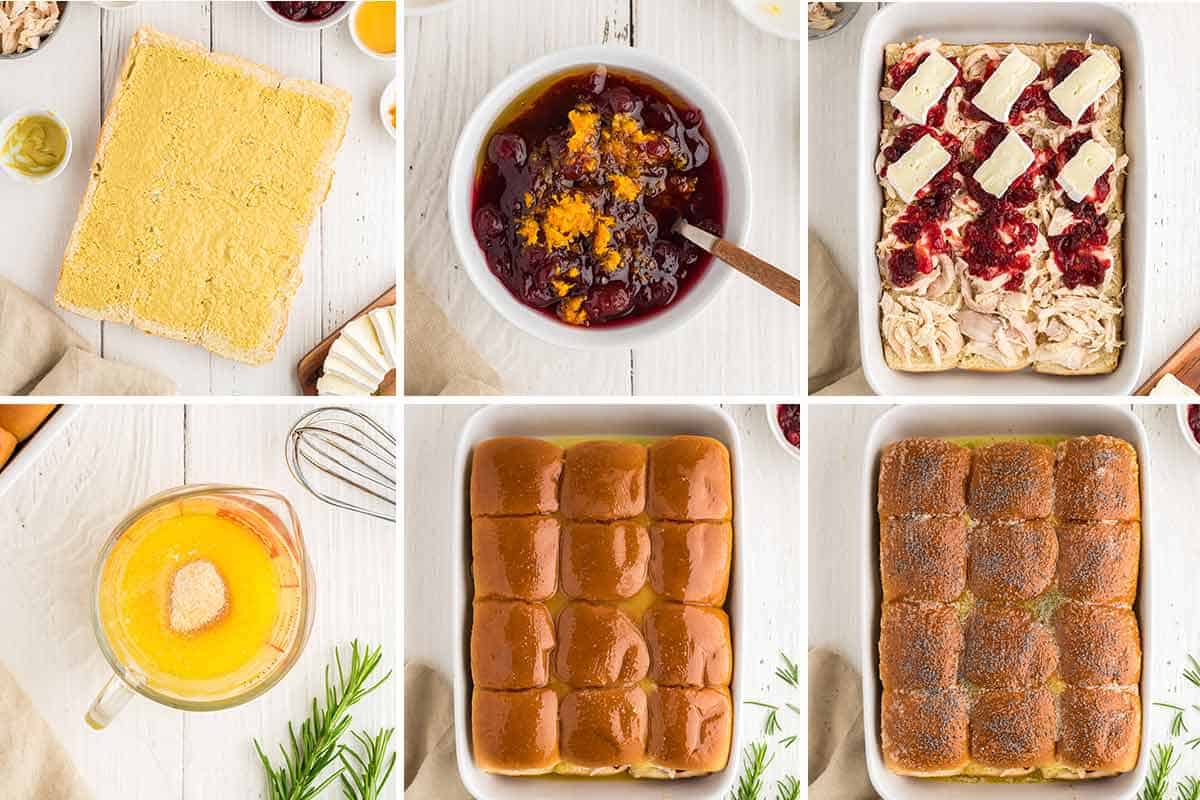 Cut buns in half.
Place buns in pan.
Spread with Dijon mustard.
Mix together orange zest with cranberry sauce and honey.
Layer turkey, brie, and cranberry sauce onto buns.
Melt butter; add garlic and onion.
Place top half of buns onto bottom layers.
Brush with butter sauce. Sprinkle on poppy seeds and rosemary.
Bake then serve warm!
It's that simple! Quick and easy. Ready in about 30 minutes.
★ Tips & FAQs ★
Storage
Leftovers can be stored in the fridge, in an airtight container for up to 4 days. Reheat using a toaster oven or microwave to desired level of warmth.
Leftovers can be frozen for up to 3 months, however freezing sliders is not recommended, as the texture of the bread may become soggy upon thawing. It's best to enjoy them fresh or prepare them in advance and refrigerate until you're ready to bake.
What size pan works best?
I like to use my 9x12 pioneer woman glass baking pan. It fits a package of Hawaiian rolls perfect and it's pretty too!
Need a baking dish? Shop 9x12 baking dishes on Amazon
Time-saving Trick
Doctoring canned cranberry sauce vs. making your own saves a bunch of time. With a few added ingredients, your canned or leftover cranberry sauce can taste as good as homemade. However, if you have leftover, homemade cranberry sauce, you can certainly use that.
Can I use other types of cheese?
While brie cheese is a great choice for these sliders due to its tart, earthy flavor and melting qualities, you can certainly experiment with other cheeses. Goat cheese, cheddar, Havarti, provolone, cream cheese or Gouda can work well, depending on your personal taste preferences.
Can I make these sliders in advance?
Yes, you can prepare these sliders in advance. Assemble them as instructed, even including the buttery glaze, then cover and refrigerate until you're ready to bake.
When it's time to serve, just pop them in the oven to heat through. You may need to add a few extra minutes of bake time going from fridge to oven.
What can I serve with Turkey Cranberry Brie Sliders?
These sliders pair wonderfully with a side salad, sweet potato fries, or even a bowl of soup. They are versatile, so you can choose sides that suit your occasion and preferences.
Can I make this recipe vegetarian?
Sure! You can make a vegetarian version of these sliders by substituting the turkey with a plant-based turkey alternative. There are many options readily available at most grocery stores.
Ensure the cranberry sauce you use is vegan-friendly, as some may contain gelatin
How do I prevent the sliders from getting soggy?
Make sure to use fresh rolls. The longer rolls sit in the package, the more moisture can accumulate inside the package.
Pat turkey dry as needed and be sure to layer turkey, then sauce, then cheese as directed.
When baking, the layer of butter will create crisp outside coating so don't skip that! Plus, it's delicious.
Can I use homemade cranberry sauce instead of store-bought?
Certainly! Homemade cranberry sauce can add a personal touch to your sliders. Just make sure it's cooled before assembling the sliders to avoid excessive moisture.
How can I adjust the recipe for a larger crowd?
To make these sliders for a larger crowd, simply double or triple the ingredients and use a larger baking dish or sheet pan.
You can use the slider in the recipe card below or enter the number of servings you need and the ingredient quantities will automatically adjust!
Adjust the bake time as needed, keeping an eye on the sliders to ensure they're heated through and the cheese is melted.
★ More Recipes You'll Love ★
Can't get enough sliders?
Browse all my slider recipes and be sure to Pin your favorites for later!
Hungry for easy appetizer ideas?
Browse all my appetizer recipes
This easy recipe for turkey cranberry brie sliders was featured on South Your Mouth!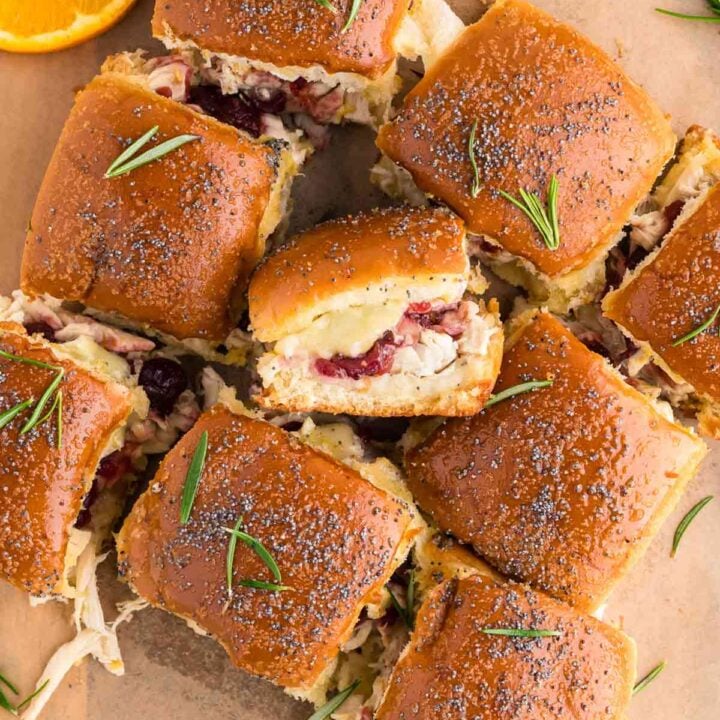 Turkey Cranberry Brie Sliders
A delicious holiday appetizer or take these camping! Post-Thanksgiving, transform leftover turkey into delicious sliders stuffed with cranberry sauce, Brie cheese, fresh rosemary, orange zest and honey topped with a buttery garlic and poppy seed sauce all baked to golden brown perfection. Use deli turkey to make these year-round. Easy recipe. Ready in 30 minutes!
Read Comments
Print
Pin
Rate
Ingredients
1

package

Sweet Hawaiian Rolls

12 count

1-2

tablespoon

Dijon mustard

more or less as desired

1

cup

whole berry cranberry sauce

2

tablespoon

honey

1

tablespoon

orange zest

(1 orange)

2-3

cups

shredded turkey

more or less as desired

8

oz

Brie cheese

sliced
Garlic Poppy Seed Glaze
4

tablespoon

salted butter

¼

teaspoon

garlic powder

optional

¼

teaspoon

onion powder

optional

½

tablespoon

poppy seeds

2

sprigs

fresh rosemary

stems removed
Instructions
Slice the entire block of rolls in half (do separate each roll).

Place bottom half of rolls into a 9x12 baking pan. Spread Dijon mustard onto the rolls.

In a small bowl, mix cranberry sauce, honey and orange zest together, until well combined.

Assemble the sliders: On the bottom half of the buns, layer turkey, followed by brie, then seasoned cranberry sauce.

Place the top half of the buns over the assembled sandwiches.

Melt butter in a glass measuring cup or bowl using the microwave for about 30 seconds. Then mix in garlic powder and onion powder.

Brush butter mixture onto sliders. Sprinkle poppy seeds and rosemary on top.

Loosely cover with foil and bake at 350˚ for about 15-20 minutes. Remove foil and bake an additional 5 minutes or until cheese is melted and tops of buns are golden brown.
Notes
If buns brown too quickly, before cheese is fully melted, re-cover with foil and continue baking.
Nutrition Facts
Serving:
1
slider
|
Calories:
174
kcal
|
Carbohydrates:
13
g
|
Protein:
10
g
|
Fat:
10
g
|
Saturated Fat:
6
g
|
Polyunsaturated Fat:
1
g
|
Monounsaturated Fat:
3
g
|
Trans Fat:
0.2
g
|
Cholesterol:
45
mg
|
Sodium:
192
mg
|
Potassium:
100
mg
|
Fiber:
0.5
g
|
Sugar:
10
g
|
Vitamin A:
249
IU
|
Vitamin C:
1
mg
|
Calcium:
47
mg
|
Iron:
0.5
mg
Follow Mighty Mrs. for more easy recipes!
Find @MightyMrs on Pinterest