Easy French dip sliders, made with roast beef, Hawaiian Rolls and au jus for dipping. A delicious appetizer, lunch or easy dinner.
This post may contain affiliate links. As an affiliate, I earn a commission.
Jump down to Recipe
French dip sliders made with roast beef, cheese, Hawaiian rolls and au jus for dipping are a great way to feed a hungry family.
★ Why You'll Love this Recipe ★
These mini sandwiches are so tasty and make a great dinner, game day snack, or can be served for a brunch or birthday party.
They're perfect for when you're short on time but want something delicious and filling that's enjoyed by even the pickiest eaters.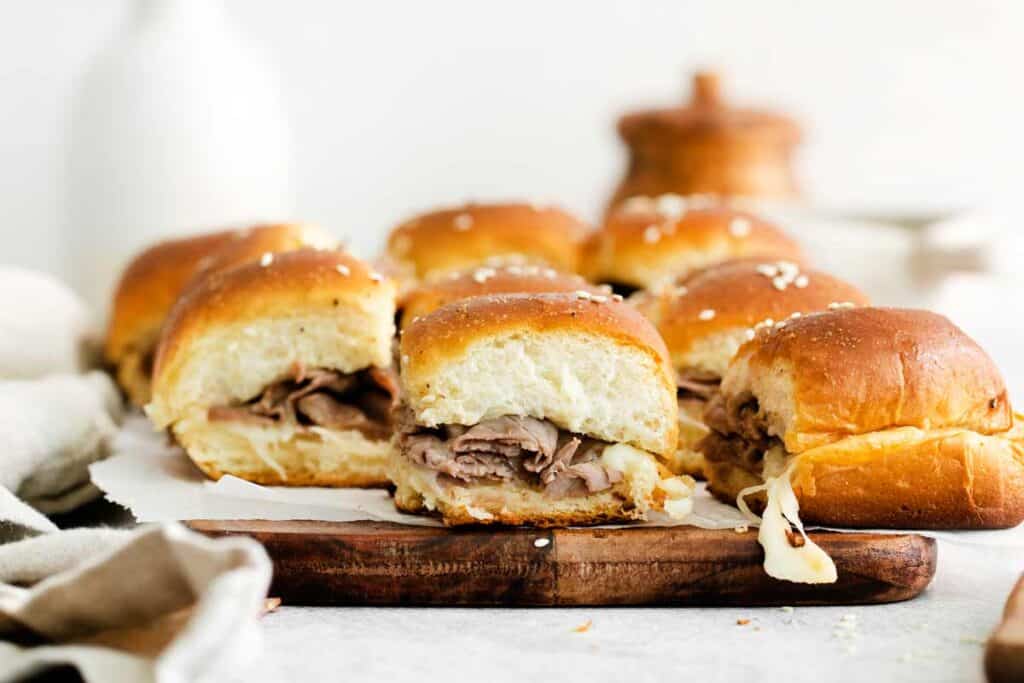 Toasted Hawaiian rolls, roast beef, melty cheese and beefy dip...
You really can't go wrong here! These sliders are super easy to assemble and the juice for dipping is not only fun but of course delicious too.
★ Ingredients You'll Need ★
You don't need a lengthy list of ingredients to make this easy recipe!
Here's everything you need to make these yummy French Dip sliders:
Savory Hawaiian rolls. I prefer these to the sweet Hawaiian rolls. They're moist and buttery.
Provolone cheese. This mildly flavored cheese melts perfectly and taste great with beef.
Deli roast beef. I always go with a top quality deli roast beef. You typically get more "meaty" flavor and not just salt.
The glaze for the rolls is made with: butter, onion powder, sesame seeds, and black pepper. This
Beef consommé. Sound fancy but you can find this in the canned soup aisle. It's perfect to serve these sliders "au jus" (with juice.
★ FAQs & Tips ★
What type of roast beef works best for this recipe?
You can use deli sliced roast beef, leftover beef, or frozen cooked roast beef in juice.
If you opt for frozen roast beef in juice, then you'll just need to thaw it, strain the roast beef and set aside the juice for dipping later.
Watch how easy these French dip sliders are to make.
Check out this step by step video how-to video:
From the Erie area? Try using roast beef with juice or "Ox Roast."
We live right outside Erie, PA and we have this delicious roast beef that comes with juices and we call it "Ox Roast." It doesn't make a lot of sense because it's not really Ox. It's roast beef. But it doesn't even matter because it's absolutely delicious. So if you happen to live near Erie, or have something similar in your area, then you can use this style roast beef for this recipe. Here, you can find ox roast in a tub in the freezer section. You just thaw it and it's ready to eat, already cooked.
If you don't have anything like this near you, no biggie, just go with the canned beef consommé and add deli roast beef.
I prefer the Savory Butter Hawaiian Rolls.
Your choice here but I am not a fan of the sweet rolls with this particular recipe. The sweet rolls are awesome with things like pulled pork but for these more salty than sweet roast beef French dip sliders, I feel the savory rolls are a better compliment.
How to Prevent the Hawaiian Rolls from Getting Soggy
I recommend laying the cheese down on the rolls before the roast beef (especially if you're using the roast beef that comes with juices) to prevent the roast beef juices from soaking into the rolls while the outside bakes to a crisp. If you want to be extra safe, you can also spread a thin layer of butter or mayonnaise on the insides of the buns. This will help seal juices out and add a little richness too. Again, up to you and if you can spare the extra calories. 😉
Add some extra flavor.
If you want to adds some flavor and veggies to these little sliders, you can try adding sauteed bell peppers, onions, and/or mushrooms. The flavor you end up with is a little more like a Philly cheesesteak and there's nothing wrong with that!
You can also try sprinkling on some onion powder and/or garlic powder directly onto the roast beef.
French Dip Cups
You can serve the juice for dipping in a sharable bowl or ideally everyone could get their own little cup of beef au jus sauce or beef consommé for dipping. If you need small cups that would work well for this, here are some you can purchase from Amazon:
Or if you prefer a different style, you can browse a variety of au jus cups on Amazon.
★ More Recipes You'll Love ★
Love sliders?
Check out another slider recipe of mine, these super popular Ham and Cheese Hawaiian Sliders!
Want more appetizer ideas?
Browse al my appetizer recipes and be sure to Pin your favorites!
This recipe for easy French Dip Sliders was featured on South Your Mouth and Meal Plan Monday!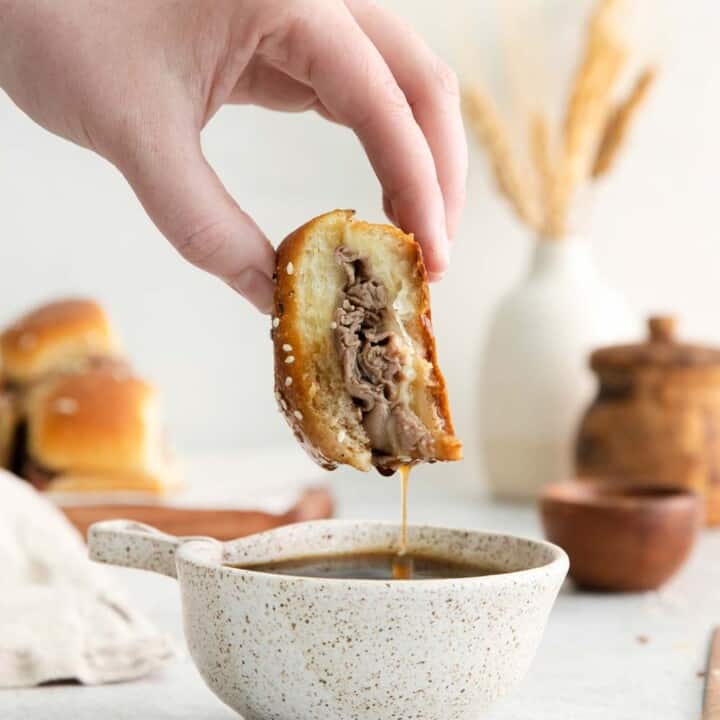 Easy French Dip Sliders
Easy French dip sliders, made with roast beef, Hawaiian Rolls and au jus for dipping. A delicious appetizer, lunch or easy dinner.
Read Comments
Print
Pin
Rate
Ingredients
12

ct

Savory Butter Hawaiian Rolls

½

lb

sliced roast beef

10.5

oz

beef consommé

6

slices

Provalone or Havarti cheese

¼

cup

butter

melted

½

teaspoon

poppy seeds or toasted sesame seeds

½

teaspoon

onion powder

¼

teaspoon

black pepper
Instructions
Without separating the rolls, slice the Hawaiian rolls in half. Place the bottom half of the rolls in a 9x12 baking pan.

Layer cheese slices on the bottom half of the rolls. Then layer on the roast beef.

In a small bowl, mix together melted butter, poppy seeds, onion powder and black pepper.

Place the remaining rolls on top of the roast beef and then brush the tops of the rolls with the butter mixture.

Loosely cover pan with foil and bake at 350˚ for about 20-25 minutes or until cheese is melted. Remove foil the last 2-3 minutes of baking to slightly brown and crisp the tops of the rolls.

Pour beef consommé into a microwaveable bowl and heat for 1-2 minutes or until very warm. Serve as a dip along with these sliders!
Nutrition Facts
Calories:
221
kcal
|
Carbohydrates:
2
g
|
Protein:
16
g
|
Fat:
17
g
|
Saturated Fat:
10
g
|
Polyunsaturated Fat:
1
g
|
Monounsaturated Fat:
5
g
|
Trans Fat:
1
g
|
Cholesterol:
67
mg
|
Sodium:
1039
mg
|
Potassium:
158
mg
|
Fiber:
1
g
|
Sugar:
1
g
|
Vitamin A:
459
IU
|
Vitamin C:
17
mg
|
Calcium:
286
mg
|
Iron:
1
mg
Follow Mighty Mrs. for more easy recipes!
Find @MightyMrs on Pinterest