You'll love these ham and cheese slider made on PRETZEL Hawaiian rolls! Delicious! Made with cheddar cheese, ham and baked with a mustard-butter glaze. Easy appetizer recipe.
This post may contain affiliate links. As an affiliate, I earn a commission.
Jump down to Recipe
★ Why You'll Love these Sliders! ★
Ham and cheese and pretzels, oh yeah! Made with pretzel Hawaiian rolls, these little sandwiches taste amazing and make for a easy, yet hearty snack, appetizer or lunch.
We are talking melt in your mouth delicious. These oven-baked sliders are made with salty Hawaiian pretzel buns brushed with a mustard-butter glaze and then baked to a crisp.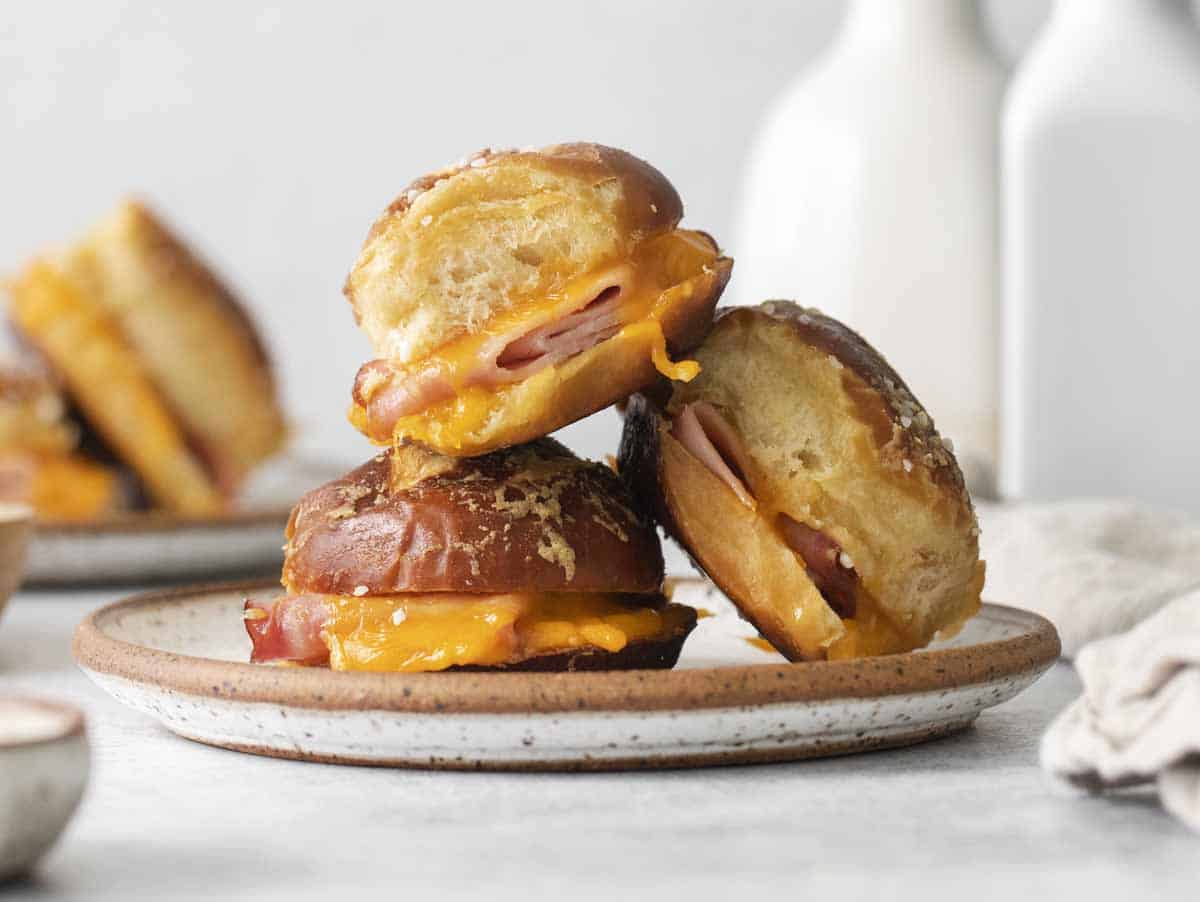 The Hawaiian pretzel rolls have a hint of sweetness that goes so well with any kind of ham and I love these with melty cheddar cheese.
This quick and simple recipe is ideal for feeding a family or small crowd as it makes nine sliders.
All you need is 10 minutes to prep these and they are ready to bake! Make ahead, refrigerate or freeze them, then bake when you're ready to eat. Great for taking on vacations, to a friend's houses or for serving houseguests or kids.
These ham and cheese sliders make a great brunch or appetizer for special occasions too! Double, triple, etc. to serve more. Use the sliding scale below to update quantity of ingredients easily depending on how many servings you need. I recommend 2 sliders per guest.
★ Ingredients You'll Need ★
You need just 3 main ingredients to make these baked sliders, plus a 2-ingredient homemade mustard butter sauce to glaze the rolls.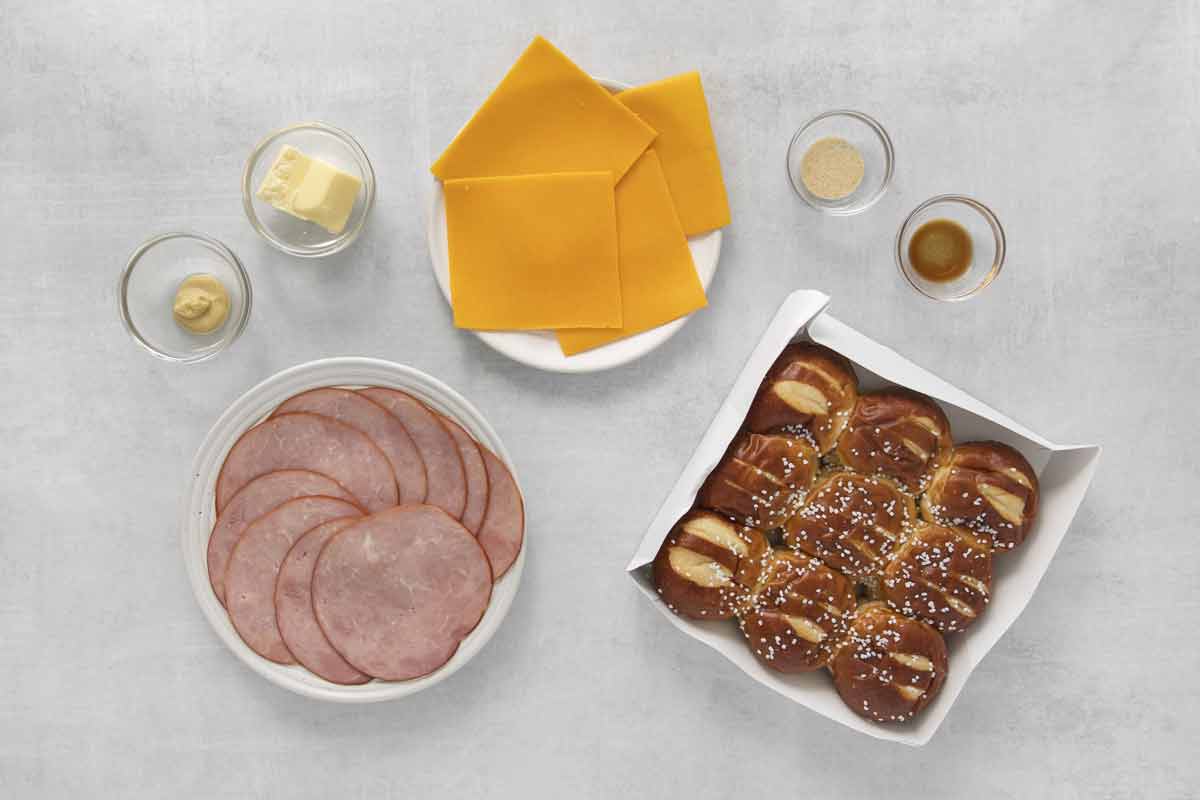 Here's what you'll need:
1. Pretzel Hawaiian rolls. You can find these at Target. They are still pretty new so you may not find them at your normal grocery store.
2. Black forest ham. I love black forest ham but use any kind of ham you like. I like the smoked edges. I think it offers a little more flavor and balance out some of the sweetness or the ham and the rolls.
3. Cheddar cheese. Cheese cheese has a lovely tartness to it that goes really well with pretzels. So it's a natural fit here! You can choose mild or sharp. I think both are great but personally prefer the mild so the cheese doesn't overpower the ham and pretzel flavors.
MUSTARD BUTTER SAUCE to glaze the buns is made with: melted salted butter, and Dijon mustard. If you're not a big fan of mustard, you can just use butter. If you want to punch up the flavor, optional extras to mix into the butter glaze include: a few dashes of Worcestershire sauce and/or onion power.
★ How to Make this Recipe ★
Here's how to make this delicious Ham and Cheese Pretzel Slider recipe.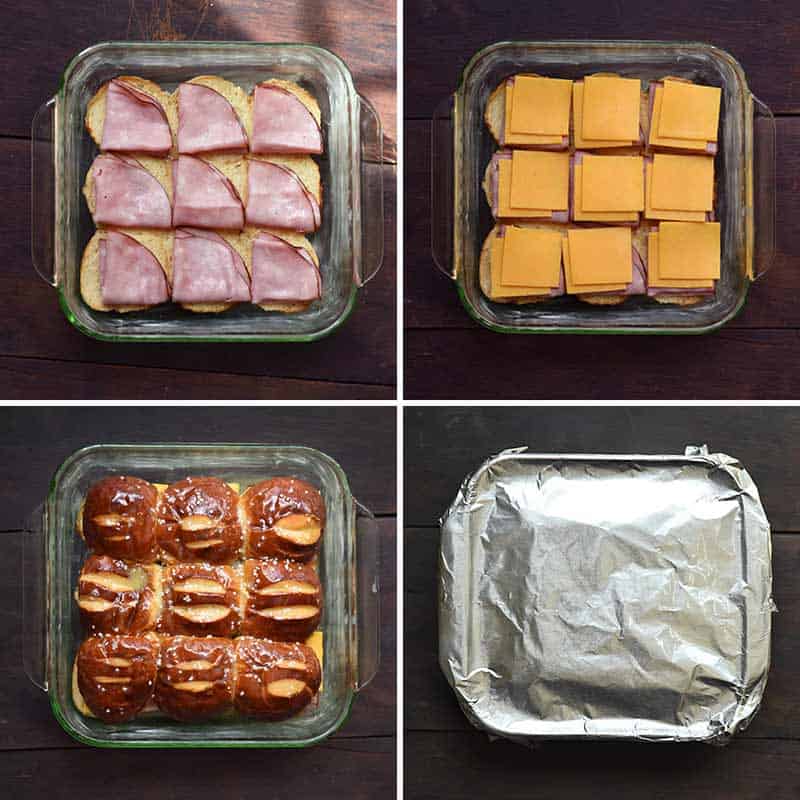 First, simply remove the top layer of rolls (they come pre-cut).
Layer a piece of ham, folded in quarters onto each roll.
Add sliced cheddar cheese squares.
Melt butter and stir in Dijon mustard.
Replace tops of rolls and brush with mustard-butter sauce.
Cover with foil and bake!
So simple!
★ FAQs ★
What type of cheese goes best with a pretzel bun?
I enjoy the tart and "sharp" taste of cheddar cheese with the salty pretzel flavor of these rolls. The cheddar flavor also goes really well with sweet things (think cheese and grapes) so this is my choices. You can go with sharp cheddar or mild — your choice!
Or if you prefer a different type of cheese, go for it. American cheese is much more mild in flavor and melts nicely. Havarti is another cheese that I really enjoy with ham. It's a white cheese with a smooth, very mild creamy flavor.
Colby jack or pepper jack are a few other cheese I think would go really well with the ham and cheese pretzel sandwiches.
Nacho cheese would even be really delicious on these sliders!
Let me know in the comments if you've experimented and what you like best.
Could you add extra ham or cheese?
Yes! Feel free to also add extra ham if you want a meatier slider or extra cheese for that matter. Keep in mind this may make them slightly more difficult to eat as they will be fully and the insides may slide out. I typically use one slice of ham and a half a slice of cheese for each roll.
Why do these need to be covered with foil?
You want to cover with foil for half the baking cycle so that these rolls don't burn but not the entire cycle because you don't want the rolls to get soggy. You want to toast them, just enough so they are nice and crispy.
Can these sliders be made ahead?
Yes, you can prep these sliders ahead of time, cover with foil and store them in the fridge. Then, bake them in the morning or right before you're ready to eat.
Can these sliders be frozen?
Yes. You can make these ahead of time and cover with foil but don't bake. Freez for up to 4 months. When you're ready to bake, let them thaw and then bake. If baking from frozen, you may need to add 5 or more minutes of bake time.
How to Store These After Baking
You can store these in the fridge for up to 3 days after baking. Cover with plastic wrap or foil and reheat for 30 seconds in the microwave or use the toaster oven for crisper buns. Open bun into two halves and toast for about 3 minutes at 300˚ or until ham is sizzling and cheese is melty.
What's the best baking dish to use?
I make these sliders in an 8x8 square glass baking dish. They fit perfectly!
★ More Recipes You'll Love ★
Love easy appetizer recipes?
Have a party coming up or just love to collect recipes?
Browse all my recipes and Pin the ones you love for later!
Ham and Cheese Recipes
Love this combo? Me too! Ham and cheese just go well together!
Here are all my other recipes made using ham and cheese:
• Ham and Cheese Quiche
• Cheesy Ham and Potato Soup
• Cajun Ham and Cheese Biscuits
• Easy Ham and Cheese Croissant Melts - Great for breakfast!
• Ham and Cheese Hawaiian Roll Slider
This recipe for Ham and Cheese Pretzel Hawaiian roll sliders was featured on South Your Mouth!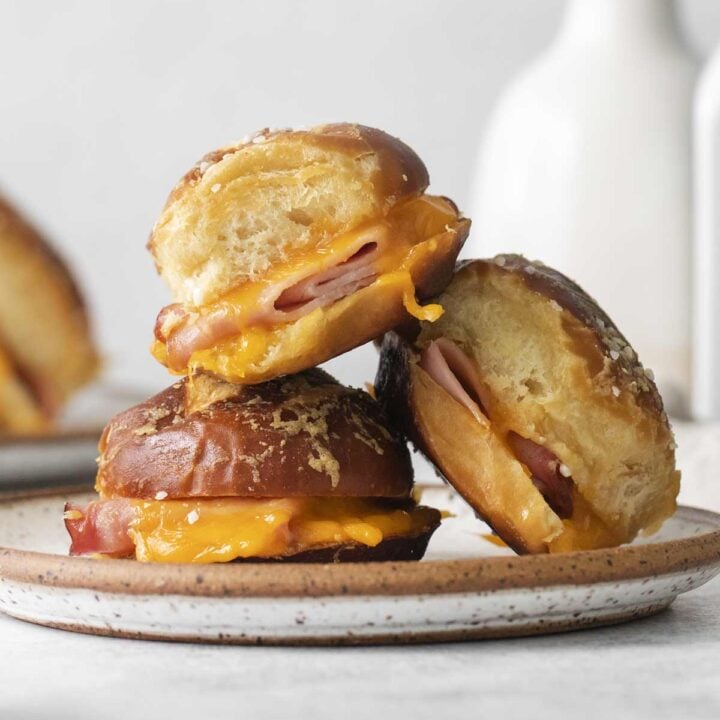 Ham and Cheese Pretzel Hawaiian Roll Sliders
You'll love these ham and cheese slider made on PRETZEL Hawaiian rolls! Delicious! Made with cheddar cheese, ham and baked with a mustard-butter glaze. Easy appetizer recipe.
Read Comments
Print
Pin
Rate
Ingredients
1

package

Pretzel Hawaiian Rolls

9 count

9

slices

deli ham

4.5

slices

mild cheddar cheese
Mustard-Butter Glaze
2

tablespoon

salted butter

1

teaspoon

dijon mustard

¼

teaspoon

Worcestershire sauce

optional

¼

teaspoon

onion powder

optional
Instructions
Remove top half of Hawaiian rolls and set aside (do not separate the individual roll, just the top from the bottom). Place bottom half of rolls in an 8x8 baking pan, lightly greased with butter.

Layer each roll with a slice of ham and a half slice of cheddar cheese.

In a microwavable bowl, cover and heat butter for about 30 second or until melted. Stir in Dijon mustard, Worcestershire sauce, and onion powder.

Add top layer of rolls and brush with mustard-butter mixture.

Loosely cover with foil and bake at 350˚ for about 15 minutes. Remove foil and bake an additional 5 minutes or until cheese is melted and tops of buns are golden brown.
Notes
If tops of rolls brown too quickly, before the cheese is all the way melted, re-cover with foil and continue baking.
For crispier rolls, brush on butter mixture immediately after baking.
Nutrition Facts
Serving:
1
slider
|
Calories:
126
kcal
|
Carbohydrates:
1
g
|
Protein:
8
g
|
Fat:
10
g
|
Saturated Fat:
5
g
|
Polyunsaturated Fat:
1
g
|
Monounsaturated Fat:
4
g
|
Trans Fat:
1
g
|
Cholesterol:
33
mg
|
Sodium:
417
mg
|
Potassium:
90
mg
|
Fiber:
1
g
|
Sugar:
1
g
|
Vitamin A:
163
IU
|
Vitamin C:
1
mg
|
Calcium:
64
mg
|
Iron:
1
mg
Follow Mighty Mrs. for more easy recipes!
Find @MightyMrs on Pinterest