Ham and cheese is a classic quiche combo. Reduce the fat in your dairy products to make a healthier breakfast or brunch.
This post may contain affiliate links. As an affiliate, I earn a commission.
Jump down to Recipe
Here's a quick and easy use for diced or leftover ham!
This ham and cheese quiches makes a great breakfast or brunch.
★ Why You'll Love this Recipe ★
This recipe is easy to make with many ready-prepped ingredients link liquid eggs whites and Pillsbury pie crust.
Lower in Fat
There are a few tricks to making this lower in fat yet still tasty.
Lower your carbs further and make this without the crust. Just be sure to lightly grease the pan so it's easy to remove.
Great Use for Leftover Ham
Any type of ham and cheese works!
Use up what you have or choose your favorite type of ham and cheese. Note: I recommend using low fat and fat-free cheese if you are looking to keep this low in calories.
Fresh Herbs
Fresh rosemary gives this a wonderful smell and lots of flavor.
★ Ingredients You'll Need ★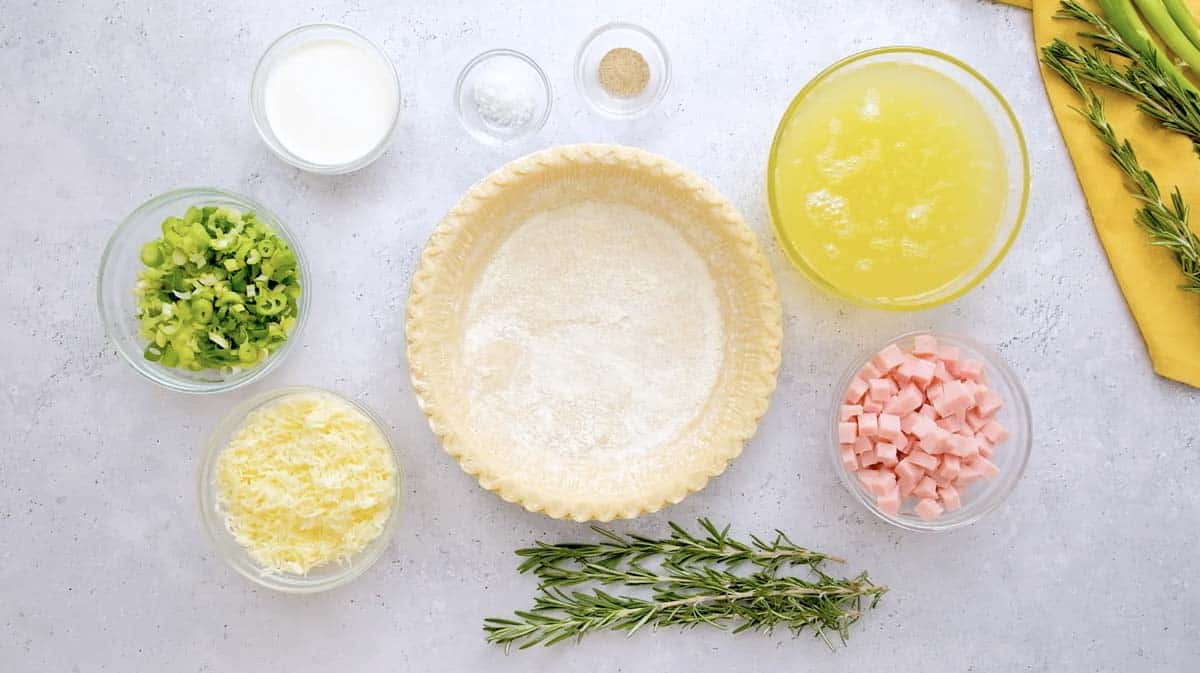 You'll need just a handful of ingredients to make this flavorful and low-fat quiche!
Liquid egg whites. You can buy these in a carton to save time, or separate eggs yourself to remove the yolks.
Fat free half and half. This cuts out a lot of fat but still provide creaminess in flavor.
Diced ham. You can save time and buy packed diced ham. This works great but I do find that deli ham or leftover baked ham typically offers more robust flavor. Choose what works for you.
Fat-free cheddar cheese or fat-free mozzarella. Again, we are cutting lots of fat by going with a fat-free cheese. You'll still get that cheesy flavor coming through! Cheddar cheese offers a bit more of a punch in flavor. If you're looking for something more mild, go with mozzarella.
Green onions. Also known as scallions, these add a mild bite and brightness to the dish as well as texture.
Salt. Regular table salt is all you need.
White pepper. I prefer this to black pepper. It blends visually and is flavorful yet not quite as gritty as black pepper.
Pie crust. I use ready made pie crust. I sometimes splurge for the name brand pie crust as I find it tastes better and sometimes the store brand breaks easily. Go with what works for your budget.
Fresh rosemary. This fresh herbs adds a really nice aroma while baking and the aroma settles into the quiche as an added layer of flavor. You can remove the rosemary after baking or leave on as garnish. If you want, you can separate a few needles of rosemary and add those to the top of the quiche so that they bake into the top.
★ How to Make this Recipe ★
This quiche is quick and easy to make. Assemble in just a few steps then bake. Top with rosemary mid-bake for a nice aroma and added flavor!
Here's a quick look at the steps involved. (Full recipe is detailed below along with a how-to video showing how to make this quiche.)
Combine egg whites, half and half, ham, cheese, green onions, salt, and white pepper.
Pour into pie crust.
Brush crust with egg mixture.
Cover with foil.
Bake.
Remove foil cover and top with rosemary.
Bake until set.
Let cool then serve.
Remove rosemary garnish if desired.
That's all there is to it. Easy!
★ Tips and FAQs ★
Do I have to use low-fat cheese?
Nope. You do not. This is a low-fat option but you can absolutely replace with regular cheese instead.
Do I need to use egg whites only?
Again, this lowers the fat content which was my goal. To create a yummy, low-fat quiche. However, you can definitely go ahead and use the full egg. Just use one less egg if using the full eggs.
Can I use 2% milk instead of fat-free heavy cream in quiche?
Yes. In fact you can use 1% or skim milk if you prefer. This will vary the flavor, the fat content and may affect cook time. Using variations of milk can affect the creaminess as well. However, if your dietary needs are important, it's worth experimenting with to find a flavor and fat content you enjoy.
How do I know when my quiche is fully cooked?
Cooking a quiche takes a long time. It always takes longer than I think it will but that's because the egg custard being a blend of eggs and milk (or cream) needs to slowly cook and firm.
Just like cooking scrambled eggs, you don't want to cook them too quickly or they cook unevenly, or they brown or they become dry. Cooking eggs slowly gives them that nice puffy, creamy texture that is signature to a delicious quiche.
So have patience! Let your quiche slowly bake. You will know that it is close to being done when the center no longer looks wet. You can gently shake your quiche at the point and if there is no wobble, and it appears to have fully firmed up (even in the center) then it's ready to come out of the oven.
Just like a cake, you can also poke a toothpick into the center and if it comes out (mostly) clean and feels firm, then the center is done. If it's still very liquidy, then it needs more bake time.
How to Prevent Pie Crust from Burning or Over-browning.
The trick here is to brush the pie crust edges with a little bit of egg mixture. This creates a barrier and prevents the pie dough from over baking.
Making sure to loosely cover your quiche with foil will also help prevent crust from browning.
An ideal crust will be light golden brown in color.
★ More Recipe You'll Love ★
Want more easy brunch ideas?
Browse all my brunch recipes and be sure to Pin your favorites for later!
Love ham?
Low-fat Ham and Cheese Quiche
Ham and cheese is a classic quiche combo. Reduce the fat in your dairy products to make a healthier breakfast or brunch.
Read Comments
Print
Pin
Rate
Ingredients
2

cups

liquid egg whites

¼

cup

fat free half and half

1

cup

diced ham

1

cup

fat-free cheddar cheese

or fat-free mozzarella

4

green onions

chopped

1

teaspoon

salt

¼

teaspoon

white pepper to taste

1

pie crust
Instructions
Whisk together egg whites with half and half.

Add ham, cheese, green onions, salt, and white pepper.

Pour egg mixture into pie crust.

Brush some of the egg onto the crust edges.

Cover loosely with foil and bake for one hour at 350˚F.

10-15 minutes before the end of the bake cycle (45 minutes into baking), remove foil cover and top with rosemary sprigs.

Note: rinse rosemary sprigs under cold water and gently shake off excess water, then add to the top of the quiche. This prevents rosemary from burning.

Leave uncovered to lightly brown the crust and toast the rosemary. Be careful! Oven and pan will be hot!

When done, remove from oven and let cool to touch before serving.
Notes
Bake until center no longer looks wet and there is no wobble when gently shaken.
Nutrition Facts
Serving:
1
slice
|
Calories:
194
kcal
|
Carbohydrates:
17
g
|
Protein:
17
g
|
Fat:
6
g
|
Saturated Fat:
2
g
|
Polyunsaturated Fat:
1
g
|
Monounsaturated Fat:
3
g
|
Cholesterol:
11
mg
|
Sodium:
1134
mg
|
Potassium:
141
mg
|
Fiber:
1
g
|
Sugar:
4
g
|
Vitamin A:
1003
IU
|
Vitamin C:
1
mg
|
Calcium:
221
mg
|
Iron:
2
mg
Follow Mighty Mrs. for more easy recipes!
Find @MightyMrs on Pinterest