You'll love this yummy breakfast recipe combining the ease of making a quiche with the fluffy and crispy texture of a souffle. Packed with flavorful cheeses and vitamin rich healthy spinach. Serve fresh baked for breakfast or brunch or make ahead and reheat for easy breakfast on the go.
This post may contain affiliate links. As an affiliate, I earn a commission.
Jump down to Recipe
Do real men eat quiche?
In short, yes. Real men do eat quiche because real men eat anything that is loving made for them. 😉
★ Why You'll Love this Recipe ★
All joking aside, this fluffy spinach and feta quiche souffle is special though.
Unique Texture
This isn't one of those bland, mediocre quiches. It's more of a souffle with a fluffy texture and crispy top.
Then the inside is packed with healthy spinach. Feta and Parmesan cheese adds a tangy, creamy touch.
Easy to Make
It's a delicious dish that's easy to make yet is impressive in both looks and taste. Great for a special occasion brunch or try it out for breakfast on the weekends.
By whipping and folding in eggs whites, this quiche has a souffle-like texture that is light, fluffy and crispy.
★ Ingredients You'll Need ★
Only 7 ingredients are needed to make this simple dish!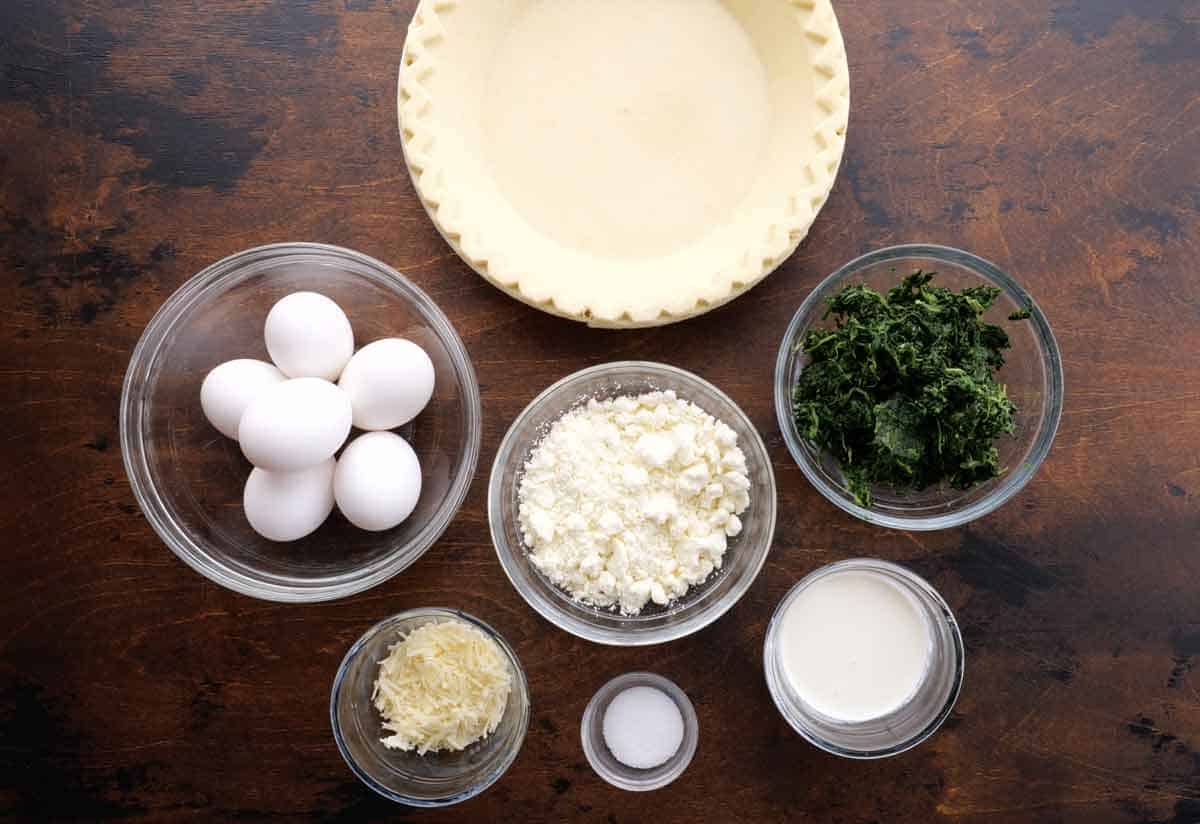 Here's everything you need:
Pie crust. I use ready-made pie crust to keep things easy. You can make your own if you prefer.
Frozen chopped spinach. Frozen is actually better than fresh because you can easily thaw and squeeze out excess water. This is important for the pie to set quickly and not become watery.
Feta cheese. Crumbled is ideal. You can hand-crumble larger pieces as needed to even out the chunks in your quiche.
Eggs. Since this is a main ingredient, I recommedn corn-fed-hen eggs. They taste much better.
Heavy whipping cream. I prefer the flavor of non-store brand.
Parmesan cheese. Shredded is my preferred style, however you could also use grated.
Salt. If using sea salt, you can reduce the amount by half.
Simple! Yet you'll love the flavor and texture.
★ How to Make this Recipe ★
As I mentioned, this recipe is similar to a quiche (super simple) with one extra step which is to whip the egg whites.
Here's a snapshot of each step (full recipe is further down):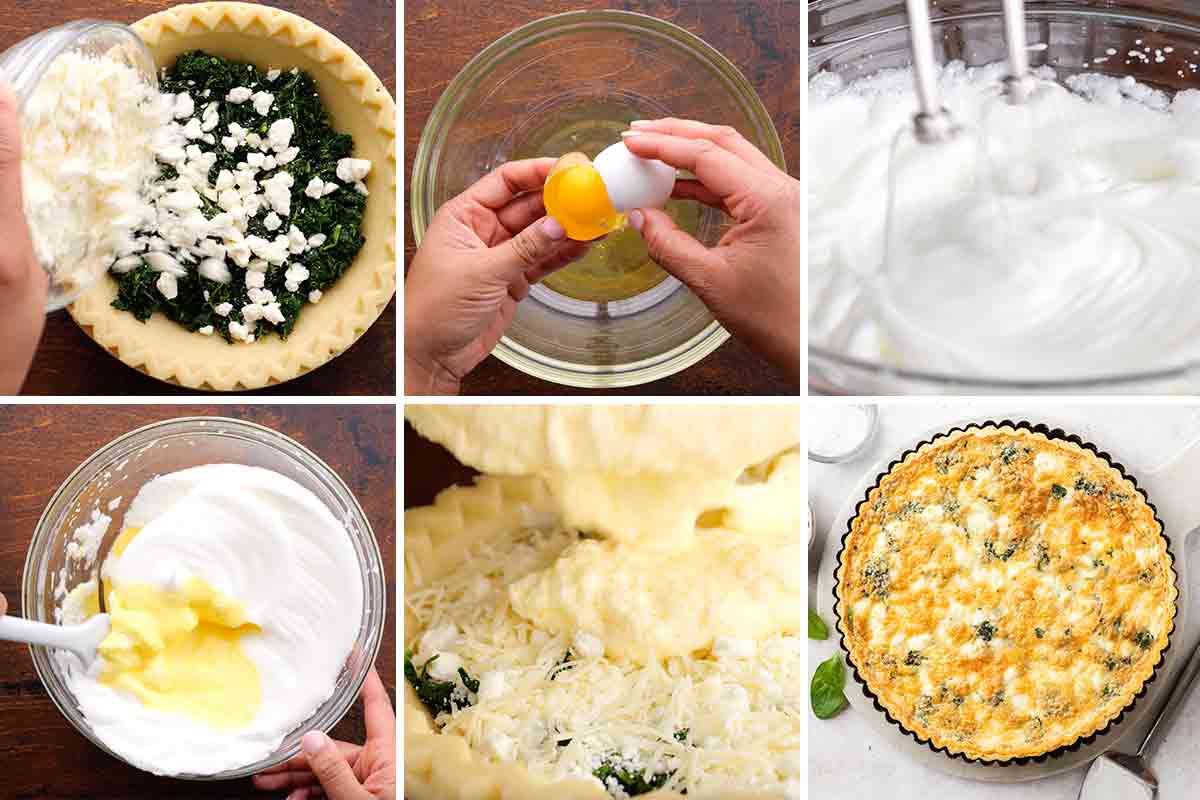 Add spinach and feta to pie crust.
Separate egg whites and whip.
Whip egg yolks with heavy cream and salt.
Fold whipped egg whites and egg yolks together.
Layer whipped eggs and cream over spinach and feta.
Bake.
Let cool, slice and serve.
Simple as that!
★ Tips & FAQs ★
So, is this a souffle or a quiche?
It's really the best of both worlds. It's light and fluffy with a crisp, like a souffle. But isn't as complicated to make. The steps are similar to making a traditional quiche. There's just one added step which is whipping the egg whites.
Whipping the eggs adds air bubbles which creates the unique texture. You will also whip the heavy cream to add even more air. Carefully combine the two and voila! You'll get a nice airy quiche.
Time-saving Tips
There's not a lot to throwing this quiche together other than the whipping of eggs. So I recommend using a hand or stand mixer to whip those, unless you're looking to give your arms some exercise!
You can make your own crust, but I always buy the rolled up kind at the store. These often come in packs of two so you can save one or make two quiches if you have a lot of people to feed! You can also freeze the leftover crust if you don't have a use for it right away.
Do you need to pre-bake the crust?
When you have a pure liquid filling in a pie, it's important that the crust won't easily take on moisture. With quiche, the filling is completely liquidized which means that an unbaked pie crust will get soggy and not cook well. Pre-baking the crust or using a pre-baked crust will help ensure that the crust won't get soggy. It's also important that you don't pour the quiche mixture into the crust unless you're putting it straight into the oven. You don't want the liquid sitting in the crust for a long period of time because this could cause a bit of sogginess as well.
I usually use store-bought pie crust — Pillsbury and I always get compliments on it, he he. Our little secret.
Is this quiche is kid-friendly?
This is one of those dishes that's simple and where you really can't taste the veggies. So if your kids don't mind a little green in their food, then your entire family will fall in love with this spinach and feta quiche. As the mom, I love that I'm getting my kids to eat healthier ingredients without feeling like I'm force-feeding them. Usually my kids are pretty good but, there are still the struggles. Color is a hurdle, so try adding a little less spinach if your kids are picky about color.
Can other ingredients be added to this quiche?
You bet they can! I love the flavor combination of spinach and feta. However, if desired, you can mix any of your favorite quiche ingredients together to customize this recipe to your preferences. Some optional add-ins include grape tomatoes, mushrooms, walnuts or more cheese.
This fluffy spinach and feta quiche is healthy as is, but be aware that cooking time might change as well as nutritional content with adjustments of the ingredients.
Perfect for overnight guests.
This is easy to whip up and feeds a small crowd. Guests always love when I make this! It vanishes quickly. I guarantee your family and friends will love this recipe just as much as mine did!
This quiche souffle is best enjoyed fresh out of the oven but you can make this ahead if you don't want to be cooking in the morning. To make ahead, it is best to go ahead and bake this the night before, refrigerate it loosely covered with foil, then reheat in the morning. Keep covered loosely with foil and reheat at 300˚for 15-18 minutes or until center is hot.
Need a pie pan?
I prefer using a glass pie pan because you can see how things are coming along as it cooks, but any oven-safe pie pan will do.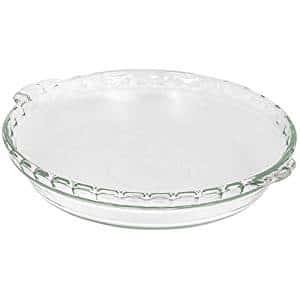 Need one? Shop pie pans on Amazon
★ More Recipes You'll Love ★
Want to try something new for breakfast or brunch?
Be sure to Pin your favorites for later!
This easy Spinach and Feta Quiche Souffle was featured on Southern Bite and South Your Mouth!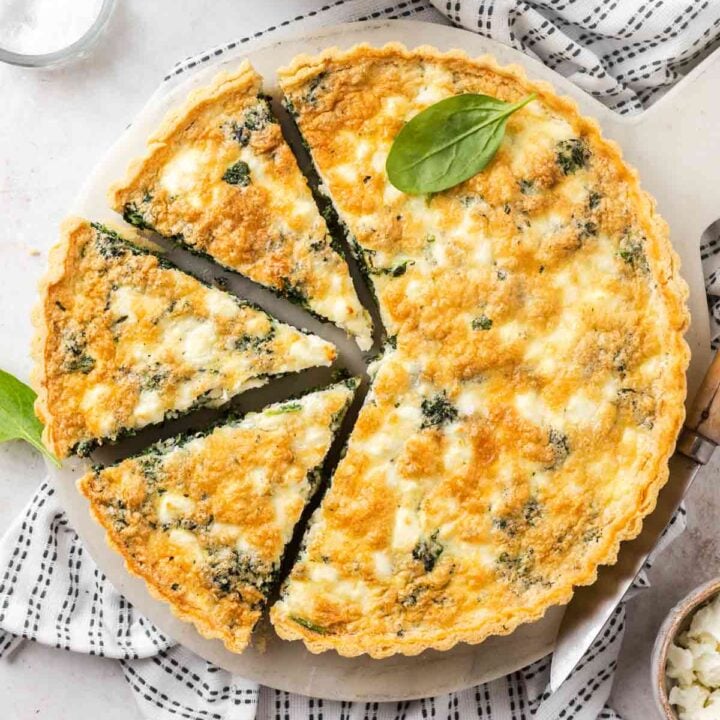 Spinach and Feta Quiche Souffle
You'll love this yummy breakfast recipe combining the ease of making a quiche with the fluffy and crispy texture of a souffle. Packed with flavorful cheeses and vitamin rich healthy spinach. Serve fresh baked for breakfast or brunch or make ahead and reheat for easy breakfast on the go.
Read Comments
Print
Pin
Rate
Ingredients
6

large

eggs

1

pie crust

or make your own, fancy people

16

oz

frozen chopped spinach

5

oz

crumbled feta cheese

¼

cup

shredded Parmesan cheese

¼

cup

whipping cream

1

teaspoon

salt
Instructions
Thaw and squeeze spinach to remove liquid. Spread out evenly on top of the pie crust.

Layer in crumbled feta cheese and Parmesan cheese.

Separate egg whites into a large bowl. Reserve egg yolks in a separate, smaller bowl. Beat egg whites until peaks form.

Add whipping cream and salt to the bowl of egg yolks and beat together until frothy.

Next, add the egg yolk mixture to the whipped egg whites and gently fold together. Try to preserve the fluffy texture. Pour egg mixture into crust, over spinach and cheeses. Spread out evenly over top.

Cover with foil and bake at 350˚ for 30 mins.

Uncover and bake another 10-15 minutes or until the middle is set and firm to touch.
Notes
It's very important to thaw and squeeze excess water from the spinach or this will affect cook time and quiche can become watery.
To quickly thaw, place block of frozen spinach in a colander. Run warm water over top. Break part with you hands. Squeeze chunks of spinach to remove water.
Nutrition Facts
Serving:
1
slice
|
Calories:
253
kcal
|
Carbohydrates:
14
g
|
Protein:
12
g
|
Fat:
17
g
|
Saturated Fat:
8
g
|
Polyunsaturated Fat:
2
g
|
Monounsaturated Fat:
6
g
|
Trans Fat:
1
g
|
Cholesterol:
168
mg
|
Sodium:
721
mg
|
Potassium:
289
mg
|
Fiber:
2
g
|
Sugar:
1
g
|
Vitamin A:
7062
IU
|
Vitamin C:
3
mg
|
Calcium:
225
mg
|
Iron:
2
mg
Follow Mighty Mrs. for more easy recipes!
Find @MightyMrs on Pinterest