This post may contain affiliate links. As an affiliate, I earn a commission.
Jump down to Recipe
Guys, this creamy turkey pumpkin chili is scrape-the-bowl-clean good.
This pumpkin chili recipe is easy to whip up, perfect if you're in need of some comfort food, fast, on a chilly fall or winter's days.
Healthy Comfort Food
The best part about this comfort food though, is that's it's actually healthy too.
I've never really been a huge fan of pumpkin, actually. This might surprise a lot of people because I have quite a few pumpkin recipes on this site. (Browse my pumpkin recipes here)
The reason is—actually there are two reasons.
One: I love fall and fall things. It's such a short and colorful season of change that I always seem to be on a mission to soak it all in while it lasts.
Whether that's taking the tree-lined road home, getting outside for a hike with the kids, or talking a walk around the block with a friend before the roads are covered in snow. So, add pumpkin into my cooking is just one of those fall things that I try to do while the grocery stores have their shelves lined with cans of pumpkin puree.
And two: Pumpkin is actually full of vitamins! If you look at the nutrition facts, you'll see it's loaded with vitamins!
It packs vitamin A, potassium, vitamin C, calcium, iron, fiber as well as potassium. And it's low in all the bad stuff — sugar, carbs, cholesterol and has no fat. It's like an unsung superfood! So I'm here to sing about it, and try to work it into as many recipes as possible. 🙂
Other healthy ingredients, too.
As if the pumpkin alone wasn't enough to get you feeling good about making this for dinner, this chili also features white beans, adding fiber and protein, lean ground turkey, carrots, and spinach.
Add some spices and a touch of cream and all of these flavors come to life!
Are you serious about soups?
I know a lot of people that are just excited about soups. Eating them. Making them. Using a crockpot, Instant Pot or the stove top. Even cooking soup over a campfire if you're the camping type. I think it's kind of similar to how people either tend to like baking or cooking. Soup making is almost it's own category of cooking.
Are you really into soup making already or you're just getting into it?
I guess I'm pretty into it and I have a favorite method for making soups and that's using a dutch oven. I think of it as sort of an old school Instant Pot. You can saute in it, brown your meat and then add the rest of your ingredients so everything's done in one pot. You obviously don't have the pressure cooking feature like the Instant Pot does which is cool, but you don't really need it in most cases if you're just cooing ground meat or smaller chunks of protein.
So, if you're interested in getting serious about your soup making, I highly recommend getting yourself a dutch oven.
I currently have a 6-quart Lodge dutch oven and I love it!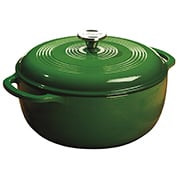 It comes in a bunch of fun colors (mine is "Lagoon" a.k.a. green). I saute, stir fry, boil and cook almost everything in this pot. It can go right into the oven, so I bake and roast meat in it too.
Shop the lodge dutch oven on Amazon
More soup recipes you'll love
Here are all my favorite soups to make in one place. Browse them now
This Scrape-the-Bowl Creamy Turkey Pumpkin Chili was featured on Hearth and Soul and Southern Plate!

Creamy Turkey Pumpkin Chili
This turkey pumpkin chili recipe is easy to whip up, perfect if you're in need of some comfort food, fast, on chilly fall or winter days.
Read Comments
Print
Pin
Rate
Ingredients
1.5

lbs

ground turkey

2

carrots

chopped

2

stalks celery

1

small onion

diced

2

tbsp

butter

15

oz

pumpkin puree

14.5

oz

diced tomatoes

2

cups

chicken broth

15

oz

navy beans

15

oz

canelli beans

1

cup

fresh spinach leaves

chopped

1

tbsp

fresh thyme

2

tbsp

chili powder

2

tbsp

sugar or honey

2

tbsp

sour cream
Instructions
Melt butter in a dutch oven over medium-high heat. Add sliced carrots and cook for 3 minutes, stirring frequently. Then add sliced celery and cook, stirring, for 3 minutes. Next add diced onions and cook for a final 3 minutes or until onions are translucent.

Add ground turkey to dutch oven and stir, with vegetables, until cooked thoroughly (about 8-10) minutes.

Next add pumpkin puree, tomatoes, beans, chicken broth, chopped spinach, spices and sugar or honey then bring to a boil.

Finally stir in sour cream and remove chili from heat. Add additional salt to taste if you'd like.

Spoon into bowls and serve!
Nutrition Facts
Calories:
399
kcal
|
Carbohydrates:
48
g
|
Protein:
39
g
|
Fat:
8
g
|
Saturated Fat:
4
g
|
Polyunsaturated Fat:
2
g
|
Monounsaturated Fat:
2
g
|
Trans Fat:
1
g
|
Cholesterol:
74
mg
|
Sodium:
607
mg
|
Potassium:
1137
mg
|
Fiber:
16
g
|
Sugar:
10
g
|
Vitamin A:
16000
IU
|
Vitamin C:
21
mg
|
Calcium:
175
mg
|
Iron:
7
mg
Want more easy recipe ideas?
Follow @MightyMrs on Pinterest