This post may contain affiliate links. As an affiliate, I earn a commission.
Jump down to Recipe
This easy creamy Swedish meatballs recipe, made using frozen meatballs (or make your own), is served over egg noodles and is one of our favorite recipes to make for dinner during the week.
No trip to Ikea required. Although, there are plenty of other very valid reasons to go to Ikea… 🙂
Just 5 Ingredients!
This 5-Ingredient recipe incorporates a very delicious and creamy sauce you'll love.
Here's what you'll need: frozen meatballs (or make your own), French onion soup, cream of mushroom soup, beef broth and sour cream. Serve these sauce meatballs over a bed of buttered egg noodles.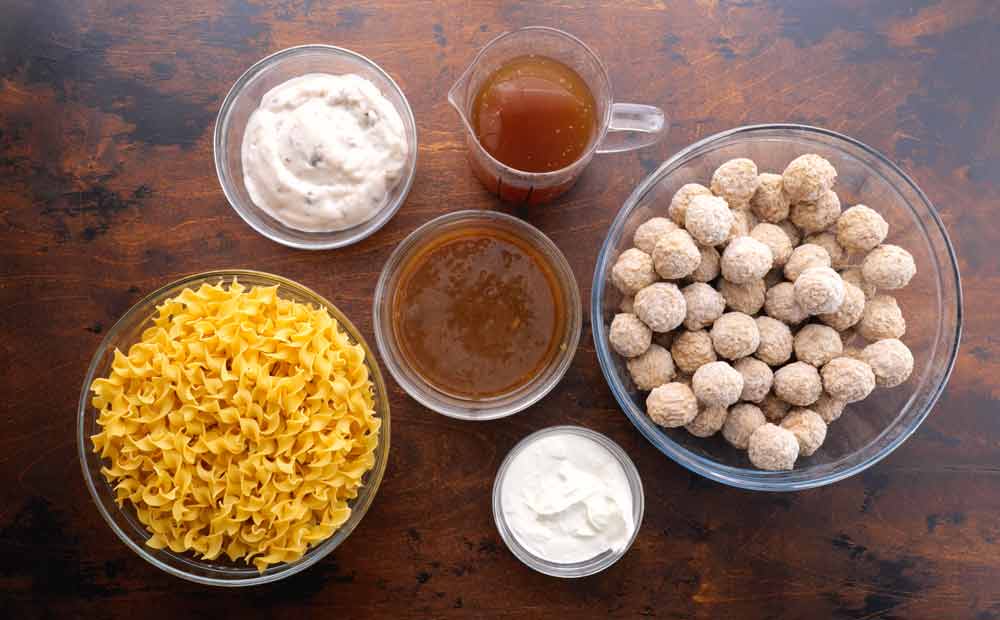 A slow cooker recipe.
This is one of those, throw everything into your crockpot recipes. It's simple and tastes great!
You can speed up the cooking process by making this on the stovetop. Follow the directions but instead of adding the designated ingredients to your crockpot, add them to a large pot on the stove. Bring everything to a boil, then reduce to medium-low heat and simmer for about 20 minutes or until meatballs are warmed all the way through.
You are using pre-cooked, frozen meatballs. So you just need to ensure they are heated.
Inspired by the classic dish, Swedish Meatball.
This recipe is not meant to be an authentic recipe for Swedish meatballs. But but inspired by the signature dish, made easy.
Traditional Swedish meatballs are made from beef and pork blend and are spice with all spice and nutmeg. They are homemade. We're not doing all that here. You can. Totally do it if you want. But the following recipe is for a quick and easy version of this delicious dish.
Tip: If you want to add a bit more authentic flavor to this dish, make sure you use plain meatballs (not Italian meatballs) and add all allspice and nutmeg to taste.
Make your own cream-of sauce.
Again, we're not doing that here with this particular recipe. But if you want to learn how, I have tutorials for that.
In fact, canned cream sauces are all pretty easy to make yourself at home but they do take extra time and not everyone has that luxury.
If you do, please check out my How to Make White Sauce page for more tips about that. You will end up consuming less sodium and you'll cut out some junk ingredients if you make your own cream sauce. That's why I try to make my own when I have time. But I don't always!
Anyway, I'm sure will be some haters that are mad I'm not making my own Swedish meatball sauce. Isn't that a bit snobby to assume everyone has time to make everything from scratch? I find it pretty off putting. I like to have options and offer you guys options because to each their own, right?
But I have to pick a method here and so I opted for the easy way out on this one for a short list of ingredients and still great flavor!
Homemade vs. Frozen Meatballs
Another things that you can obviously make homemade are the meatballs. But again, very time consuming. And you can buy ones that are frozen that taste great. I have learned there are a lot of bad frozen meatballs. My go-to brand is Sam's Choice.
You can of course absolutely make your own and I have a go-to recipe if you want to take time to do that. Get my meatball recipe here. Just keep in mind to use a blend of pork and beef, and instead of Italian spices, use allspice and nutmeg for that true Swedish meatball flavor and texture.
What kind of frozen meatballs should you use?
Again, it's very important to use unseasoned, original meatballs. Avoid using Italian-style meatballs if you can. It's not a total deal breaker, but this Swedish sauce will taste better on plain meatballs vs. seasoned ones and will be more authentic.
You can even use vegetarian "meatballs" or meatballs made with ground turkey if you're looking for a lighter option. I find that the medium to higher priced meatballs do have better flavor but in this case, the Swedish sauce will overpower the flavor of the meatballs themselves more so than meatballs with red sauce. So you don't have to worry too much about the taste of the meatballs other than checking the ingredient list and nutrition facts.
Don't like mushrooms?
No problem. You can replace the cream of mushroom soup with an extra can of french onion soup plus an extra 1/2 cup of sour creamy.
How to make this picky-eater friendly.
If you're like me and have picky kids or grown picky eaters, you can easily make these Swedish meatballs picky-eater friendly by serving the noodles with just butter and cooking some meatballs without the gravy. No need to make two separate meals. Not that I ever do that… ?
What kind of noodles go best with Swedish meatballs?
I like to use no-yolk egg noodles. They're a little lower in fat and cholesterol than regular eggs noodles and I can't tell a difference in the taste since I like my noodles smothered in sauce anyway!
Can I add fresh mushrooms?
I though you'd never ask. I also love mushrooms. Especially in Swedish meatballs! We are using cream of mushroom soup as a base but you can add extra fresh copped mushrooms too if you'd like.
I feel bad for people who haven't discovered their love for them but sadly, it's true. There are people who don't enjoy them so you can leave them out completely if you must. The sauce still has a lot of flavor without them.
If you think you can get away with it though, try chopping them up really tiny and adding them in. Most people that don't like mushrooms, are weirded out by the texture. So if they're tiny, sometimes you can slip them in. I won't say anything if you don't. ?
What are some variations of this recipe to try?
If you've made this Swedish meatballs with noodles recipe before and want to try some different flavor variations, try adding some cooking wine. Sherry or Marsala would be good or a dry white wine.
You could also try half and half instead of sour cream for a less tangy flavor. If you're trying to skim calories, try skim milk. It wont be as creamy of course, but it'll still be tasty!
Want more easy weeknight dinner ideas?
Browse all my easy dinner recipes
This Swedish Meatballs with Noodles recipe was featured on Menu Plan Monday, Sew It Craft It Cook It, Inspire Me Monday, Wow Me Wednesday and South Your Mouth!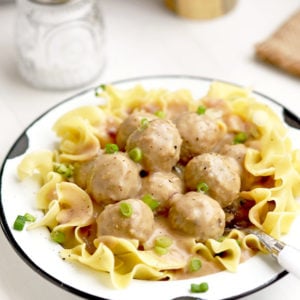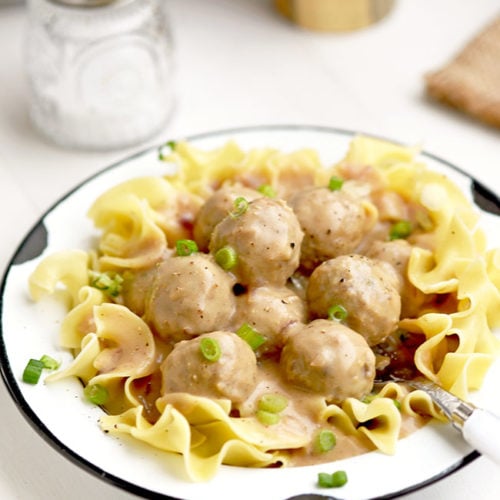 Easy Creamy Swedish Meatballs with Noodles
This easy recipe for Swedish style creamy meatballs is made with just 5 ingredients including cream of mushroom soup, French Onion soup and sour cream. Made with homemade or frozen meatballs. Everything cooks in the crockpot! Serve over warm egg noodles. An easy and delicious recipe to make for weeknight dinners. No trip to Ikea required!
Read Comments
Print
Pin
Rate
Ingredients
32

oz

frozen meatballs

turkey, pork or beef (unseasoned)

14

oz

can beef broth

10.5

oz

can cream of mushroom soup

(condensed)

10.5

oz

can French onion soup

(condensed)

½

cup

sour cream,

room temperature

12

oz

egg noodles

cooked

chopped green onions for garnish,

optional
Instructions
Add frozen meatballs, beef broth, Cream of Mushroom soup, and French Onion soup to the crockpot. Cook on low for 2 hours or high for 1 hour.

Stir in sour cream right before serving. *See notes to prevent curdling

Prepare egg noddles according to package.

Serve meatballs and sauce over warm, cooked and buttered eggs noodles and top with green onions for garnish (optional).
Notes
*To prevent sour cream from curdling, make sure sour cream is not being added to the sauce cold. You can allow the sour cream to get to room temperature and/or temper the sour cream by adding a tbsp of the hot liquid from the cooked meatballs to the sour cream to warm it up before adding it. Before sure to stir in sour cream right before serving, not before cooking.
For extra sauce, double the sauce ingredients.
To thicken the sauce, you can melt 1 tbsp of butter in a microwavable cup. Stir in a tbsp of flour using a fork. Microwave again until bubbling (about 30-45 seconds). Add this butter and flour mixture to the sauce and stir to combine.
Nutrition Facts
Serving:
1
cup
|
Calories:
653
kcal
|
Carbohydrates:
41
g
|
Protein:
34
g
|
Fat:
38
g
|
Saturated Fat:
15
g
|
Polyunsaturated Fat:
4
g
|
Monounsaturated Fat:
16
g
|
Trans Fat:
1
g
|
Cholesterol:
166
mg
|
Sodium:
115
mg
|
Potassium:
600
mg
|
Fiber:
2
g
|
Sugar:
2
g
|
Vitamin A:
165
IU
|
Vitamin C:
1
mg
|
Calcium:
62
mg
|
Iron:
2
mg
Want more easy recipe ideas?
Follow @MightyMrs on Pinterest